I remember when I was packing my bags to visit Germany, my (xth) destination. I was really looking around for options but evidently, the country hadn't been explored much or you could say, travel hadn't become this common then. I browsed across multiple sites to find out the best things to do in Germany. I did keep coming across the Black Forest as a major attraction in Germany though. Hence, it was going to be a sure shot to these forests for sure. Long things short, we reached Germany and believe me as I say this, while there are way more things to do in Germany, other than the Black Forest, these Forests are definitely the best of the lot!
After all, it is not for nothing that my title says goes the way it goes!
We flew Lufthansa from Mumbai, landed in Frankfurt airport and immediately rented a car and drove towards Heidelberg and then the Black Forest through the Autobahn sometimes speeding up to 190 kmph.
Buckle up! Its AutoBahn (Bundesautobahn)
For all adrenalin junkies out there, this is an absolute must-do when you are in Germany! The autobahn which is a federal control access highway stretches a whopping 12,993 kilometres and is free of speed limits. Yeah, you read it right – no speed limits!
Having said that there are zones where the speed is limited to a 130 kmph but a large part of these extremely well-maintained roads is free of speed-limits. However, as always, it is recommended that you have safety procedures in place. To top this if you are lucky to get your hands on a sports car, well, you are going to have one hell of time then! I mean, you will not be driving, you will be literally flying on the way. So yes, a Black Forest road trip should definitely be added to your list of things to do in Black Forest, Germany
German roads, as you know, are built for fast cruising, and they fully live up to their promise. Now here is one reason you can thank Hitler.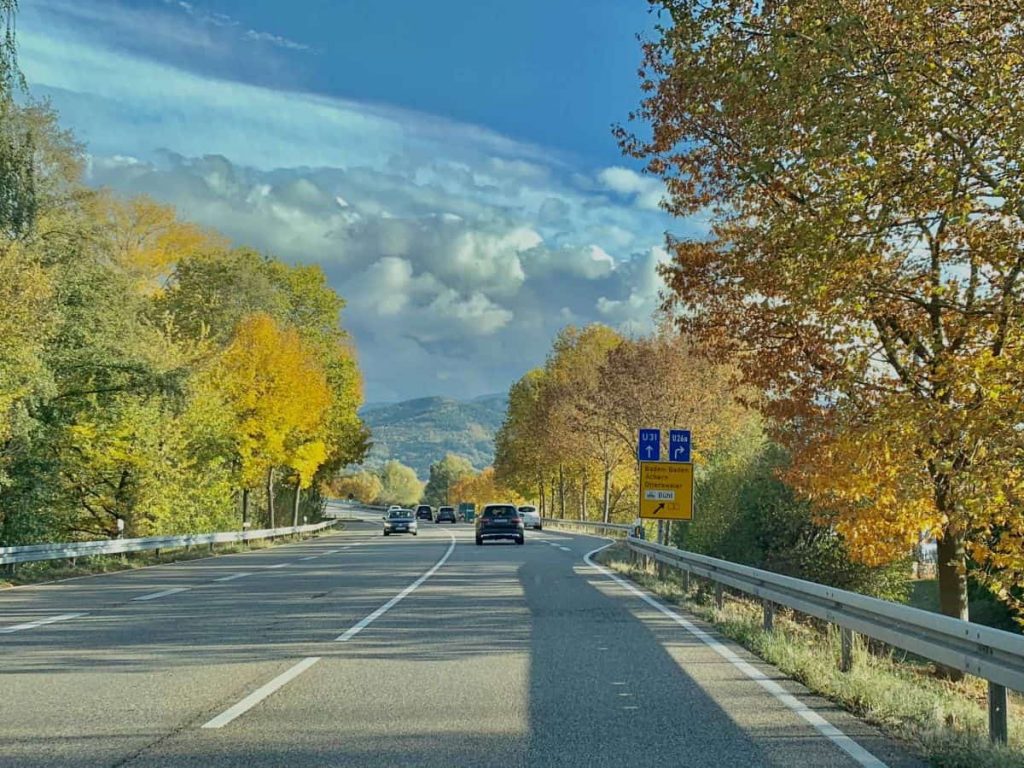 Spend a day in Heidelberg
Heidelberg is also known as the city of romanticism. Heidelberg Castle, built in the 13th century still stands tall and is one of the major tourist attractions which you should visit when in Germany. This city harbours the river Neckar and is known to be the home for the oldest university in Germany. Its colourful alleyways with Baroque-style architecture make it one of the best attractions in Germany that you simply cannot miss out on. There are chains of boutiques, cafes, quaint restaurants on cobblestoned pathways that add quite a charm to this castle town. The old bridge is worth a walk to explore the striped medieval gate. And of course, the Castle at the top is definitely worthwhile and right outside the castle there is a walkway from where you can enjoy panoramic views of the entire town. So, visiting Heidelberg becomes one of the other major things to do in Germany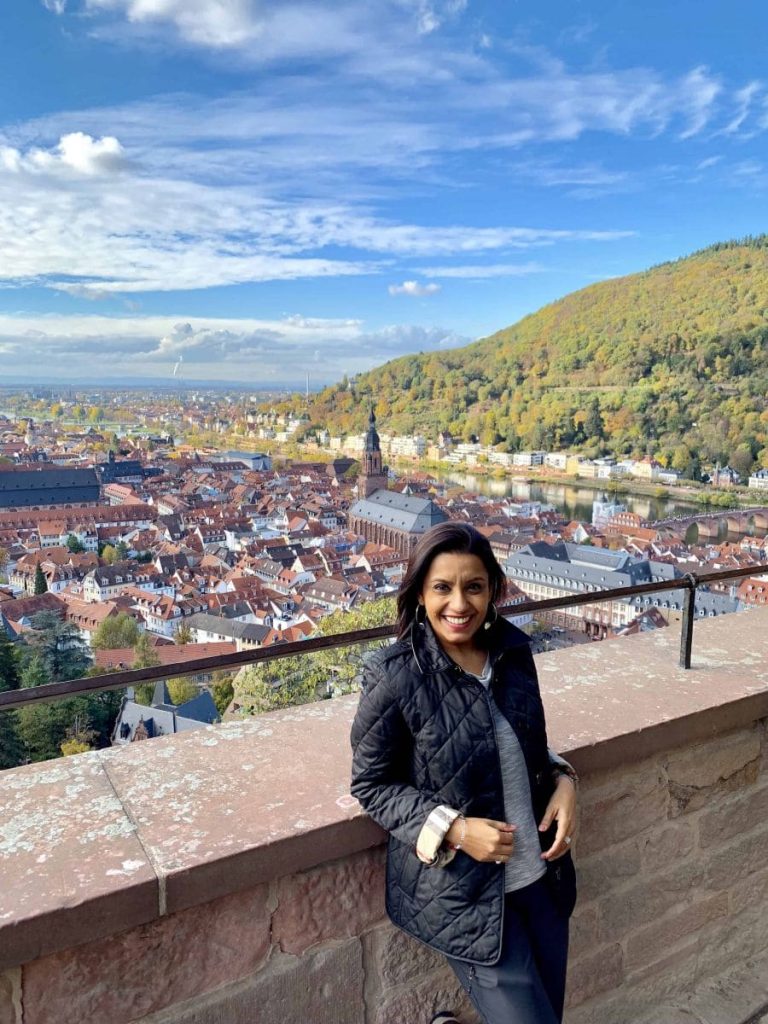 Relaxing at the Friedrichsbad Baths in Baden-Baden
For all the relaxation and good time lovers, the Friedrichsbad Baths should ideally top the list of the best things to do in Germany. For everyone else though, it figures in the list, not necessarily on the top. On the first night, we stayed at Baden Baden-it's a spa town in southwestern Germany and is the gateway to the Black Forest. "Friedrichsbad Baths" – a bathing complex built in the 1870s offers the most relaxing spa experience in their 17 steps of Irish-Roman bathing ritual. This bathing complex is popular as one of the most modern bathing establishments in Europe. You can get a three-hour package where you are taken through all the bathing steps which include a sequence of hot-air baths, steam rooms, showers, pools, and optional massages. The 16th station is a very cold pool which was super fun and by the end of it, you are wrapped in a warm sheet & a blanket and are allowed to rest for half an hour. (in fact, I ended up sleeping for an hour – that's how relaxing it was. Although we had to pay extra for it it was totally worth every penny).
Read more:- Top things to do in Bulgaria
Eat a black forest cake in the Black forest
Another one in our list of things to do in Black Forest, Germany, binge eating on the Black Forest cake comes as an obvious choice!
I am sure this dessert needs no introduction but I am sure that a lot of you will now find that the Balck Forest series of desserts is inspired from the Black Forests, Germany. Although we don't always get the boozy and the real version of it in our country, I am sure anyone who is reading this and is born after the 80s must have had a black forest cake in their lives. A chocolate sponge cake soaked in Kirschwasser (cherry schnapps), filled with cherry compote and whipped cream – what's not to love? This cake is one of my all-time favourites, I simply couldn't leave the Black Forests without biting into it. Having it in a place it was named after is an experience by itself. Although it wasn't named directly after the region but for the distilled cherry liquor which was made around here and used in the cake. Make sure you go for your workout before you dig into it – don't let guilt come in the way whatsoever!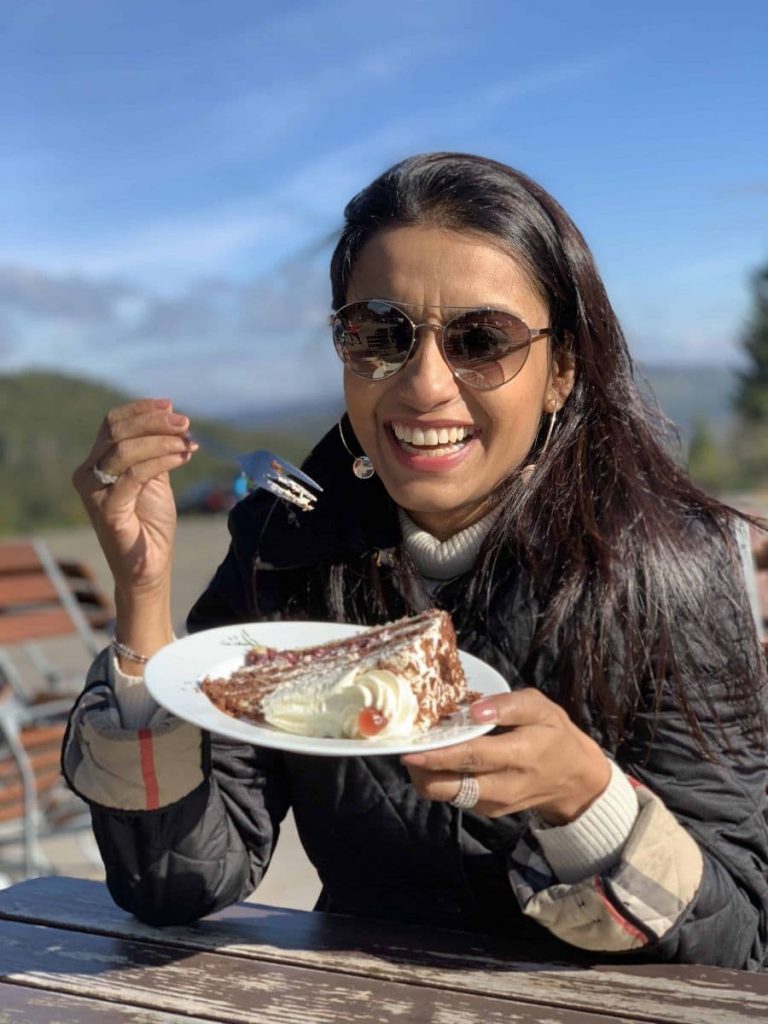 Did you know? :  March 28 is National Black Forest Cake Day.
Stop for offbeat trails around
The Black Forest has many offbeat trails which a lot of people miss out on since they're busy doing the road trip. These treks are a good getaway from the regular tail and have some picturesque views. I loved the experience of wandering through the woods and finding some calm and serene trails.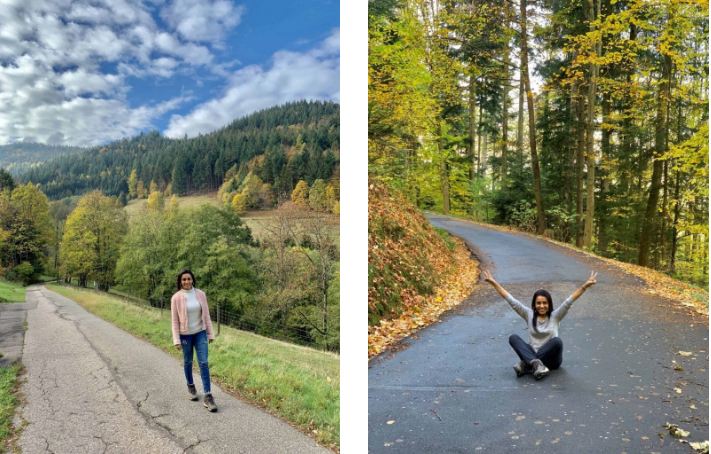 Visit the Triberg Waterfall
Triberg Falls is one of the highest waterfalls in Germany and is a landmark in the Black Forest region. Needless to say, if you visit black forests, this becomes another one of the places to visit in Black Forest Germany. The wild and roaring falls get your heart racing and makes you feel alive. The walkway to the falls and the constant sound of the falls is a wonderful experience. At the cascades of the Gutach River, water tumbles nearly 600 feet over 7 naturally created steps, resulting in a marvellous site.
Right before the entrance is the shopping street, representing what the region is all about with the kuckucksuhren/clocks and other emblematic products of the region. There are Grandfather clocks, wall clocks, and cuckoos, as well as other clock-themed merchandise available.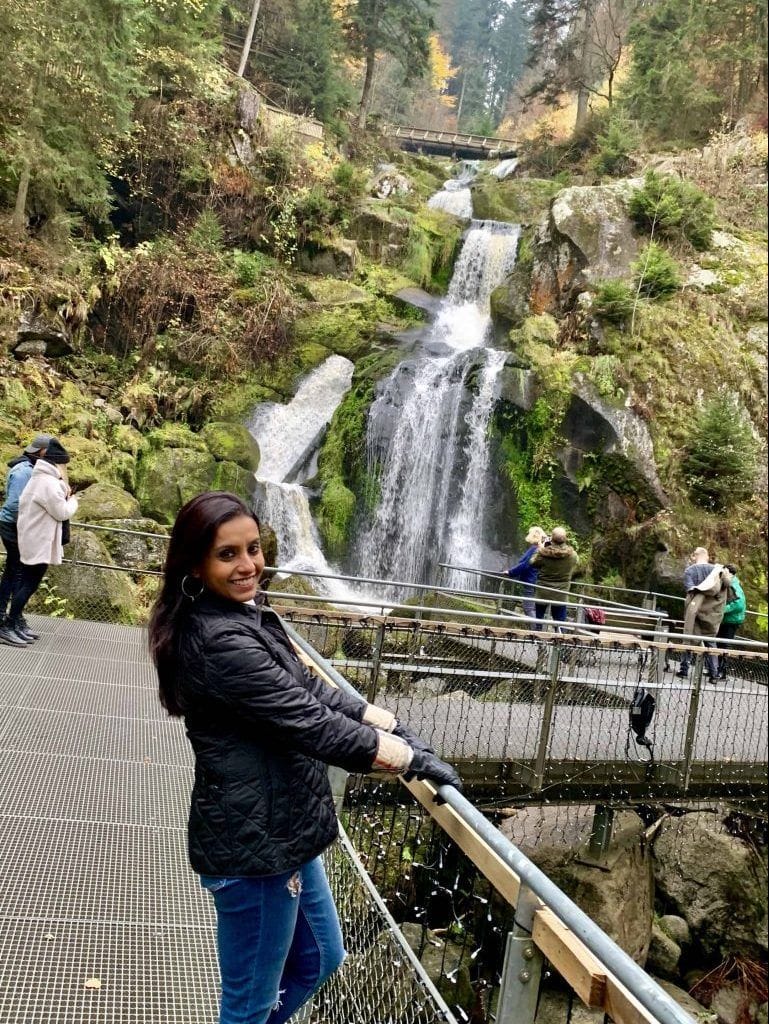 Visit Titisee lake.
The highest lake in the Black Forest is a little bit magical in itself, but when you hike around it, you'll discover the most spectacular views of the area around. It's a small and cute town, popularly known for its lake. We took a walk by the lake on a cold windy afternoon but was worth every second. This town is only a 45 minutes' drive from the border of Switzerland: we were really tempted to drive there but planned to maximise our time in Germany instead.
The forests in "Hansel and Gretel", "Snow White", and "Rapunzel" are based on the Black Forest.
I would highly recommend all of you to take a road trip in and around and explore more such hidden places to visit in Black Forest, Germany. And yes,my suggestion is to visit the place during Fall in order to see the magic the colours create, we did this over 3 days and loved every bit of it!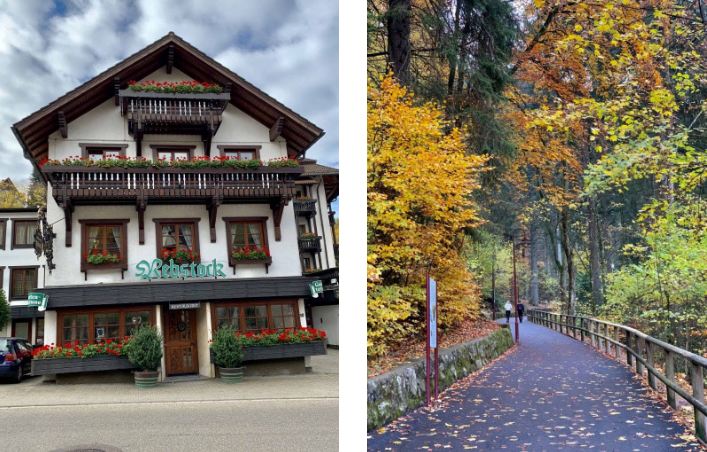 Drive on the B500, Black Forest High Road
Can our list of "things to do in Germany" even be complete if we do not mention the awesome drive that one can treat themselves to on the breathtakingly beautiful Black Forest High Road!
The Schwarzwaldhochstraße, or "Black Forest High Road", is the oldest, and one of the best known themed drives in Germany. It is a part of the B 500 federal highway. The Schwarzwaldhochstraße begins in Baden-Baden and rises quickly to the main ridge of the northern Black Forest, reaching the top at the Bühlerhöhe. We drove on the B500 highway, the roads were full of piles of leaves and the trees had yellow leaves on them. This was definitely one of the most scenic routes I have driven on in Germany. Do keep plenty of time in hand to make multiple stops in between to capture these beautiful images.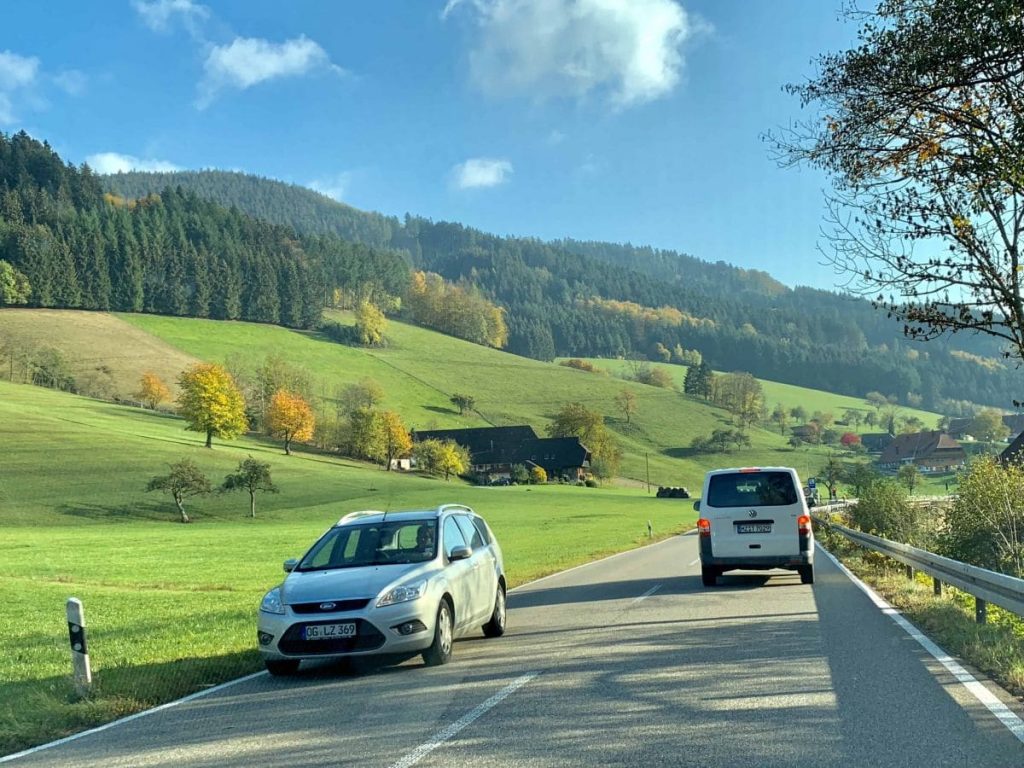 Also Read- Best Things to do in Georgia
Autumn in Germany
Well, this isn't something that should have been included in the list of "things to do in Germany" but it was a must-have in the blog. This is because, as a responsible travel blogger, I had to tell you about the best season to visit Germany. The best time to visit Germany is during Autumn (or better known as Fall in other parts of the world). The Fall colours make it worthwhile – it's a sight for sore eyes. The look of the entire forest changes during these months; from lush greens, they turn to myriad hues of warmth. Reds, oranges, yellows, browns: just like colours sprayed onto a canvas. The fallen leaves layer the sides of the roads and it is going to be serious disrespect if you do not oblige by rolling on them. (Makes for a great photo-op too) Even the barren trees looked just as beautiful – it is those days before nature stands devoid of adornments and is breathtakingly beautiful just the same.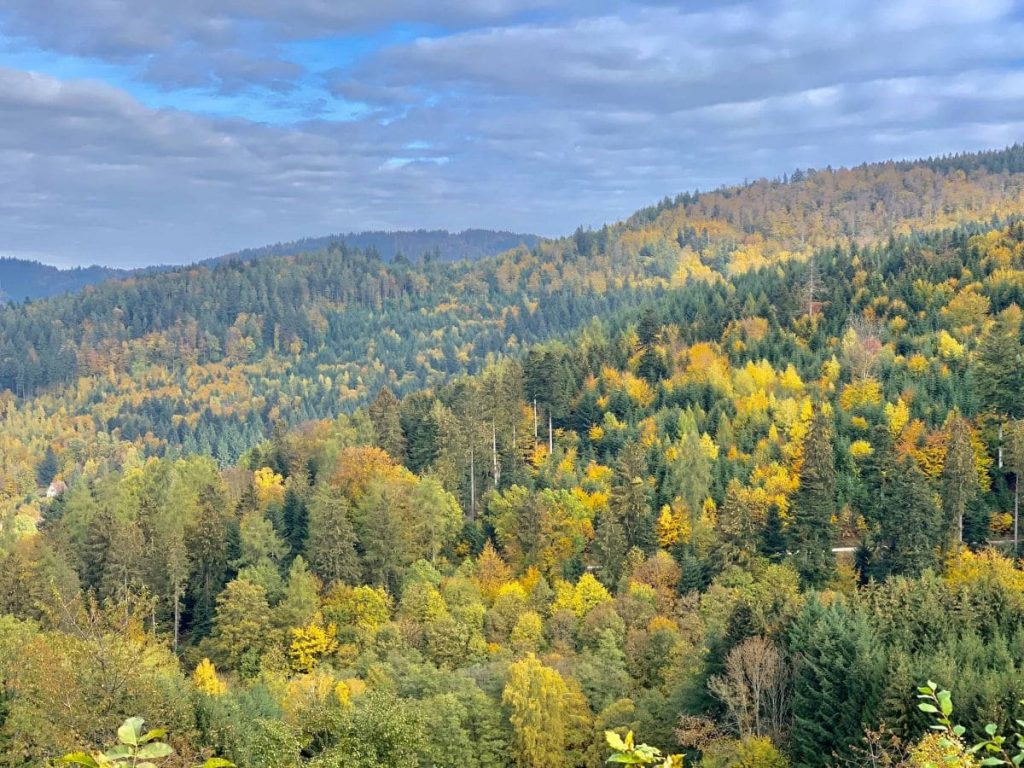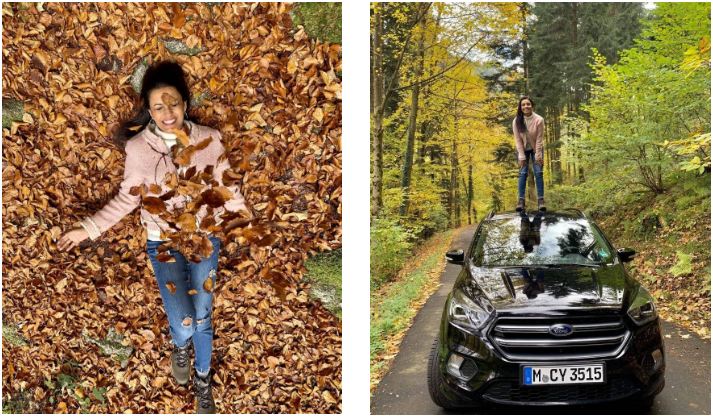 So, I hope you enjoyed reading the details of what I would call my Black Forest Germany trip in specific and a trip to Germany in General!
If you enjoyed reading this article, please do leave a comment below. You could also follow me on Instagram, Facebook & YouTube to stay updated about my adventures.
FAQ Related to Things to do in Black Forest, Germany
What is the best time to visit the Black Forest?
Usually, the temperature around here ranges between 74°F (23°C) in July to 28°F (-2°C) in January which allows you to choose your preferred climate to explore this beautiful destination. There are endless things to do in Black forest in every season but be warned that the temperature has been recorded as low as 0°F (-15°C) and above 95°F (35°C) in the last few years. Fall can be a great time to explore the natural beauty and you can easily explore all the places to visit in black forest Germany but you need to make yourself prepared for the rainy showers.
How is the dining experience at the Black Forest?
If you are a food lover, Black forest has a lot of hidden gems that will take your taste cravings to another level. You will be amazed by an extensive variety of white asparagus in every restaurant or food stall. White asparagus is grown locally in this area and contributes to many traditional and modern delicacies. After having a taste of local cuisines, you can move to Baiersbronn, a small town which is a home for 8 Michelin star restaurants.
How to Reach Black forest?
There are numerous ways to reach the Black forest. It is easily accessible by train, bus and car. You can take a train to Offenburg, Karlsruhe, Freiburg and Baden-Baden as they go through all major cities in Germany. If you are visiting Balck forest by car, you can take the Schwarzwaldhochstrasse route. Another way to reach black Forest is by bus which you can take from Line 245 bus to Mummelsee. You will easily get a shared cab from there which usually charges €16 to €20.
What is the most popular activity in the Black forest?
A lot of tourists prefer visiting Lake Titisee for boating. This gorgeous lake is surrounded by lush green hills and the view is spectacular from every angle. If you want some alone time apart from the crowd, you can visit Schluchsee Lake for the same.