Dubai, the world's fourth most visited city globally, offers a diverse range of activities and sights to suit visitors of all ages and interests. So whether you're looking for world-class architecture marvels, breathtaking gardens, world-class shopping centers, or memorable experiences, the city offers it all in spades.
I have compiled a list of the top 15 best things to do in Dubai for your convenience, and I hope.
Top 13 Things to do in Dubai
1. The Dubai Fountain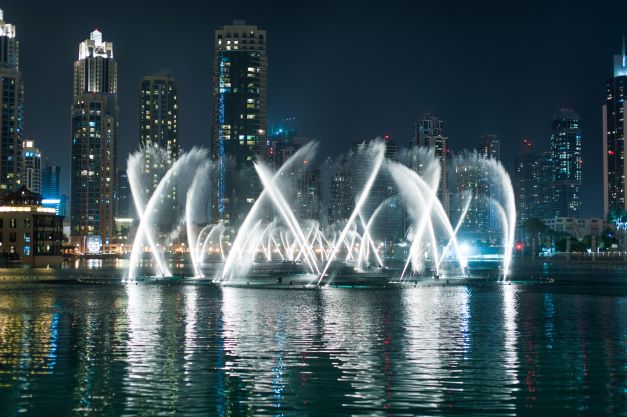 With Arabic, Western, and World music, it's the largest "son-et-Lumiere" (dancing water fountain) in the world. Several powerful water jets are installed that can reach a maximum height of 500 feet. The 900-foot-long fountain features two central arcs and five varying-height circles and is situated outside the Dubai Mall in the 30-acre Burj Khalifa Lake.
It has more than 6600 lights and approximately 25 color projectors, making it the most bright spot to create memories at. Board an Abra that takes you close to the fountain and enjoy one of the unique things to do in Dubai.
2.
The Dubai Mall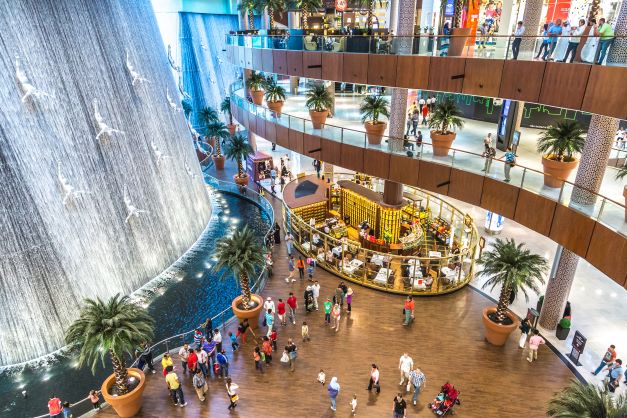 The Dubai Mall is the world's largest shopping destination, with more than 1,200 shops that cater to more than 100 million visitors each year. It has a floor area of 440,000 square feet and is home to many well-known fashion labels. Shopping, leisure, and entertainment are available to visitors in this shopper's paradise.
The Dubai Aquarium and Underwater Zoo house more than 30,000 aquatic species, while the SEGA Republic is an indoor theme park for thrill-seekers. Reel Cinemas Megaplex is a great place to watch a movie with family & friends. The KidZania is a fun place for kids to enjoy as they play.
At the end of your shopping spree, pick to dine at one of the 200 restaurants and eateries in the area. Visiting Dubai Mall is one of the most fun things to do in Dubai with family.
3.
Global Village
Visit the Global Village with your entire family and marvel at the wonders it has to offer. This is one of the top attractions in Dubai from October through April. More than 90 countries' cultures can be seen in the 40 pavilions.
There is something for everyone at the fair, from thrilling rides to music concerts to magic shows. According to their website, this location is home to the world's largest tourist, retail, and entertainment complex. How cool, right?
4.
Desert Safari
Prepare yourself for a journey into the vast desert. Dubai's desert safari is a cultural and recreational mashup. You can go for dune bashing in an SUV, sandboarding with boots strapped to the board, and quad biking with a helmet on. In addition, performers from the camp's belly dancers and Tanoura artists will be performing live later in the day.
From henna design to Arabian dress photography, there is something for everyone. A sumptuous buffet will round out the day's activities. This should be a MUST on your list of the best things to do in Dubai.
5. Visit the Jumeirah Mosque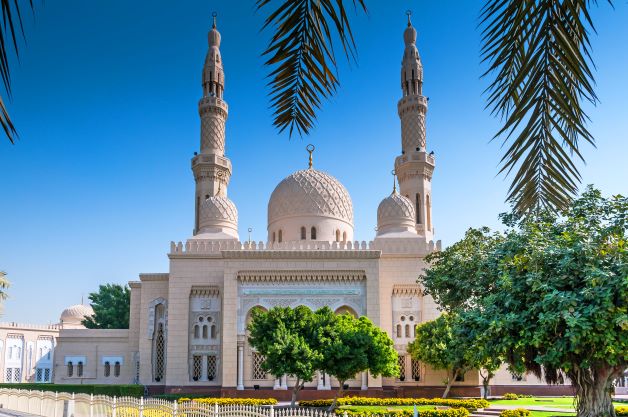 Jumeirah Mosque is a sacred space that is accessible to non-Muslims. An architectural style from the Fatimid period is evident in the building's white facade. It has one of the most stunning ornate facades, and at dusk, it is simply mesmerizing.
To fully appreciate its cultural significance, a visit here is a must. For this visit, make sure you've dressed appropriately in a dress that covers your shoulders and midriff. In addition, women will be required to wear a scarf around their necks to keep their hair out of their faces.
For those who don't have a traditional dress, the mosque will provide you with ethnic clothing.
6.
Go up the Burj Khalifa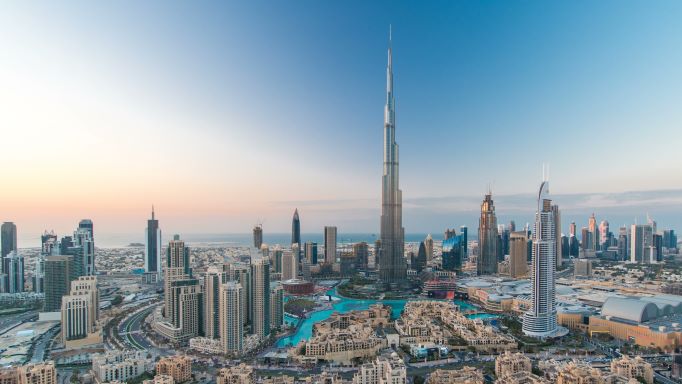 The United Arab Emirates' most prized asset is the Burj Khalifa, which dominates the skyline of Dubai. There are 828 floors in this record-breaking world structure, making it the tallest in the world. Take the 10-meter-per-second elevator to the 124th floor, where you'll arrive in under a minute.
There are exhibits, green screen photography, and much more to see and do. Visit the At The Top observation deck on the 148th floor to take in the breathtaking views.
7. Gold Souk
It's one of the world's largest gold markets. Every day, gold prices fluctuate. They're based on the current gold spot price per ounce, as well as the labor costs involved in making each piece of jewelry. The souk also deals in platinum, diamonds, and silver.
To get a good deal, go to a store where the jewelry on display has been subjected to rigorous government quality control standards. When shopping here, having the ability to haggle is a must. Gold prices in the UAE are lower than in India because the UAE does not charge value-added tax. So if you have been looking to add some gold to your jewelry collection, this is your opportunity!
8.
Dubai Miracle Garden
Dubai Miracle Garden is full of beautiful floral designs. One hundred fifty million flowers are blooming in a 72,000-sq-m colorful paradise. The Emirates A380, Lake Park, Floating Lady, 3D Floral Design, Disney Avenue, live shows, and a slew of other eye-catching attractions can all be found here.
Dubai Butterfly Garden is right next door and is just as impressive. Visiting here is one of the best things to do in Dubai with kids.
9. Madinat Jumeirah
Grand hotels, bustling souks, and beachfront hotspots make up Madinat Jumeirah, an Arabian oasis in the middle of the city. Shop at the best boutiques, dine in the finest Arabian summerhouses, and unwind at the lounge on this cool and contemporary beachside. Abras can be used to cross the 5-kilometer river quickly and conveniently.
10. Waterpark Wild Wadi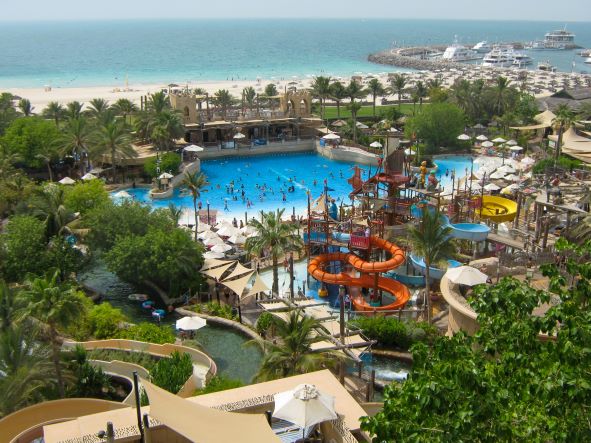 This water park has a folklore theme in front of the magnificent Burj Al Arab and Jumeirah Beach Hotel. First, children and their parents will have a blast on any one of the 30 rides and attractions. Second, only to Niagara Falls, the Jumeirah Sceirah is the world's second-largest free-fall water.
The water park is spread over 12 acres of land and features a variety of thrilling rides for both children and adults. In the water park, you'll find a wide variety of dining options to suit your palate. A must on your list of the best things to do in Dubai with kids! (things to do in Dubai)
11. Palm Jumeirah
Iconic artificial island Palm Jumeirah has been the world's most daring construction project. However, there are numerous things to do in Dubai that take advantage of the city's developed infrastructure and well-maintained transportation system.
Prepare to be awed by the world-class hotels, fashionable boutiques, upscale restaurants, and enthralling attractions that await you during your stay.
Go on a speedboat tour, take a skydive over the island, eat some snacks while sitting outside, and make a picnic of it at AI Ittihad Park. The five-star Atlantis The Palm resort is a must-see, with its Aquaventure Water Park, beach, and marine life exhibits.
12. Dhow cruise
Begin your voyage in the Persian Gulf aboard an old-fashioned Arab dhow ship. Sit back and take in the enticing atmosphere that has evolved into Dubai's global landmark over the years. While cruising the waves, you'll see palaces and other fascinating structures. Indulge in Emirati cuisine and beverages as you travel.
Private parties and family gatherings can be held on board the ship, which can be reserved in full or in part. The Middle East is known for its exceptional hospitality. At the end of the journey, you will be driven back to the hotel by the guide.
13. La Mer Beach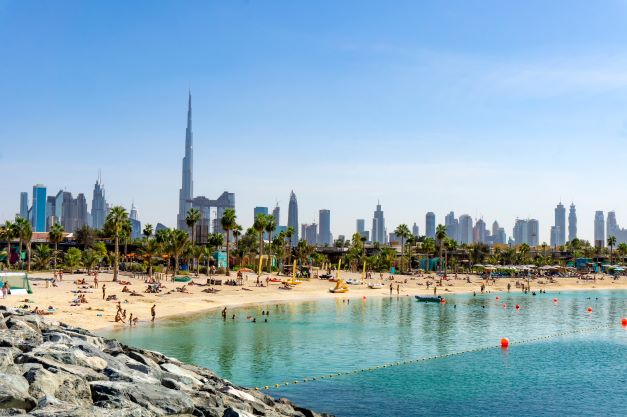 Visit La Mer Beach with the whole family for a unique vacation experience. It's an action-packed beach with everything from water sports to inflatable playgrounds, as well as delicious food and drinks. Relax while your children build sandcastles in the cabana while you enjoy views of the Arabian Gulf.
What's next after Dubai? Paris! Read about 11 THINGS TO DO IN PARIS: OTHER THAN VISITING THE EIFFEL TOWER. And also read about DUBAI SHOPPING FESTIVAL 2022 WITH DEALS & OFFERS.
Thanks for reading this. If you liked what you read, please leave me a comment below.
You could also follow me on Instagram Facebook to stay updated about my travel adventures worldwide.
FAQs
What is the time difference between India and Dubai?
India is 1 hour and 30 minutes ahead of Dubai.
Is Dubai safe?
Dubai is quite safe for tourists. However, like in any other country, pickpocketing and petty thefts are common, so make sure to take care of your belongings.
Does Dubai have a dress code?
Being an Islamic country, one cannot wear extremely short skirts and mini dresses when out in public, and covering the head is a must if you visit a mosque.