Among the world's most exciting and beautiful vacation spots, Uganda is undoubtedly an undiscovered gem. Uganda has something for everyone, whether you're a nature lover, a history buff, or a thrill-seeker. The people are welcoming and friendly, the food is a warm hug packed in every bite, and the tropical weather is relaxing.
Uganda is a paradise for anyone who wants to enjoy a vacation away from the city's buzz without missing out on life's conveniences.
The country has surplus top things to do, and rest assured that each of these activities will leave you wanting more! So, if you're eager to plan a trip to Uganda, take a look at our pick for some of the top things to do in Uganda.
12 Best Things to do in Uganda During Your Vacation
1.
Mountain Gorilla Trekking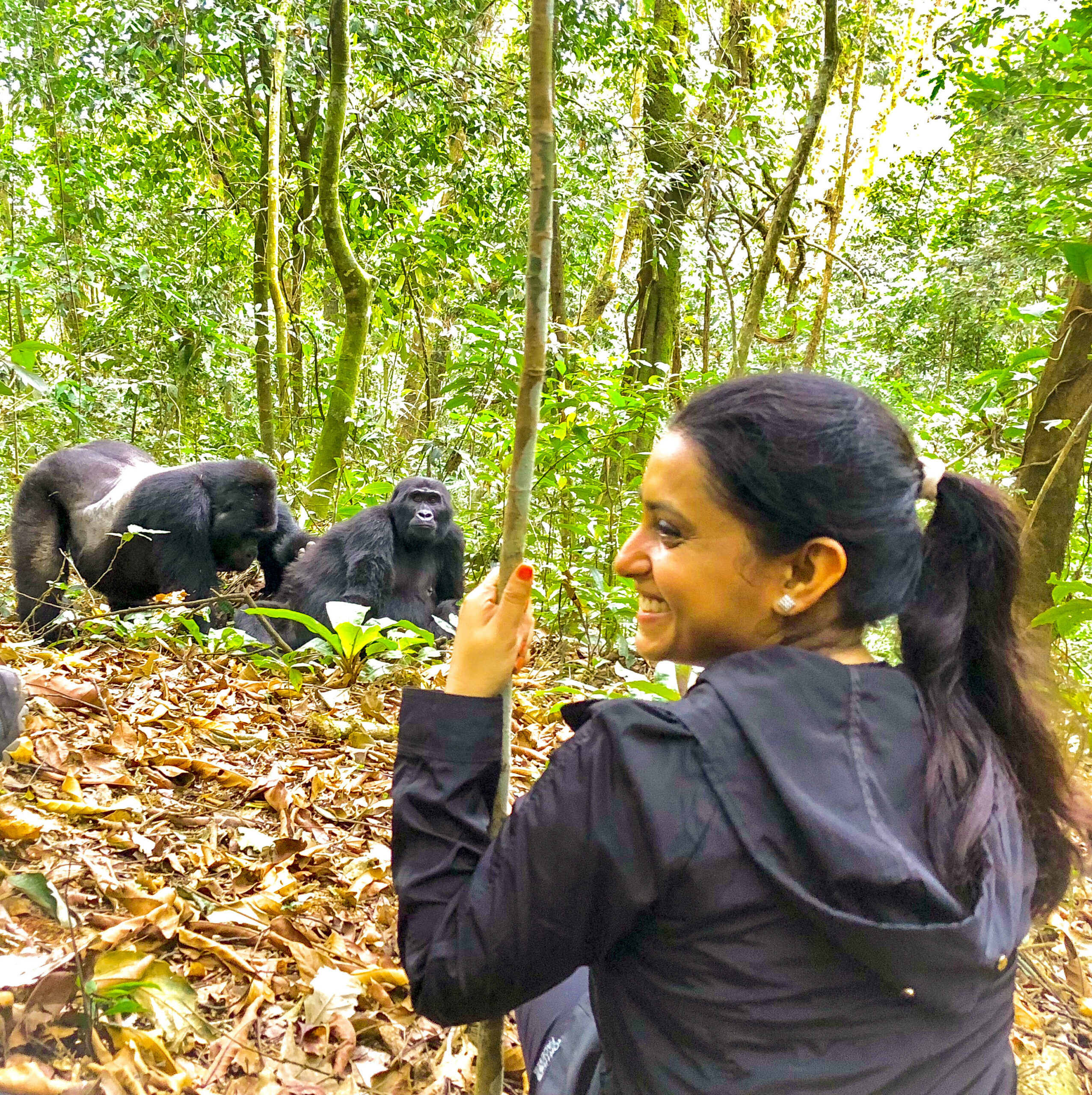 Gorilla trekking is at the top of my list of things to do in Uganda. In terms of excitement, it doesn't get any better than this. In the Bwindi Impenetrable National Park, you get to see these magnificent creatures up close.
Wild mountain gorillas in their natural habitat are a rare treat, as there are only 720 of them left on Earth; this is an opportunity not to miss.
Gorilla trekking is a fascinating and truly unique experience, which is why so many people put it on their bucket lists, and so should you! Here's my share of experience trekking the Mountain Gorillas range!
2. Visit Endangered Rhinos
You won't see any rhinos in Uganda's national parks because of poaching (the last wild rhino in the country was killed in 1982). However, the Ziwa Rhino Sanctuary is home to several thriving white rhinos crash.
Since its establishment in 2005, the Rhino Reintroduction Project has used the sanctuary's profits to help fund the breeding program and eventual release of rhinos into the wild. As a result, this critically endangered species can roam freely on 7,000 hectares of land.
On a one-to-two-hour hike, you can get up close with them as they forage in their natural habitat. This is an unforgettable African adventure and most definitely one of the best things to do in Uganda!
3. Boating in Murchison Falls National Park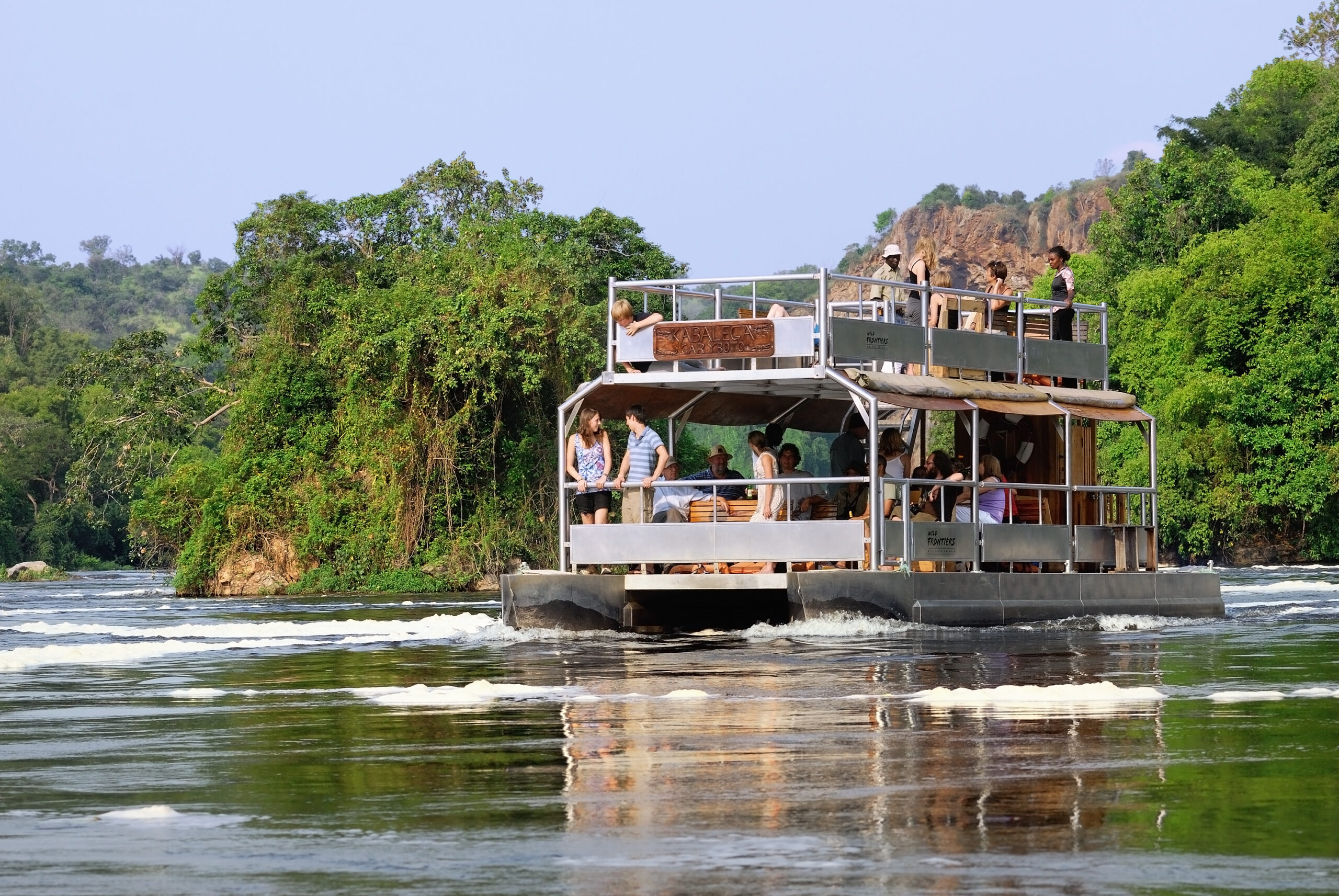 Take a boat trip to Murchison Falls in eastern Uganda on the Victoria Nile. Hippopotamus, crocodiles, elephants, buffalo, giraffes, and acrobatic colobus monkeys are just some of the animals you'll see during the visit.
The falls, on the other hand, is the real draw. Consider the force of the wide Nile being pushed through a narrow cleft in the escarpment of the Rift Valley. It is so incredible and mesmerizing at the same time. Uganda opens windows to exploring nature & its creations closely and developing an appreciation towards the same.
4.
Climbing Mt. Sabyinyo
Trekking is a common activity you will often find yourself indulging in Uganda. So do pack your trekking shoes.
The volcano hike to the Mgahinga Gorilla National Park is a not-to-miss experience. The park is located in the Virunga Mountains, which is home to a number of volcanoes.
Adventurers should not leave without conquering one of the peaks in the area, which is the most popular activity here and among the top things to do in Uganda.
As you ascend, Mt. Sabyinyo's ascent takes you through mystical alpine vegetation, frequently shrouded in mist. Uganda, Rwanda, and the Democratic Republic of Congo share a 3,669-meter-high summit (DRC).
5.
Finding a lion that can climb trees in Queen Elizabeth National Park's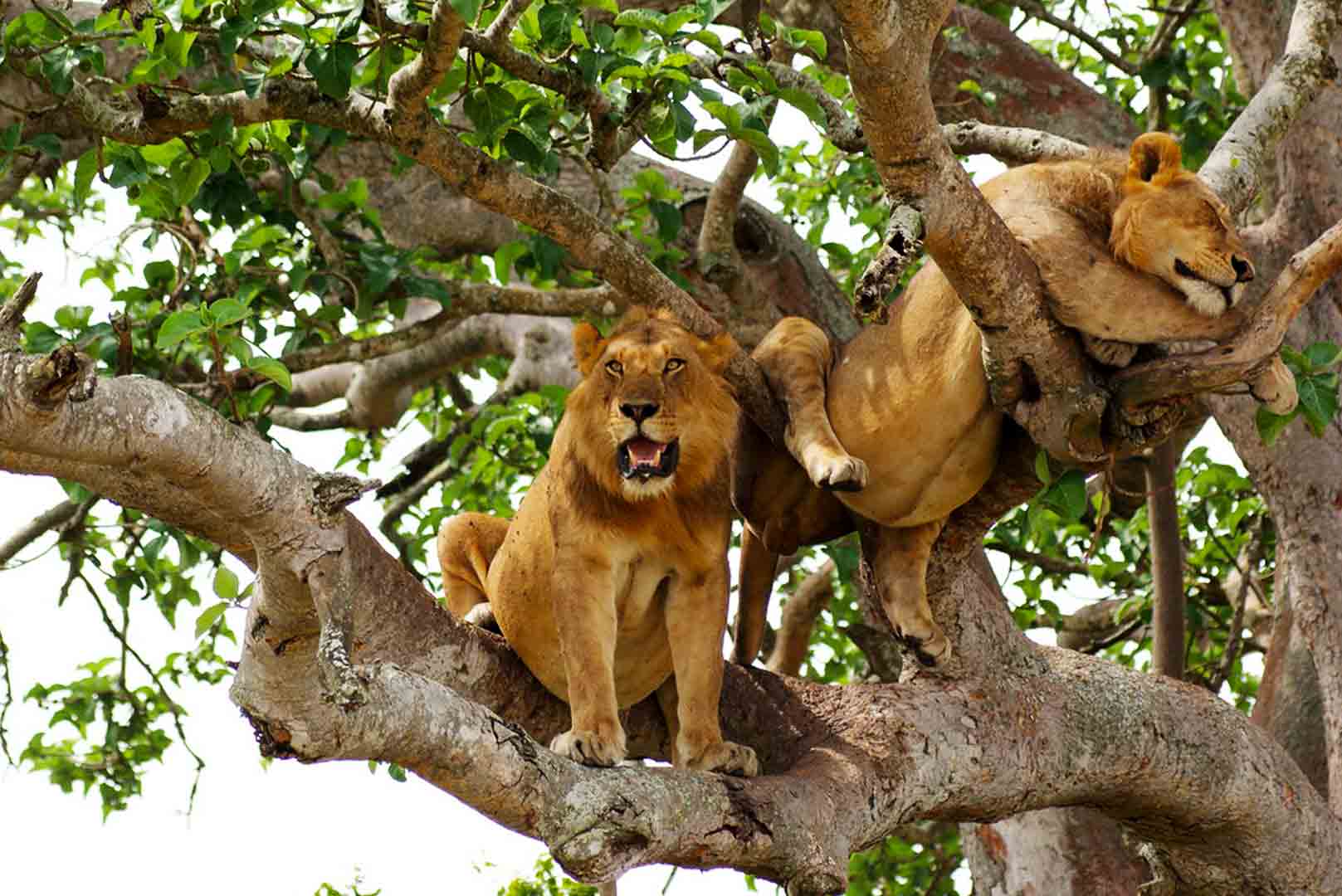 Sighting a majestic lion is always a treat for the eyes. But can you imagine seeing one of the largest, and perhaps the clumsiest, of the big cats perched high on a tree?
The ancient fig trees in the Ishasha sector of Queen Elizabeth National Park are home to a large pride of lions.
They also appear to be very comfortable. That is, unless and until they decide to descend. The visit is worth everything and something you can do before lunch or post-lunch. Be sure to check the timings on the day you are visiting.
6. Relaxing by Lake Bunyonyi's shore.
If you're looking for things to do in Uganda, don't overlook the picturesque Lake Bunyonyi, where you can do nothing but relax. There's always something to explore in Uganda, and there's an ending to the top things to do on the Uganda list. It's the perfect place to relax for a couple of days before or after a gorilla trek.
The lake gives time to sit back and relax – something many adventurers look forward to during their trip to prevent exhaustion. So if you have had back-to-back action-packed days, this is your spot to chill, eat and relish golden moments in life!
7. Visit the Nedere Centre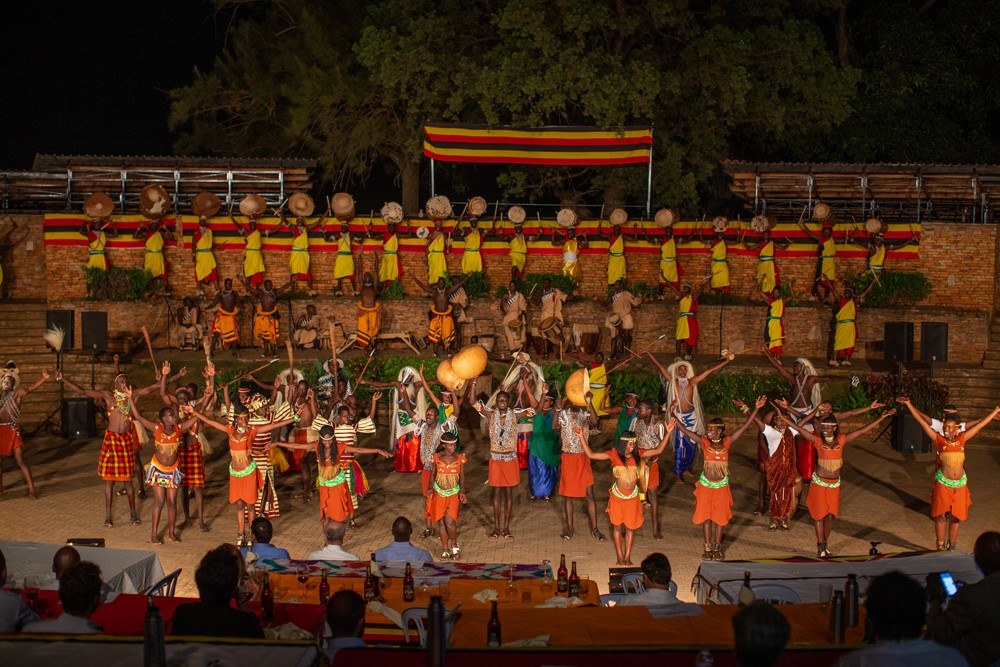 Uganda has a rich culture, and a visit to Nedere Centre will bathe you in it for sure! The country has a significant heritage in the African culture and exploring it is one of the best things to do in Uganda.
The Ndere Centre, which is open every Wednesday, Friday, and Saturday night, features a 700-seat auditorium where you can watch high-energy shows depicting the vibrant costumes, dances, and music of local Ugandan tribes.
At the Nedere Center's barbecues, you may even get to taste some of the area's remarkable delicacies.
8. Salt pans on Lake Katwe
Known for its high and impeccable quality, Lake Katwe is a traditional salt-mining lake. On the lake's edge, a wide array of small salt mines can be seen.
So if you're planning on visiting Queen Elizabeth National Park, stop by and see how the locals get their salt from the ground.
Also, the lake was formed after a violent volcanic eruption being the reason behind the quality of the salt obtained.
9.
Visit Entebbe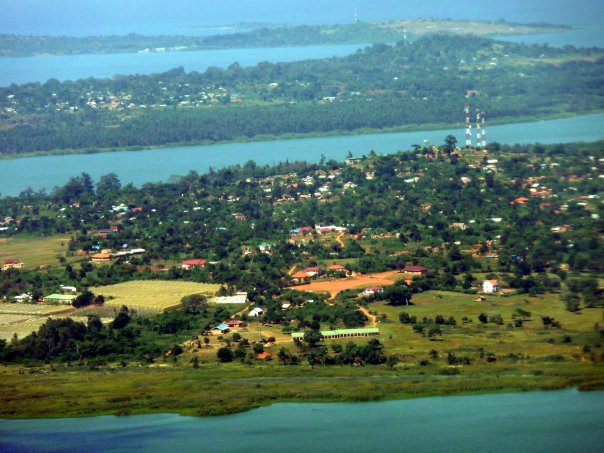 Located on Lake Victoria, Entebbe is a small, peaceful town. A great place to go if you're looking for adventure sports, nature exploration, and cultural exploration all at once.
The closest airport is also right around the corner, at Entebbe! As a result, it's the ideal place to spend the night en route to or from Uganda.
Entebbe has a variety of activities to choose from, including horseback riding. Some of them are –
Visit the botanical garden in Entebbe

Trip to the local craft fairs

Biking in the mountains

Trip to the impressive Uganda Wildlife Conservation Education Centre, the Ngamba Island Chimpanzee Sanctuary (protects orphaned chimps)
10. Attractions in Jinja for the Adventurous
As the adventure capital of Uganda, the small colonial town of Jinja is a great place to start.
The White Nile emerges from Lake Victoria at Jinja. Many people believe that this is where the Nile originates.
For a truly unforgettable experience, I recommend spending at least two nights here and taking advantage of the area's stunning natural beauty.
11. Meet the giraffes of Rothschild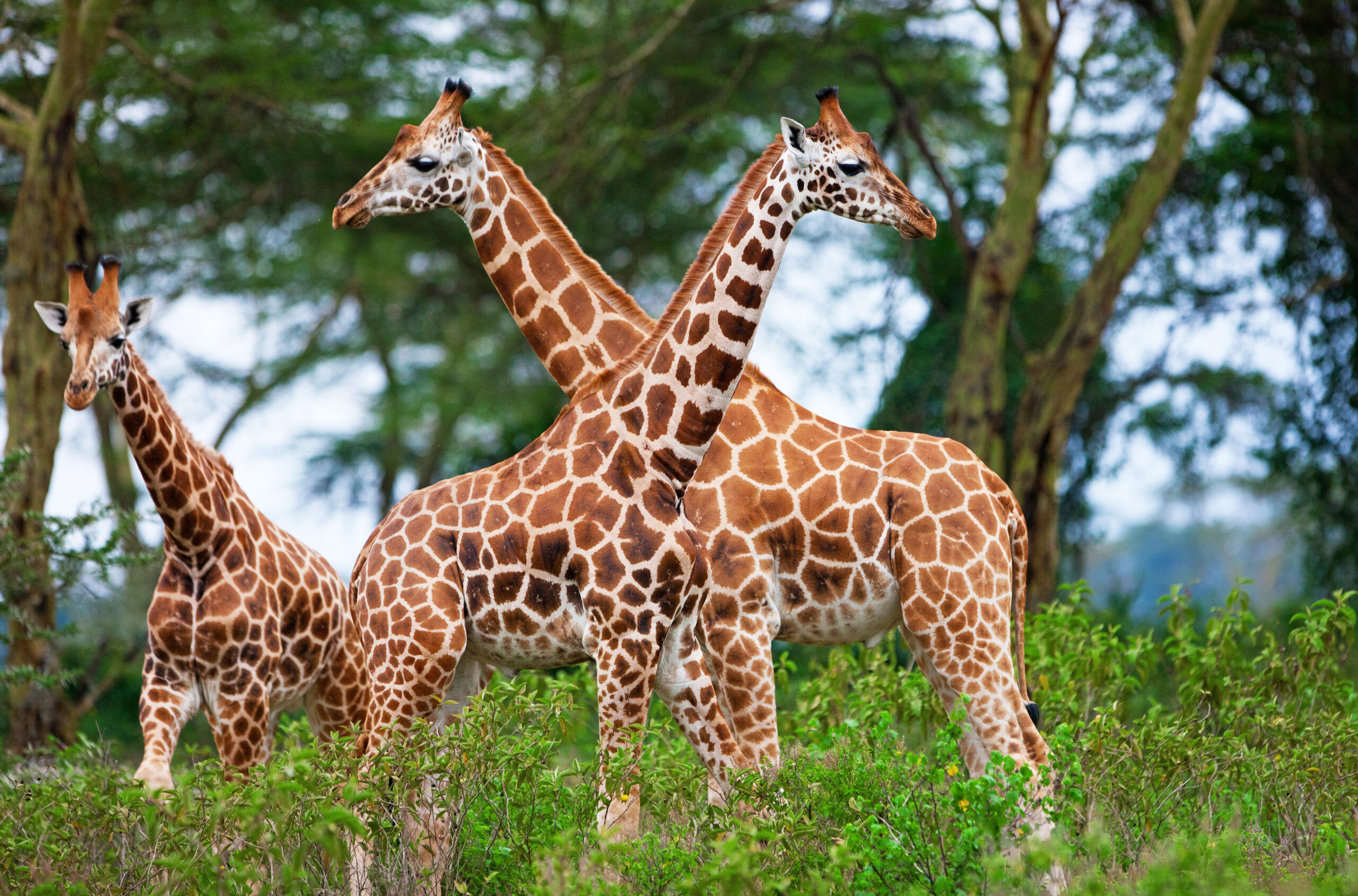 The Rothschild's giraffe population has the record for being the world's smallest. According to current estimates, only about 1,600 of them remain in the wild. This species is considered "near threatened" by the IUCN. Only Kenya and Uganda are home to these giraffes.
Rothschild's giraffes can be found in the most numbers in Murchison Falls National Park. This giraffe species is one of the tallest globally, reaching a height of nearly 6 meters! A visit to this place is one of the best things to do in Uganda.
12. Enjoy Lake Victoria's outdoor recreation.
Traveling to Uganda and not spending time at Lake Victoria, Africa's largest lake, doesn't seem right. Lake Victoria is a haven for outdoor enthusiasts, offering a wide range of activities in addition to stunning scenery.
Fishing, water sports, boat cruises, picnics, birdwatching, cultural walks through local villages, and hiking trails that lead to ancient rock art sites are just some of the activities you can partake in a while visiting the area. You may also get the chance to see crocodiles, hippopotamuses, turtles, and otters, to name a few of the amazing wildlife species.
Swimming in Lake Victoria can be dangerous due to a parasite known as Bilharzia and must be avoided at all costs.
One person can't see everything due to the sheer number of places to visit and things to do in Uganda. Hence. Only a few of the country's most popular attractions are included in my list.
Planning your next trip? some of the best things to do in Paris to make your vacation exciting.
Thanks for reading this. If you liked what you read, please leave me a comment below.
You could also follow me on Instagram Facebook to stay updated about my travel adventures worldwide.
FAQs
What is the weather like in Uganda?
All year long, Uganda is warm and humid, with some rain to keep things nice and green.
Do they speak English in Uganda?
The official language of Uganda is English and is spoken by a majority of Ugandans.
How to get around in Uganda?
Renting a car is one way to travel independently in Uganda. Since most of the roads in the national parks are unpaved and often rough and potholed, renting a 4×4 is highly recommended. Nonetheless, driving on rough Ugandan roads is not for the faint-hearted, so if you don't have much experience going in Africa, you might want to hire a driver.