Top 11 things to do in Budapest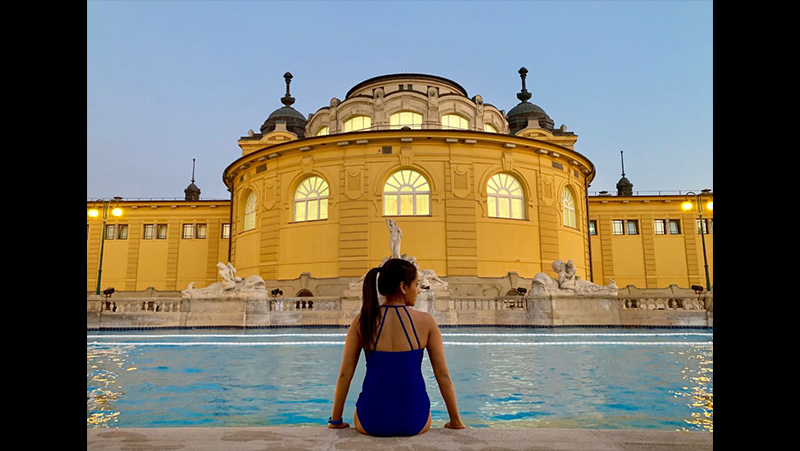 One of the most modern cities in Europe with a tumultuous history, Budapest, Hungary has everything in her means to totally captivate you. I was in this magnificent city a couple of months ago and I realised that just a few days is not even nearly enough to marvel at this wonderful city. So if you are wondering what are some of the best things to do in Budapest if you are there only for a few days, you needn't look any further. 
Here are my top 11 things to do in Budapest :
1. A walk by the Danube River
One of my favourite things to do in any city is to walk around aimlessly just to soak in the vibe, the history and the monumental heritage that the city embodies. A walk by the Danube river that separates the two cities of Buda and Pest is a pure delight. Alternately you could take walking tours which are available in plenty for tourists and are often free – this is the best way to get a fair introduction of the city and its history. And believe me, the calm and quiet that this place has at the offer, makes it one of the best places to visit in Budapest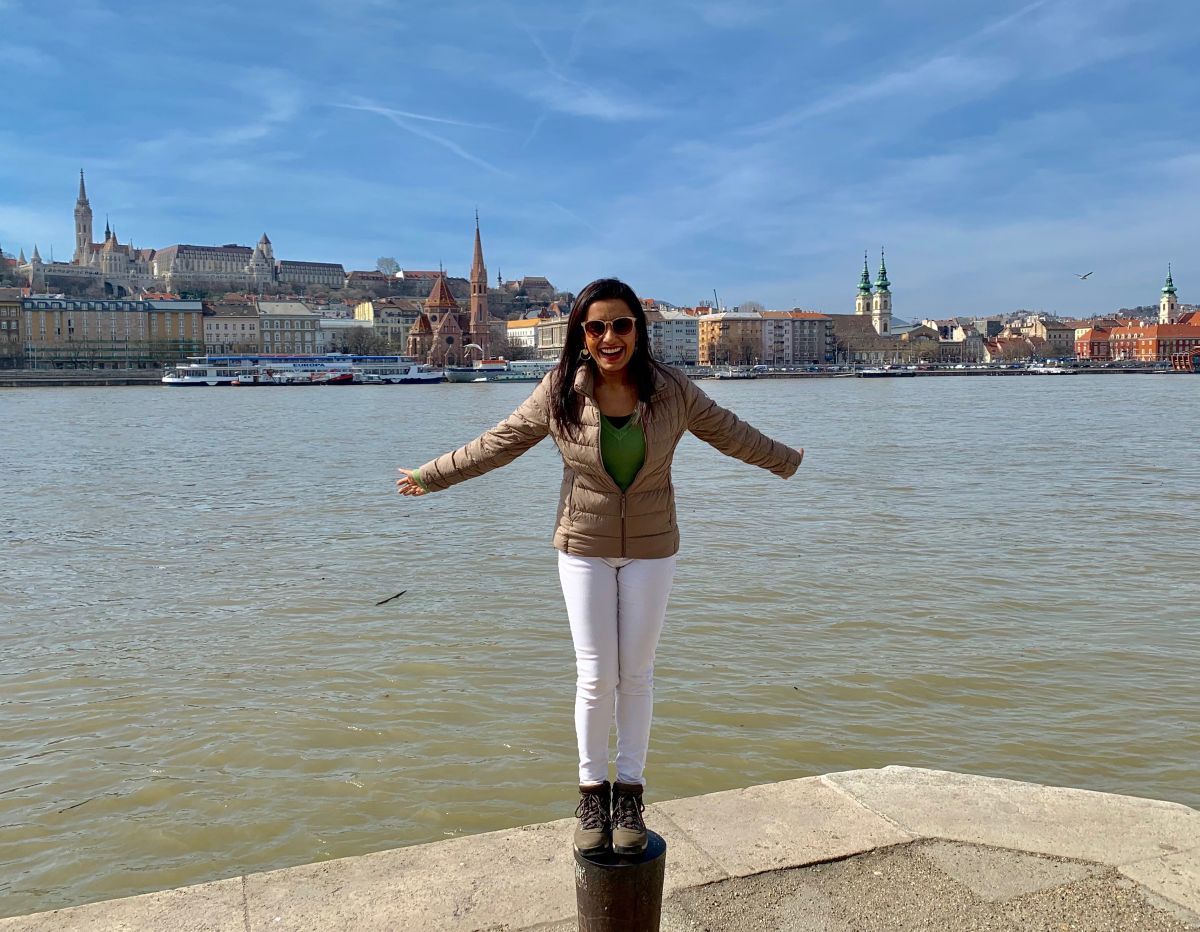 2. Budapest Skyline
Another one of the popular places to visit in Budapest, the Budapest Skyline makes for an absolutely breathtaking view. Ogle at the Parliament building which is one of the largest Parliament buildings in the world. Better yet, take a ride up to the Citadel on the Gellert Hill, where you get the best view of both the cities and the Parliament building looks glorious especially at sunset. The view is so pretty and that is reason enough to visit Budapest. Talking about buildings, most Budapest hotels and houses are magnificent too.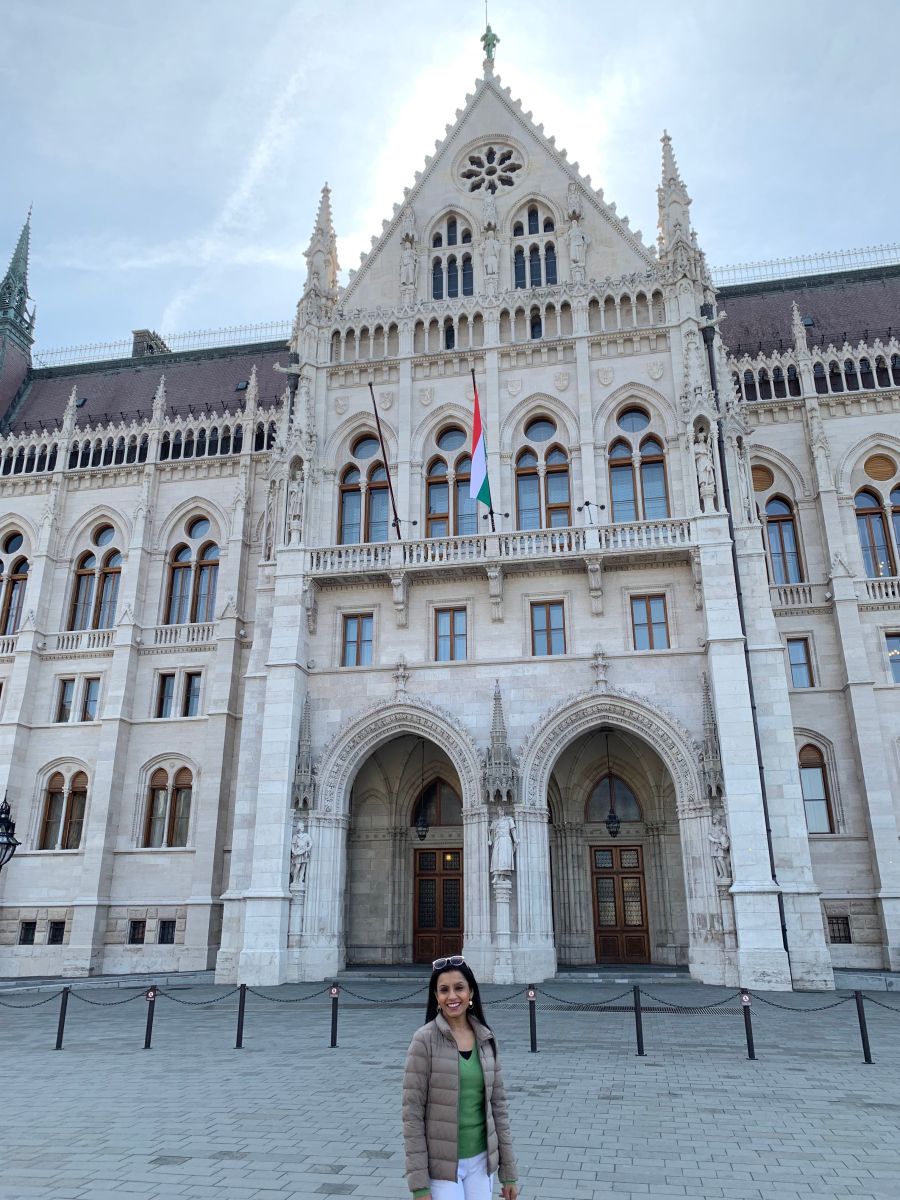 Hungarian Parliament Building, Budapest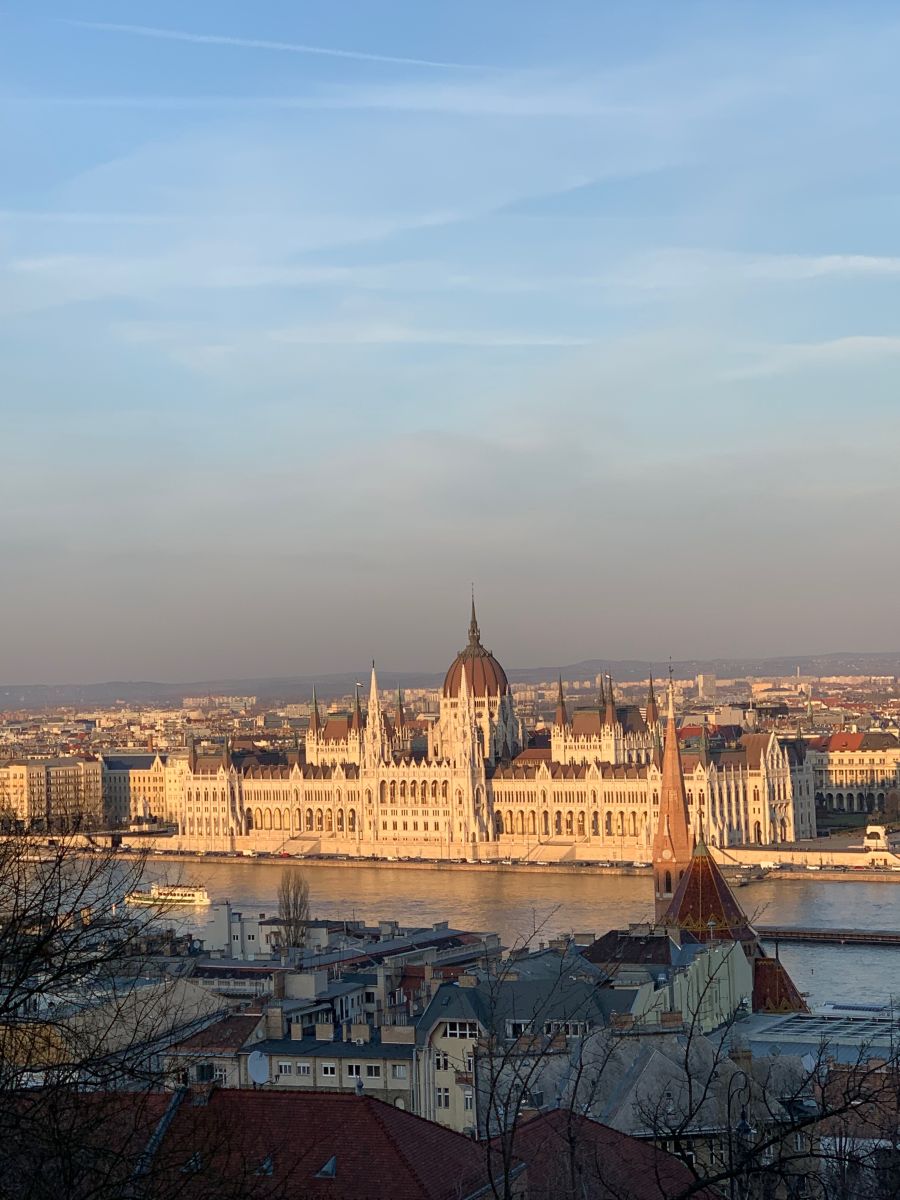 One of the largest in the world
3. Astounding architecture
Fall in love with the diverse architecture in this city that comprises Gothic, Neo-Gothic, Renaissance and Art Deco. Every turn around the corner will only leave you in awe of these stupendous works of art. You simply cannot miss a metro ride – it is one of the oldest metro lines in the world which was built in 1896 and has been one of the most famous points of interest since at least the late 20th century.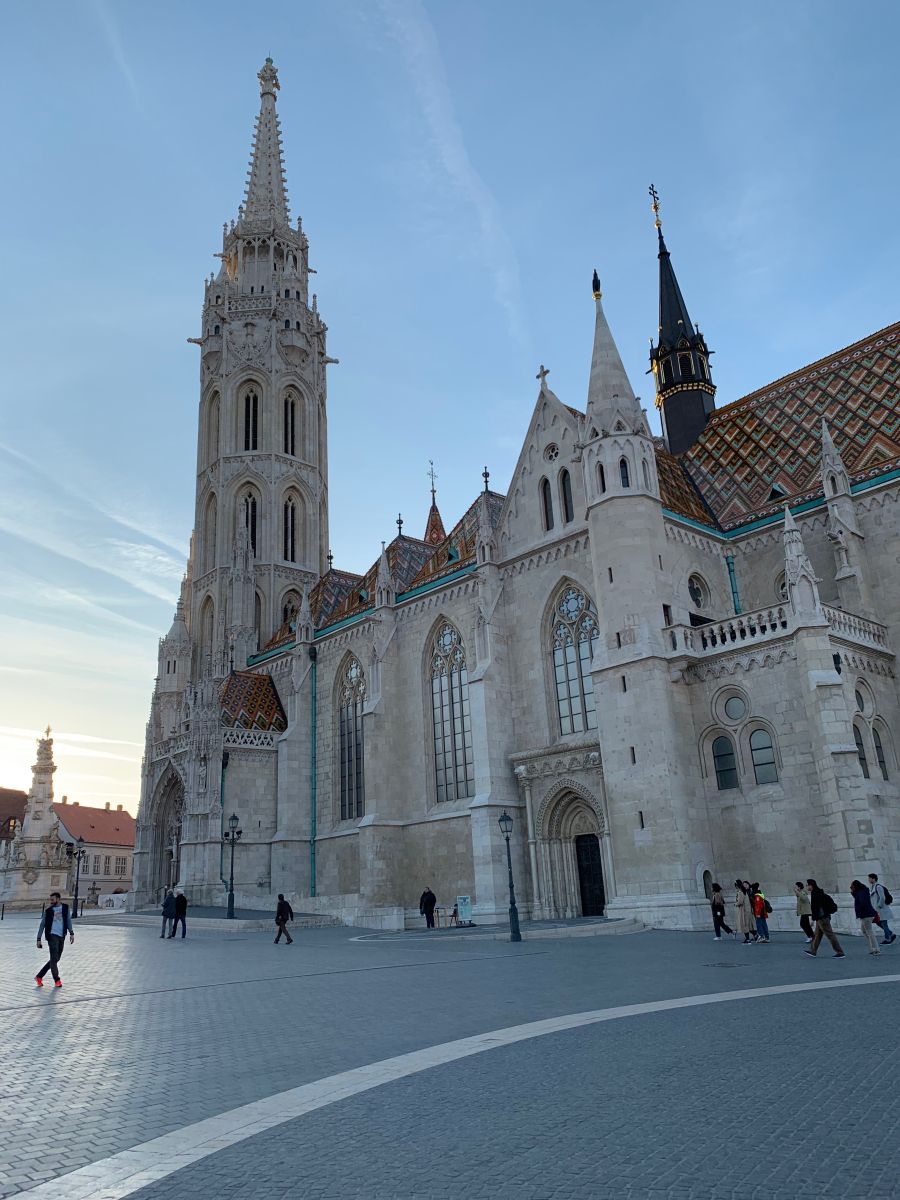 Matthias Church Buda Castle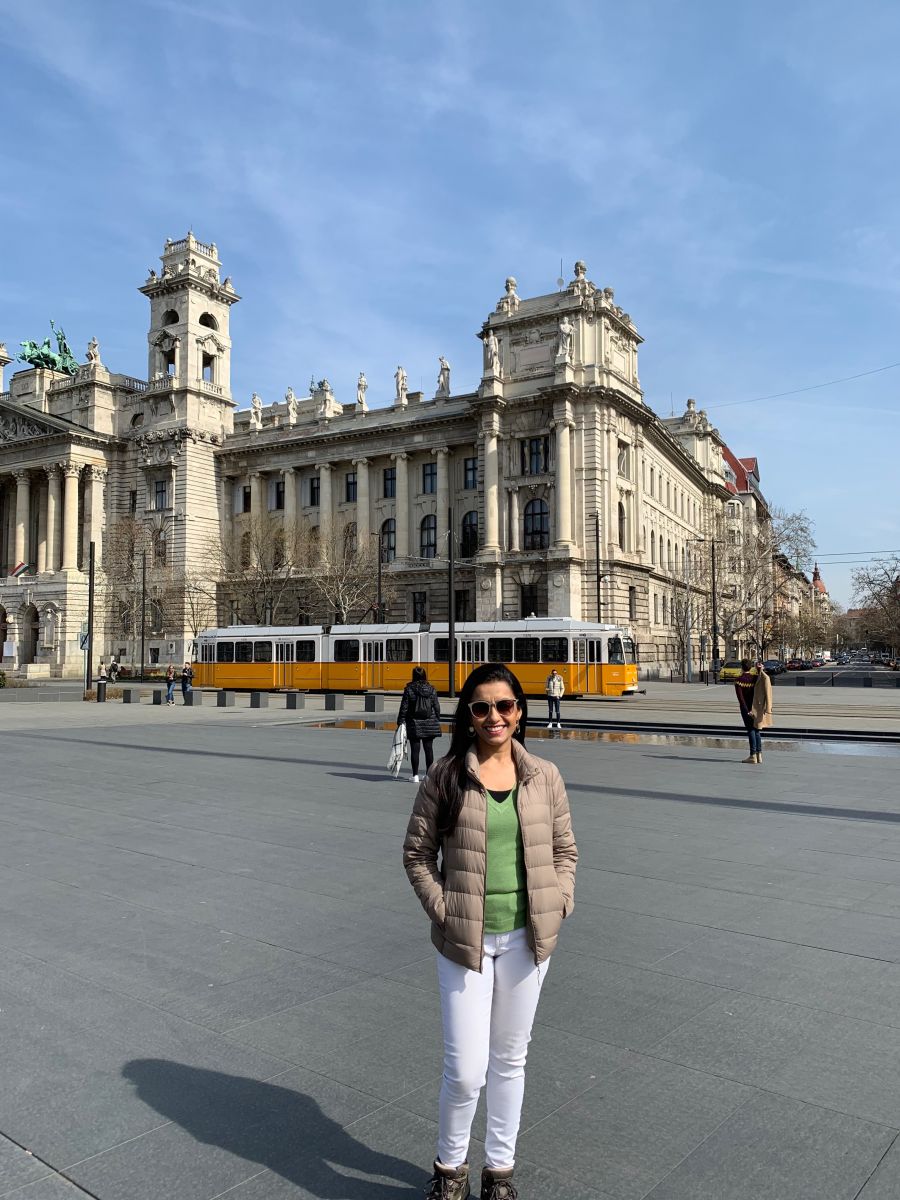 4. Admiring the Chain Bridge
The Chain bridge that links the city of Buda and Pest and it is a symbolic site in the history of Hungary. A walk on this bridge gives you a panoramic view of the cities making it one of the must visit places in Budapest.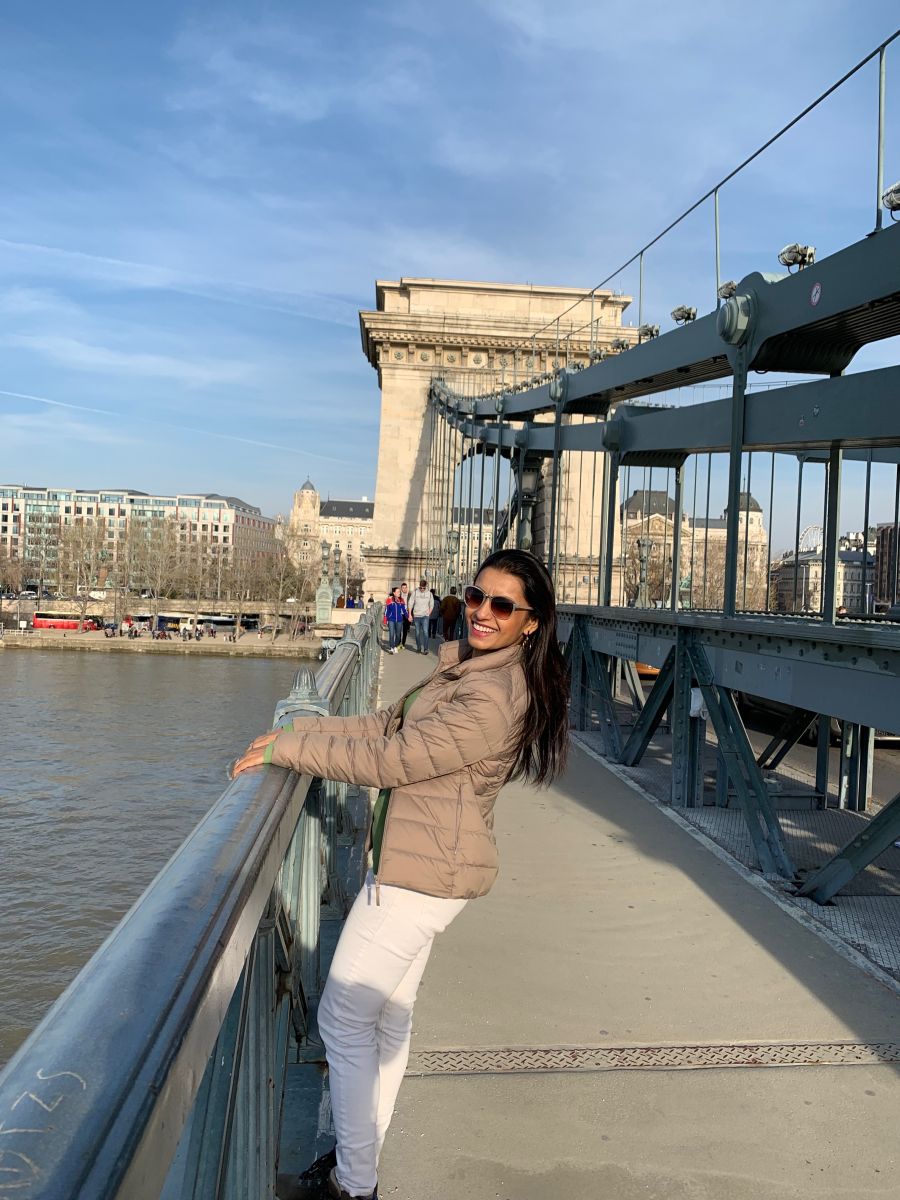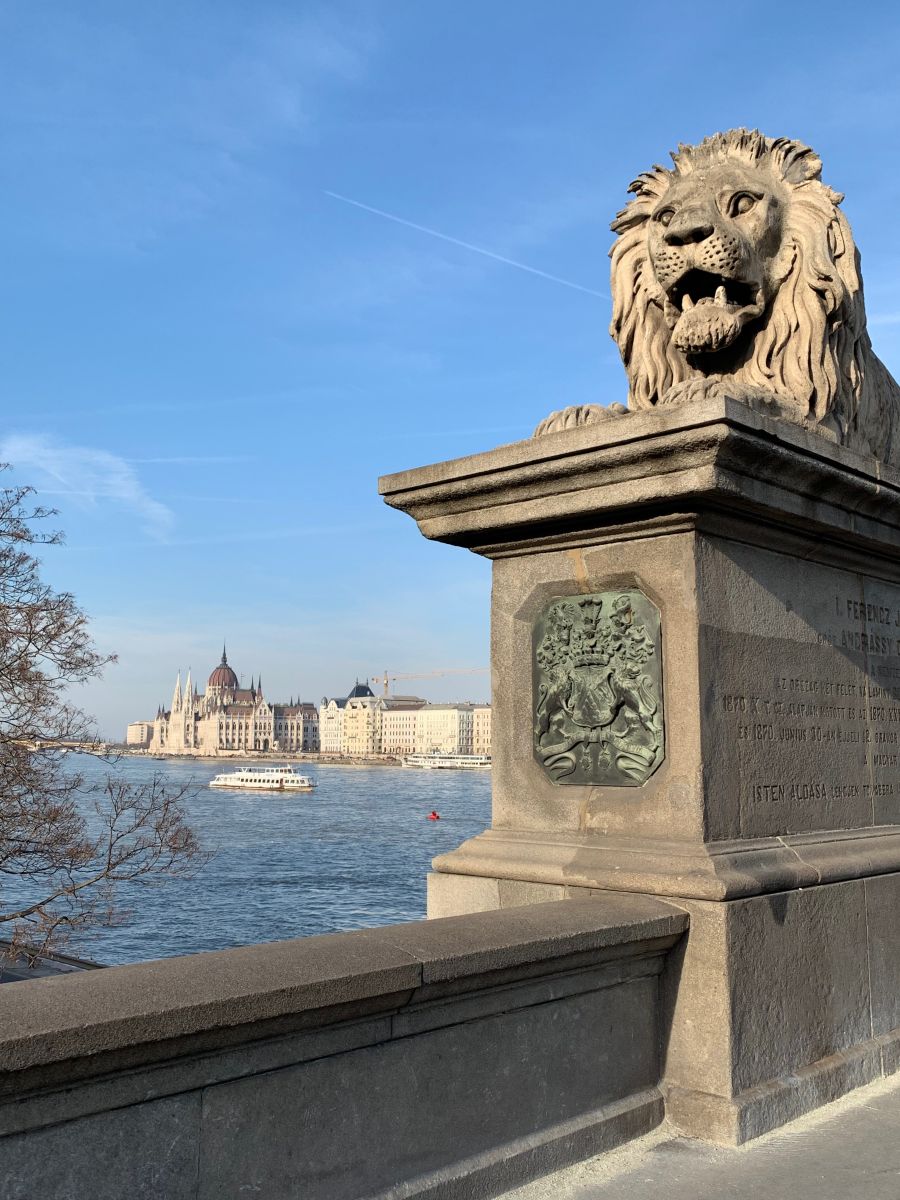 View of the Parliament Building from the Chain Bridge
5.Relax at the 'Budapest Punch'
Stop at cafes that serve the 'Budapest punch' as locals call it, which is basically heated spiced mulled wine. There is always something about cafes in European cities and so it was in Budapest – its very transformative. The preserved old world charm united with the new.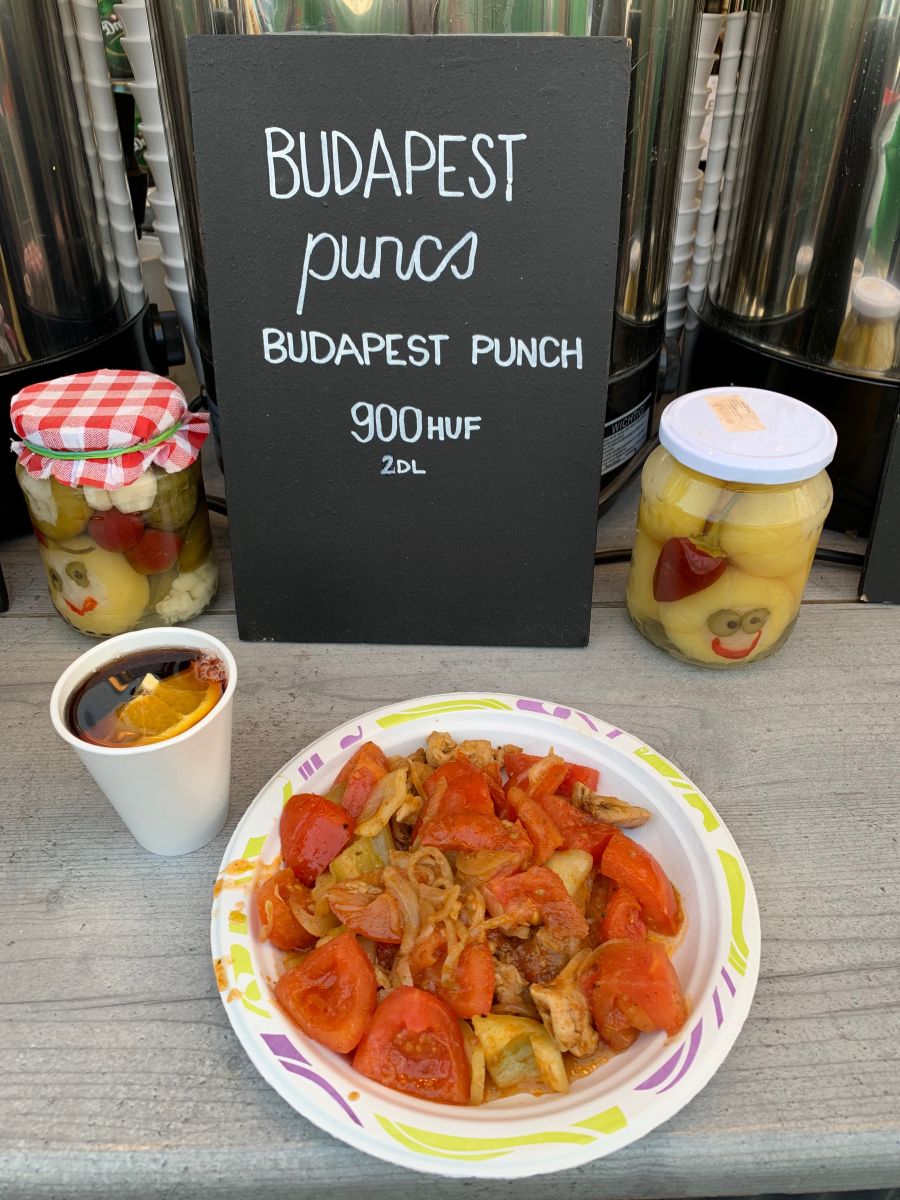 Budapest Punch and Chicken Goulash
6. Savor the culinary culture
Don't forget to immerse in the eclectic culinary culture of the city- whether it's the iconic Hungarian dish of Goulash ( made with meat and potatoes stewed in a spicy tomato and paprika based sauce), the Langos (which is a flat bread that is eaten with various toppings like cheese, ham, sausage) or a gelato at Gelarto Rossa which combines art and ice-creamery right in the heart of the city near St.Stephen's basilica.To add to the list try layered cakes, tortes or stuffed crepes if you have the sweetest tooth like I do. European countries have some of the best desserts in the world.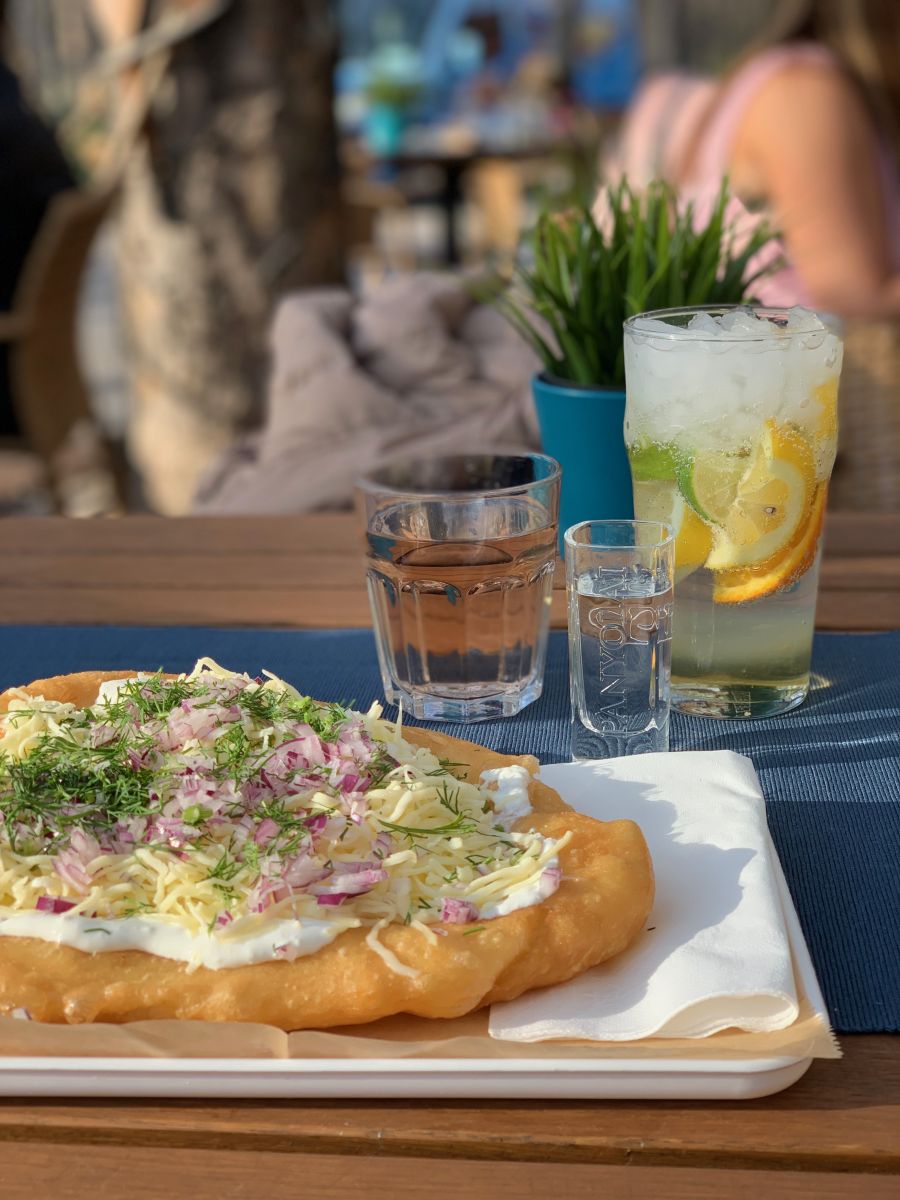 The very popular Langos – Hungarian Food Speciality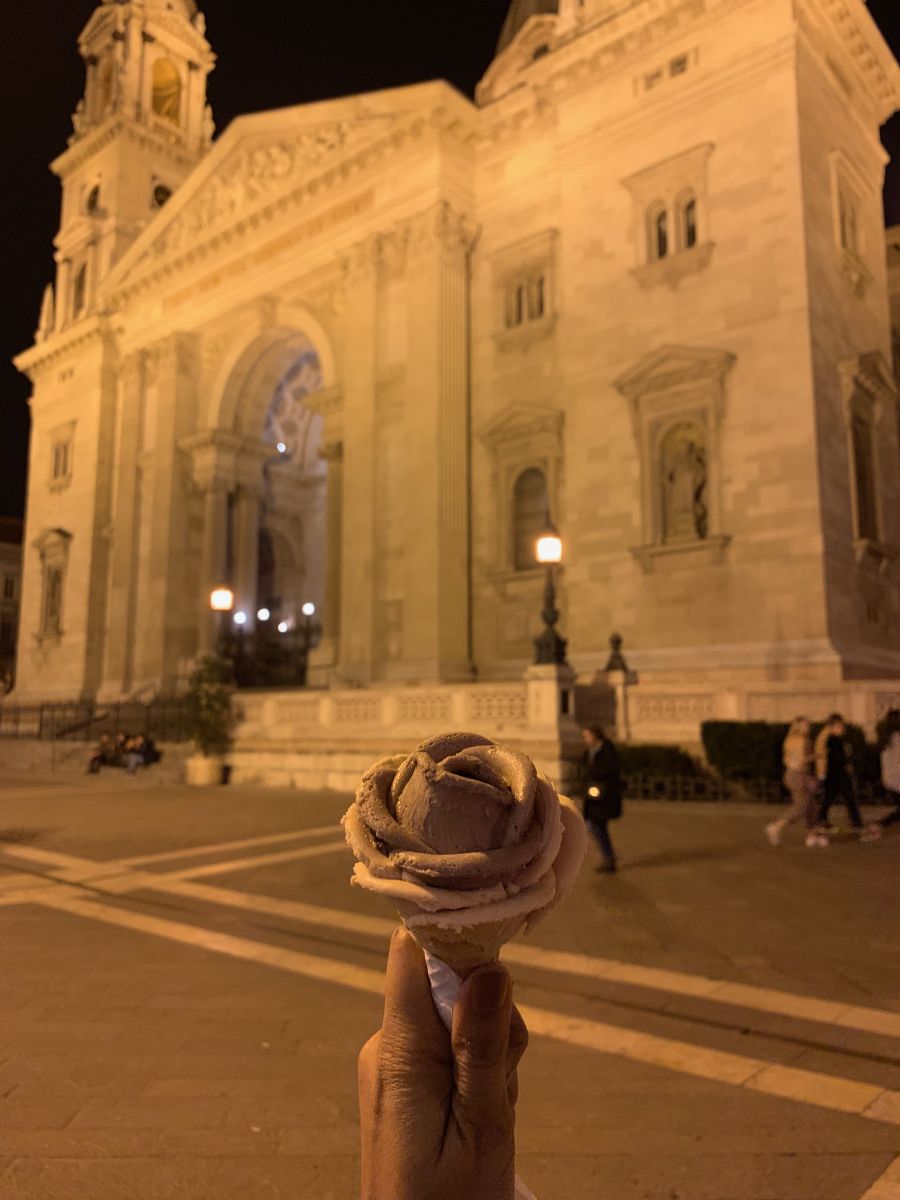 7. Relax at Thermal Spas
Budapest boasts of having the largest number of Thermal spas in the world and the chemical compositions in the water differs from bath to bath and is very unique. You must visit Széchenyi Thermal Bath which has 18 separate pools. Don't just stop at the thermal baths here, but take a dip in the ice cold water too followed by a dip in one of the two outdoor heated pools. The last pool here has a whirlpool and is great fun. And if you are a spa lover, well, you have already arrived! You simply cannot leave Hungary without an experience at a Budapest Spa. Budapest Tourism has done a good job promoting these.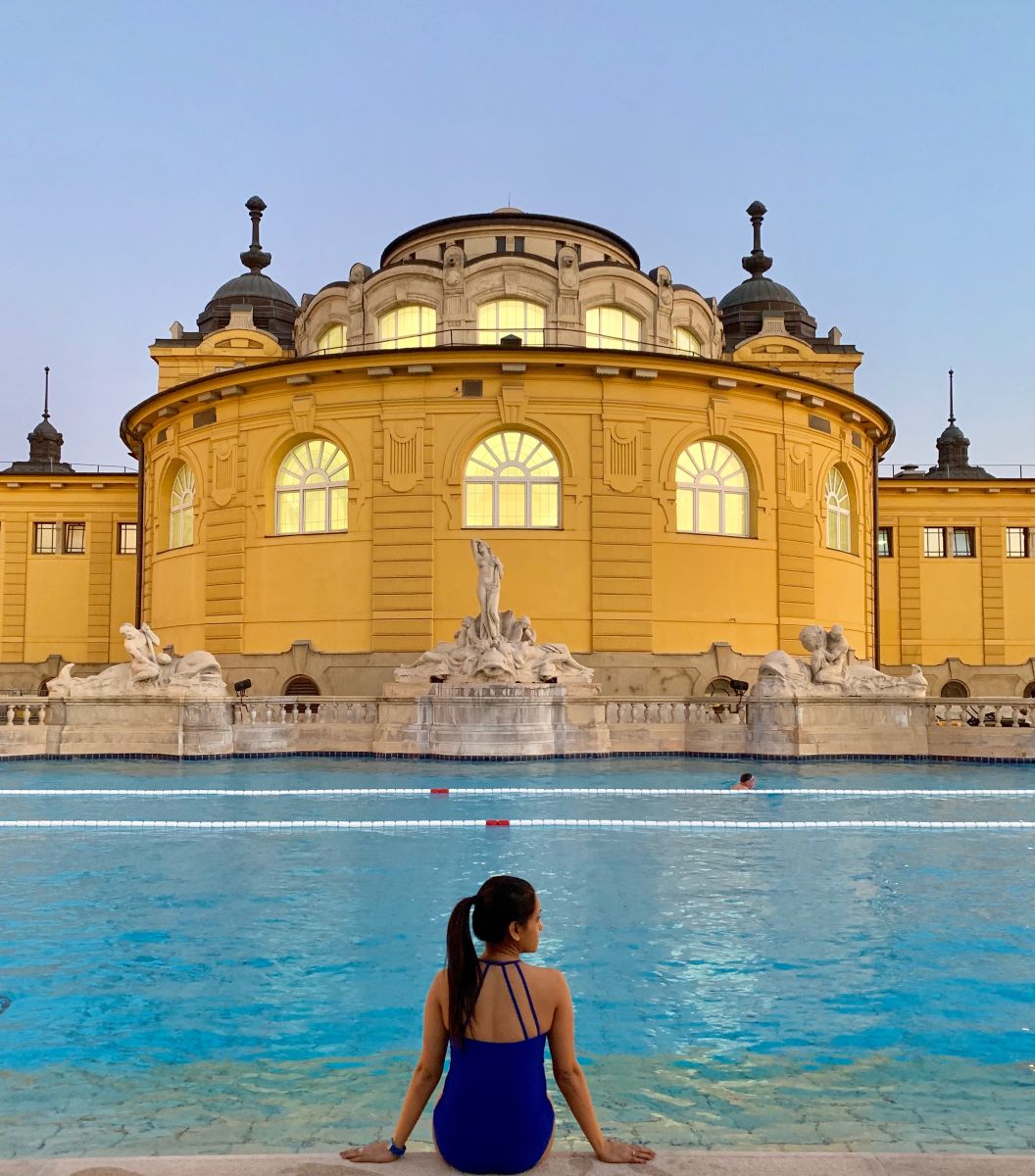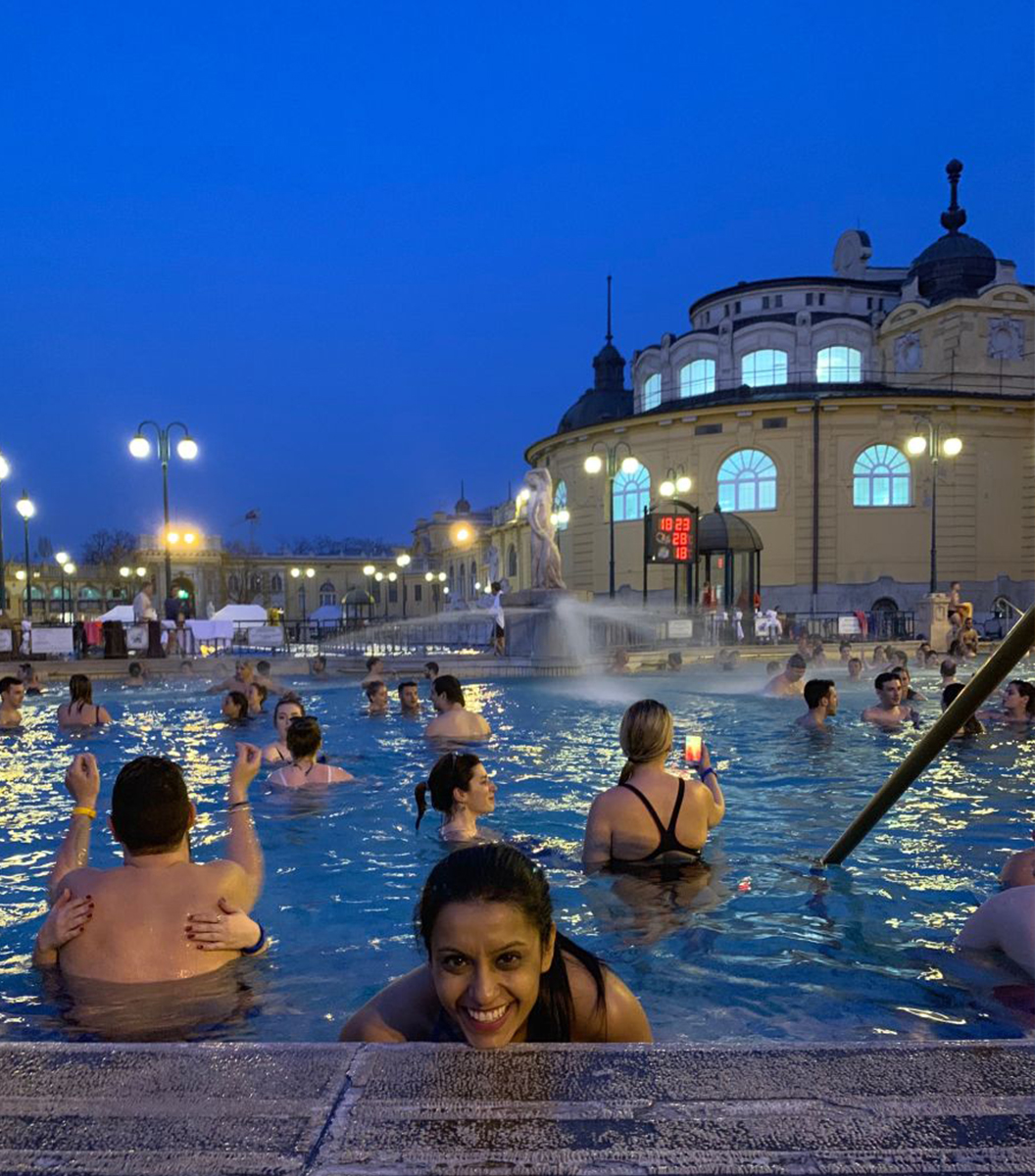 Enjoying the Thermal Spa, Budapest
8. Ruin Bars
Ruin Bars are a rage in this diverse city. Many people come to Budapest just to drink in these dilapidated watering holes, this being one of the biggest Budapest attractions. It so happened that a large number of buildings in the old city remained unoccupied since World War II and hence gave rise to Ruin Bars in the 2000s. Large ruined buildings, decorated with funky furniture, broken cars, bathtubs wherein you can sit with a drink, body parts of mannequins, meter boxes hanging from the ceiling make these a hub for the artsy hip crowd. The best and the oldest is the Szimpla Kert. Budapest travel is incomplete without having a drink here.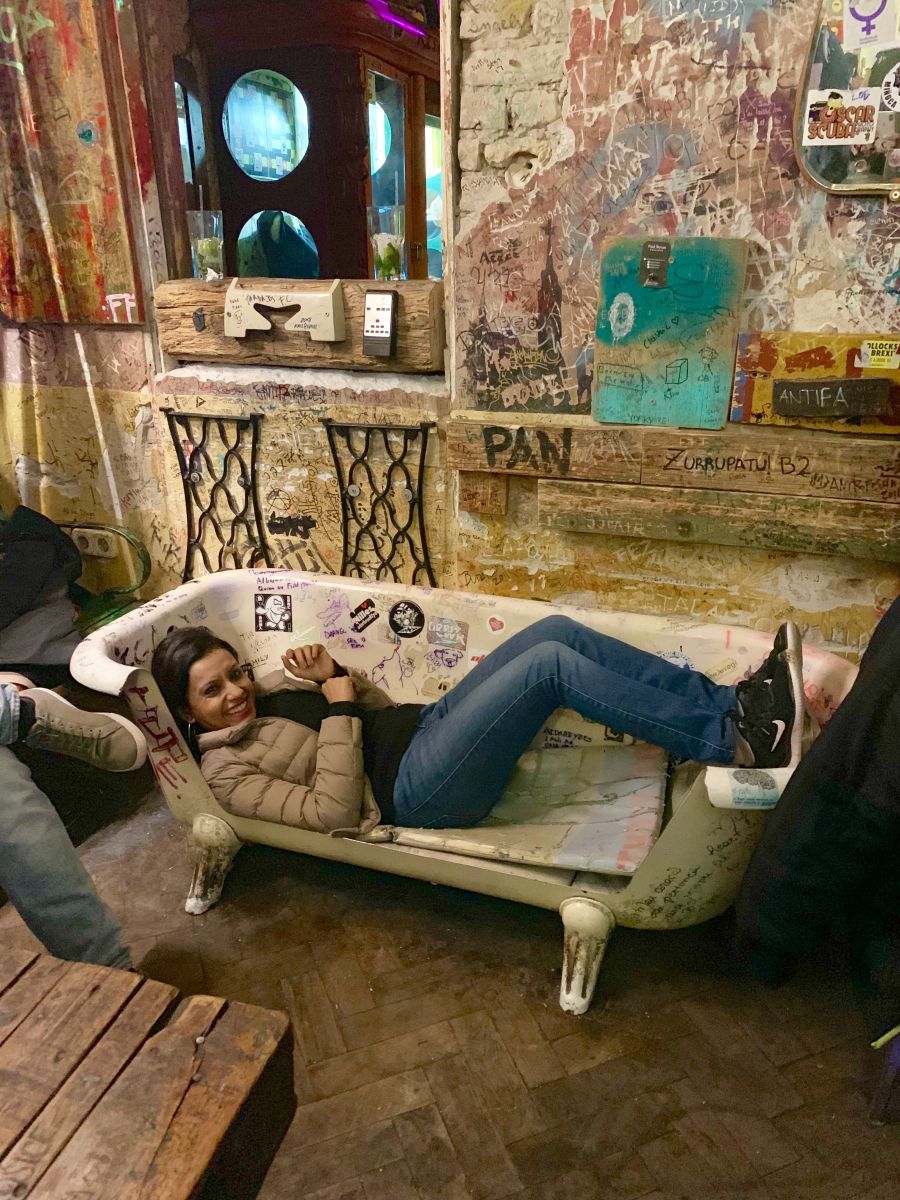 Relaxing in a bath tub at the Ruin Bar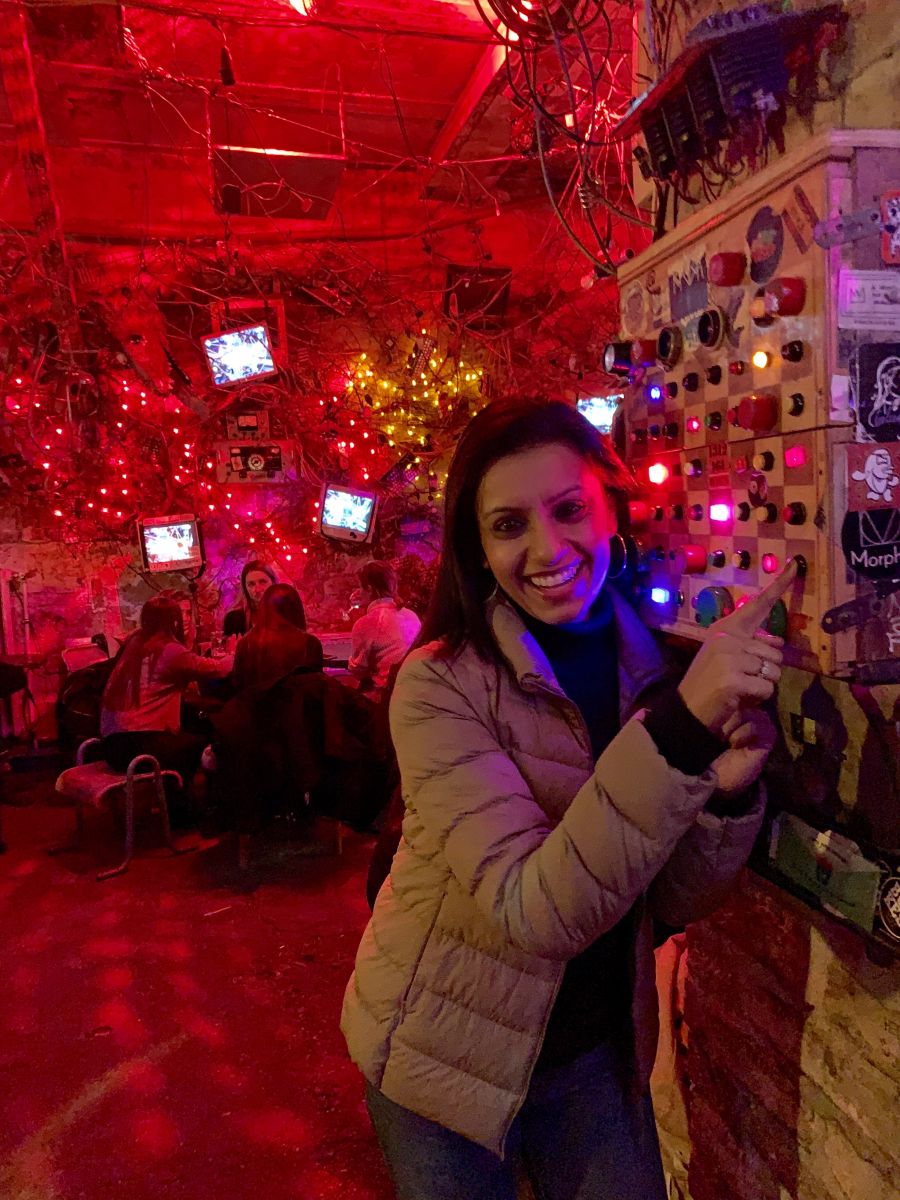 Playing with the Meter Box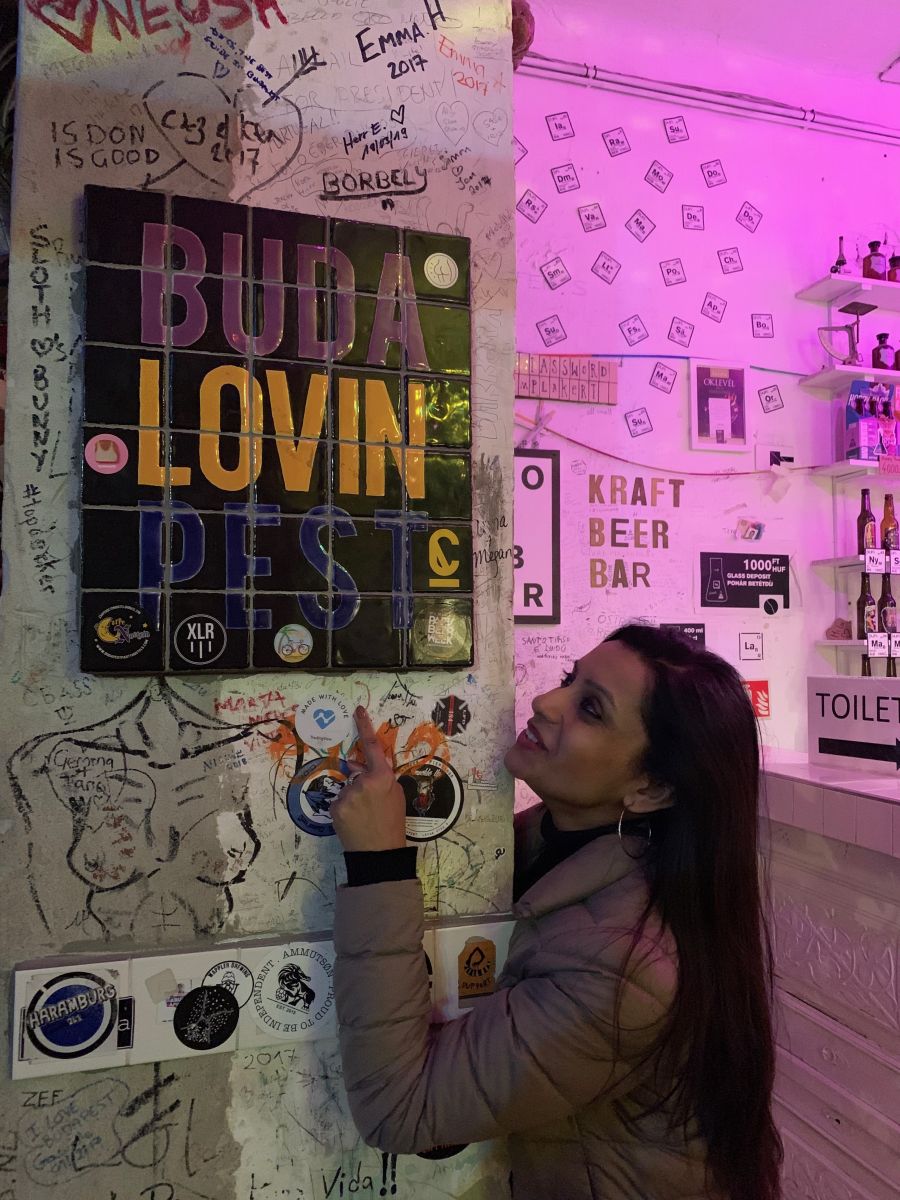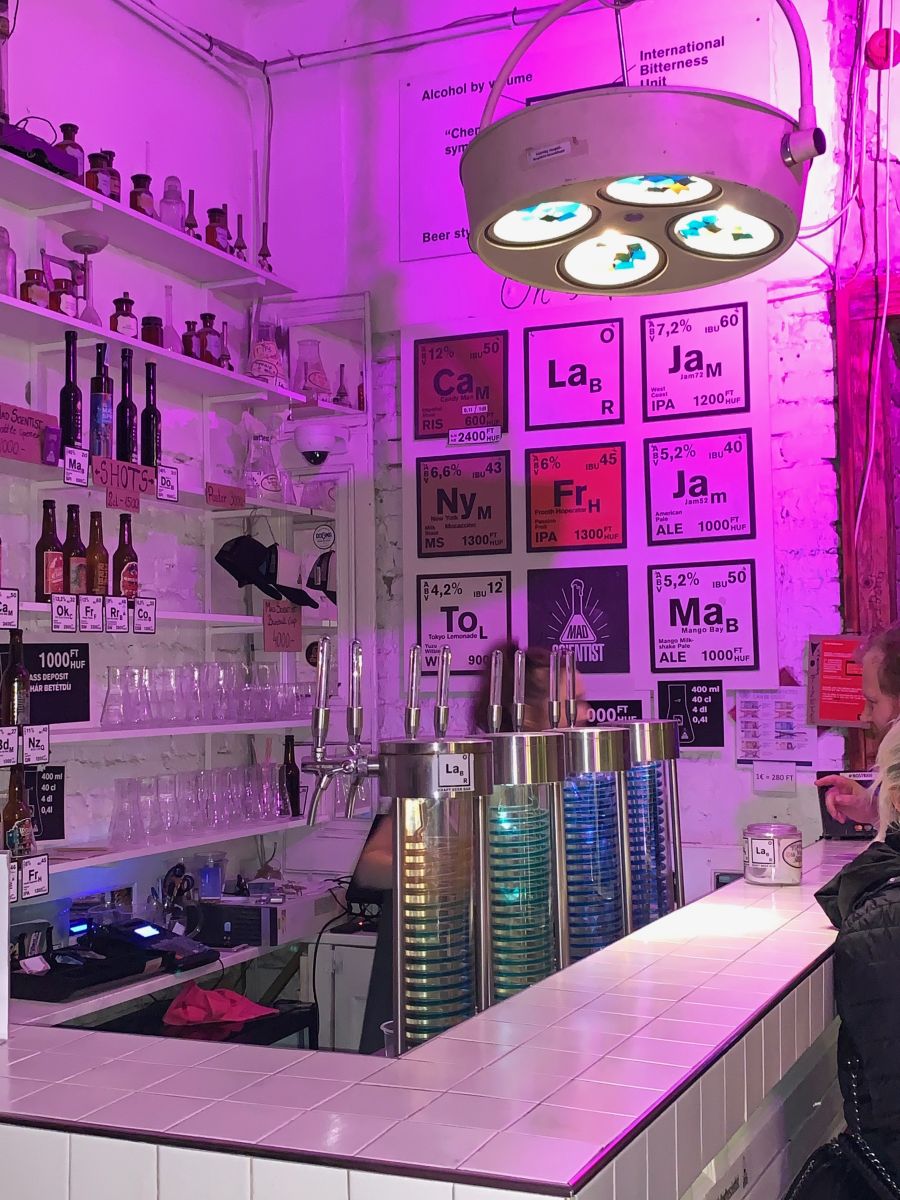 The Operation Theatre themed Chemical laboratory Bar
9. Day Trip to Slovakia
Another one of the good things to do in Budapest would be for you to hop on a train for a day trip to the capital city of Slovakia – Bratislava. It's a two and a half hours ride. Its old town charm is quite rewarding and walks through all of the old town – it's very pretty. Visit the Art Nouveau style Blue Church (St. Elizabeth's Church), take pictures with the various statues in old town – Most famous is the statue called Cumil. He dates back to 1997 and is a funny guy looking up from a street manhole. You can't say you've been to Bratislava without taking a photo with him. Also, look for the walking tours, rather I would suggest go for one and you would know why I have included it in my list of things to do in Budapest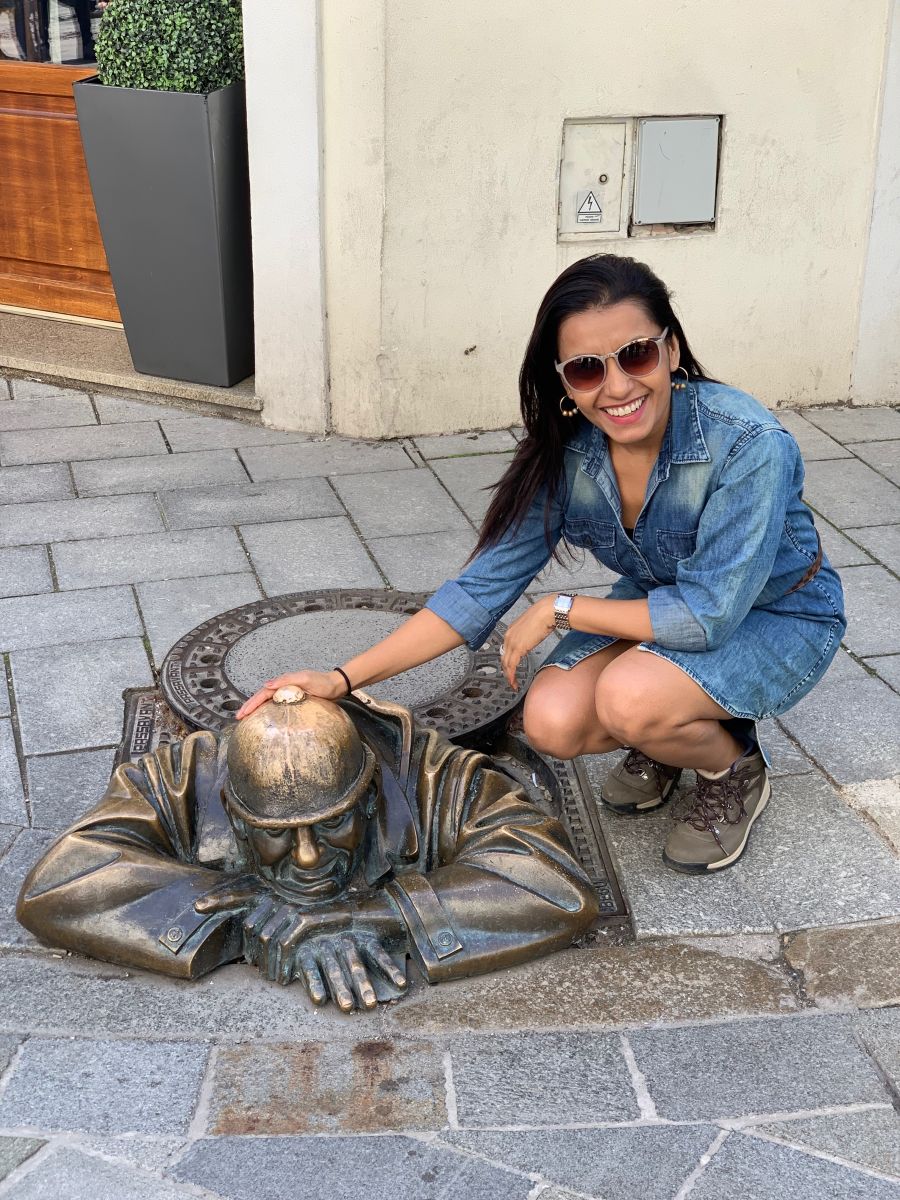 The most popular statue in Bratislava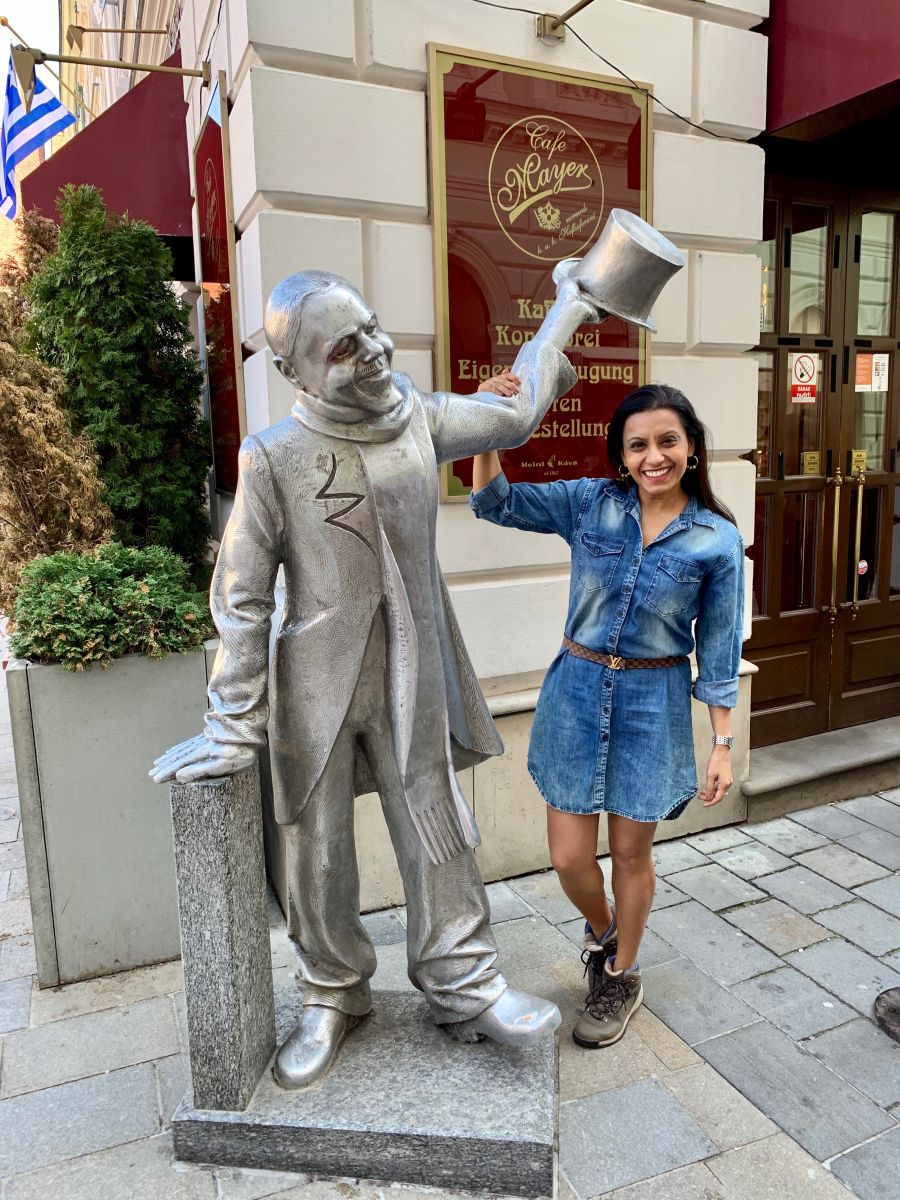 This man welcomes you to Bratislava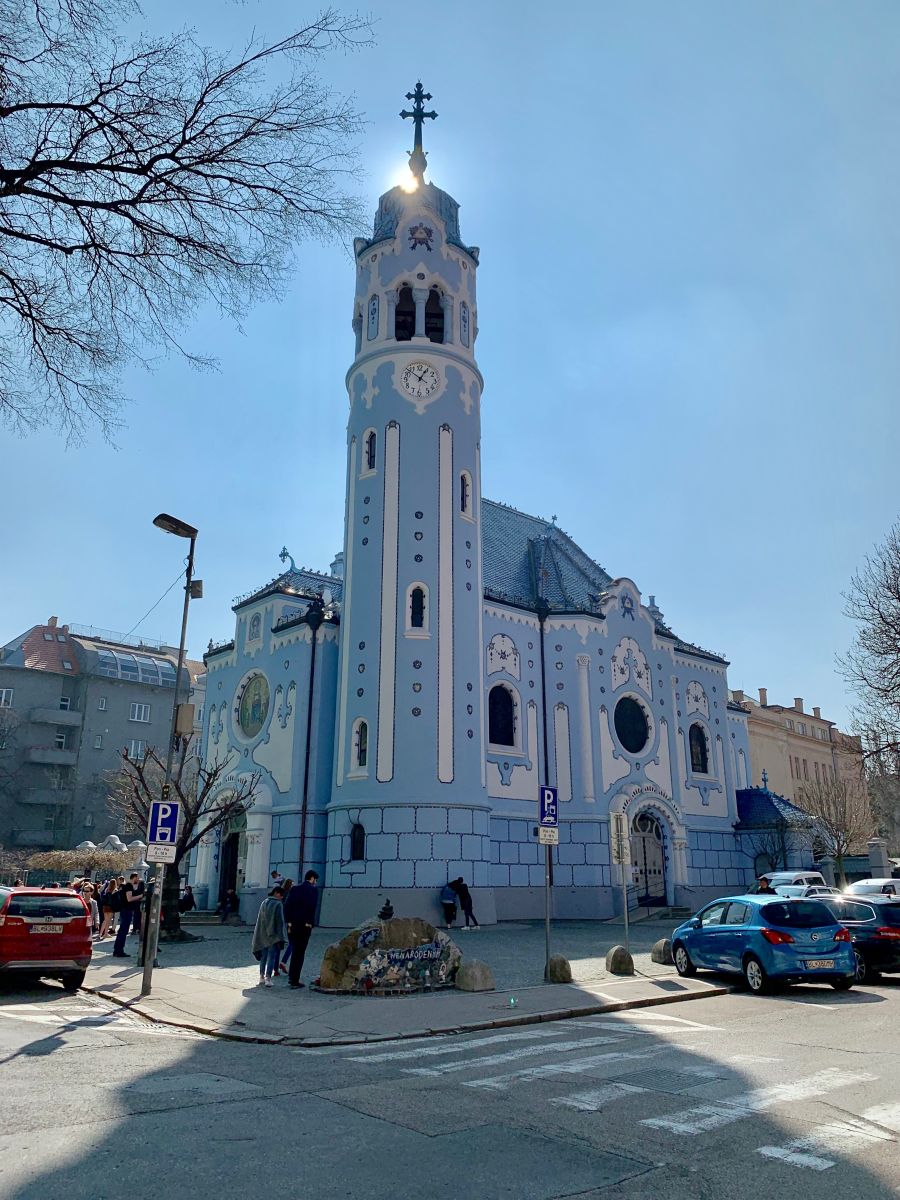 The very famous Blue Church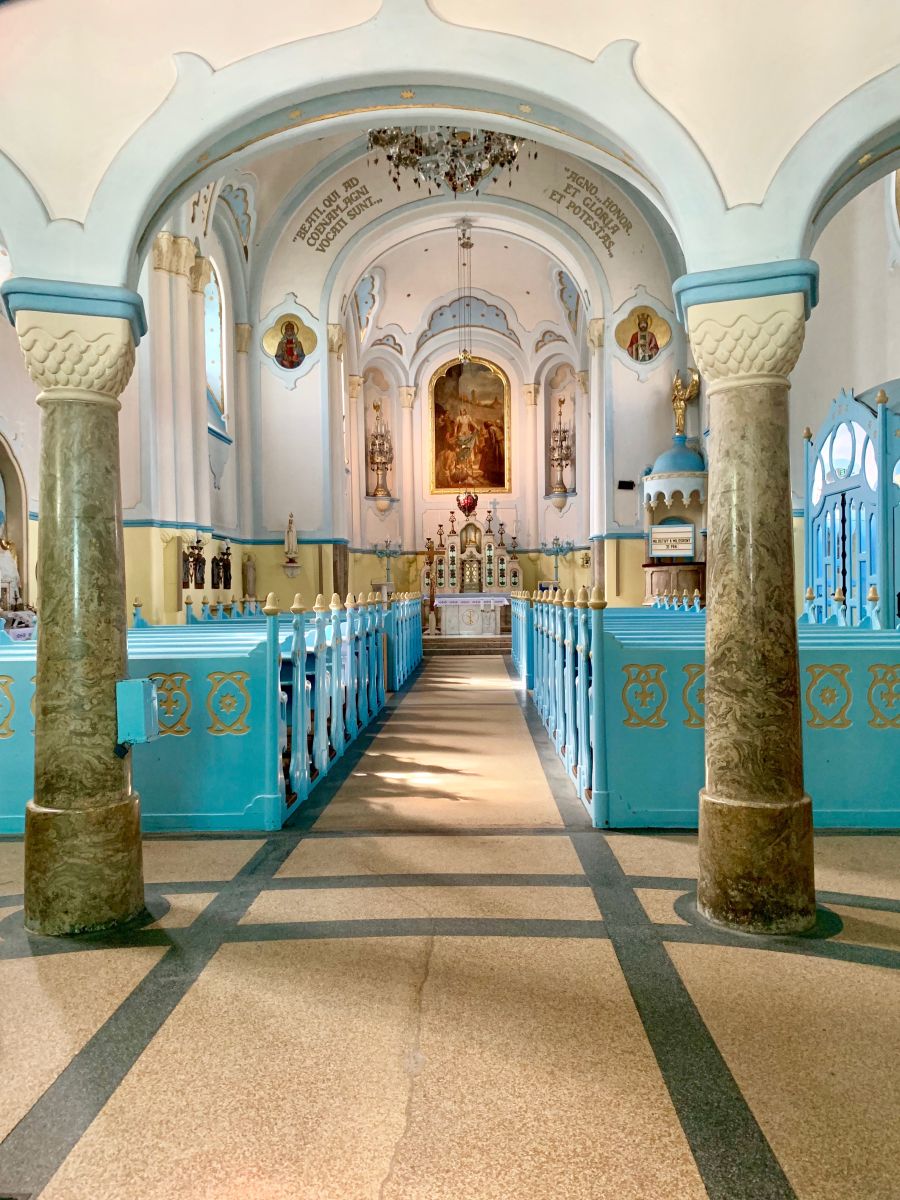 10. Margaret Island
Take it easy on Margaret Island which is Budapest's answer to Central Park or Hyde Park. There are plenty of things to do around in the park but the ideal way to spend the day could be just to rent a bike or simply lie under a tree with a book. This was my way to unwind from all the 'walking-around'.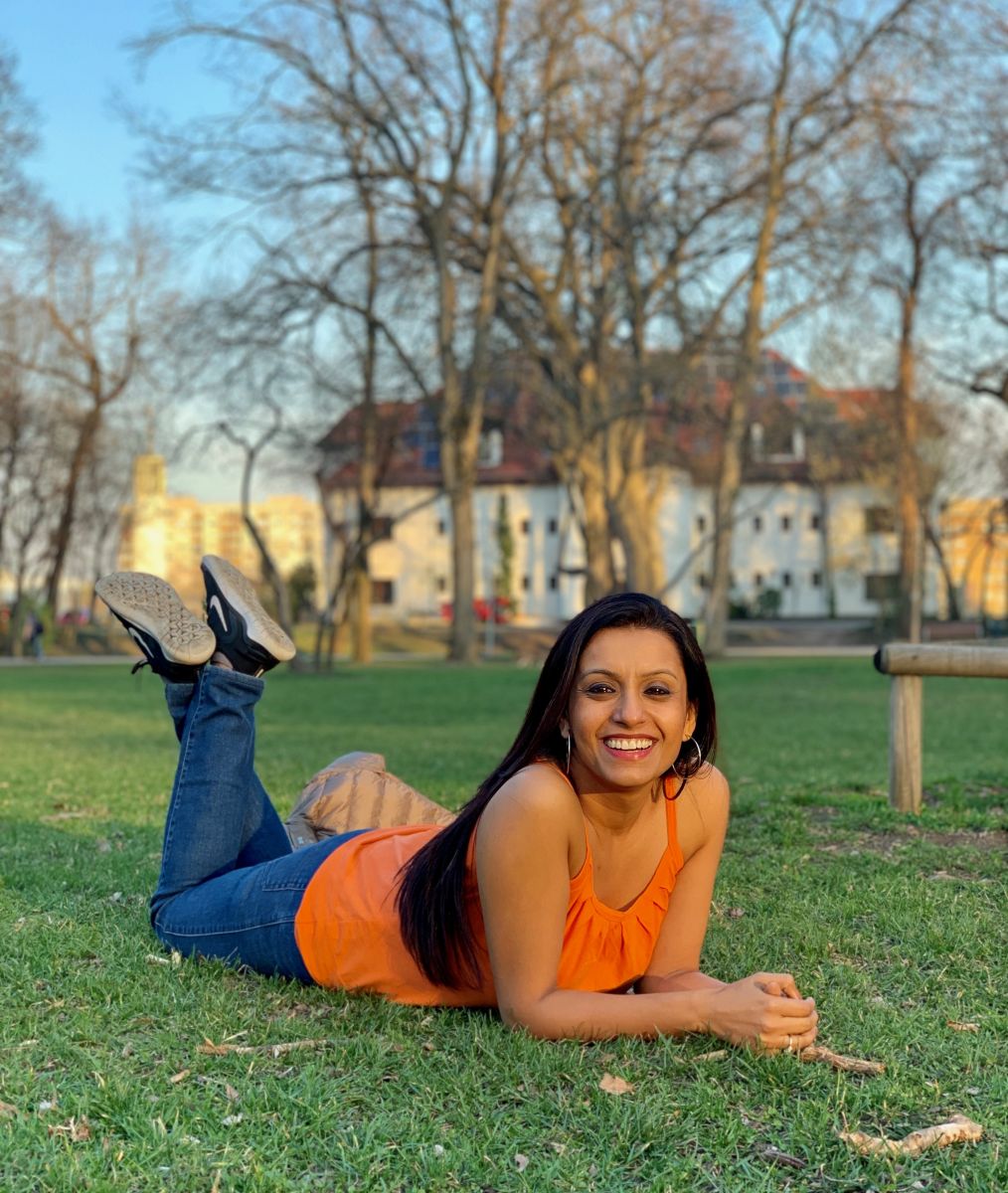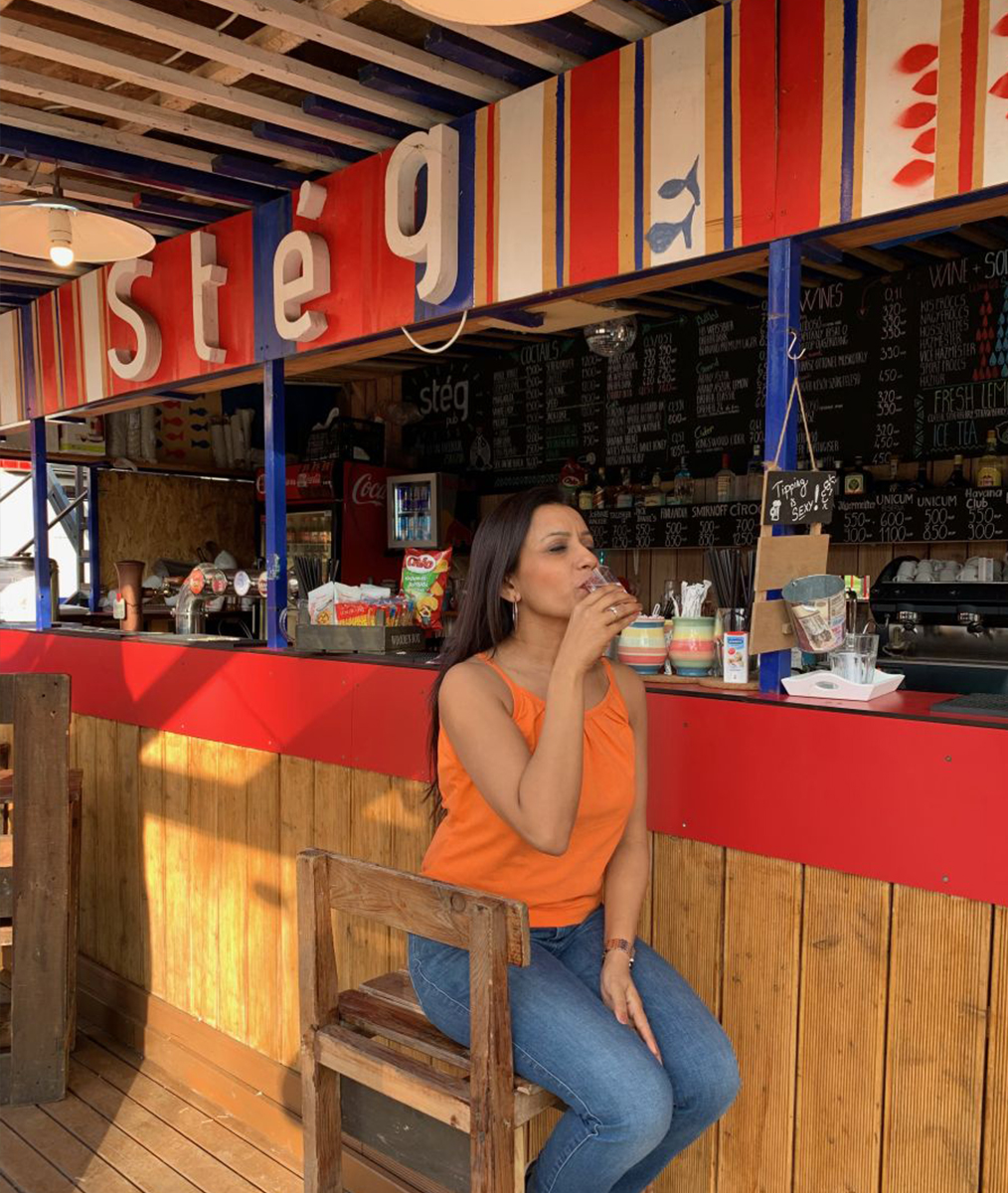 11. Live it up, partying in Gozsdu Udvar
Live it up, partying in Gozsdu Udvar which is a collage of 7 buildings in the affluent district of Budapest. I'd recommend the Bistro Pub, Spiler for a bite and join in the karaoke at the Blue bird- it's super energising after a good meal.When it comes to Budapest accommodations, this area also has some of the best hotels in Budapest
In case you were wondering about where to stay in Budapest, it's a small city and getting around is very easy. We stayed at a very nice Airbnb close to the Parliament building which was around the city centre.
There you have it. If you ask me, I will say that one must visit Budapest for its sheer vibe with the pubs and bars, the architecture, the food and the people. So now that you know what to see in Budapest, get going – pack your bags, get on that plane and bring back memories of a lifetime.
Also Read:-
If you enjoyed reading this article and loved my list of things to do in Budapest, please do leave a comment below. You could also follow me on Instagram, Facebook & YouTube to stay updated about my adventures.
FAQ About Best Places to visit in Budapest
How to travel from and to the airport?
Travelling in Budapest is quite convenient. You can use the official taxi company Fo Taxi for your airport transfer. You will find Fo Taxi stands at the airport exit. Just give them your destination address and they will give a card to you. Show that card to the taxi driver and pay after you reach your destination. Don't lose the card. When you need to get back to the airport, just ring the number on the card and they will send a cab for you as per your convenience.
How can I travel in Budapest?
Budapest city offers best in class public transportation service. If you have a Budapest card, you can use public transport free and without restrictions in the city which include bus, tram trolleys and metro. Apart from that, you can rent a car which is quite cheap in Budapest. The best way to travel the city is on a bicycle which is easily available on rent.
What is a Budapest card?
Budapest card can be availed from the official website or any other reseller partners. It allows you to use public transport within the acuity for free and access to many museums, tourist attractions and tours without any fee. This card can also be used to get huge discounts on selected merchant partners.
How can I get to natural baths?
Budapest is famous for its natural thermal baths which have been a part of the city lifestyle. The natural springs can be found easily throughout the city and bathing in it relaxes your mind and body. The thermal baths are now modernised and converted into spas and swimming pools which can be accessed by anyone. Some of the best places to soak yourself into these thermal baths are Rudas and Gellért.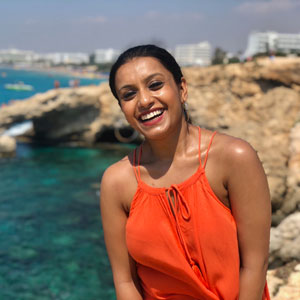 Hey there travel bugs! Glad you made it to my blog. The journey is going to be worth it—I promise.
I am a fearless, unguarded and fun loving traveller. The word 'cannot' doesn't often appear in my life's dictionary. I was bitten by the travel bug a long, long time ago and it has taken me to more than 70 countries and countless destinations ever since. A born networker—I have met and made a gazillion friends across the world and the experiences so far, has more often than not, left me speechless. The more I travel, the more I realise that how much there is left to travel.
So hop on and be a part of my explorations and adventure tales right here on Travel Chatter.
Subscribe to my Newsletter