10 delicious things to eat in Pune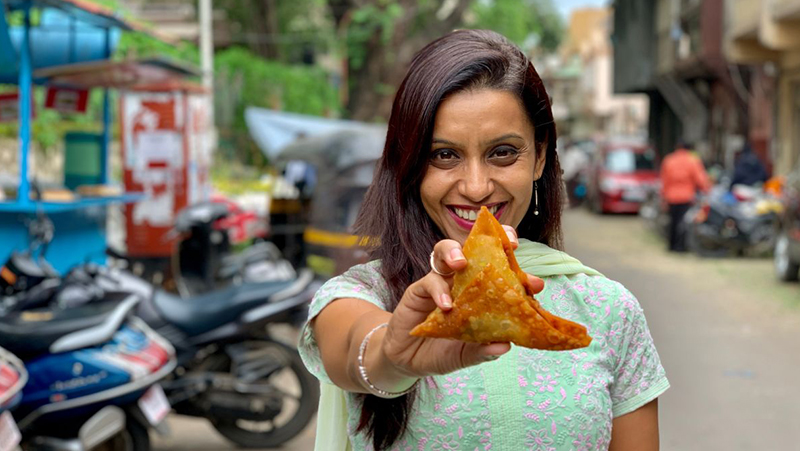 Usually, I talk about the places to visit or the things to do. But, this one, this blog about Pune is going to be really different. In this one, we will talk about the awesome things to eat in Pune and will also cover the famous eating places that should be in your list of "best places to eat in Pune". Also included with a special mention of the "must-try food in Pune" and since I am done with being formal in the introduction, let us have a look at some of the "would be a sin to miss" must-try food in Pune!
1. Chilli Chicken Momos at Gaurav Momo Center
Whenever one has to talk about anything related to food, whether it is about eating points, famous eating places, nearest food places or in this case best places to eat in Pune, it is impossible to not talk about Chicken based dishes. We all know that 'momos' are a thing of the east, and have been popularised within other parts of the country over the past decade or so but what is not available everywhere is the innovative versions of them. This roadside momo vendor is in Lane 5 of Koregaon Park and perched right between a fruit vendor and a chat stall. The guy you see in this picture is Lalit, the brother of the owner: they migrated to Pune from Assam and the store is named after his nephew. They serve delectable momos between 4.30 pm to 10.30pm. At 100 Rupees a plate, please make a beeline to have the chilli chicken momos and their tandoori momos.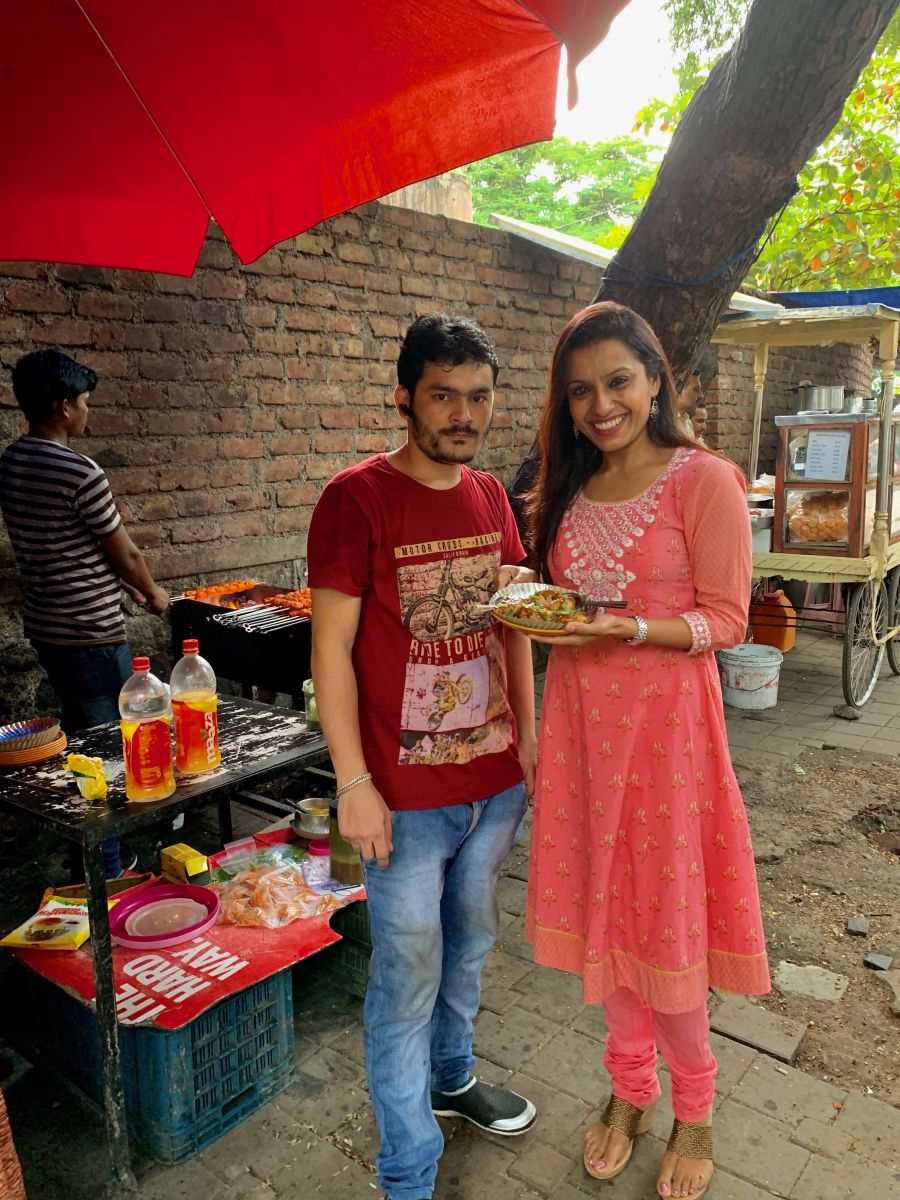 Lalit and I at his Momo Shop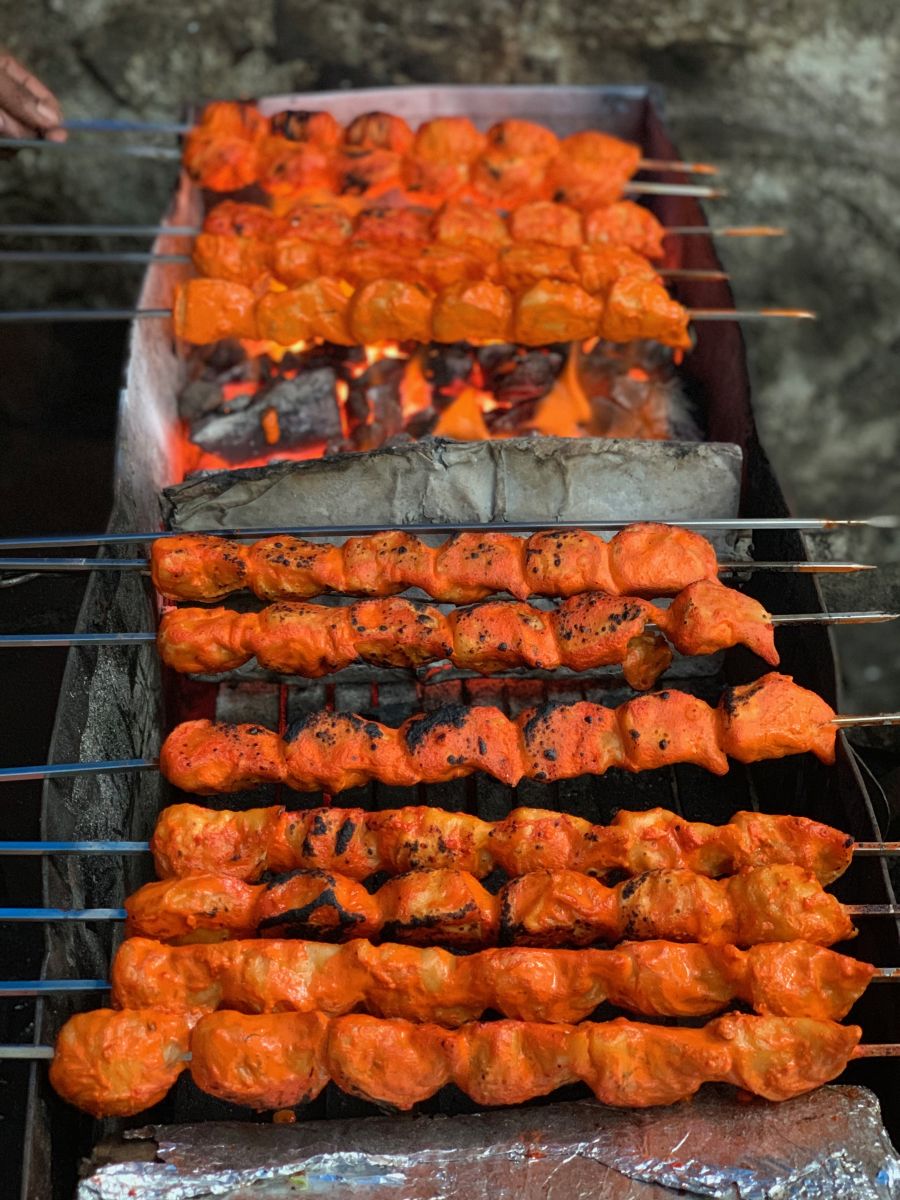 2. A Taste of Yemen at Café Laileena
Despite having travelled to over 60 countries, I have never tried Yemeni food before and thus I did not want to give this café a miss. The owner of this cafe has been running this for the last 3 years and to my surprise, he said that the reason to serve Yemeni food was; there are a lot of Yemini nationals who live in the area and there is a Yemen Airways office across the street from this place. This place is quite low-key and the name of the restaurant is written in Arabic so you will have to ask around. The full Grilled Chicken and Rice is a sumptuous meal for 2 and is something I would definitely go back for especially at a mere INR 400 per serving. I wouldn't suggest you dine in, takeaway is a better idea. Long things short, Cafe Laileena's grilled chicken and rice is one of the things that makes my list of "things to eat in Pune" for sure!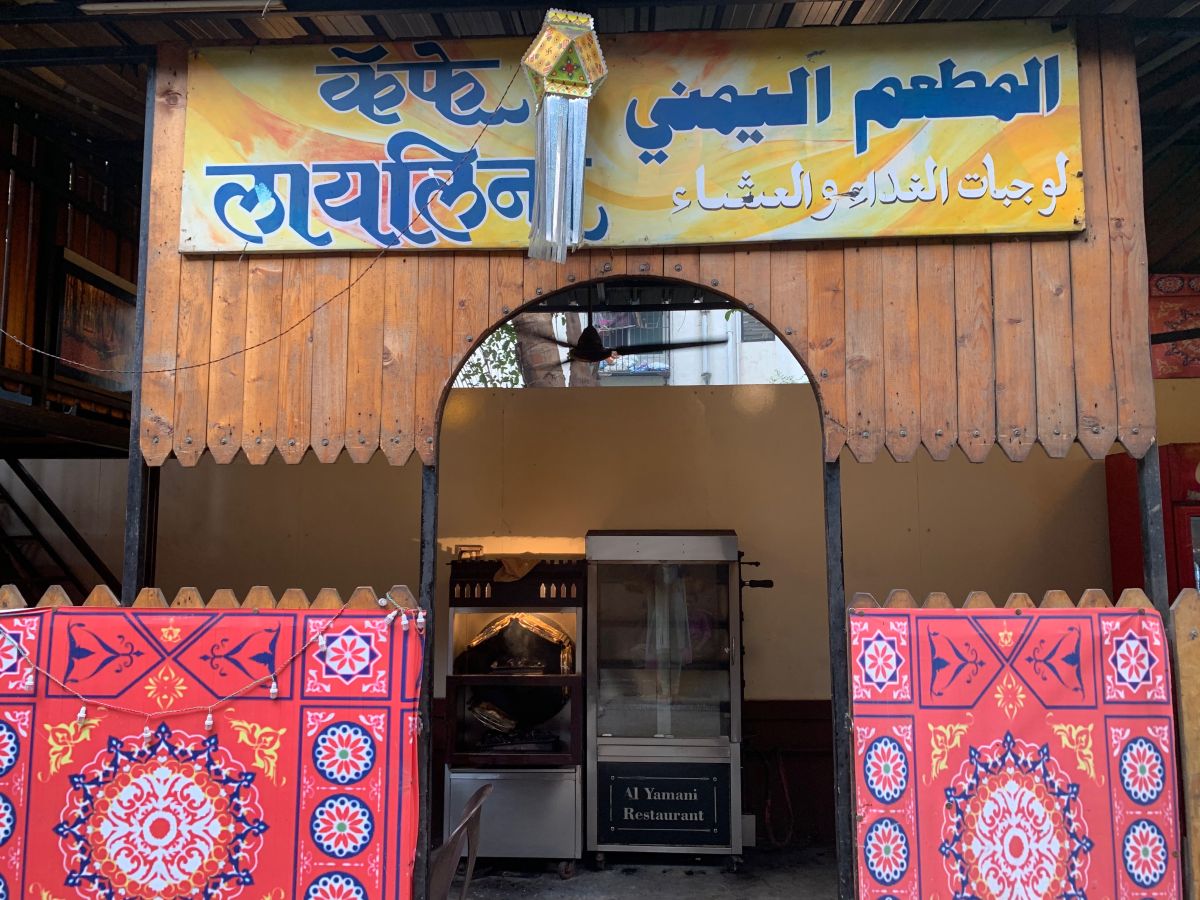 My first visit to a Yemeni restaurant in India
3. Prawns Patti Samosa at Akhtar Samosa
Yes you read right: prawns + samosas!! I could salivate a puddle right there! What's not to drool about? While the stall is only 20 years old, its owner Akhtar Shaikh claimed that the business was originally started by his grandparents, 70 years ago where they started by supplying these delectable snacks to movie-theatres and schools. Currently they have 2 branches in Pune. Apart from the prawn samosa (which actually has whole prawns in it) the chicken and mutton samosas are also delicious. Prices of each piece of samosa range for INR 25 to INR 45 and given their uniqueness, please add this too to your list of famous things to eat in Pune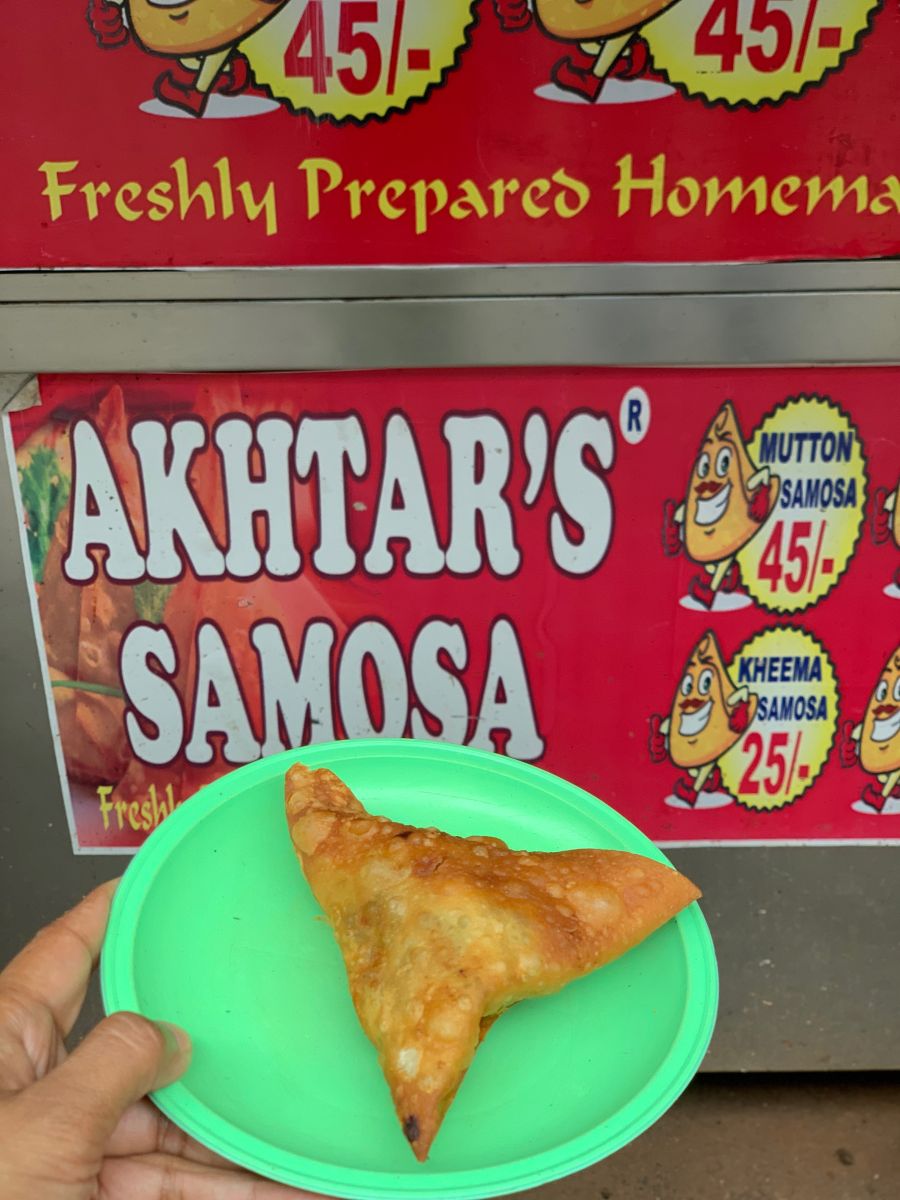 My favourite…The Prawn Samosa
4. Nolen Gurer Rasgulla at Calcutta Sweets
Born and raised a Bengali I am a true 'Bong' in every sense of the word when it comes to food and obviously I love sweets! This is a very small store located in a Bengali dominated locality in Wanowrie, the guy serves hot Nolen-Gur Rasgullas ( cottage cheese ball soaked in palm jaggery syrup) which will literally melt in your mouth.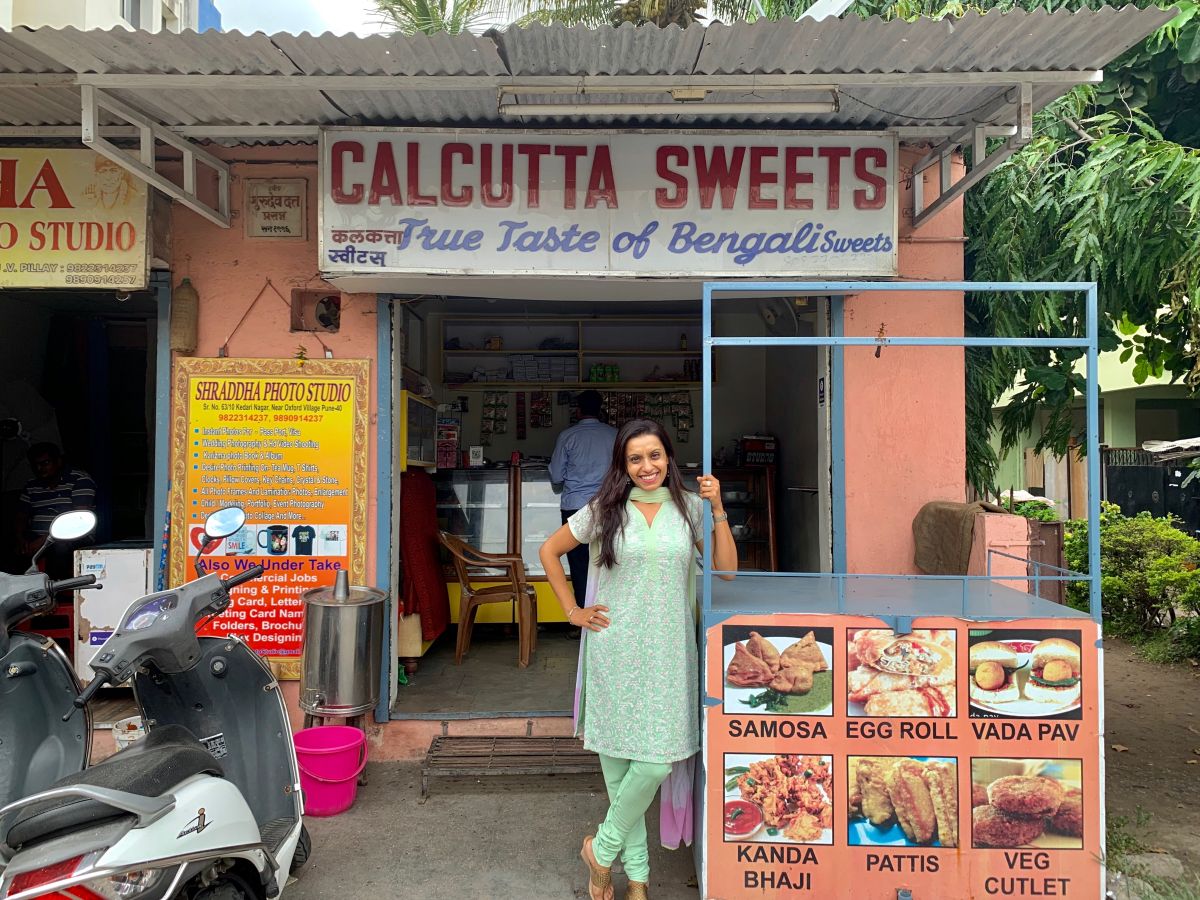 The Bengali in front of the Bengali sweet shop.
5. NutellOreo Kheer at La Kheer Deli (LKD)
Talk about fusion!! If that's what intrigues you, taste innovative kheers. For all those who have a sweet tooth, this is where you need to be. My favourite was the NutellOreo Kheer which is packed with dry fruits, rice pudding Nutella and crushed Oreo cookies – a delicious concoction that costs only INR 99. So, as the verdict goes, NutellOreo Kheer becomes one of the famous things to eat to showcase on your Insta-handles and La Kheer Deli becomes one of the best eateries in Pune for those with a sweet tooth.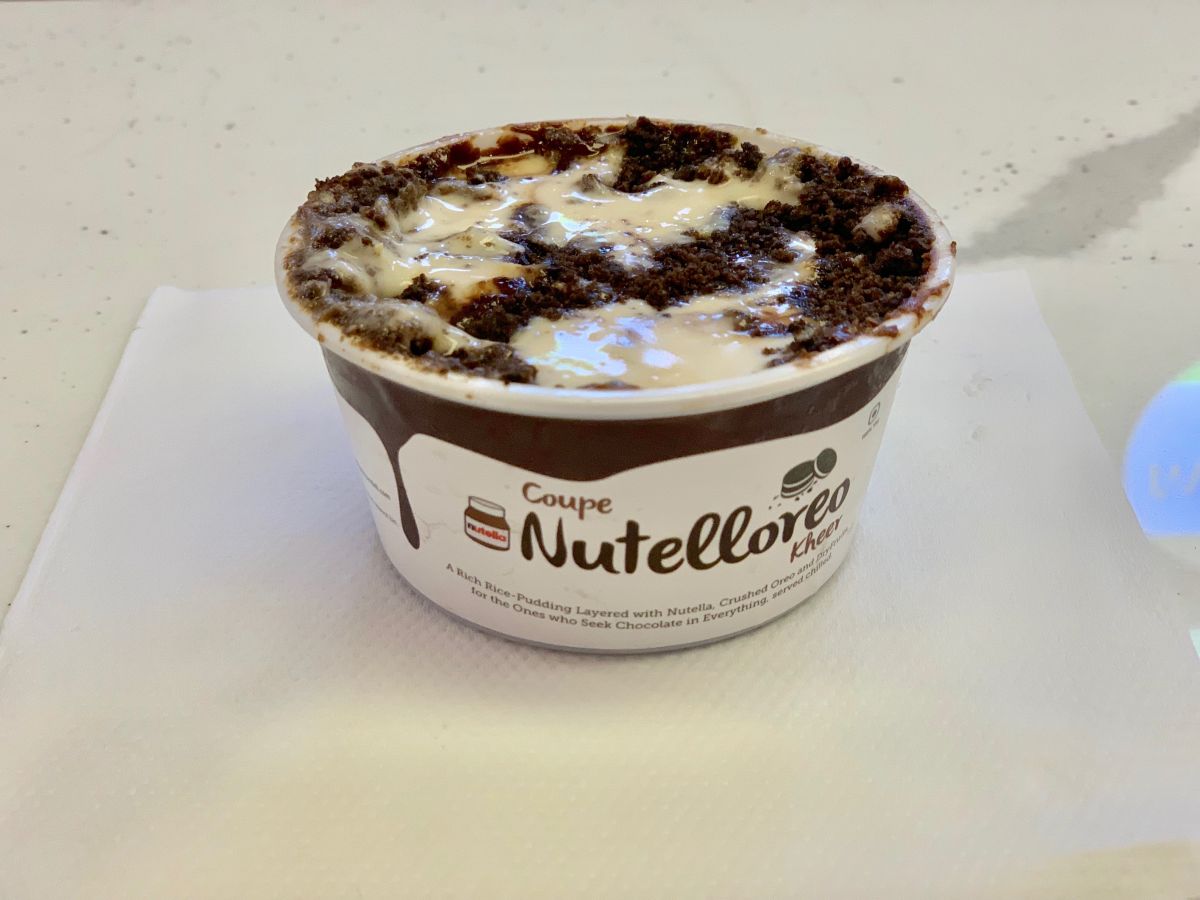 A very innovative Kheer (Nuttella + Oreo)
6. Bun Maska and Tawa Chicken at Café Goodluck
You have probably heard about this Café as its one of the oldest cafes in Pune, they have been around since 1935. Waiter Ramu in this picture has been working here for more than 2 decades and is extremely proud about what the café has to offer. If you arrive there on weekends be ready to queue up- although the food is definitely worth the wait. The Kheema Pav here is extremely popular as well.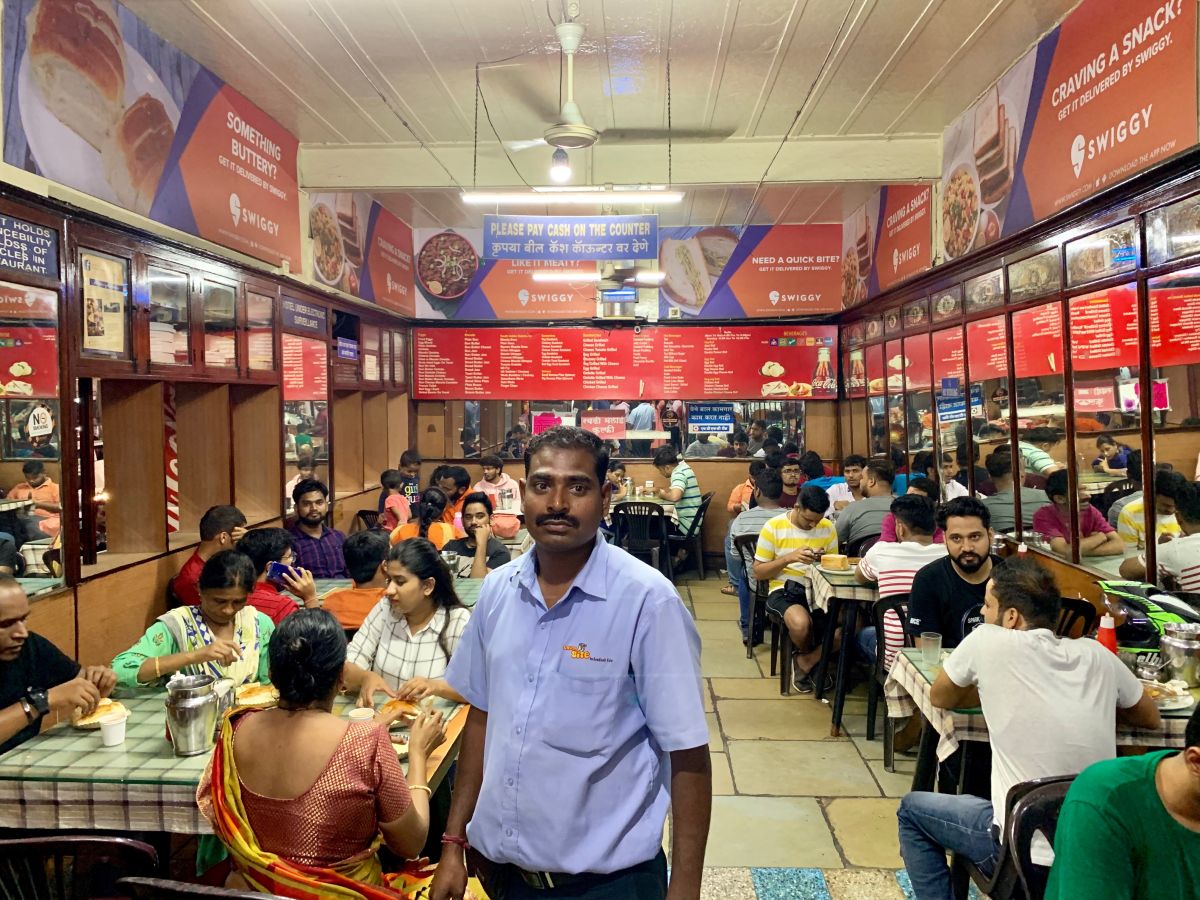 7. The Vada Pav at JJ Garden
This tiny vada pav stall has been in the Camp area since 1972 and they believe in making the best quality vada pavs in the city. Sanju is a proud server and he believes in adding a personal touch to every plate. Their speciality is their chutney made of palak, pudina and garlic and served fresh everyday.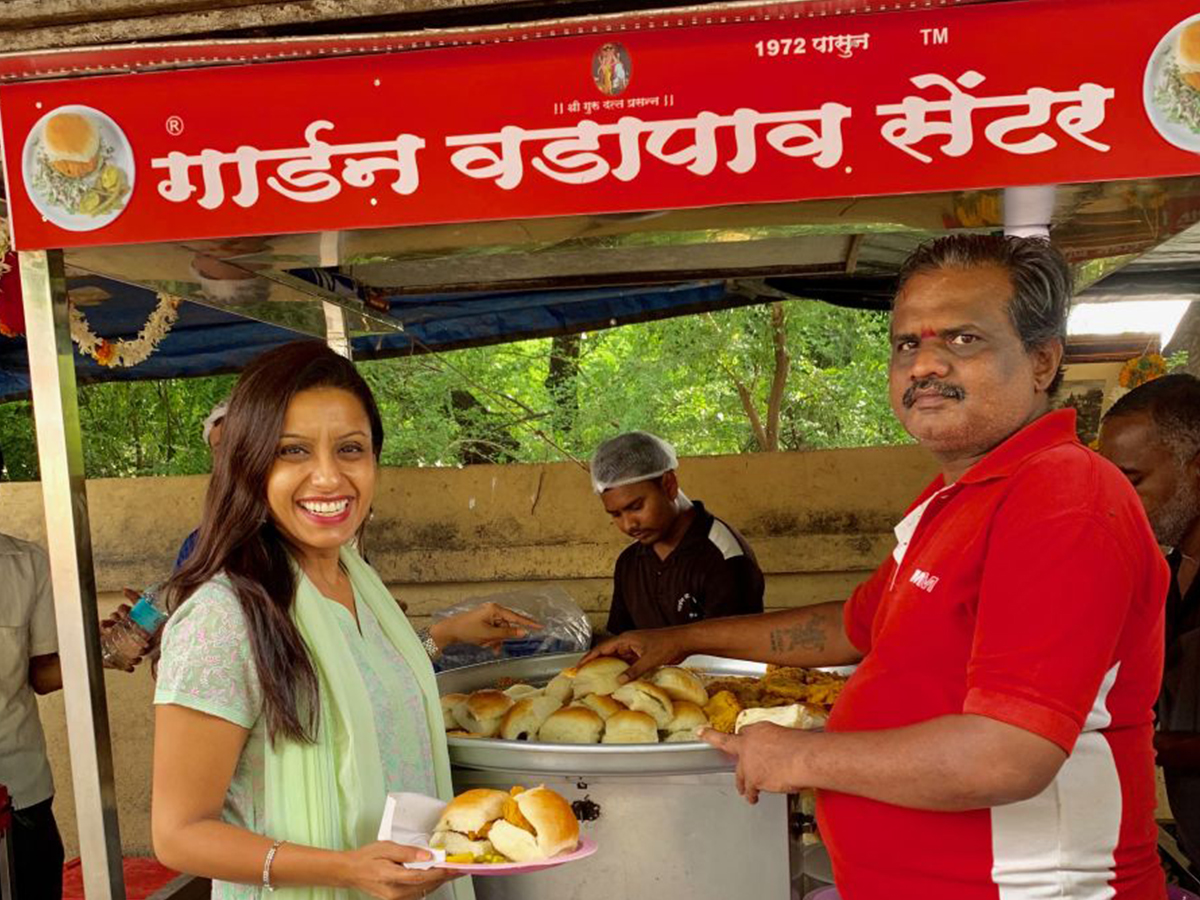 Sanju and I at his Vada Pav store.
8. Bakar Vadi and Aam Barfi at Chitale Bandhu
Anyone who has been in Pune for over a year and has a 'munchy' appetite now and then, will reckon with Chitale. They are known for their BakarVadis. This sweet and savoury store of theirs' exists for 50 years and has 20 branches in Pune. While you are spoilt for choices here, the Aam Barfi and Sandwich Peda are the most popular items and needless to say their Bakar Vadi is always a winner.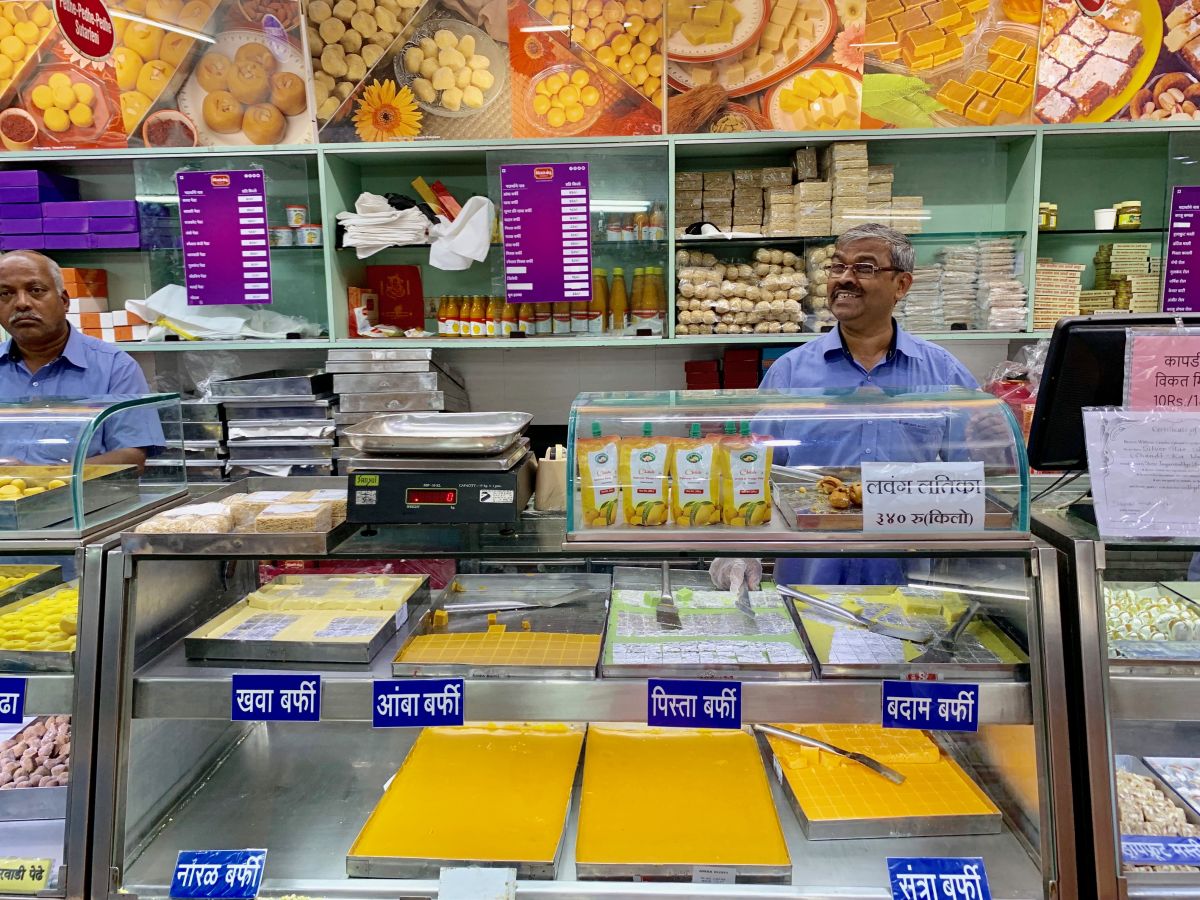 9. The Salted Potato Wafers at Budhani Bros
Operating since 1955 they started with selling dry fruits and then excelled in making potato chips. There are various kinds of wafers: tomato, cheese, masala and plain salted. My personal favorite was the plain salted. Therefore if you like a good 'crunch', munch your heart away with these babies.
10. Shrewsbury Biscuit and the Wine Biscuit at Kayani Bakery
One of the things, thanks to colonialism – shrewsbury biscuits! Originated in the 1500s in a town with the same name, is the most popular kind of biscuit in India and the best place to find them is at Kayani Bakery in Pune. Your trip is incomplete without stepping foot into Kayani Bakery. If you happen to visit here over a weekend there are always 3 to 4 rows of people ahead of you and you will have to be patient. The cakes, the Shrewsbury biscuits and the wine biscuits sold here, are legendary.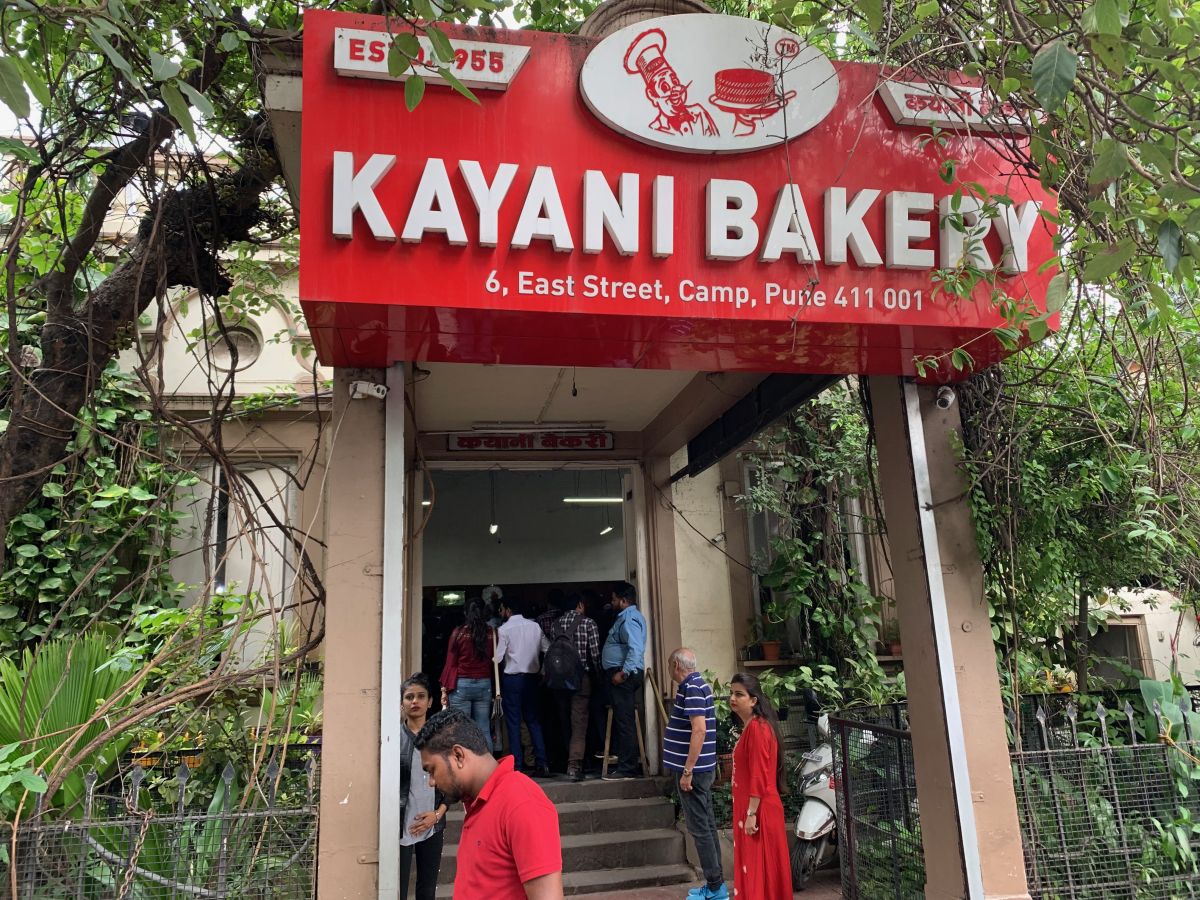 Kayani Bakery needs no Introduction
Also Read:-
FAQ About Things to eat in Pune
What is the best way to reach Pune?
Pune is well connected by every mode of transport. It is connected by express highway and national highway making it very convenient to reach by road in a car or bus. It has an international airport with regular flights for top India cities like Bangalore, Jaipur, Delhi, Goa, Mumbai, Hyderabad, Chennai and Nagpur. Pune Junction is well connected with prime destinations in India and backed up by several express and superfast trains to provide seamless connectivity with the rest of the country.
How to travel in the city?
The city has multiple options to provide access to its beautiful gems. The most convenient way is to hire a self-driven car or a taxi because there are a lot of places to cover and it is quite difficult to do it with public transport. But if you are on a budget, you can easily take the well connected public transport which includes bus and train and is very cheap.
How is the nightlife in Pune?
The city of Pune has emerged as a hub for education and corporate establishments which has attracted a lot of youth to this city. That's why the nightlife in Pune is filled with adventures and never-ending fun. You will easily find a lot of discs and pubs in the city crowded with youth. As for the bars and clubs, you will find these drinking holes filled with a cheerful crowd enjoying their drinks and food till late at night.
What are the major tourist attractions in Pune?
Pune is well known for its cultural heritage which can be seen easily in ancient buildings like Shaniwar Wada, Aga Khan Palace, Singhad Fort and many more. But the major attractions the city offers are Lonawala and Khandala which are two famous hill stations located outside the city. They can be easily accessed by car or bus and the natural beauty of these places is undeniably captivating.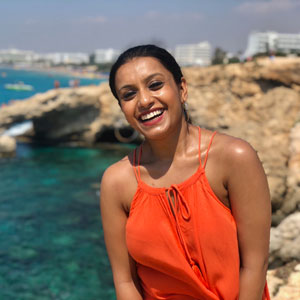 Hey there travel bugs! Glad you made it to my blog. The journey is going to be worth it—I promise.
I am a fearless, unguarded and fun loving traveller. The word 'cannot' doesn't often appear in my life's dictionary. I was bitten by the travel bug a long, long time ago and it has taken me to more than 70 countries and countless destinations ever since. A born networker—I have met and made a gazillion friends across the world and the experiences so far, has more often than not, left me speechless. The more I travel, the more I realise that how much there is left to travel.
So hop on and be a part of my explorations and adventure tales right here on Travel Chatter.
Subscribe to my Newsletter