My Date with the Piranhas in the Amazon Forest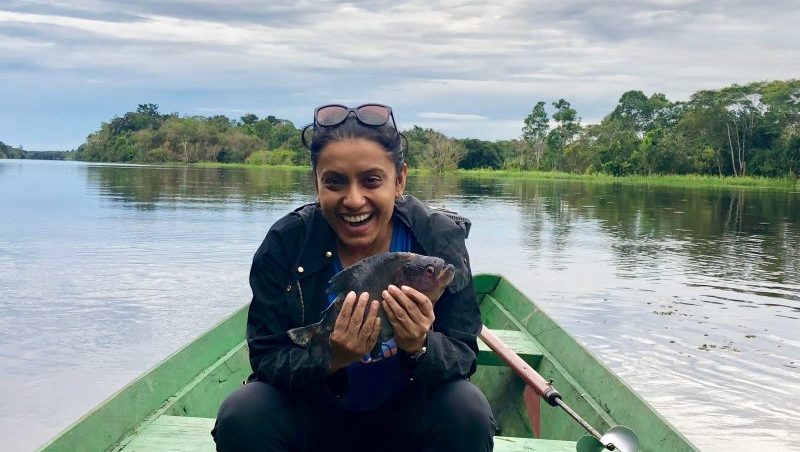 My most exciting date with the Piranhas in the Amazon Forest!
Ever since I was a little child I have always been fascinated by the Amazon Forest, the topography, the jungles, the wildlife, the piranhas, sailing on the largest river in the world, the people who live there, all this seemed so very unique and its been on the list of my dream destinations since a very very long time!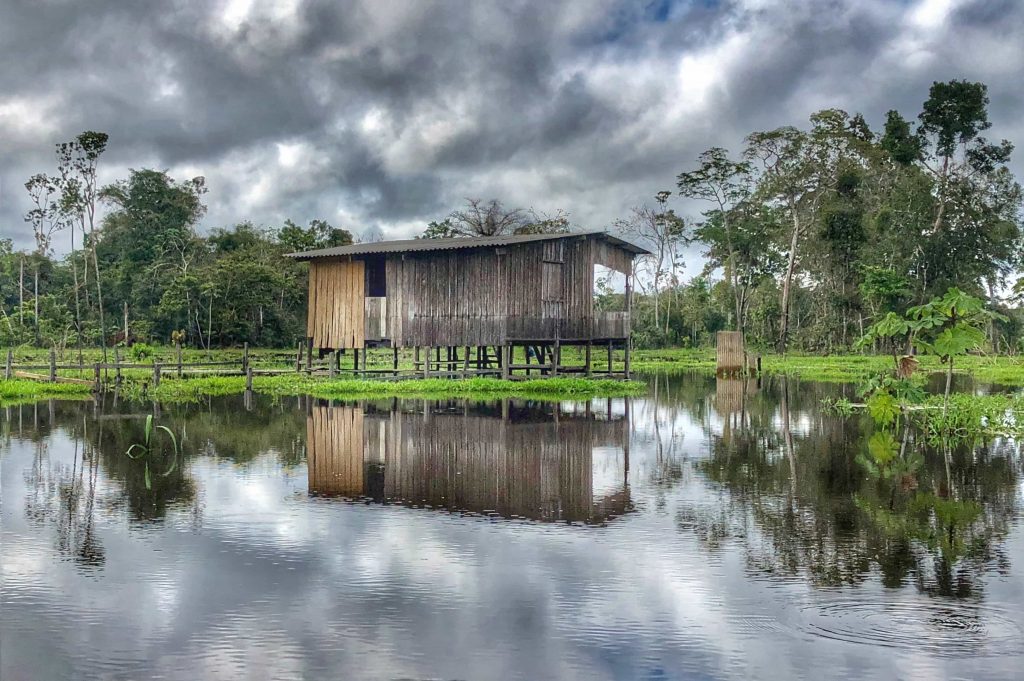 The Amazon Rainforest
The Amazon rainforest usually reminds people of the infamous Anaconda snakes but there is just so much more to it then just that. Here are some cool facts about this rainforest that we learnt in our trip:
-The Amazon is arguably the longest river in the world at 6,992 km, and contains more water than the Mississippi, Nile, and Yangtze combined.
-This great Amazon Forest delivers 55 million gallons of water into the Atlantic ocean every second. More than 20% of the world's oxygen is produced by the Amazon rainforest.
-If the Amazon Forest were a country, it would be the 9th largest in the world, More than 80% of the world's food has its origins in the Amazon
rainforest.
-The Amazon Forest can be found in 9 South American countries; Brazil, Colombia, Peru, Venezuela, Ecuador, Bolivia and the three Guyanas. Due to the thickness of the canopy (the top branches and leaves of the trees), the Amazon floor is in permanent darkness. In fact, it's so thick that when it rains, it takes around ten minutes for the water to reach the ground!
Here's a little about my trip to the Amazon Rainforest:
We spent 3 days in the Amazon Forest of Brazil. While the Amazon forest is spread out but 60% of the forest lies in Brazil.
We landed in Sao Paulo and took a flight to Manaus, which is the gateway to tours in the jungle.
We spent a night there and next morning after breakfast was driven for 3 hours to the forest from where we were taken to our lodge which was right by Urubu river.
We had booked our tour with Antonio Jungle tours (listed on Lonely Planet website) and went downstream and stayed at the Cunard Pousada Lodge for 2 nights and 3 days.The entire tour along with accommodation, food and excursions cost us around 400 USD per head.
Our lodge was gorgeous, we had amazing organic food right from fruits,veggies and fresh fish from the river everyday and the cook was great.
The lodge owner lived at a house next to us and was extremely hospitable and ensured all our needs are met.
DAY 1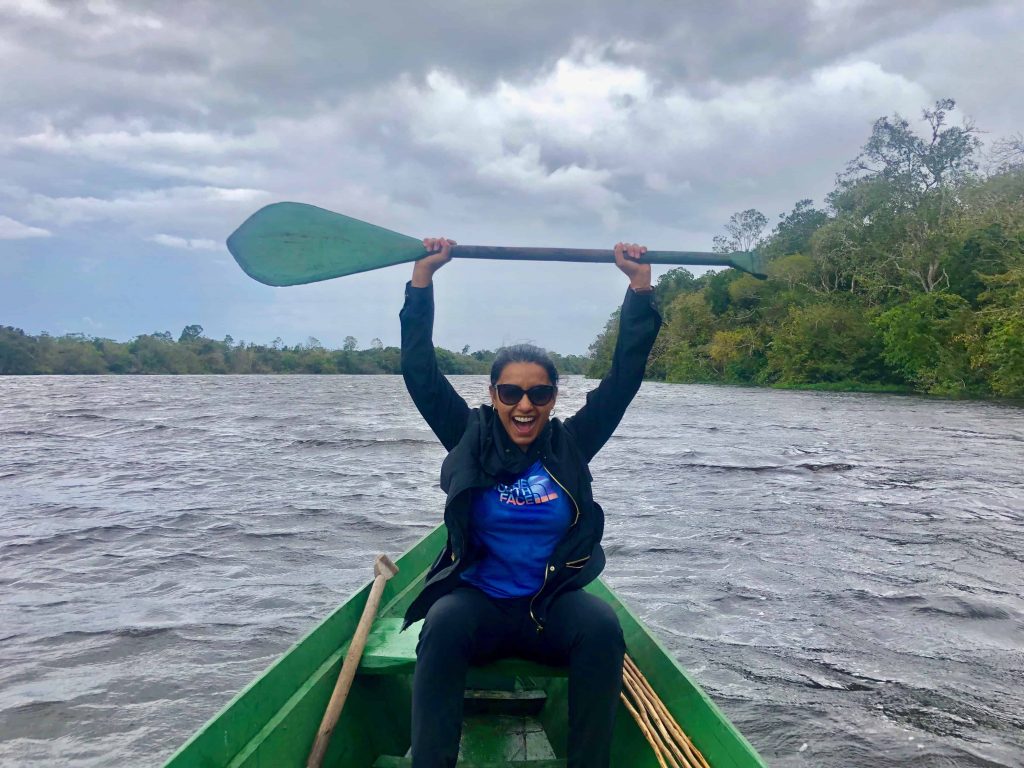 Our first excursion in the rainforest was a date with the flesh eating Piranhas, the highlight being the date ended with me eating the Piranha. Piranhas always sounded very scary to me since they have really sharp teeth and can pretty much cut through anything.
We sailed into a water body with trees submerged all around.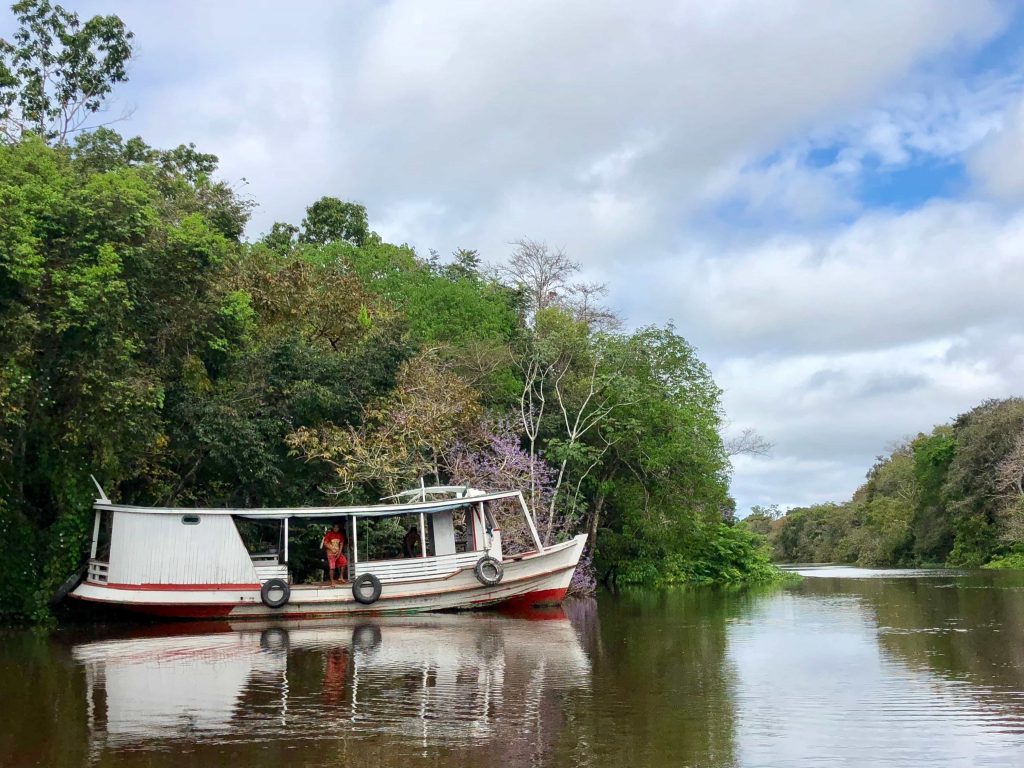 Our guide began to slice fish that he had carried with him which would act as the bait.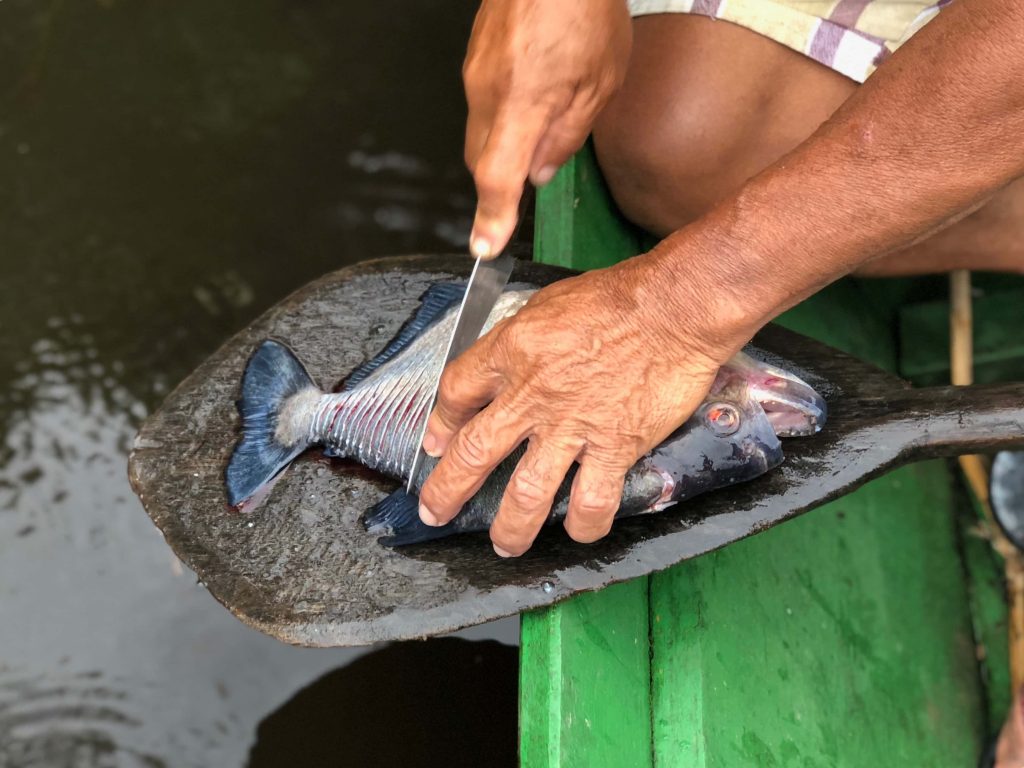 We spent 3 hours fishing and it was super fun and adventurous. I caught a big Piranha at the first attempt itself and was thrilled about my achievement. I couldn't stop taking pics with my first date.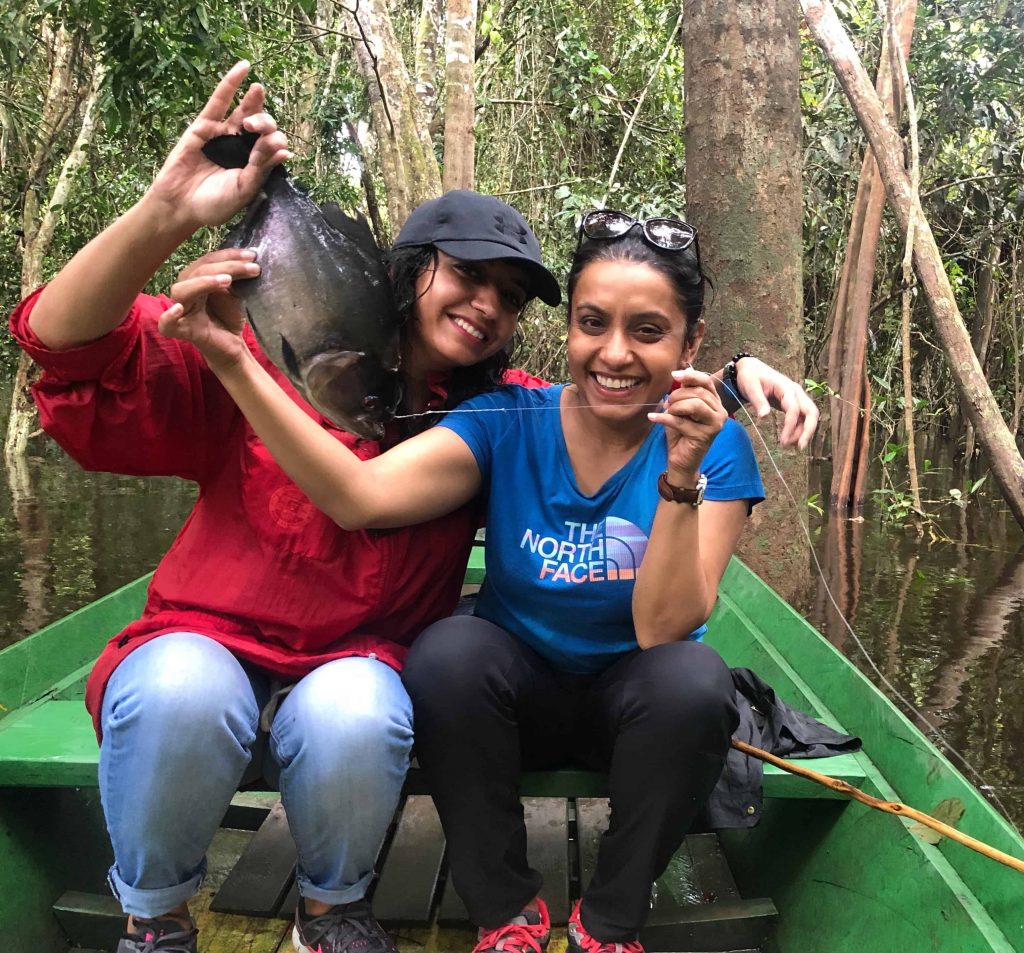 Since we ate my date for dinner, as a souvenir I got to keep the jaw of my date which I absolutely cherish.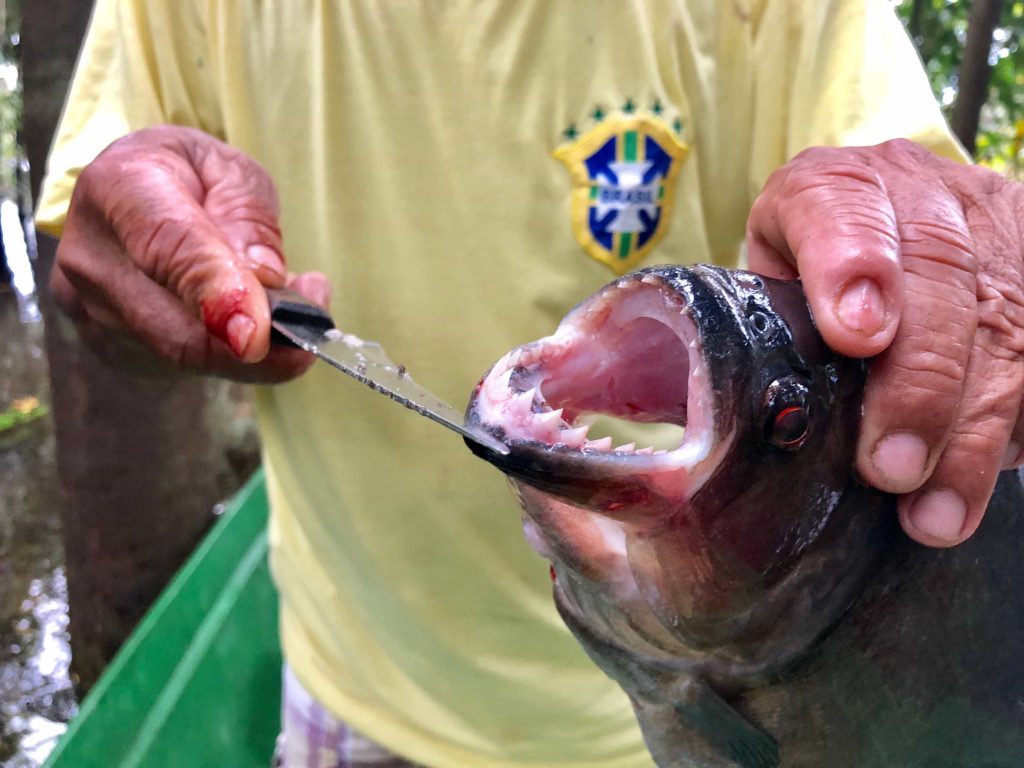 After having caught a few we took them all home for a sumptuous meal.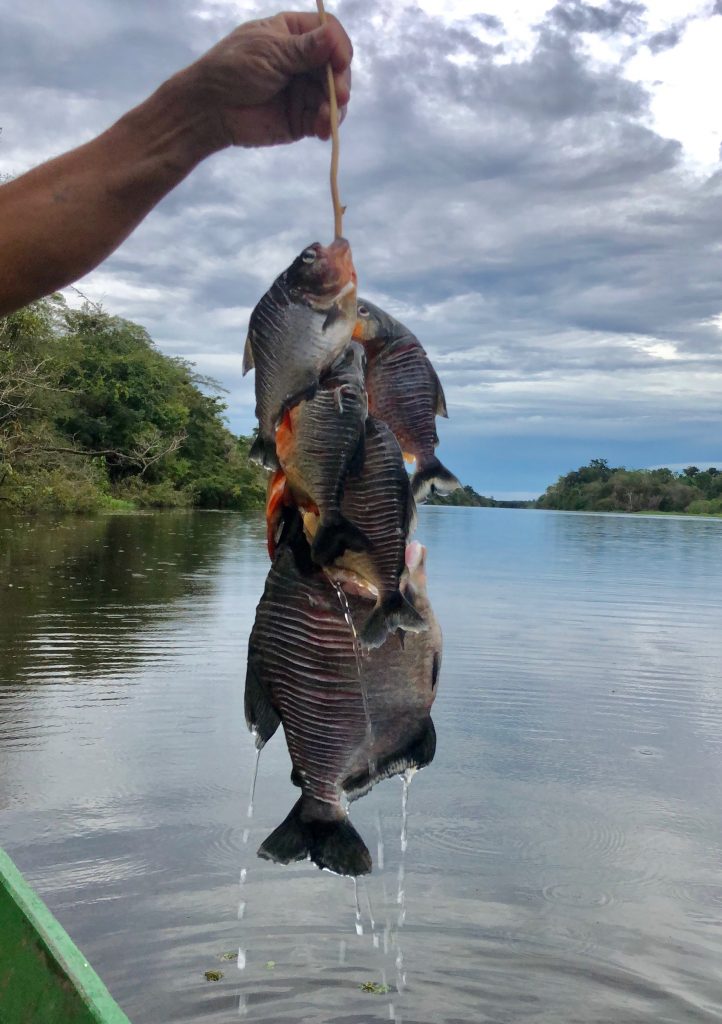 In the evening we went and caught a breathtaking sunset in the forest.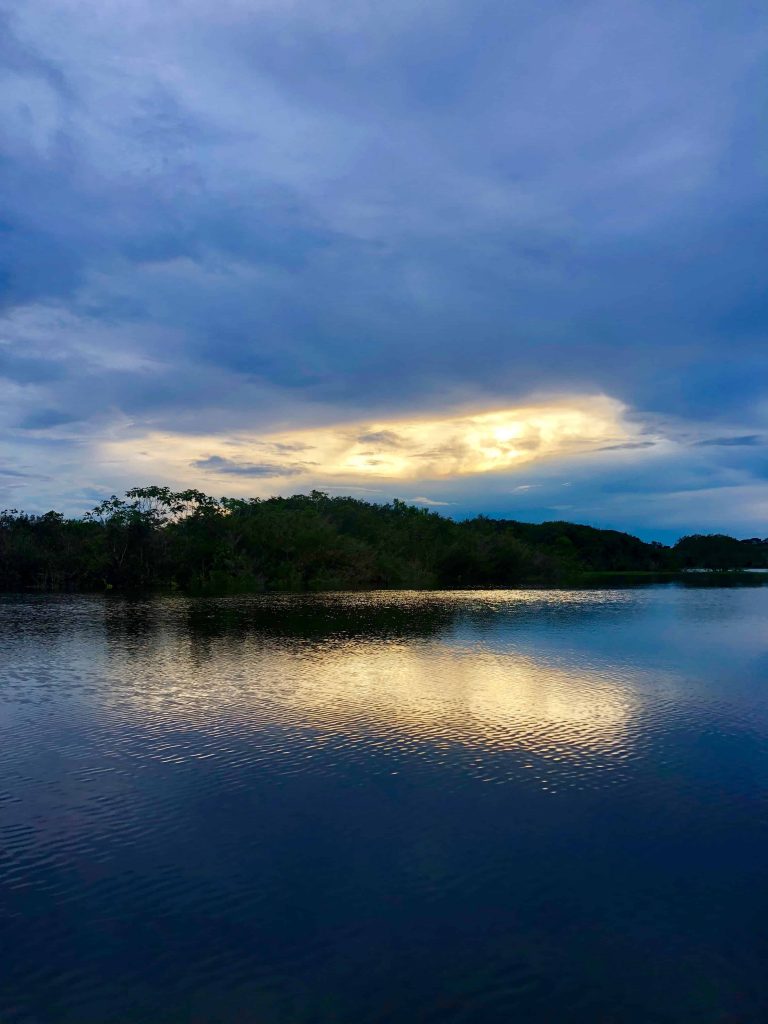 After our dinner which was mouth watering we left for a boat ride at night.
This was a very scary experience given it was pitch dark and we were sailing through the river with shrubs and trees and swamps on both sides. We were so scared that we would spring up at the slightest sound that any animal or tree would make.This night ride was to spot and catch alligators. When we would flash our lights in the water we could spot a few baby alligators who would just have their eyes out of the water surface and their eyes would be sparkling orange- a sight which was very eerie indeed. Our guide caught around 3-4 of them and made us touch its skin and after telling us details about it, we of course let it go later.
We ended the night with some local alcohol which is made out of sugarcane.
DAY 2
Next day we sailed to the Amazon river, it was awesome to stand their and take in amazing views of the largest river in the world.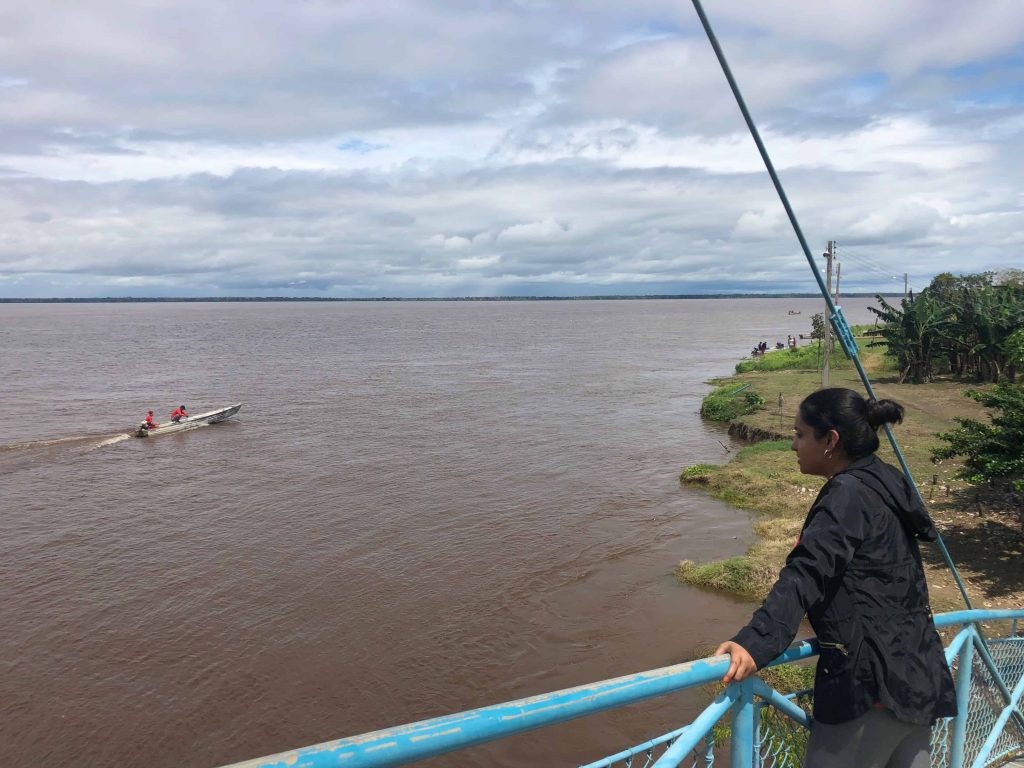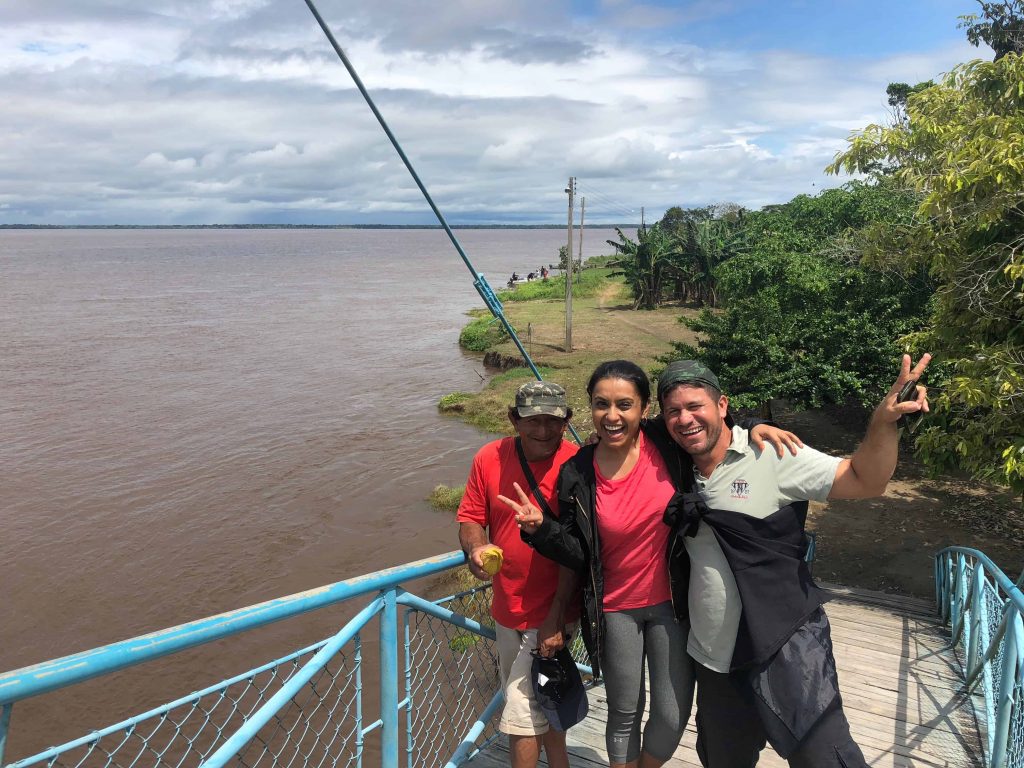 We sat there in awe dipping our feet in the river. I also tried riding the boat on the river and that's when I realized how strong the Amazonian current was.
We went to a locals house in the forest and cooked Manioc flour and made Cassava.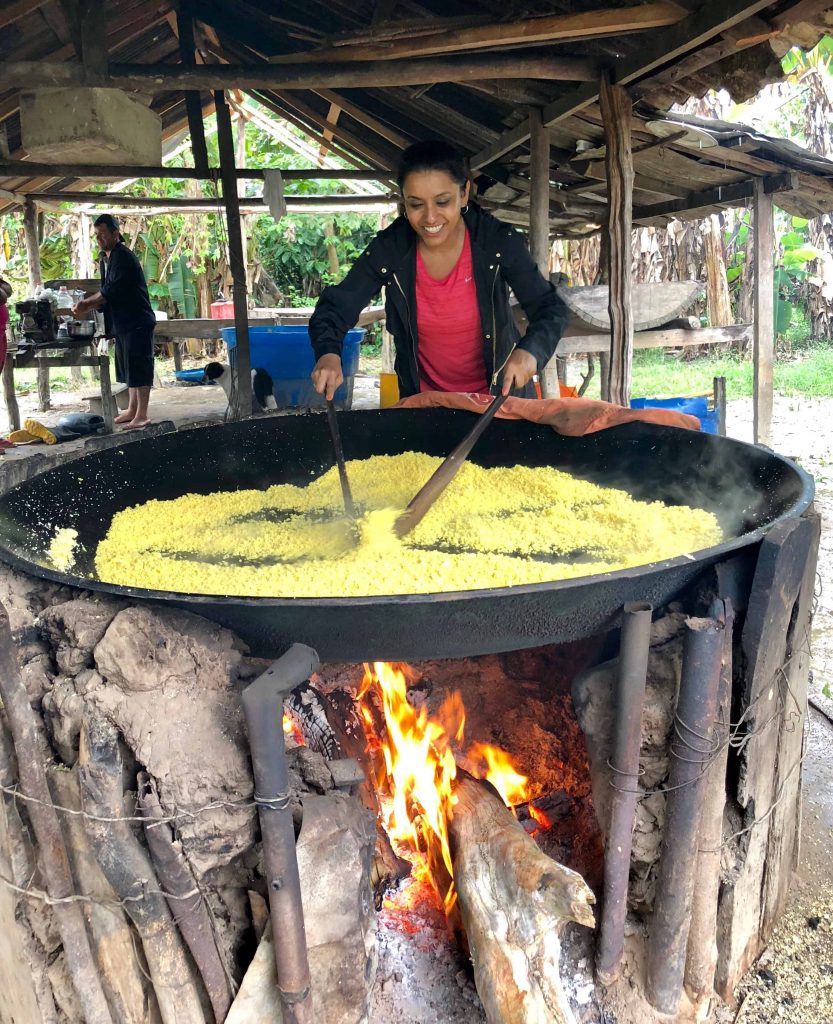 We also grilled chicken and fish there and had that for lunch, it was delicious!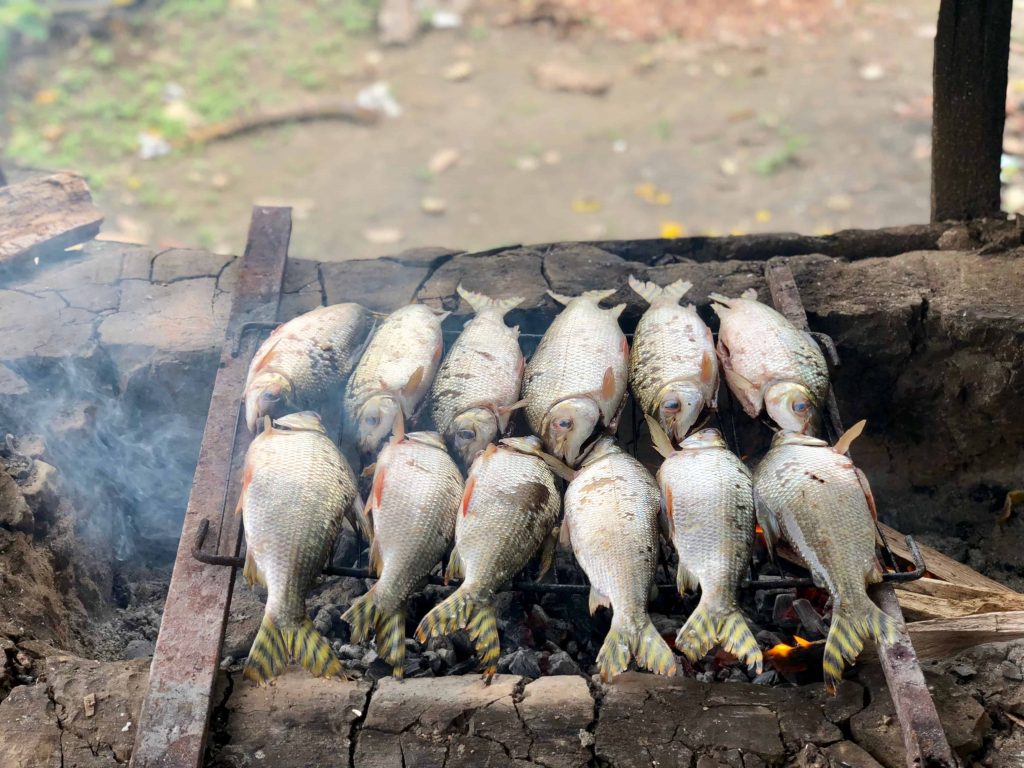 We then sailed back through water lilies, tall grasses, dense forests. This time for dinner we had some more of my date –Piranha fish and the local Pirarucu fish. Ate Jharaci fish too (Brazilian fish with yellow and black tail).
DAY 3
Next morning we went into the Amazon forest and walked there, it was filled with mosquitoes, so one needs to dress appropriately to be able to survive the walk.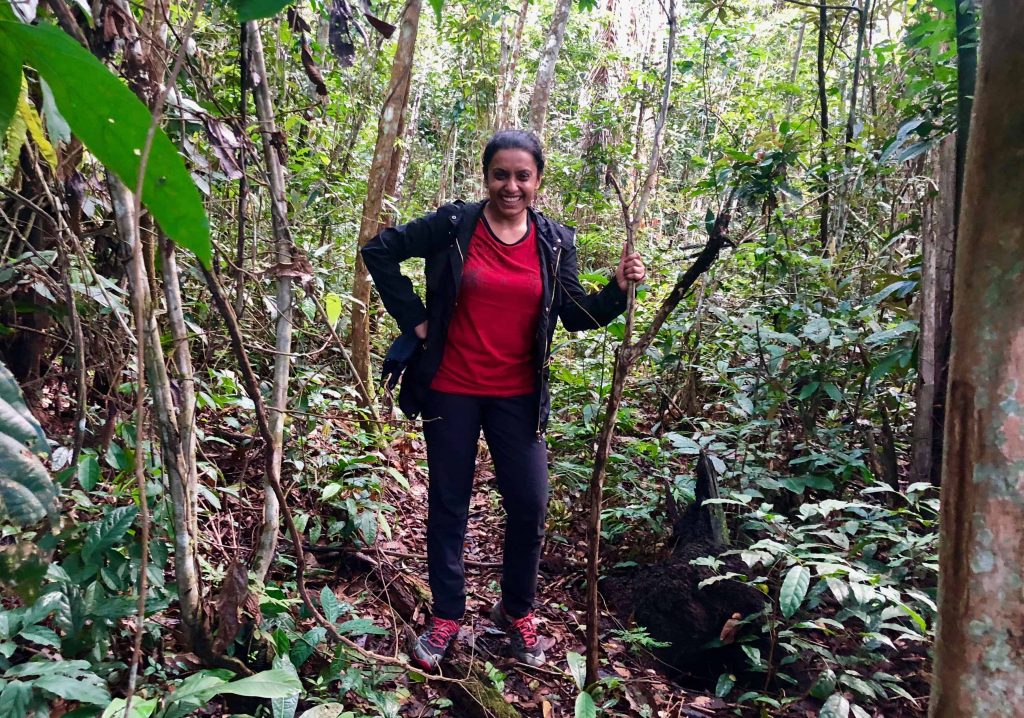 We saw snakes wriggle by, giant termite hills, a bee house, lots of birds and medicinal plants, we also tasted the famous Brazilian nut.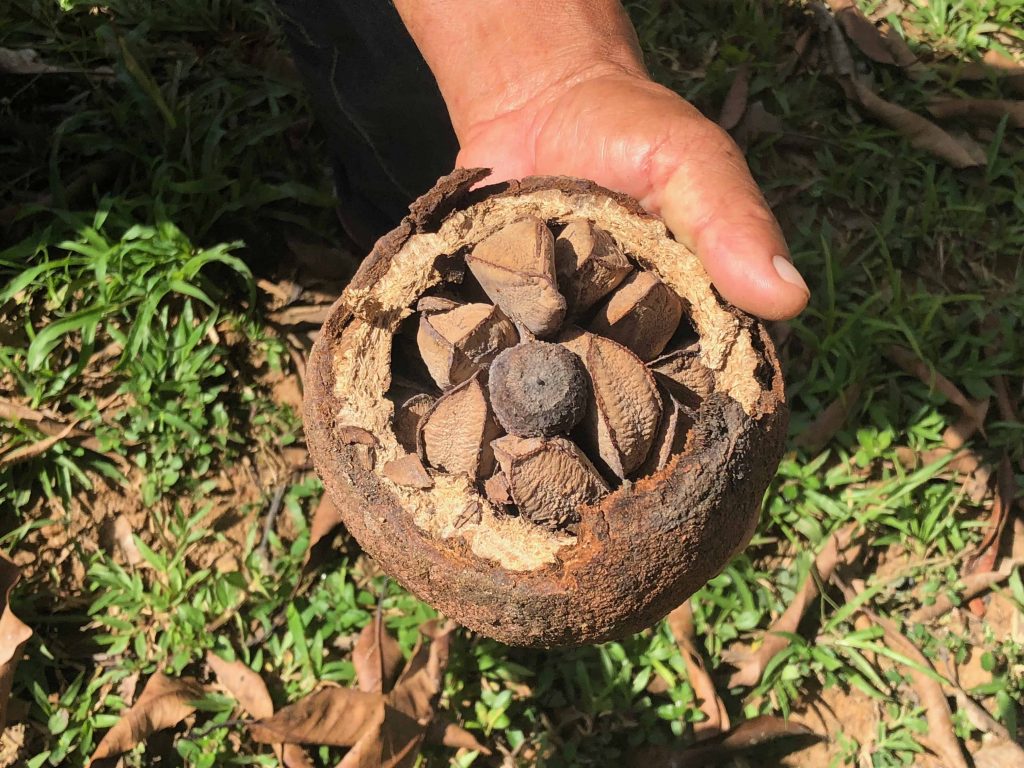 That brought us to the end of our jungle tour and we drove back to Manaus.
We went to the port to hop onto a boat and see the meeting point of River Negro from Columbia and River Solimoes from Peru which forms the mouth of the Amazon river.
The distinct black and brown colours of the 2 rivers are very prominent. The 2 rivers also vary in temperature & density. We were extremely lucky to catch a gorgeous sunset at this confluence.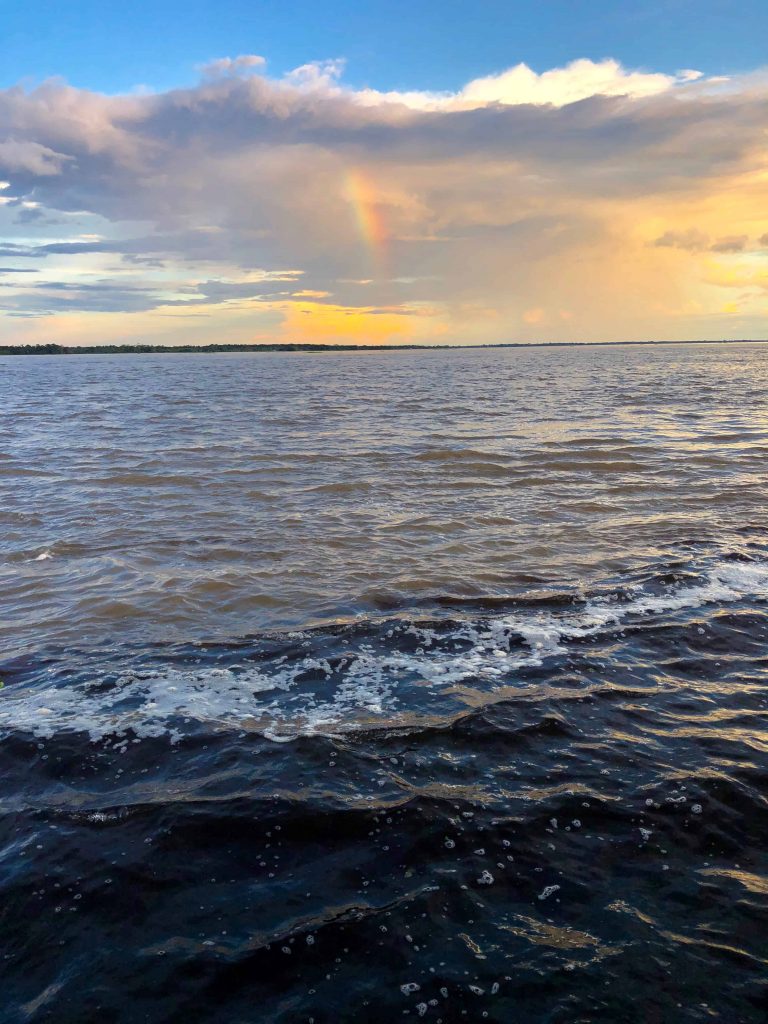 That brought us to the end of our trip. Owing to how important this rain forest is to our planet I was awestruck and was elated about having planned a trip here.
If you are planning a trip to the amazon forest, do write to me I can help you with some tips.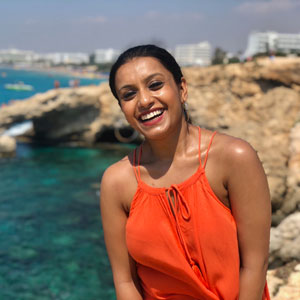 Hey there travel bugs! Glad you made it to my blog. The journey is going to be worth it—I promise.
I am a fearless, unguarded and fun loving traveller. The word 'cannot' doesn't often appear in my life's dictionary. I was bitten by the travel bug a long, long time ago and it has taken me to more than 60 countries and countless destinations ever since. A born networker—I have met and made a gazillion friends across the world and the experiences so far, has more often than not, left me speechless. The more I travel, the more I realise that how much there is left to travel.
So hop on and be a part of my explorations and adventure tales right here on Travel Chatter.
Subscribe to my Newsletter
This error message is only visible to WordPress admins
Error: API requests are being delayed for this account. New posts will not be retrieved.
There may be an issue with the Instagram Access Token that you are using. Your server might also be unable to connect to Instagram at this time.