11 Incredible things to do in Costa Rica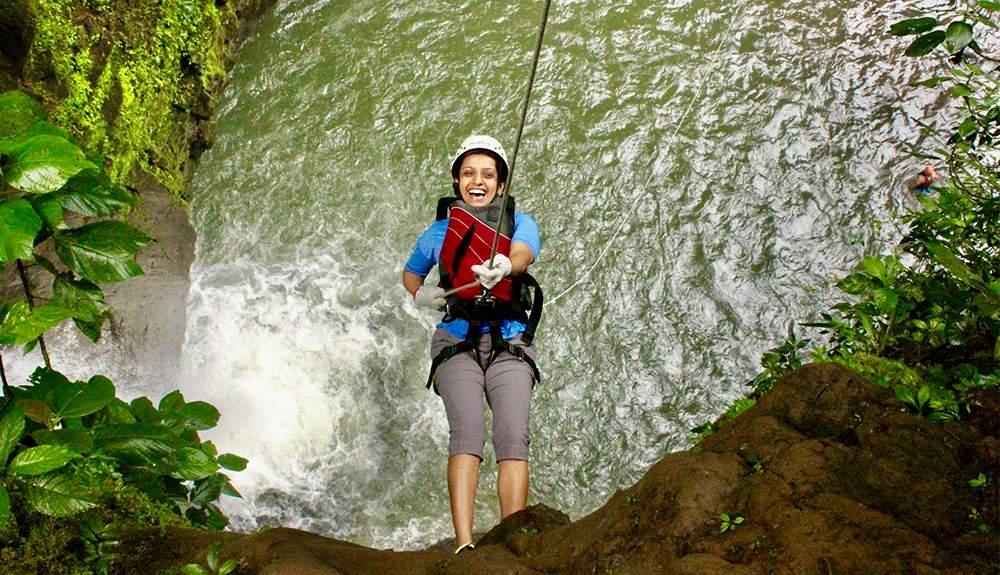 The End of year 2019 marked the end of a decade. This decade brought with it a lot of ups and downs in life…more ups though – Thankfully! And with it came immense learning and a lot of gratitude and hence I wanted to end this great year and ring in the new decade at a very special destination…one that I will remember for a lifetime!
I spent almost 3 weeks exploring which place to go to and which country would make my trip really memorable and I finally zeroed in on Costa Rica! I am so glad I did cause I don't think I could have spent 2020 New Year's Eve at a better place.
Now, I can go about telling all the fun things to do in Costa Rica or the places to visit in Costa Rica but before that, let me tell you something more!
The Land of Pura Vida and Getting there!
Costa Rica is the land of Pura Vida and everyone swears by it. People even greet each other with that phrase. It means "Living life in the moment" and that's exactly what we did while we were there as well.
How to get to Costa Rica: Costa Rica has 2 international airports – San Jose & Liberia and they have flights daily from Canada and the United States.
We flew from Mumbai to New York and spent Christmas there, after which we flew Spirit Airlines from Newark to San Jose, the capital of Costa Rica. It was an 8 hours flight with a 2 hours layover in Fort Lauderdale. United Airlines does have direct flights to San Jose which takes around 5 hours. The ticket price usually is anywhere between $400-500. We paid a lot more since we were going during the peak season.
Best Time to visit: The best time and the peak season in Costa Rica is from December to April which is the dry season and you get plenty of sunshine.
Getting Around: We rented a car at the airport which cost us around 650 USD for 8 days. Car rentals are quite expensive in Costa Rica.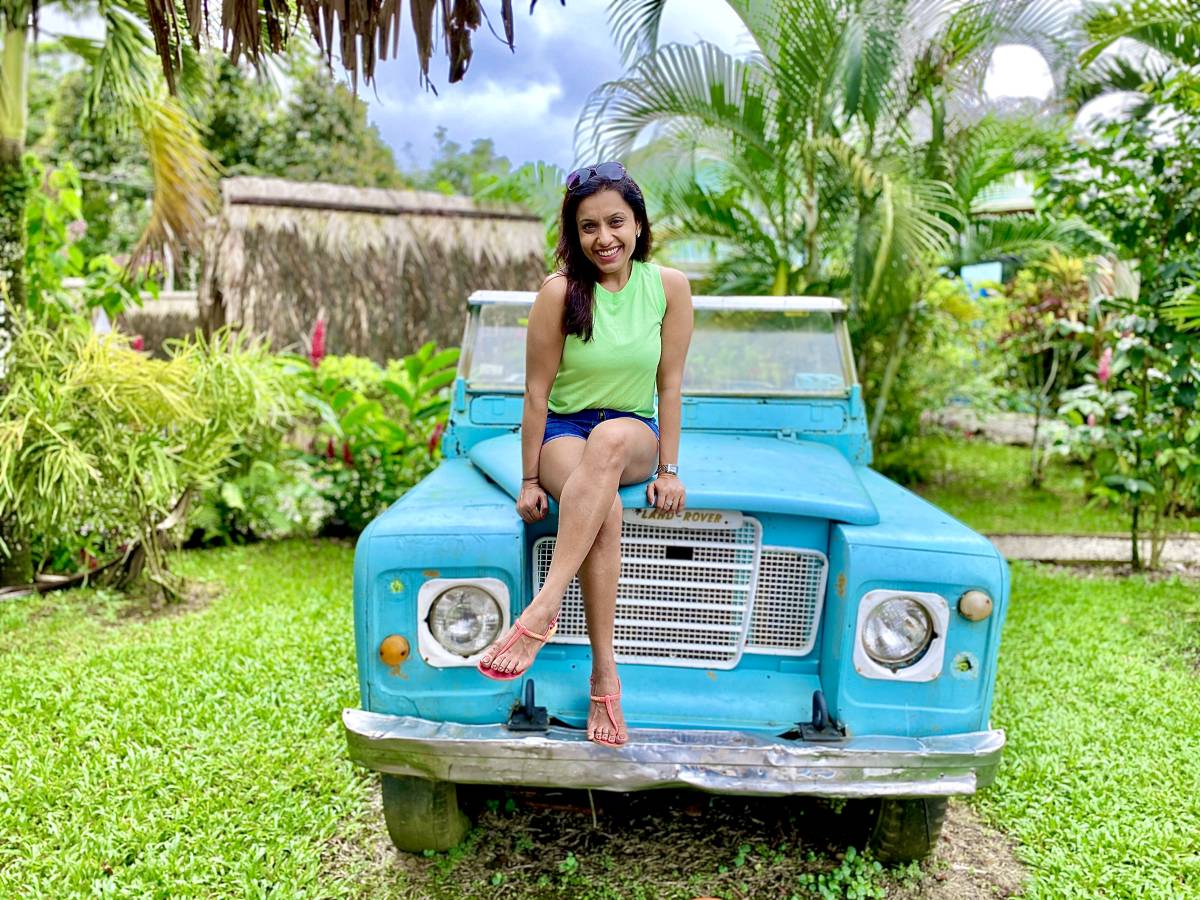 Rent a car in Costa Rica (this wasn't the car we rented though)
One of the Most Unique Things to do in Costa Rica: Visit the Volcanoes
Costa Rica has a lot of volcanoes and rainforests and of course, has the Carribean on one side and the Pacific Ocean on the other side. We planned to spend 4 days in the rainforest and 4 days on the beaches. So after spending a night in San Jose, we drove to Arenal National Park and then to Santa Teresa beach/Montezuma beach and spent New Year's eve in Tamarindo beach.
Where to Stay: While we were at Arenal national park we stayed at Selina Fortuna which is right at the centre of the town and walking distance from all the restaurants there. When we hit the coast, we stayed at Nantipa resort & Airbnbs in Santa Teresa/Montezuma & Tamarindo.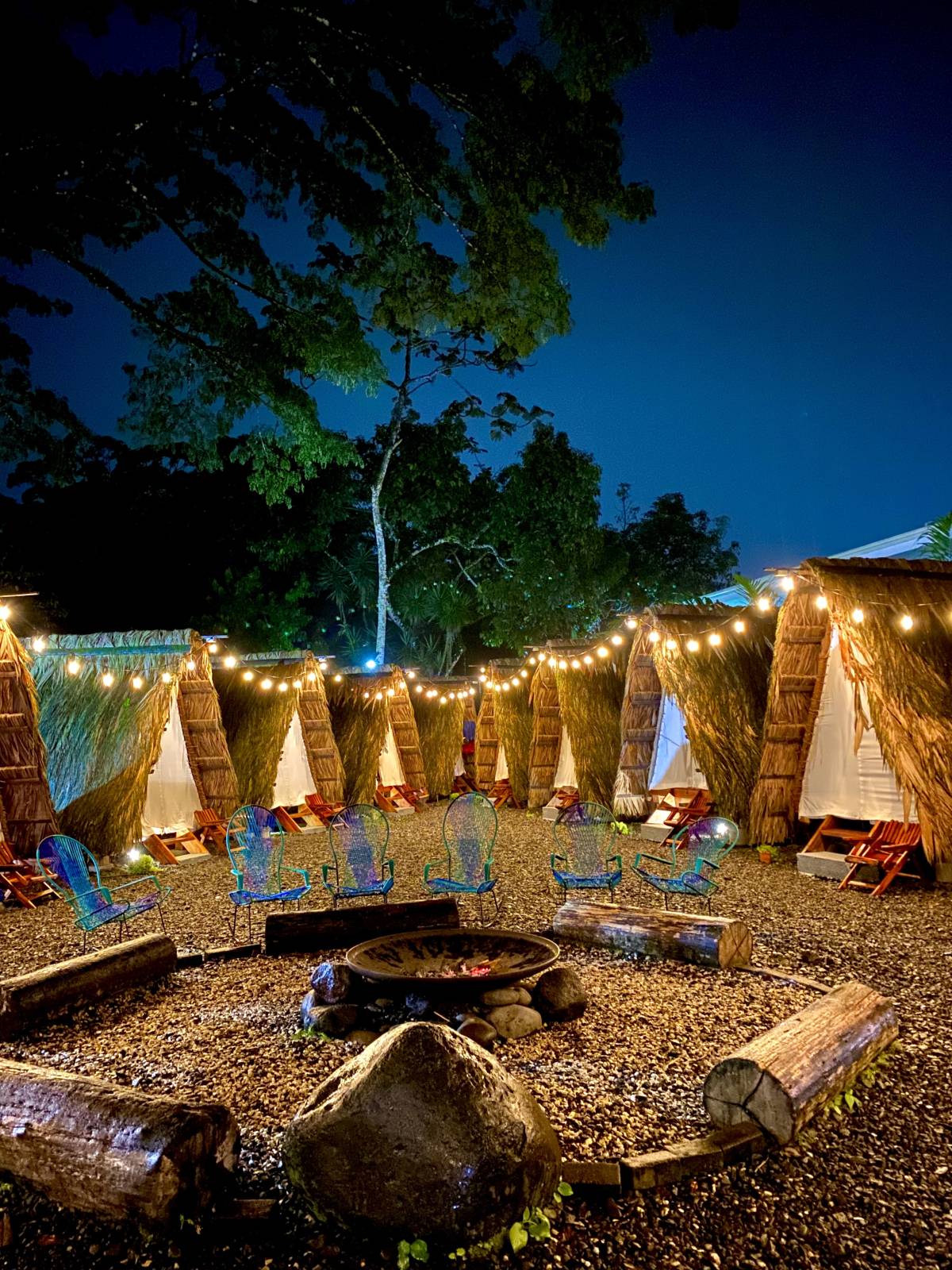 Selina Fortuna in Arenal, Costa Rica
Things to Pack: Carry a light jacket, rain jacket and your hiking boots since you will definitely need that when you are in the rainforest.
Here is the list of Fun Things to do in Costa Rica
1. Do the Gravity Freefall with Desafio
Costa Rica is an adventure-lovers paradise and trust me it doesn't get better than Desafio. After having been to 64 countries and having tried all kinds of adventure sports, I hereby claim that I have never ever tried something as daring and scary as this. I have always believed that adventure sports push you out of your comfort zone and unless you push yourself you won't remember the trip! This was clearly the best thing to do in Costa Rica
We started early at 6:30 AM and finished at 2 PM. We drove deep into the forest and here is what we did:
Part 1: Rappelled down a cliff with a waterfall which was 150 feet high.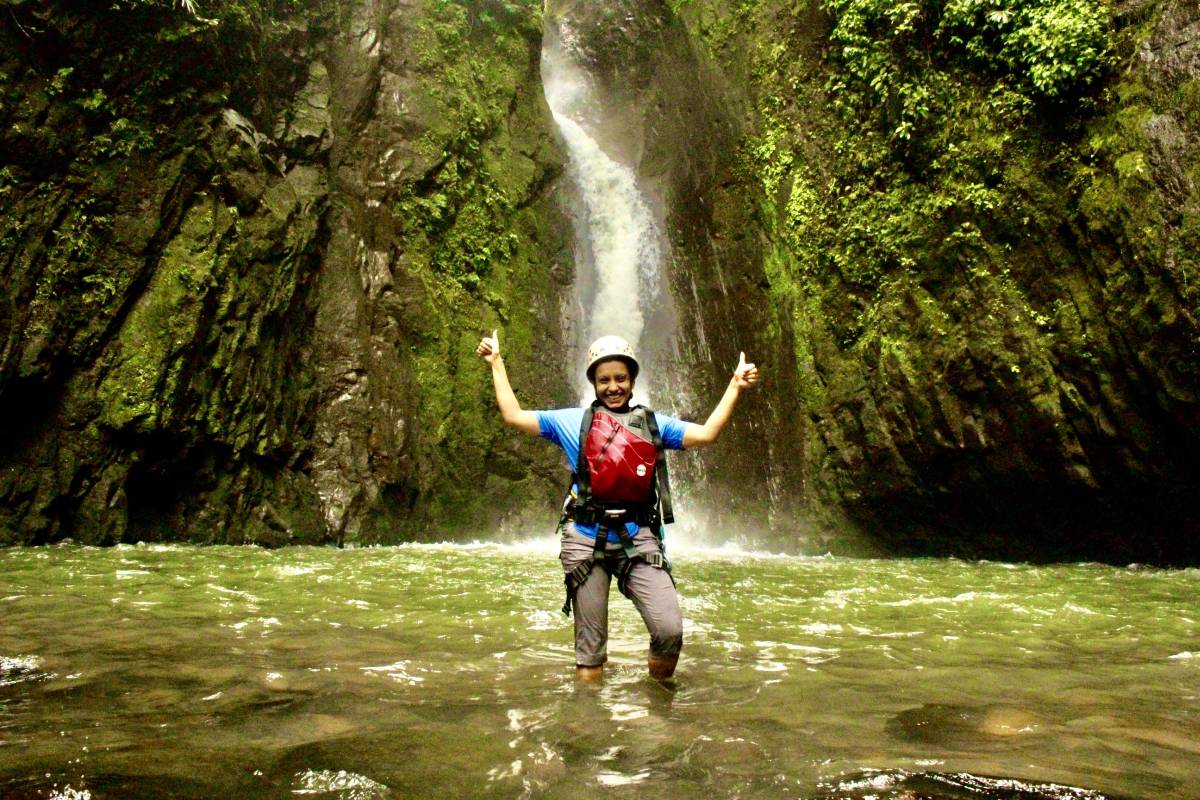 Rappelling down a 150 feet high cliff-I am just smiling for the camera, I was super scared
Midway down the cliff, we had to let go of the rope and fell backwards in the water…FREEFALL.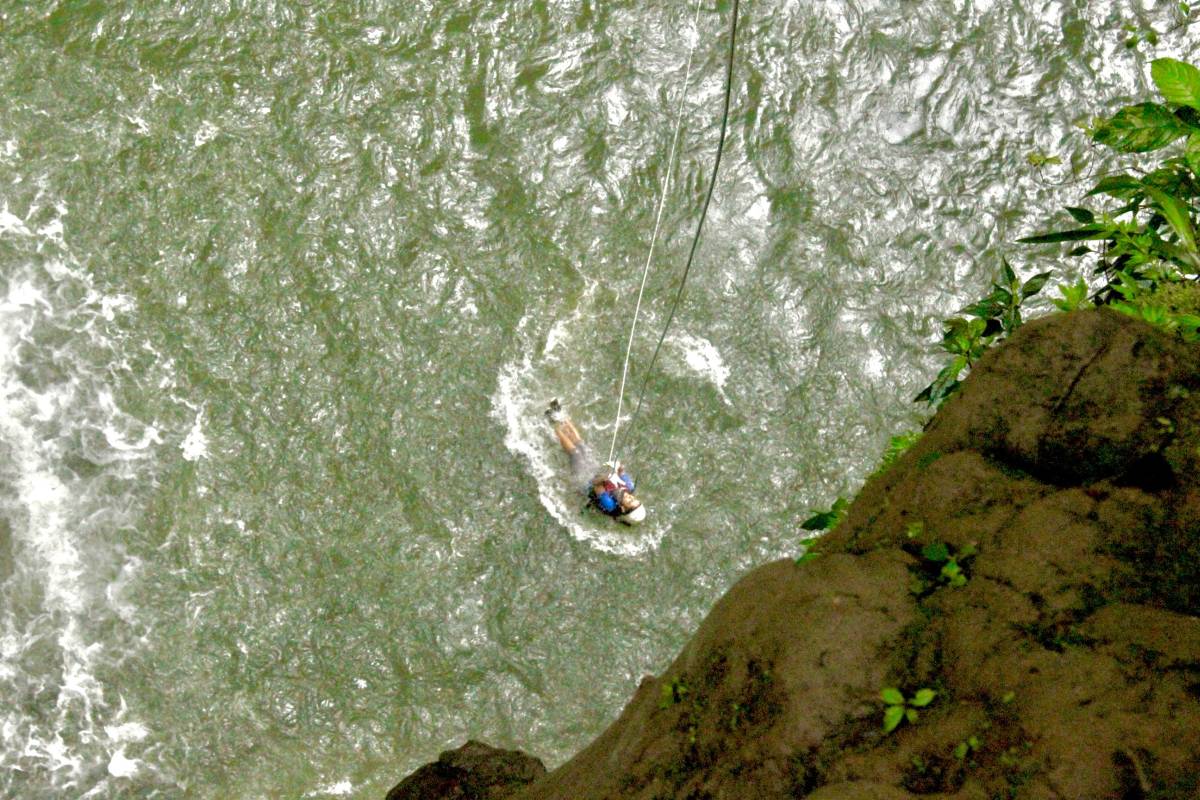 Part 2: We jumped into a 5 feet waterfall ‍♀
Part 3: Another jump into a 10 feet waterfall and here as we jumped they pushed us under the raging waterfall flow and like a washing machine we were turned under the water.🤸‍♀
Part 4: We held onto a rope and swung into the middle of a river and jumped.
Part 5: We climbed up a cliff with the help of a rope.
Part 6: THE BIG DADDY – Free fall into a 35 feet waterfall!!!
This was the scariest shit ever but super, super fun!!!
After this, they take you to a superb property for lunch where I met the super sweet owner of Desafio Adventures, Christine and she gave me a tour of a hidden waterfall in her backyard.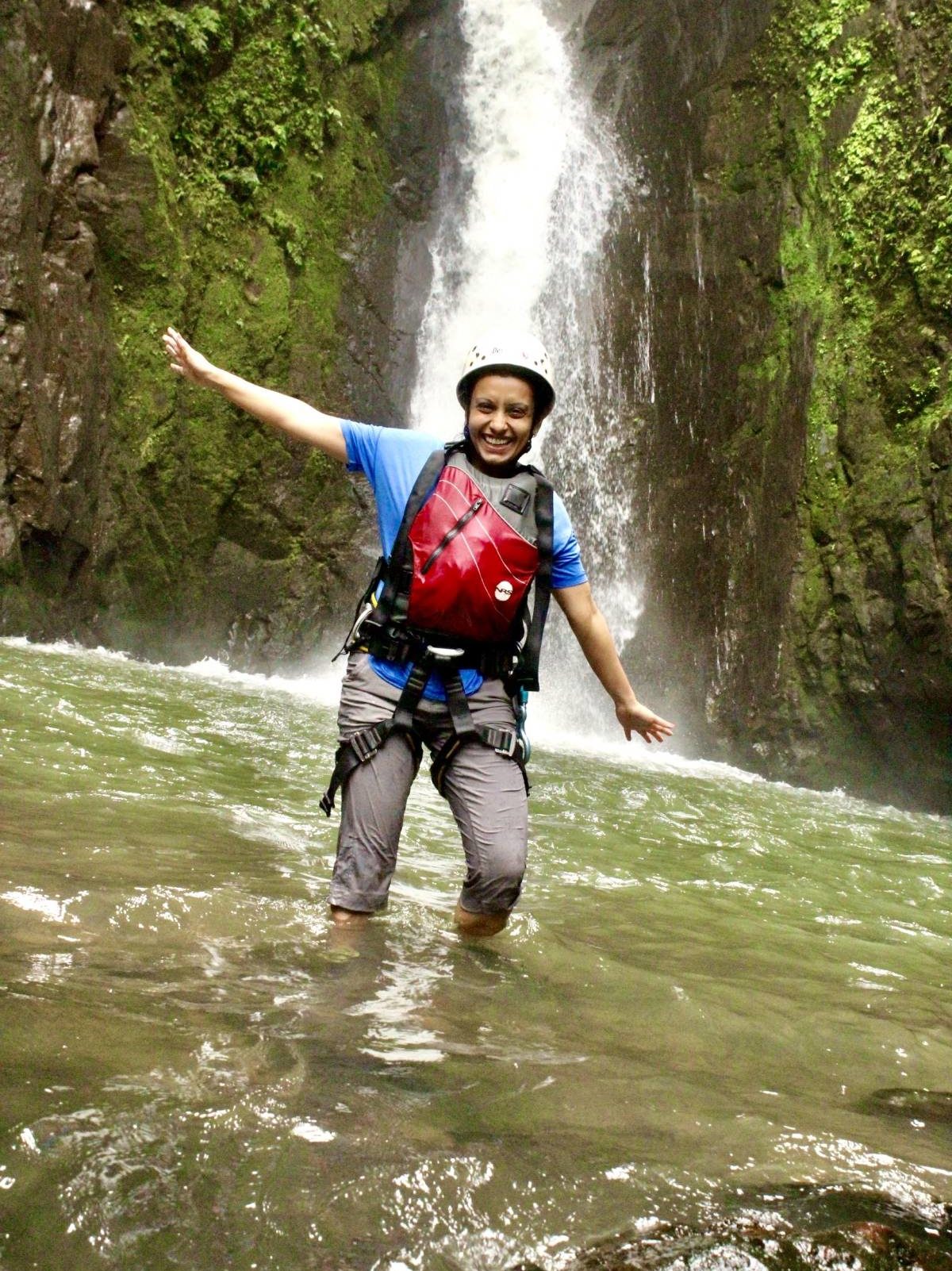 The most awesome adventure sport ever! All thanks to Desafio for making this the highlight of my trip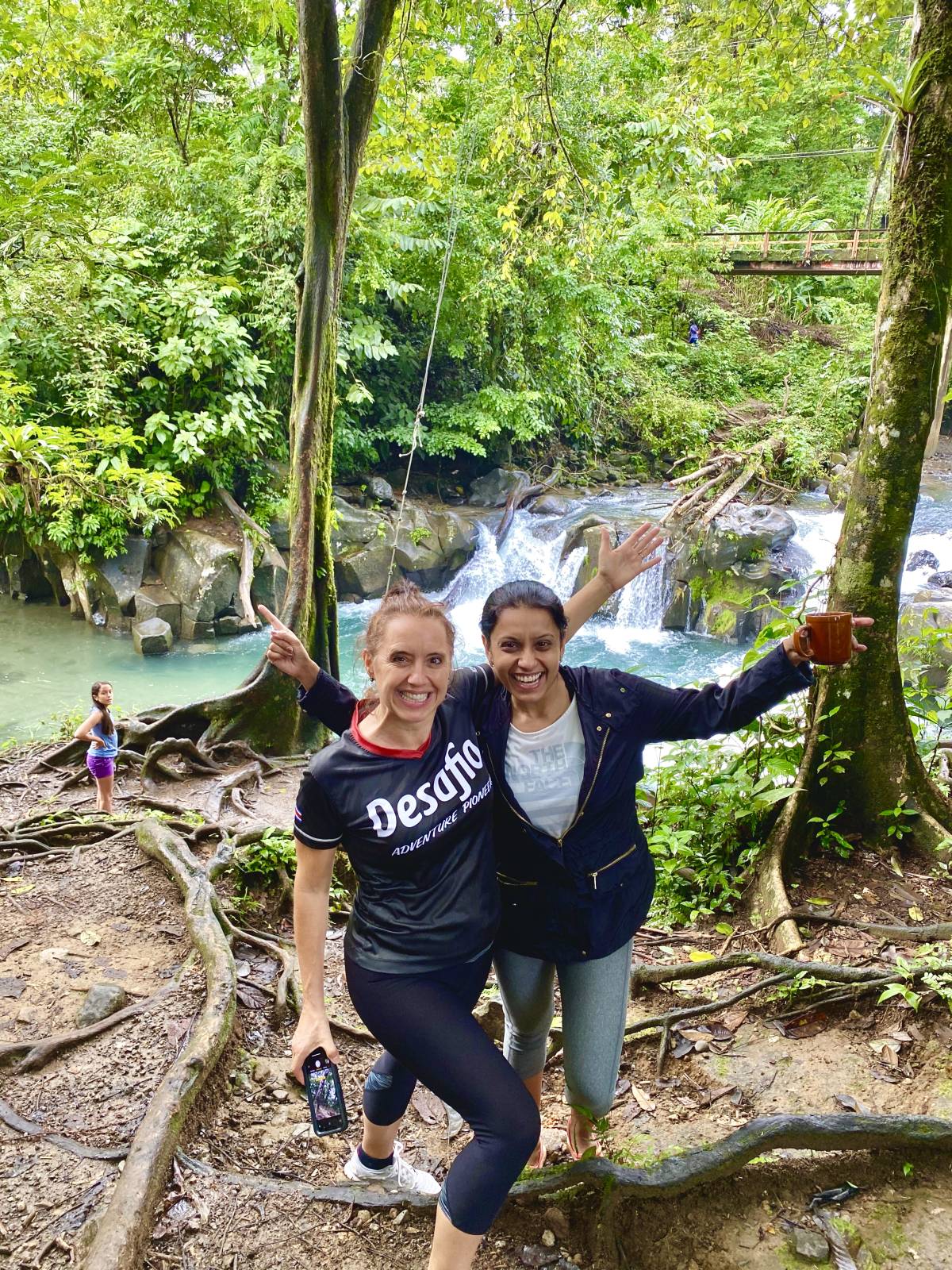 Christine of Desafio Adventures at her private waterfall in Costa Rica
This by far will be one of the most memorable days in my history of adventure sports.
The Next Best thing in my list of things to do in Costa Rica is to relax! Well, yeah it is the land of Pura Vida so relaxation is must!
2. Bathe in the Natural hot Springs in Tabacon
Costa Rica is filled with hot springs since there are so many volcanoes around. These are one of the major points of interest in the country. There are Free Natural hot springs as well but I strongly recommend the Tabacon HOT springs. It's totally an Alice in Wonderland setting and you can spend an entire day there. They have different kinds and levels of hot springs and it's such a relaxing and rejuvenating activity. The day passes cost 85USD with either lunch/dinner included and is absolutely worth it.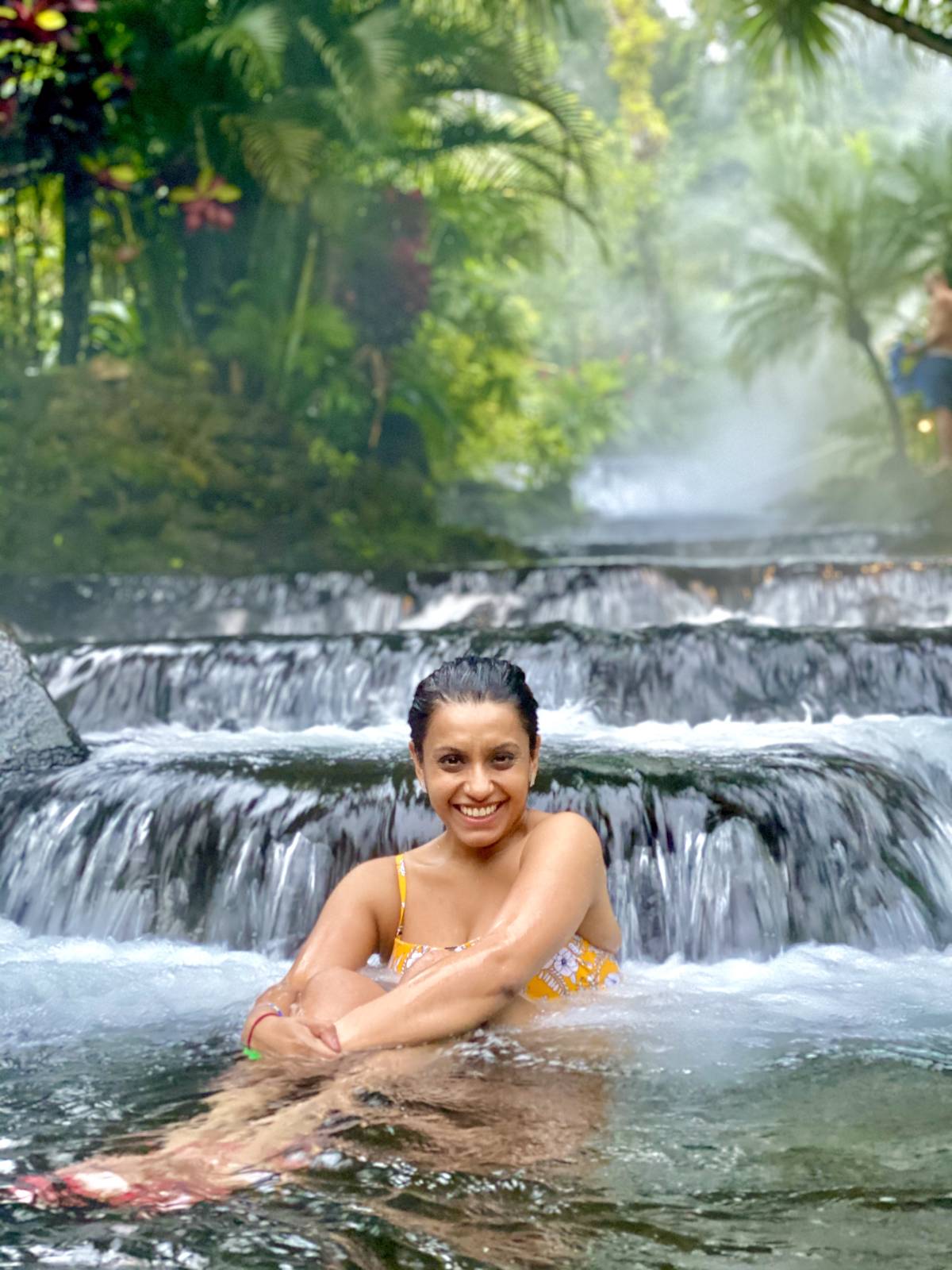 Bathing in the natural hot springs of Costa Rica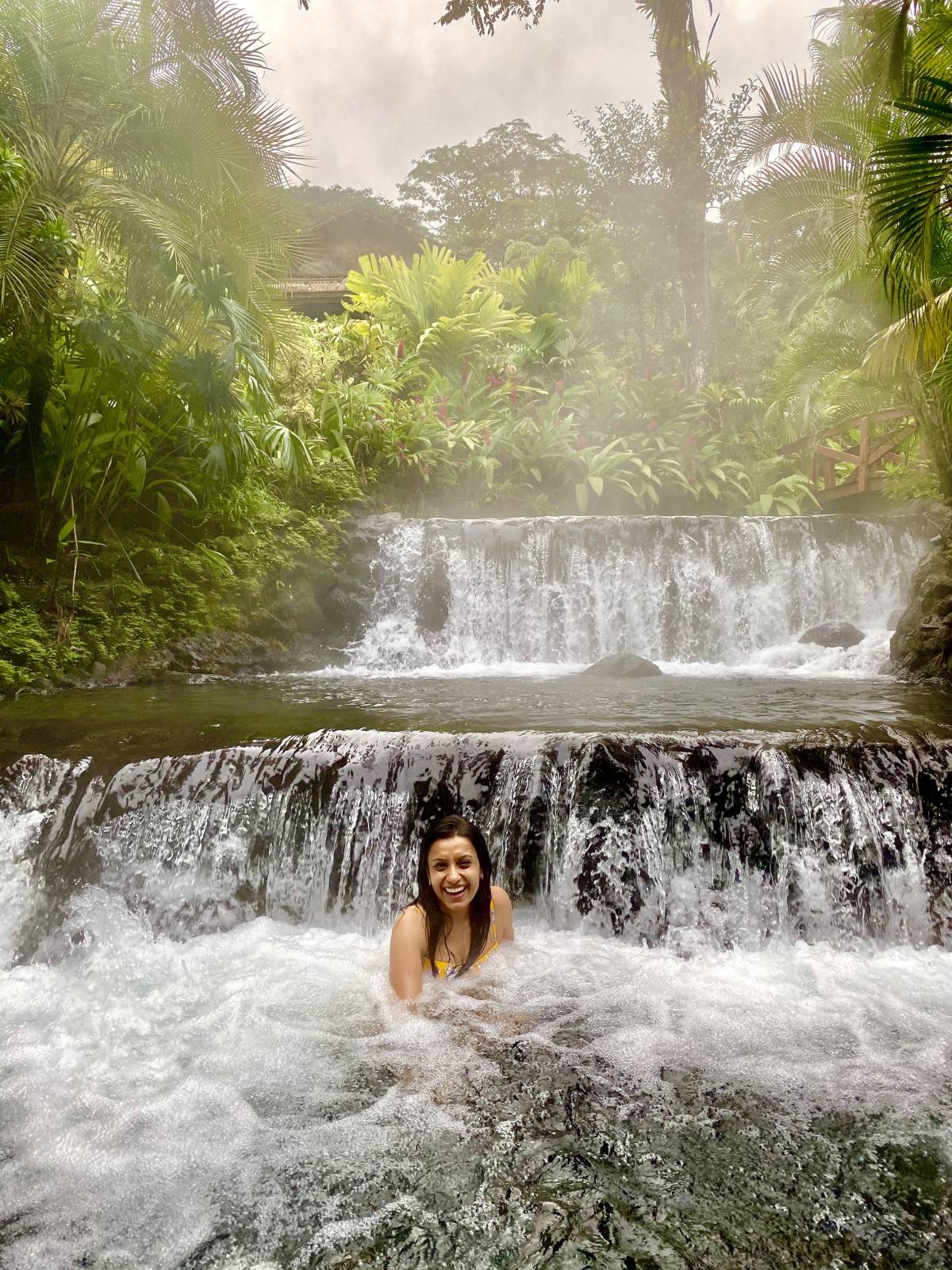 Tabacon resort has the best hot springs
Another one of the awesomest things to do in Costa Rica is to go ziplining! There are 7 different lines with one being 150 metres long. You are ziplining high above the rainforest and in a few seconds, you just disappear into the clouds. You can have a look at the videos in my Costa Rica Story highlights on Instagram.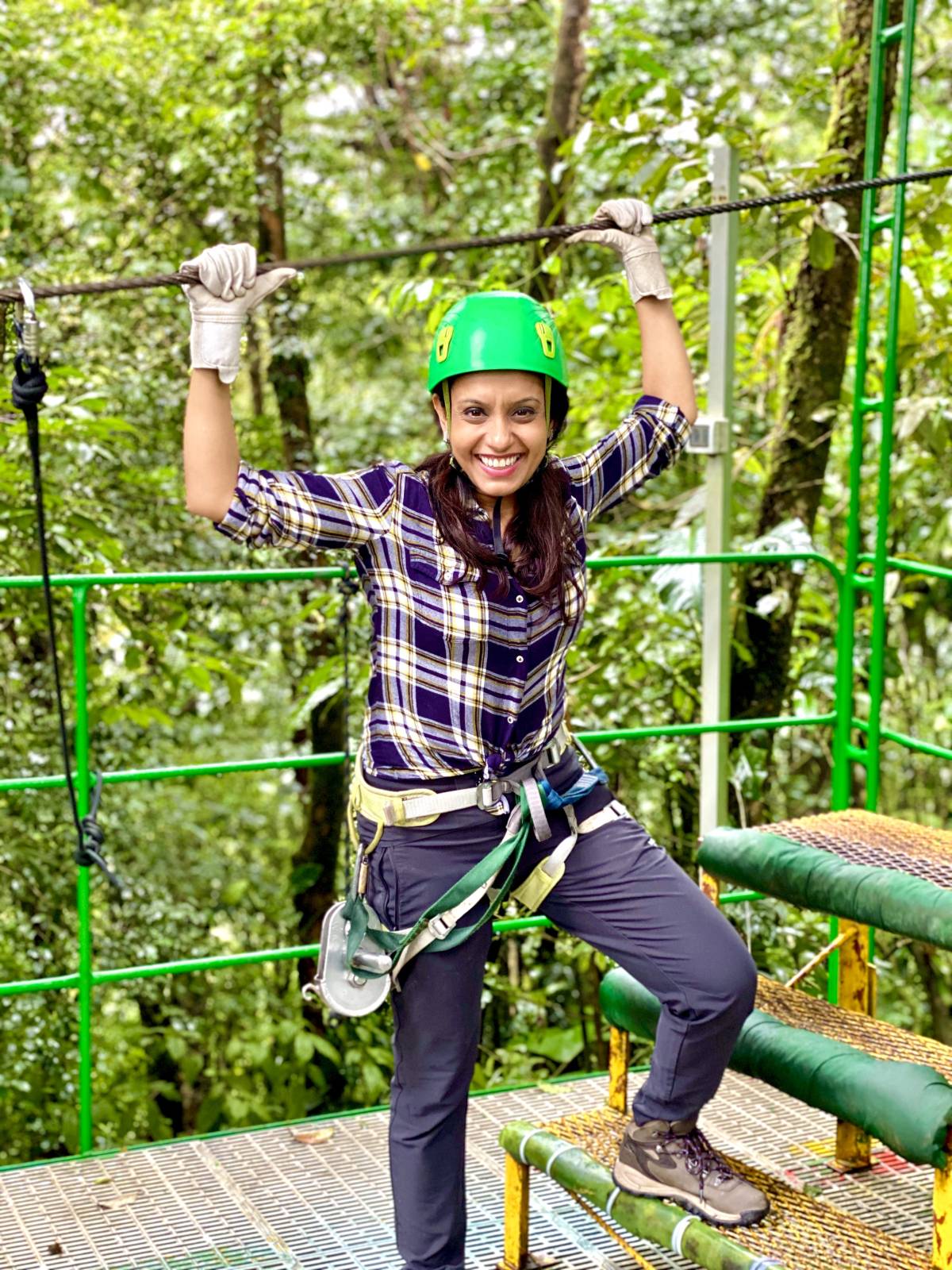 Ziplining with Sky Adventures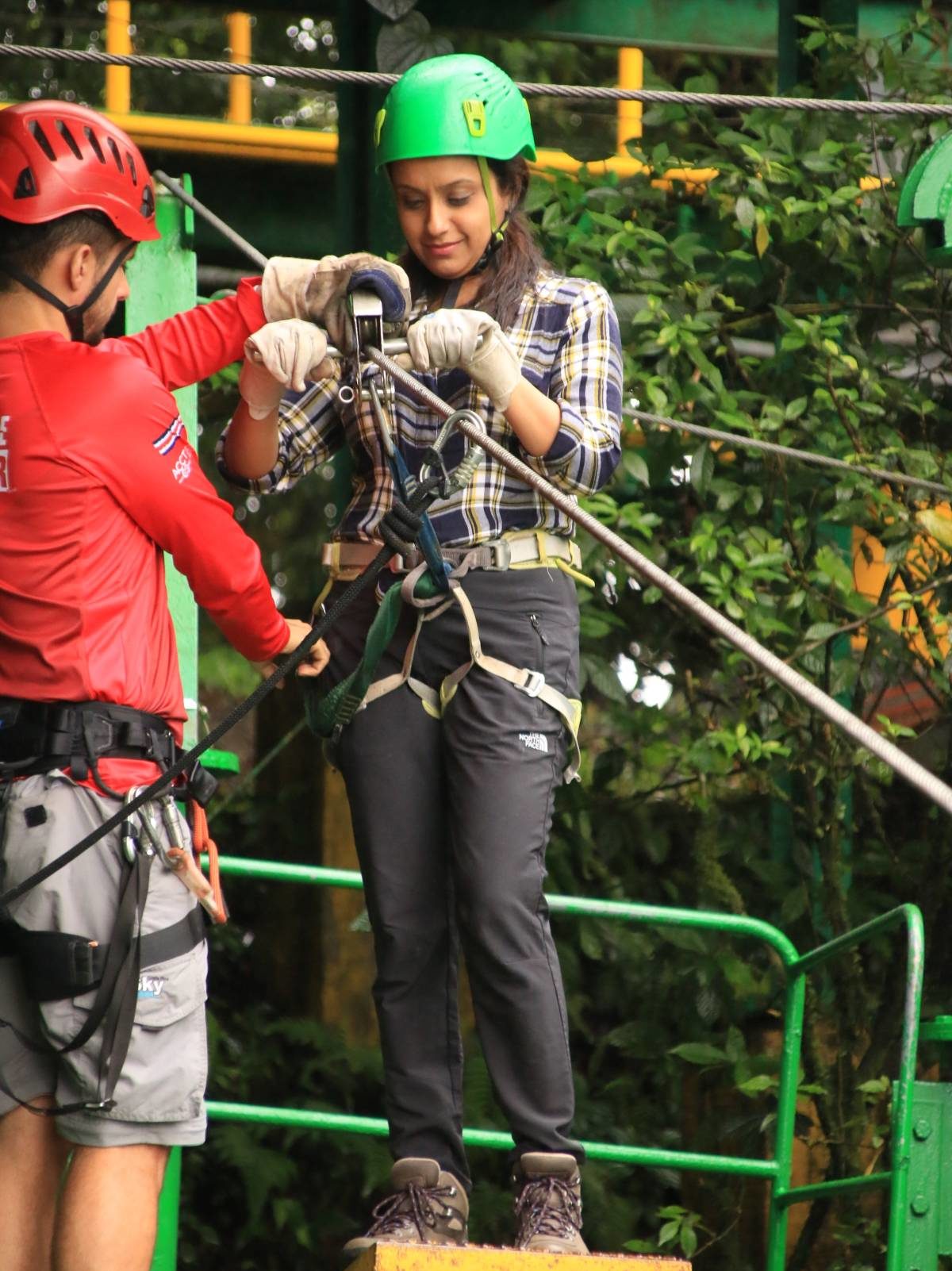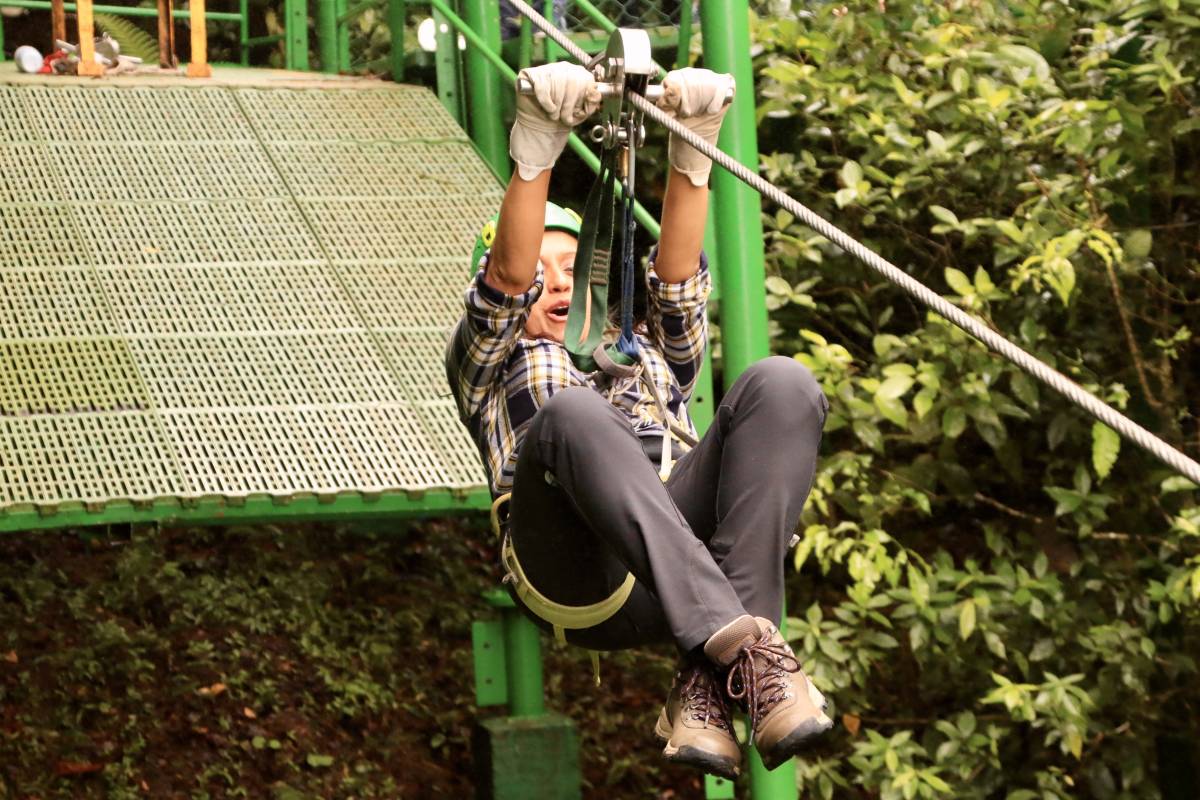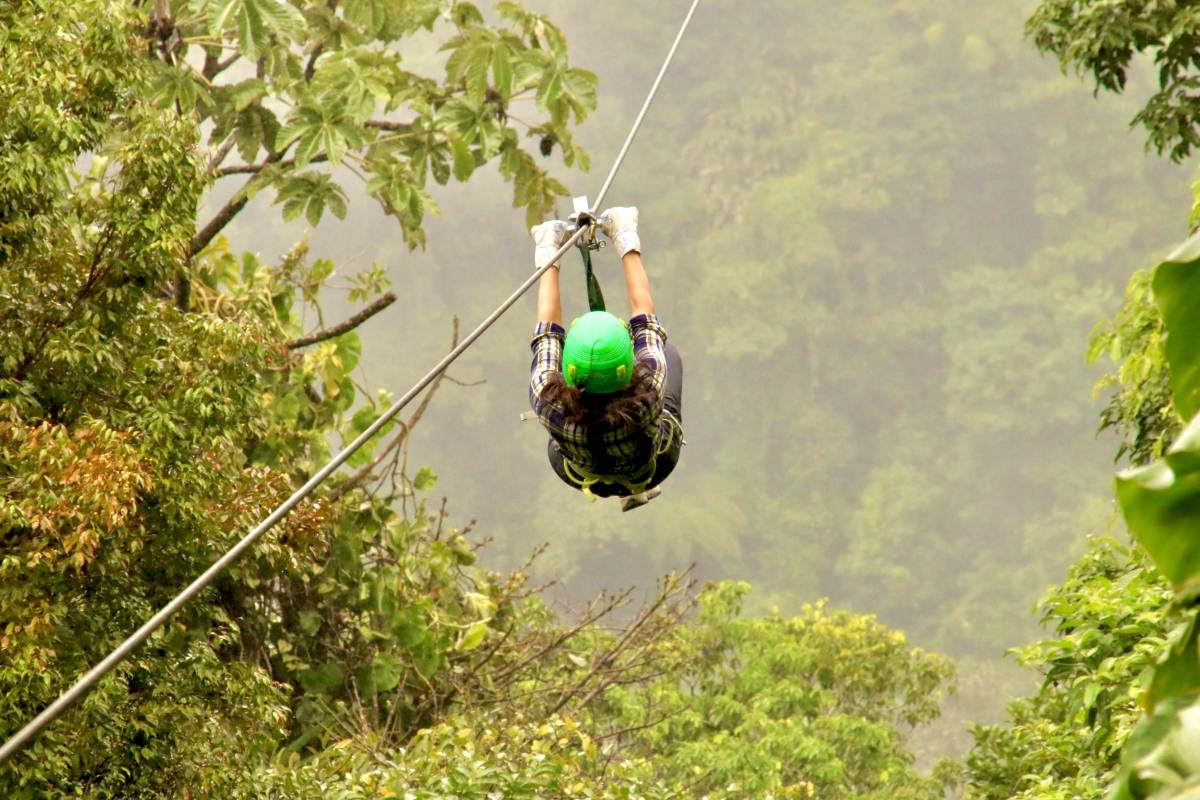 Just before I disappeared into the clouds
4. Walk on the hanging bridges in Mistico Hanging bridges park
The Mistico hanging Bridges park is one of the most popular Costa Rican attractions. One of the major points of interest, it would be better if you go there earlier in the morning when it's less crowded and hence you have a higher chance of spotting wildlife. It was a superb experience walking the 3.2 km trail which has 15 bridges, 6 of them hanging.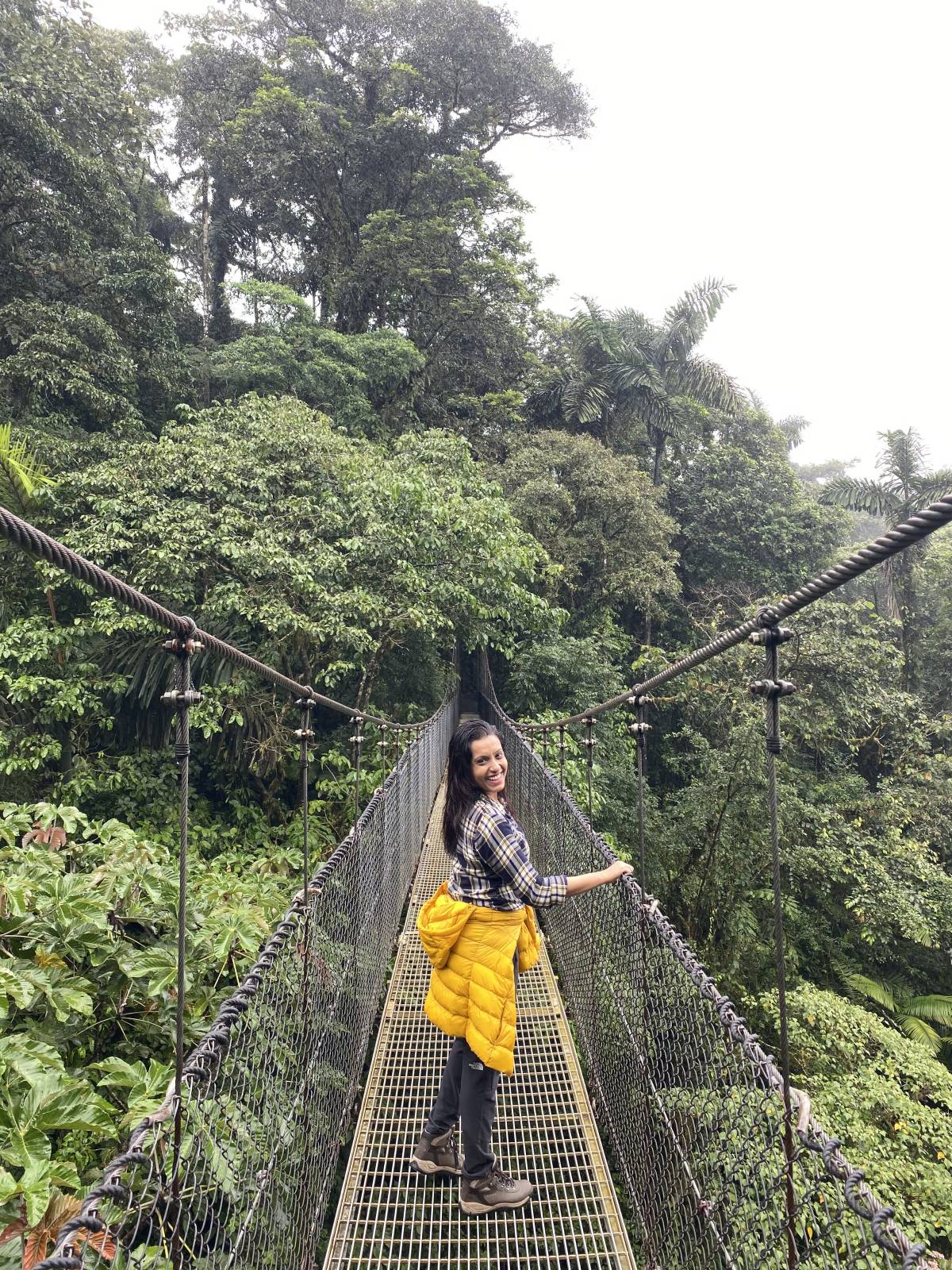 The hanging bridges of Mistico, Costa Rica
5. Go on a Sloth watching trail in Arenal
Costa Rica has sloths in abundance and there are these specific trails where you can spot them on trees. Also, sloths aren't so common in other parts of the world so if you are in the country, make sure that a sloth trail watch is on your list of things to do in Costa Rica We went on one too and looking at these cute not so little creatures was a simply awesome experience! And while I say this, here are a few fun facts about Sloths…
The reasons why sloths, sloth so much is because they feed on leaves and since leaves cannot provide as much nutrition and get digested quickly, sloths have a very slow metabolic rate and they sleep to conserve energy

They climb hardly once a week back to the ground and that is mostly to defecate.

They can give a run for their money to most swimmers.

They cannot sustain beyond their usual environments where they are usually found and hence if you are thinking of, you will most probably not be able to pet them!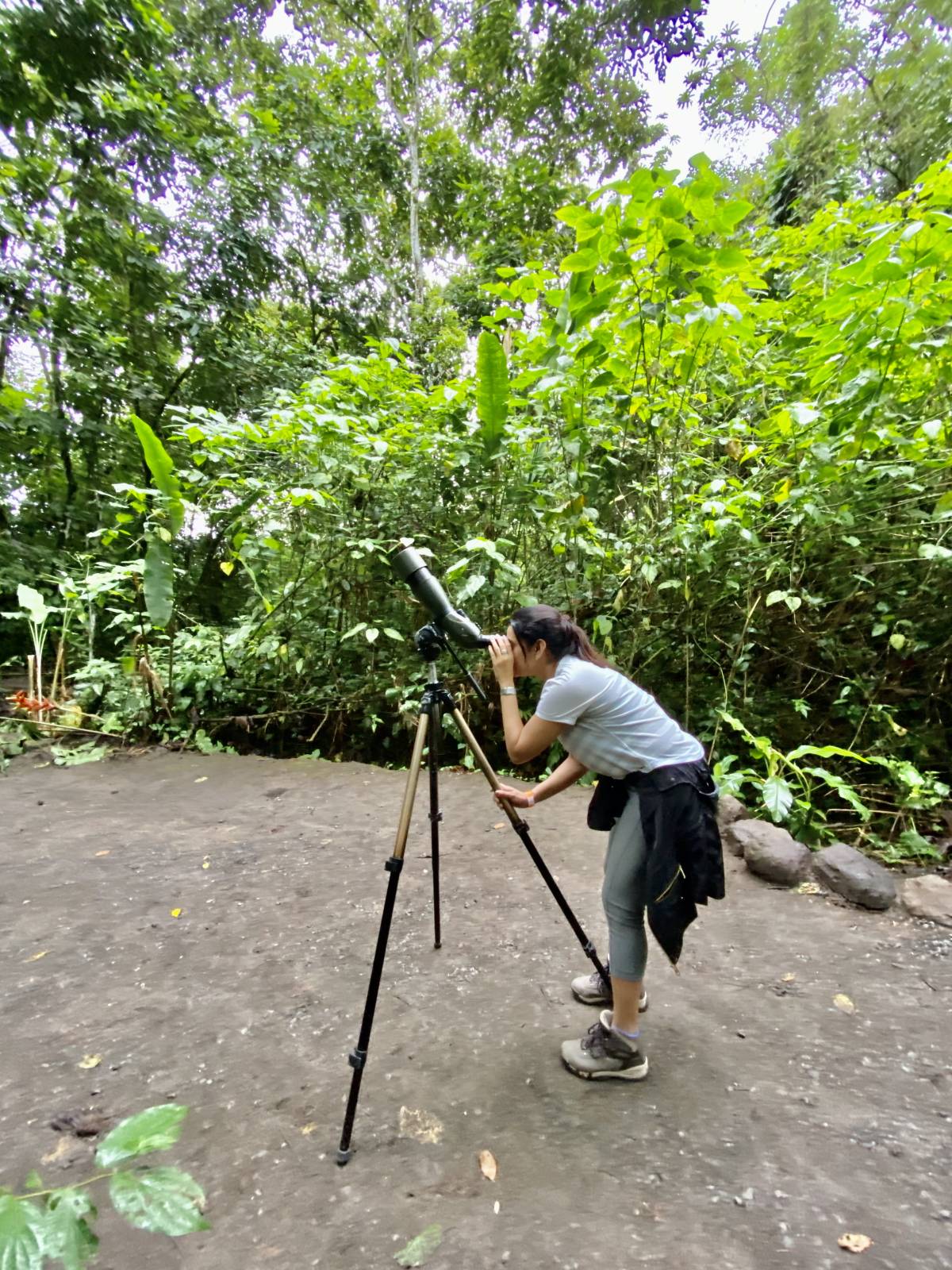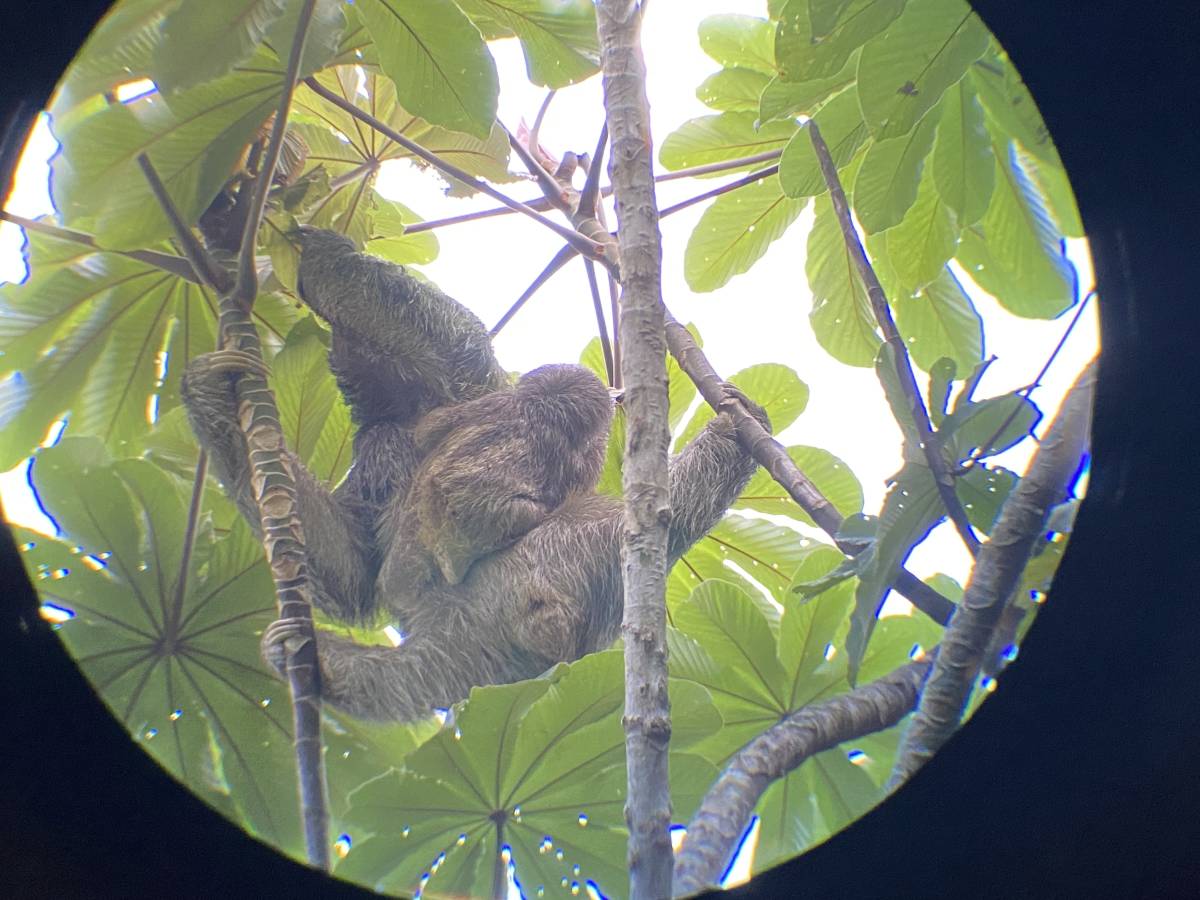 A Mamma and baby sloth eating leaves
6. Day trip to Irazu Volcano
Another one of the major tourist attractions in Costa Rica and one of the best places to visit in Costa Rica is the Irazu Volcano.
This volcano is a 1.5 hours drive from the capital city of San Jose and it has a very easy walk to the crater of the volcano. It is a 10 minutes hike from the parking lot and you can easily spend a couple of hours here admiring the blue lake of the crater.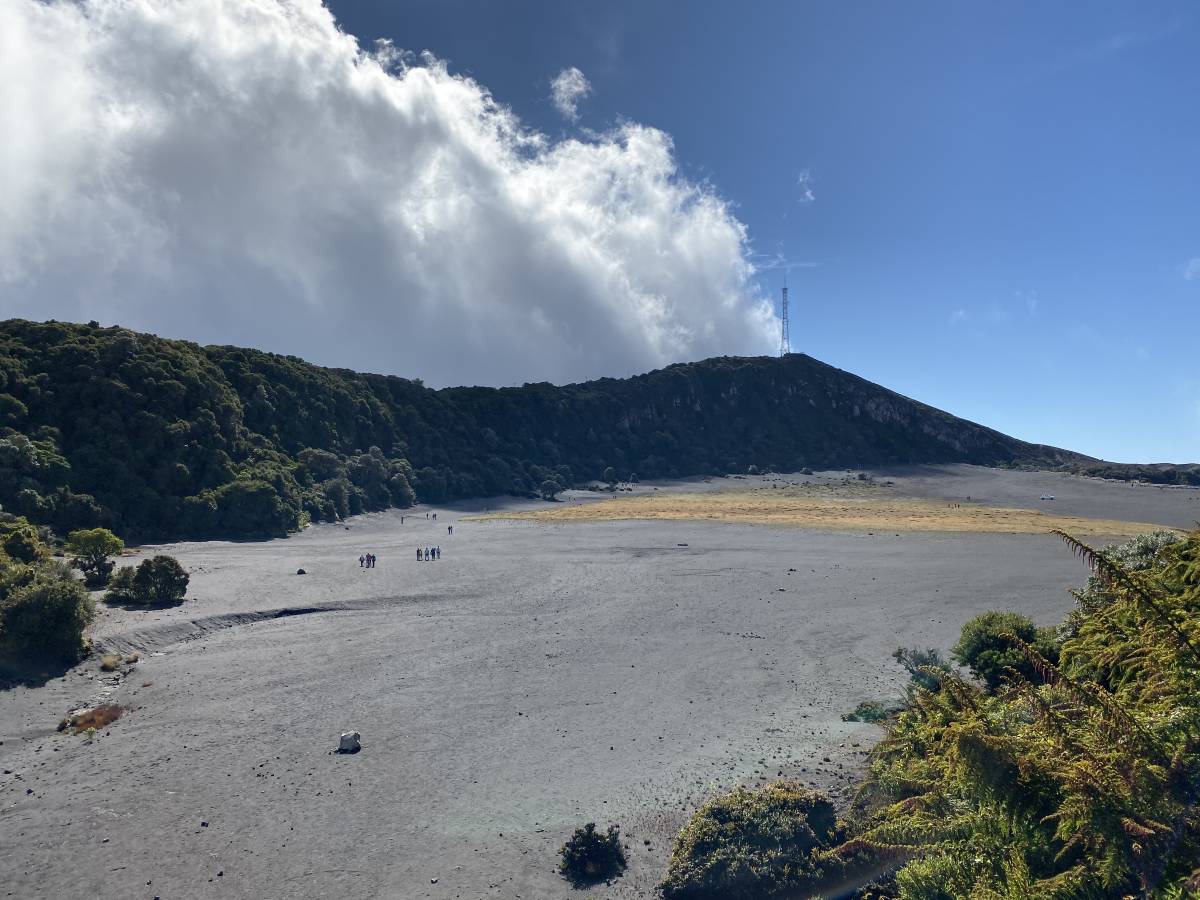 The Volcanic soil of Irazu, Costa Rica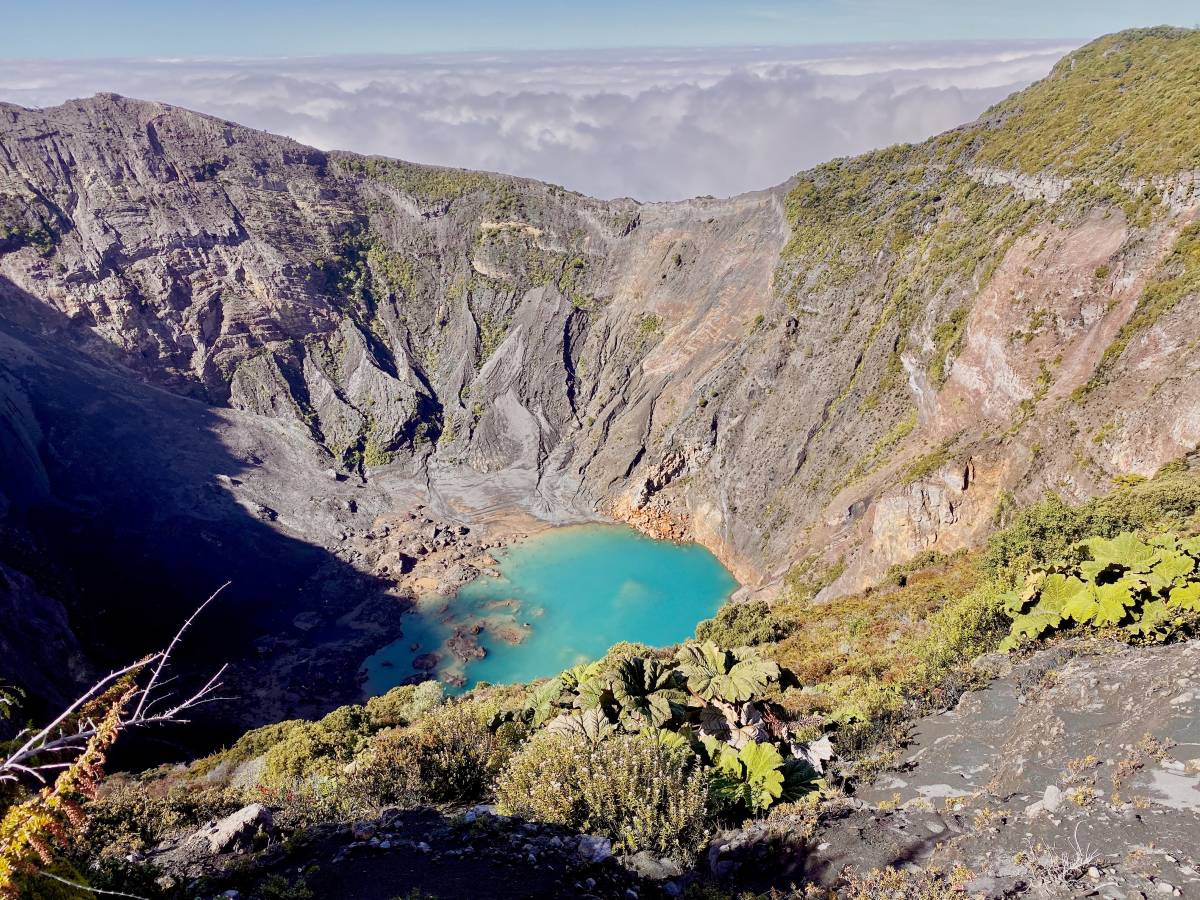 The gorgeous blue crater lake
The first view of the crater after the hike
Also read:- A marvellous Glacier trek – Perito Moreno, Argentina
7. Visit Rio Celeste waterfall and trek your way to the hot river
This waterfall is one of the most famous tourist attractions in Costa Rica and figures on almost every tourists' list of places to visit in Costa Rica, however, you have to be ready to hike for at least 30 mins till you get there. Also, you need to walk down a huge number of stairs to get to the waterfall. You may also want to trek till the end of the trail to see the Hot river which has bubbling water since it's connected to a volcano. This trail is a very difficult one and is extremely muddy so do wear your rain/hiking boots.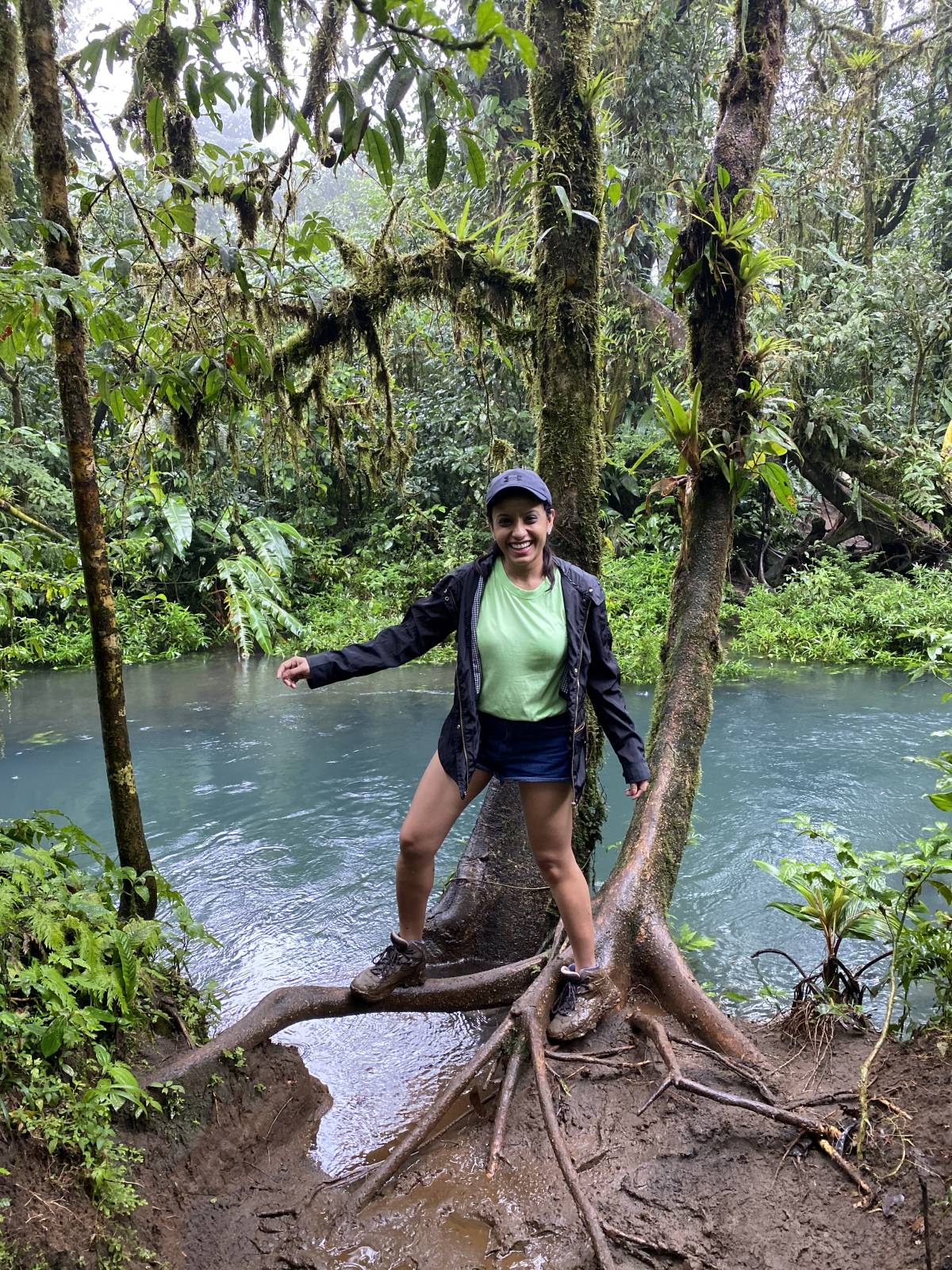 The trek to the hot river in Rio Celeste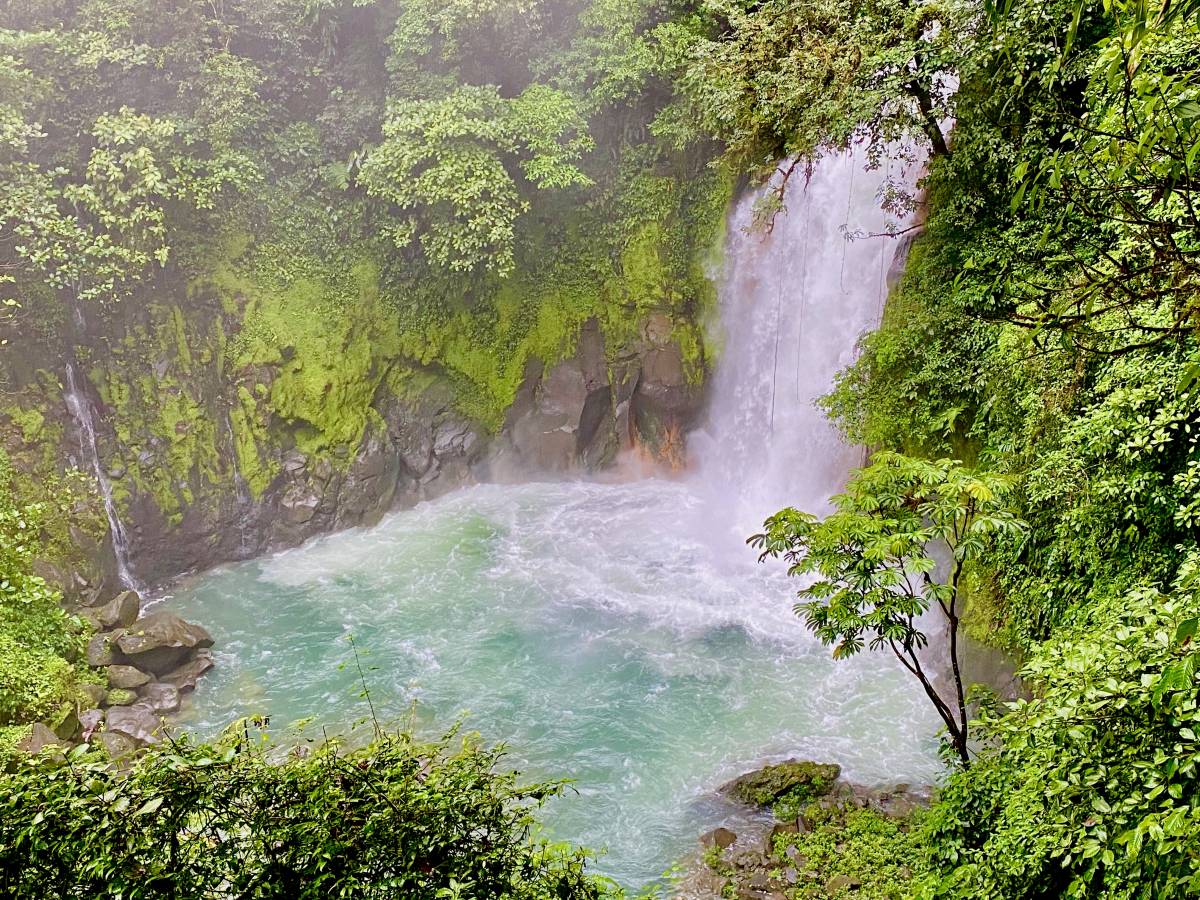 Rio Celeste Waterfall, Costa Rica
8. Stay in Nantipa resort at Santa Teresa beach
Our best stay in Costa Rica. Nantipa Resort and its owner Mario totally pampered and spoilt us while we were there. We had the most delicious lunch, and superb cocktails at their Manzu restaurant and watched a gorgeous sunset, lazed on the hammocks on the beach and overall had a wonderful time and lived the Pura Vida life :-).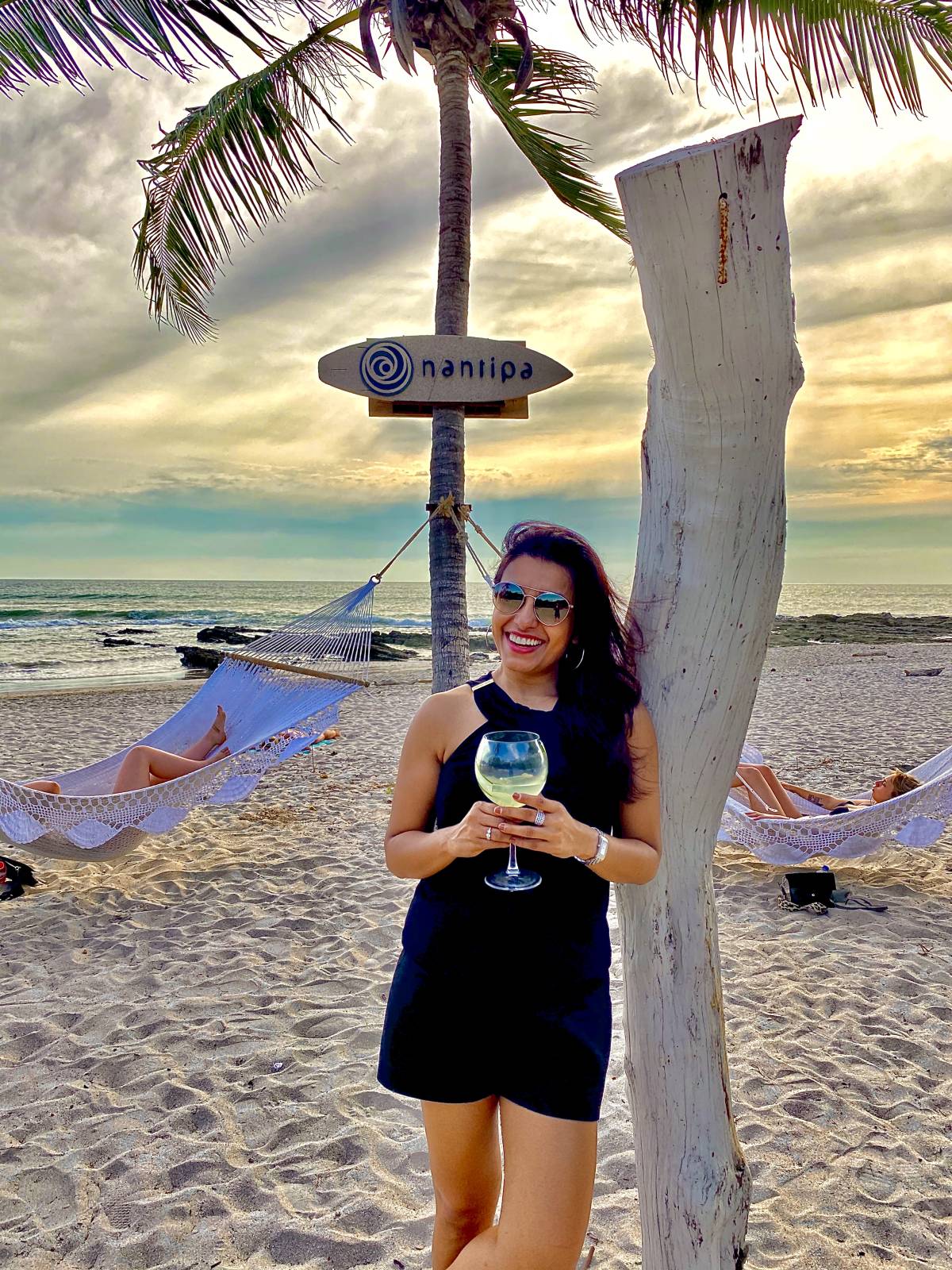 Pura Vida!! Living in the moment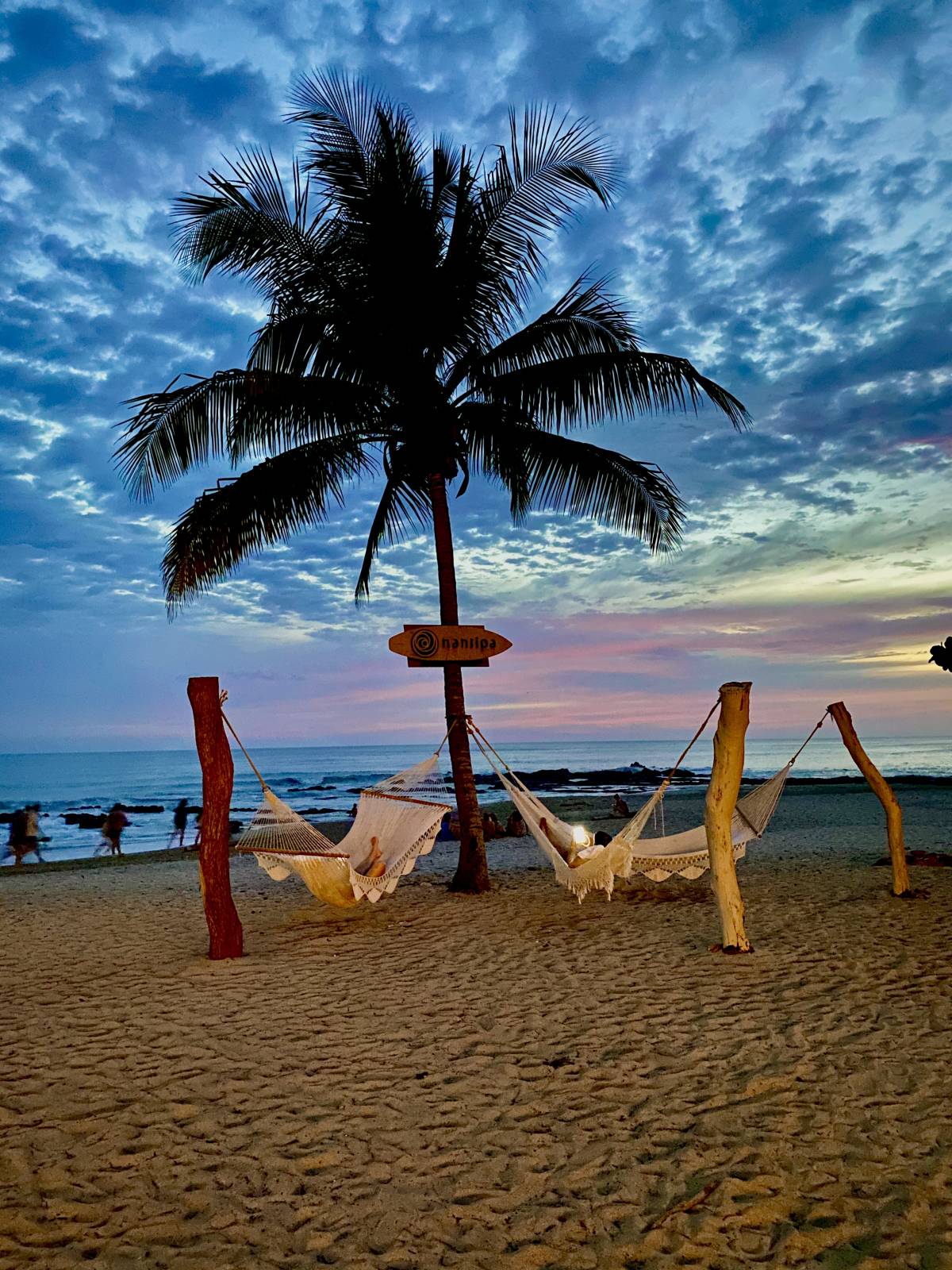 Sunset at Nantipa, Costa Rica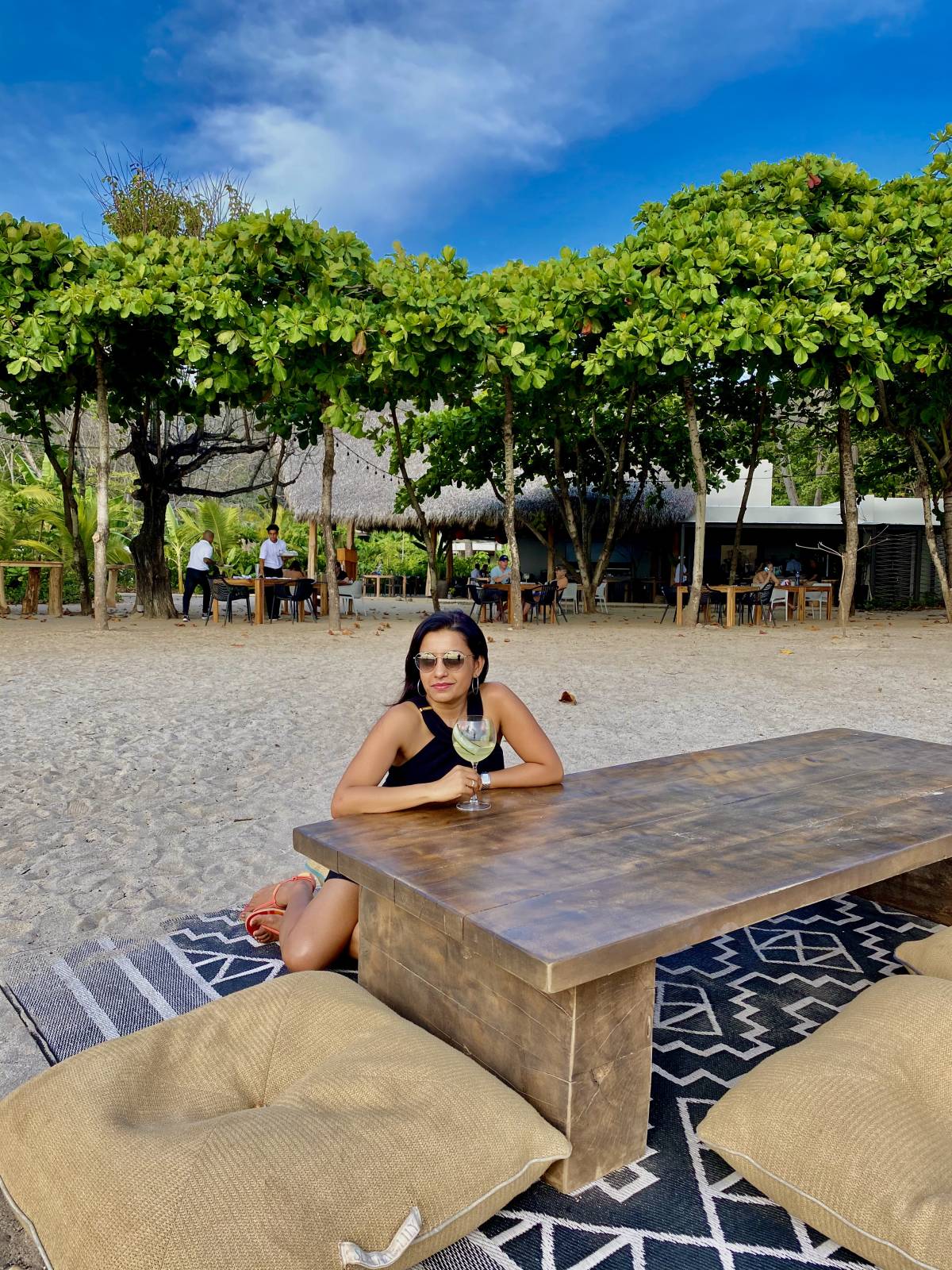 Sipping cocktails by the beach at Nantipa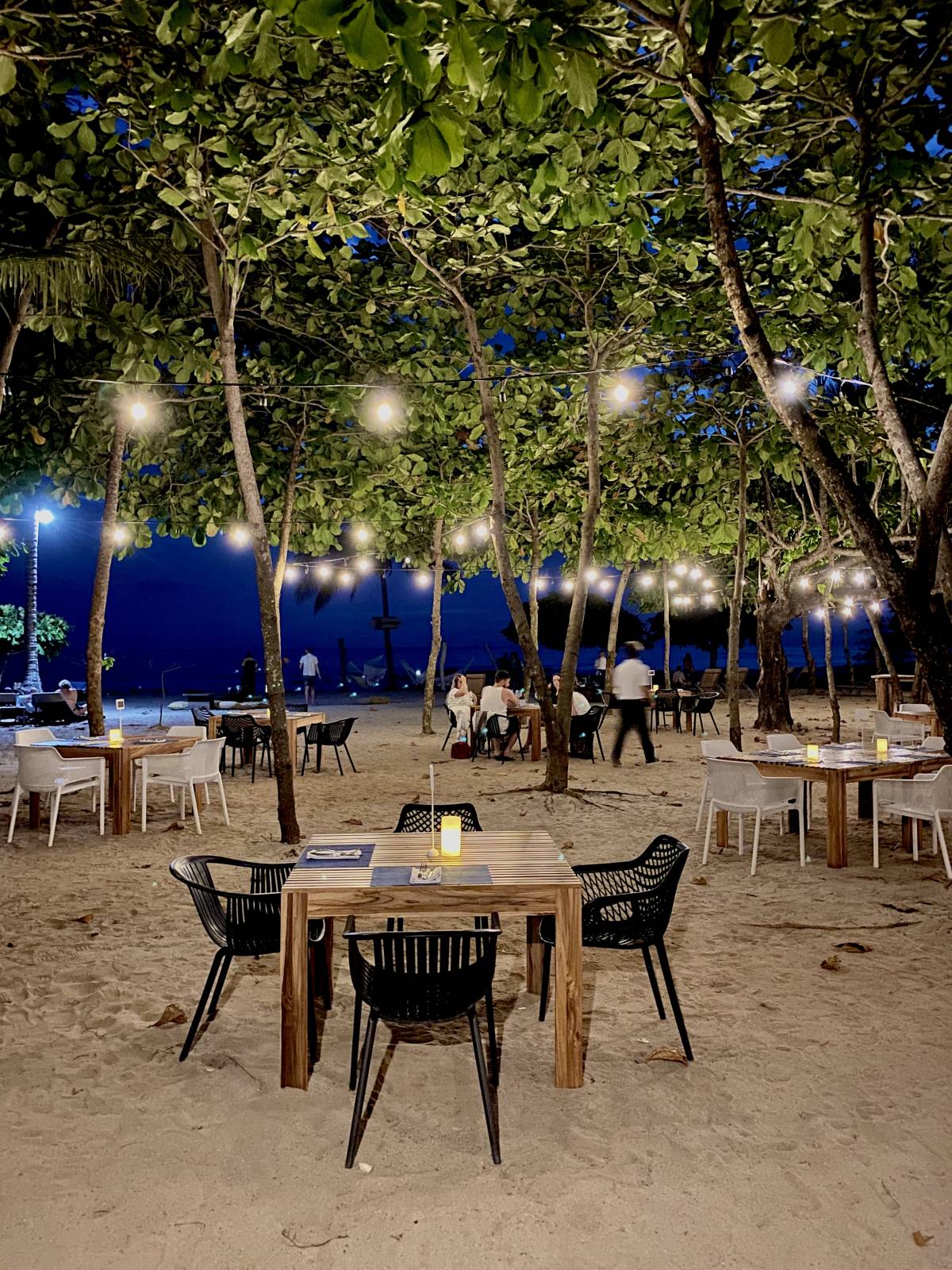 A perfect place for a sundowner
9. Go restaurant hopping at Santa Teresa
Santa Teresa is known for its good seaside restaurants & bars. Few of the ones I would recommend are Ranchos Itauna, Habaneros, The Bakery. Do not miss eating the Gallo Pinto (a local dish) while you are there. On your way to Santa Teresa from Arenal, you could also stop for night sea Kayaking to see Bioluminescent water at Bahia Rica.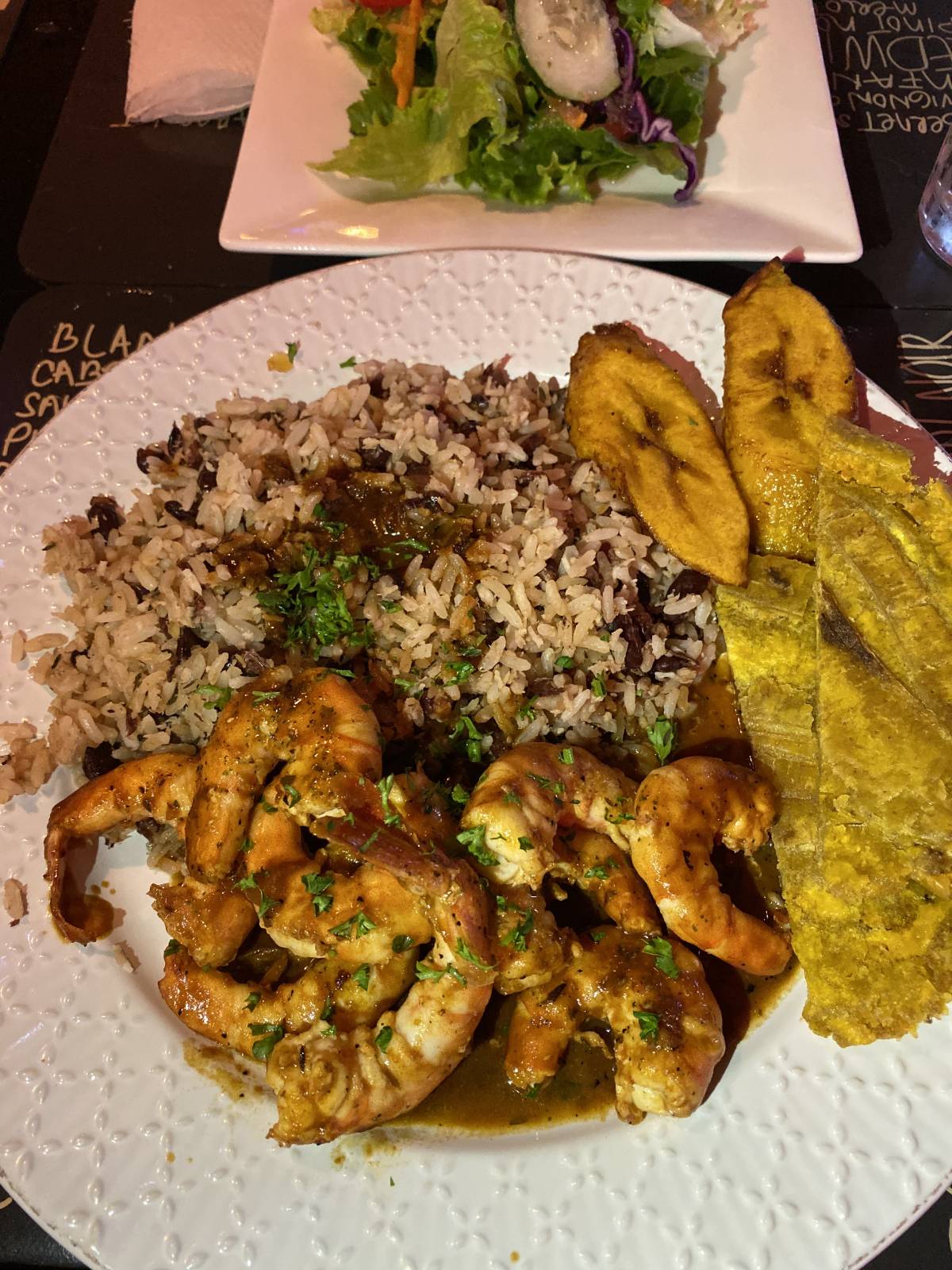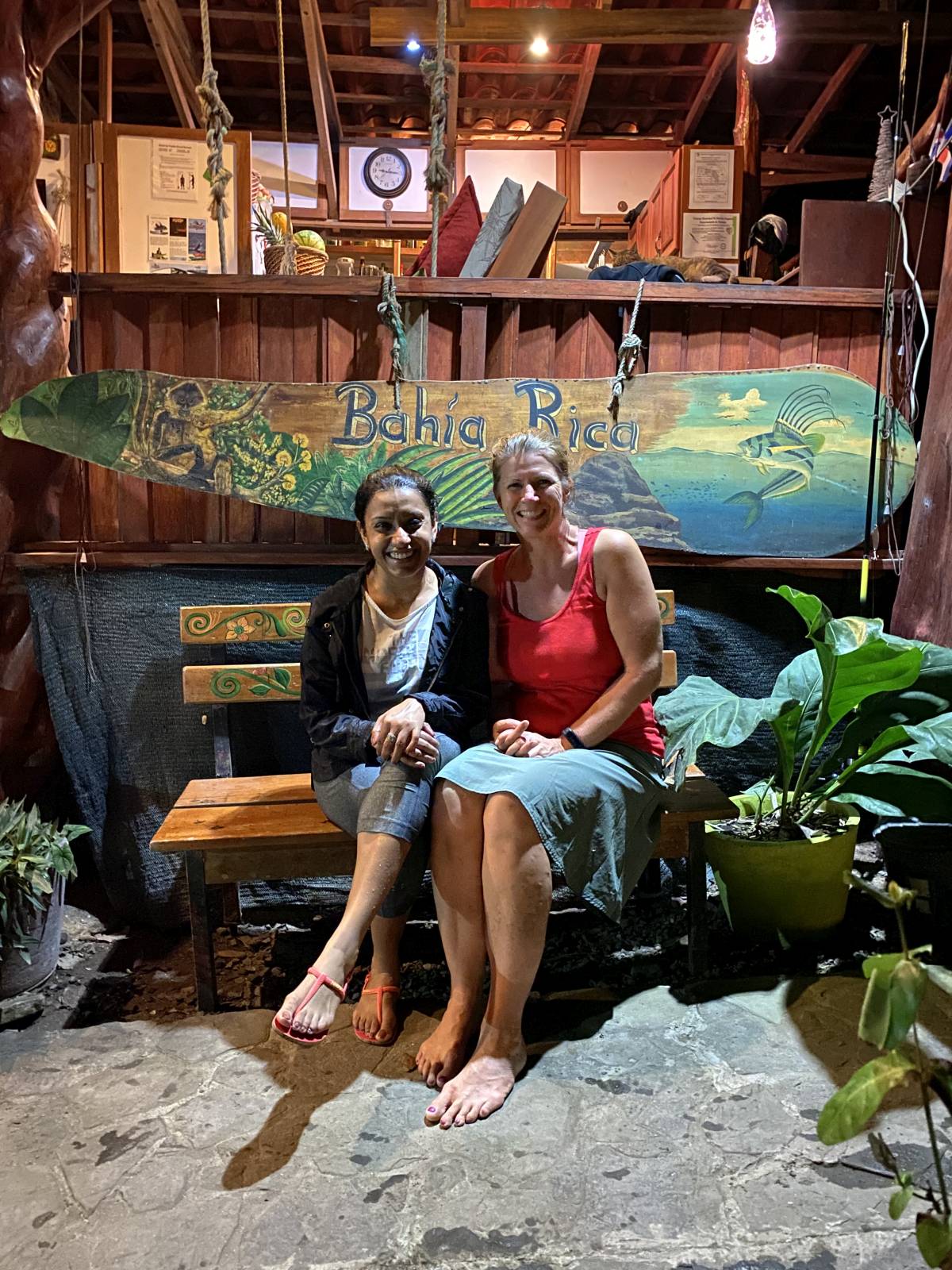 Bioluminescent Night Kayaking tour with Bahia Rica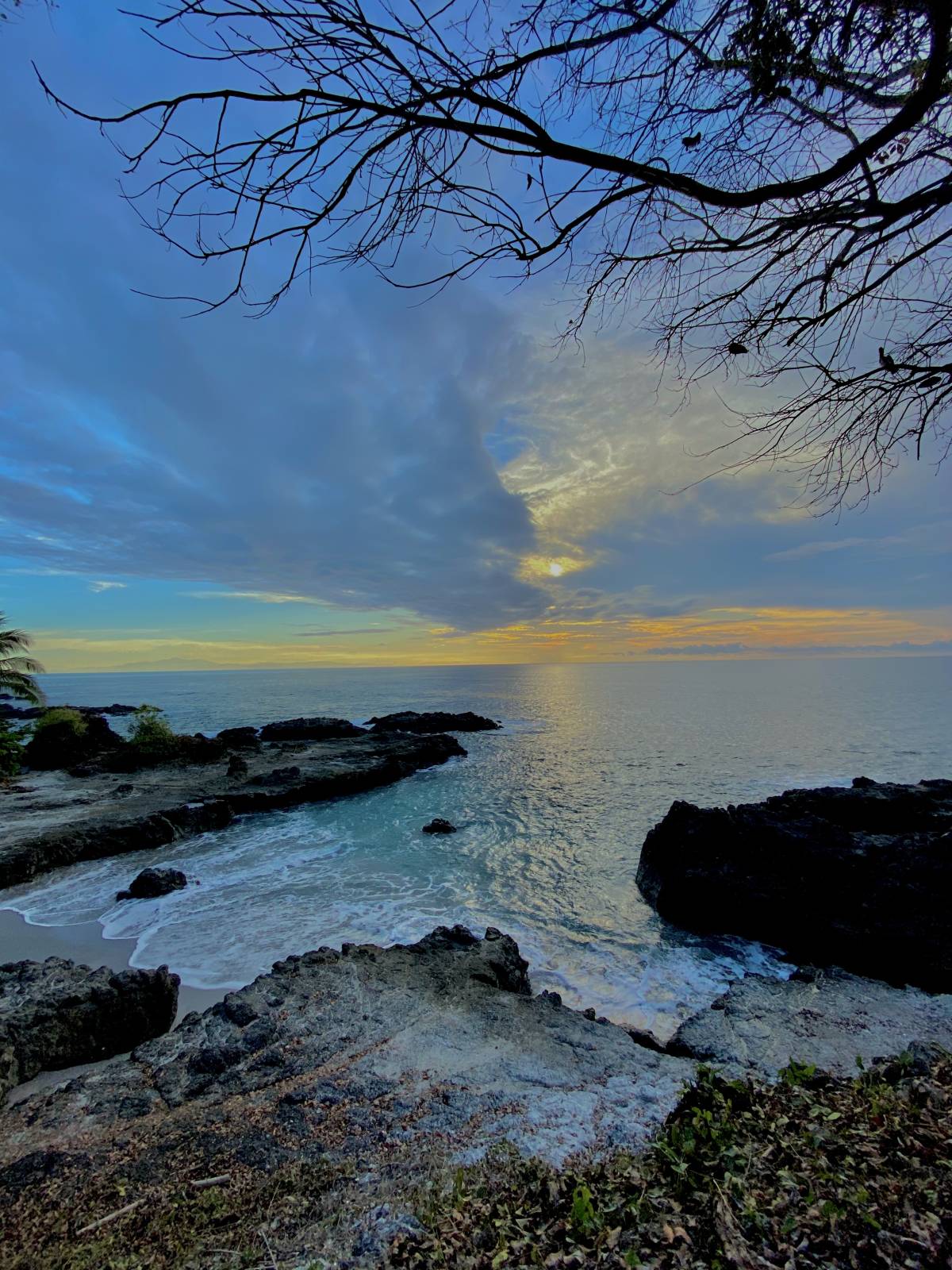 A beautiful sunrise at Santa Teresa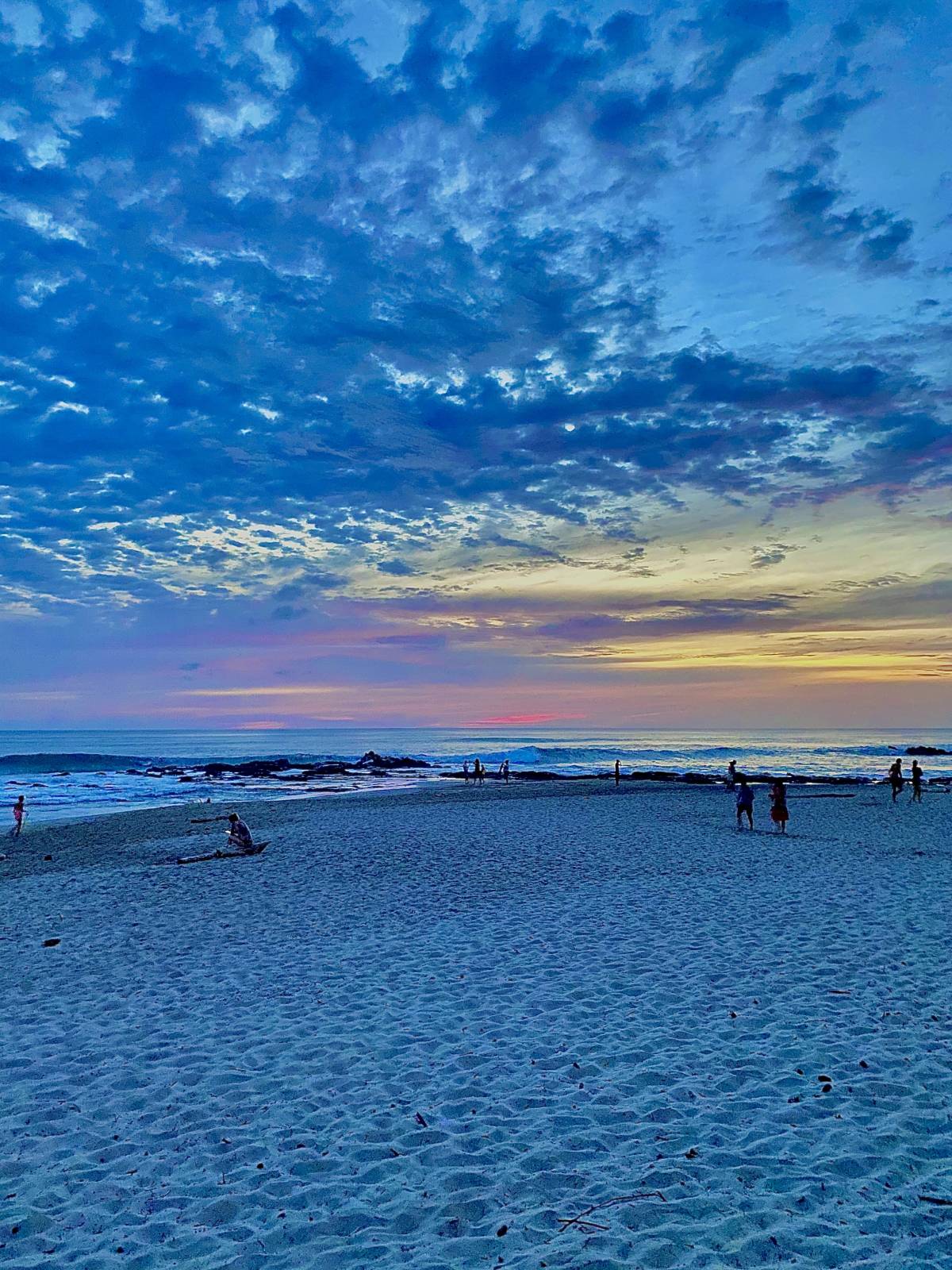 10. Spending NYE on Tamarindo Beach
If you are there for New Years, definitely spend NYE on Tamarindo beach watching the fireworks – dine at Pangas Beach Club . After having a sumptuous meal at Pangas, we walked on Tamarindo beach and the entire beach turned into a beach party during New Years. The fireworks at the stroke of midnight are absolutely stunning. The energy is contagious and becomes a major point of interest during that time!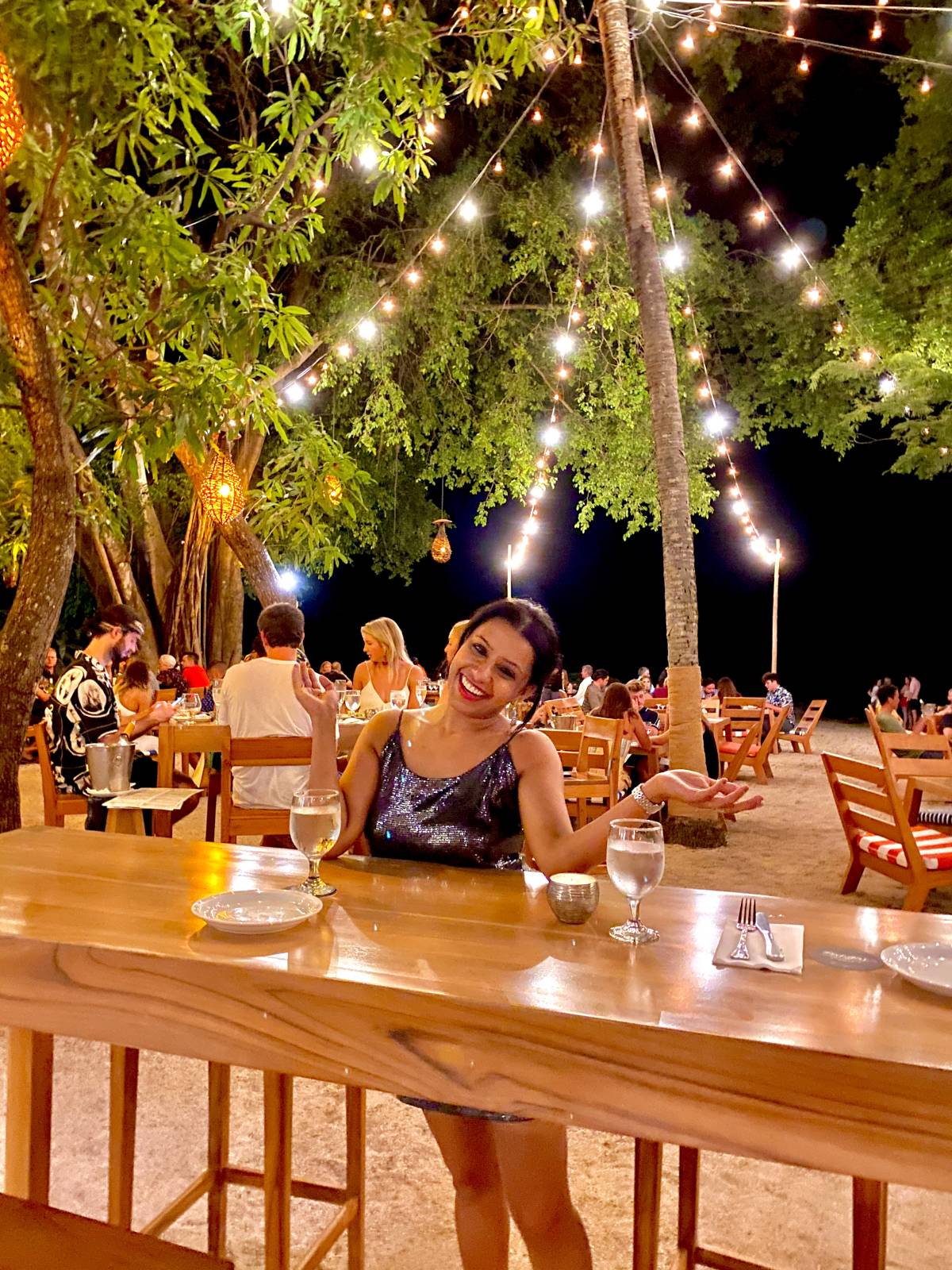 Ringing in the decade in Tamarindo Beach
11. If you are a dog lover, meet the cute dogs all over Costa Rica
Costa Rica has so many cute dogs, be it at our Airbnb, on the beach or on our stops during the road trip, these dogs were just adorable!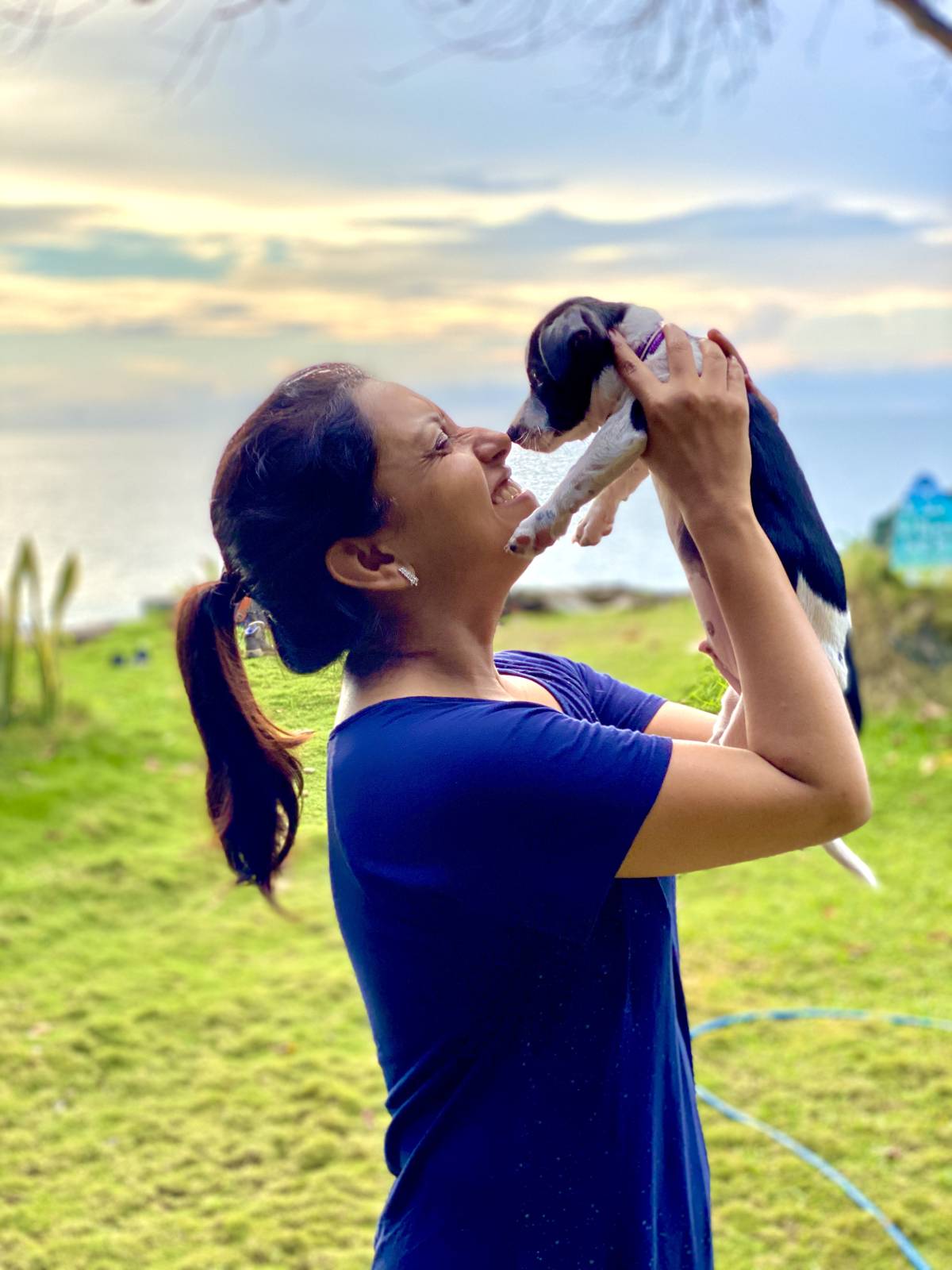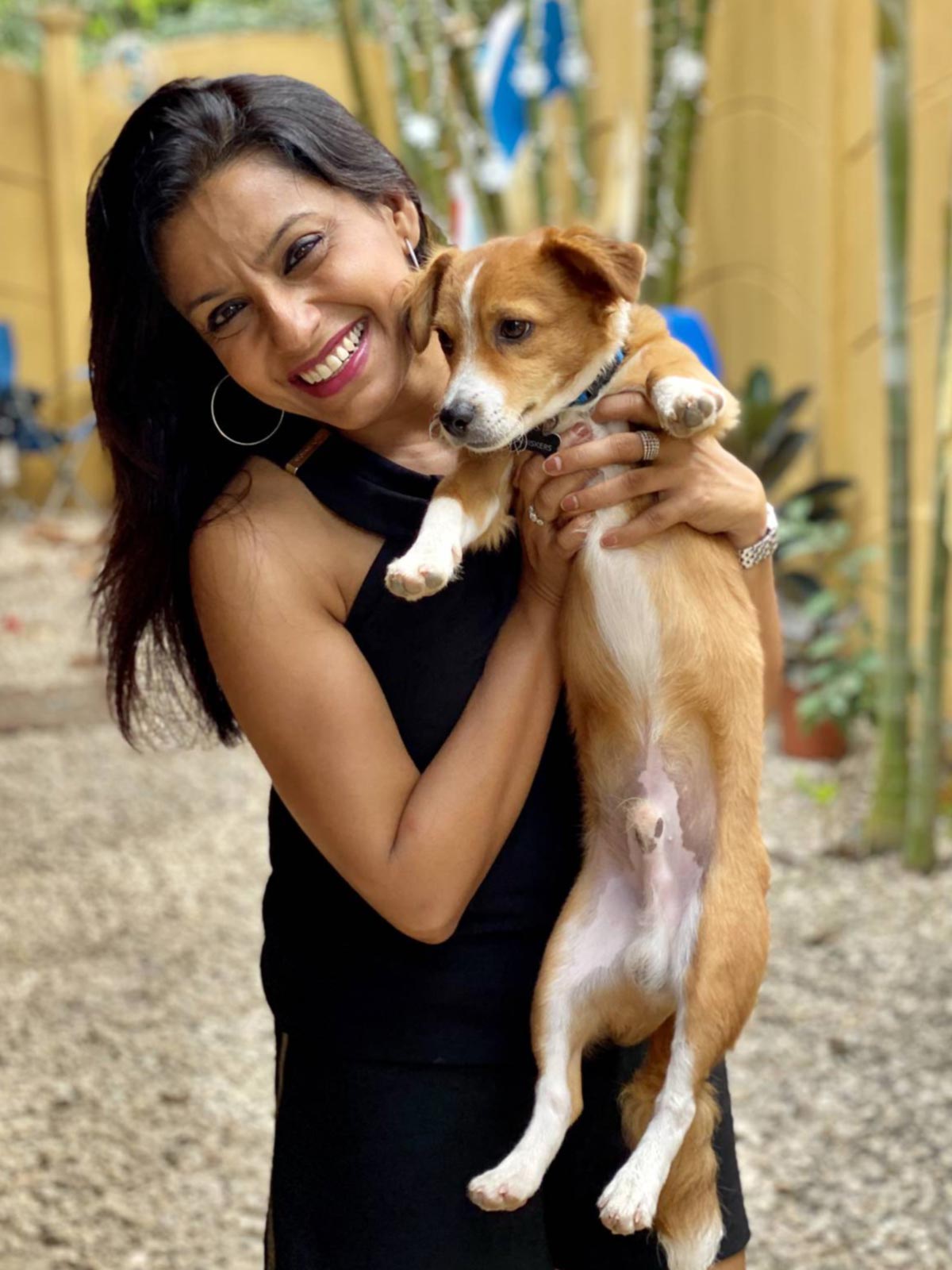 The pup at our Airbnb in Santa Teresa Beach
Planning a trip to Costa Rica soon? Let me know if you need any help.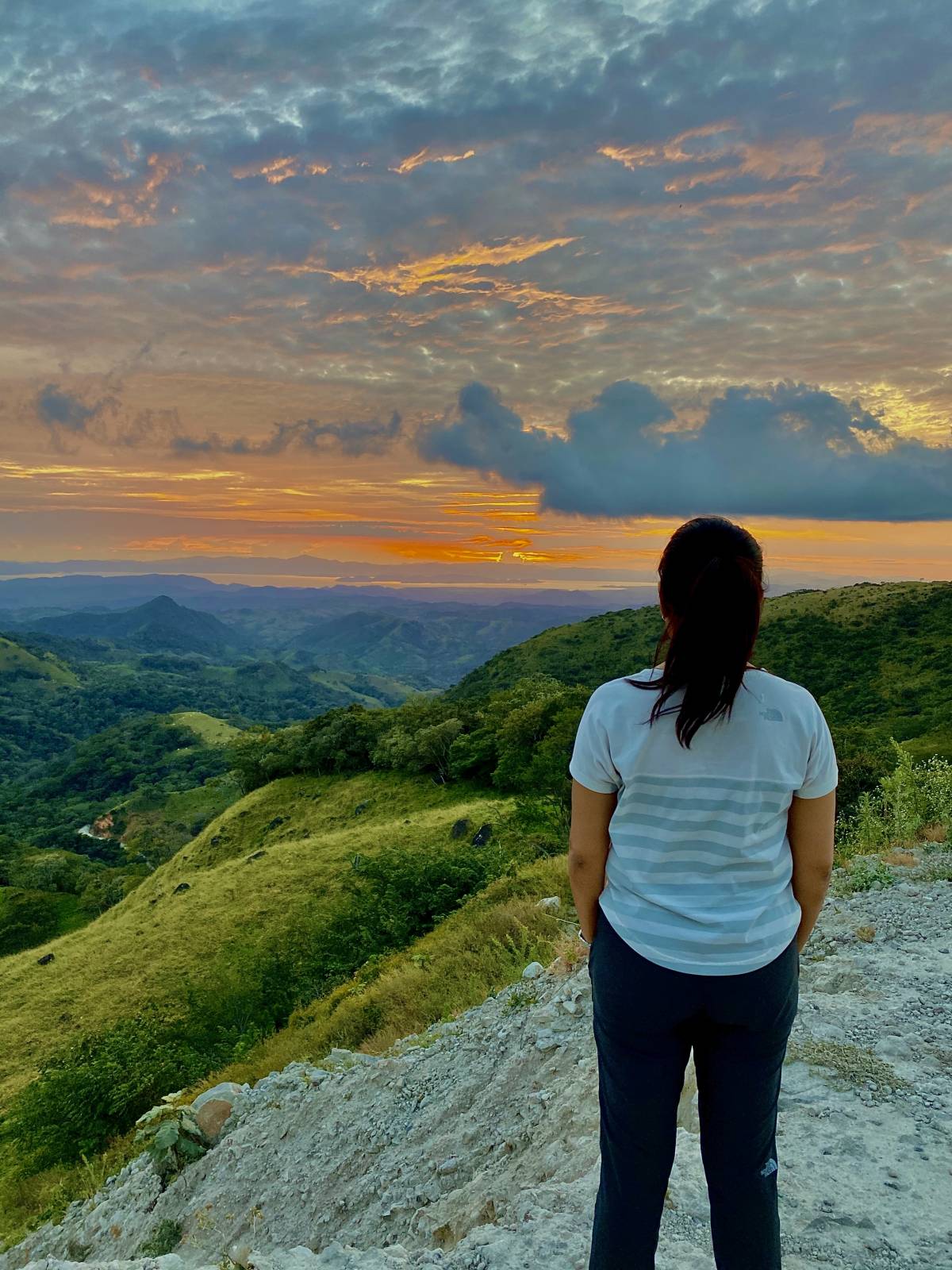 Also read:- A Date with the Piranhas in the Amazon Forest
Thanks for reading this. If you liked what you read, please leave me a comment below.
You could also follow me on Instagram, Facebook to stay updated about my travel adventures around the world.
FAQ About Things to do in Costa Rica
How is the water situation in Costa Rica? Is the water potable?
It is not bad but it isn't good either! So, always carry your water bottle. While potable water is available, it is better to take a packed bottle, especially if you are travelling closer to the coast.
Is there any domestic flight for travelling within the country given its size?
Oh yes, try FlySansa!
When do Costa Rican Carnivals happen mostly?
Costa Rican carnivals are a major point of interest among tourists. The Limon Carnivals are celebrated in October, and Puntarenas has them from February 21 to March 3rd.
Any tips for those renting vehicles to travel around in Costa Rica?
An indian license works in Costa Rica.Always ask for the cost of insurance and taxes as well as the amount that will be charged as a security deposit. These vary significantly and hence you may not want to get into an argument later. Renting vehicles is the best way to get around Costa Rica.
Can I Get Around Costa Rica Without Knowing Spanish?
Yes of course, though it would be better if you know a few basic words but even if you don't, then people know enough English to help you out and also – Google Translate! Just make sure you have the app! It will translate everything for you and will make your life really really easy!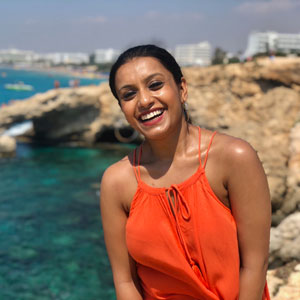 Hey there travel bugs! Glad you made it to my blog. The journey is going to be worth it—I promise.
I am a fearless, unguarded and fun loving traveller. The word 'cannot' doesn't often appear in my life's dictionary. I was bitten by the travel bug a long, long time ago and it has taken me to more than 70 countries and countless destinations ever since. A born networker—I have met and made a gazillion friends across the world and the experiences so far, has more often than not, left me speechless. The more I travel, the more I realise that how much there is left to travel.
So hop on and be a part of my explorations and adventure tales right here on Travel Chatter.
Subscribe to my Newsletter