Kerala, God's Own Country and an Indian state on the Malabar Coast is blessed by Mother Nature! The paradise-like land is home to a diverse range of flora and fauna, gorgeous beaches, and breathtaking backwaters. Additionally, Kerala is known for its ageless customs and delectable cuisine. So, whether it's a family holiday, a solo trip, or a honeymoon: there will always be tourist attractions in Kerala that one would relate to! Read more about 16 Top Places to Visit in Kerala for the Wanderlust in You!.
When I visited Kerala recently, I found it to be full of must-visit places. Needless to say, I had written a blog earlier about some of them. In this one, I am trying to adopt a more holistic approach to help you decide the best tourist attractions in Kerala for your next trip.
1. Wayanad – Mother Nature's Garden
Wayanad is one of the contributing factors to Kerala being recognized as "God's Own Country". But many don't know that it is also known as the "land of paddy fields" in Malayalam. Wayanad tourist places also host the greenest spots of Kerala and are among the most popular places to visit in the state, complemented by its stunning landscapes and thrills such as trekking.
A really fun aspect of visiting Wayanad tourist places is the prominence of treehouses in the area. What better than dozing off in a treehouse after a day of trekking! While October to May is the best time to visit Wayanad, it is worth noting that it is also one of Kerala's most attractive places to visit during the monsoon.
Karipur International Airport, 95 kilometers from Wayanad, is the closest airport.
Kozhikode Train Station, 72 kilometers from Wayanad, is the nearest railway station.
2. Palakkad
Palakkad is one of Kerala's most popular tourist attractions, being highly regarded for its pleasant climate. Known for its picturesque mountains, glittering lakes, and lush green woods, Palakkad tourist places are the go-to honeymoon destination for many couples.
The months between November and March are ideal for visiting this surreal location.
The nearest airport is Coimbatore Airport. Palakkad Junction and Palakkad Town railway stations also service the Palakkad tourist places.
3. Vagamon
Vagamon is a small hill station in Kerala that rises from the Idukki district's borders. Previously a quiet and forgotten region, the various Vagamon tourist places have been established as bustling tourist destinations. It is truly one of the must-see places to visit in Kerala and one of the few areas in India that have escaped commercialization.
Despite its distant location, all Vagamon tourist places are quite accessible and offer a diverse range of scenic landscapes that city inhabitants would pay anything to see!
4. Munnar
Munnar is the Tea Capital of South India.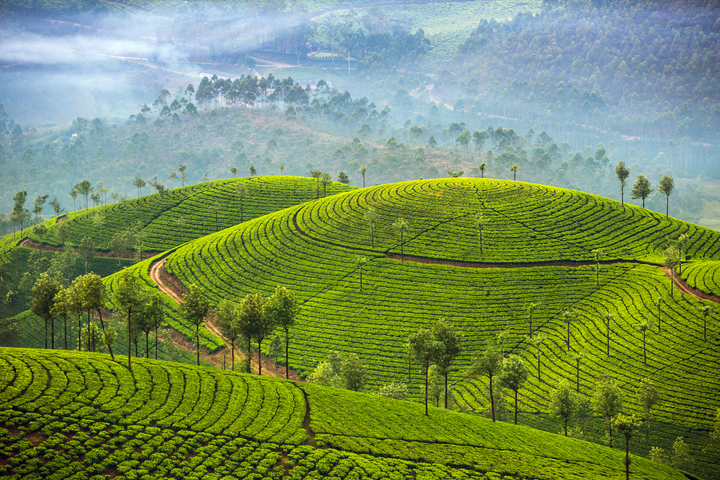 Munnar is one of the most beautiful hill stations in Kerala. Located at an elevation of 6000 feet, the gentle slopes of the hills and the ever-pleasant climate are excellent for the growth of tea plantations. So it is of no surprise that there is almost an endless spread of tea plantations among the several Munnar tourist places!
It has an old-world colonial feel, making it one of the top places to visit in Kerala. Furthermore, many Munnar tourist places also have a lot of trekking and camping activities for those seeking adventure. You can rest assured that Munnar provides a refreshing, healing experience to the body, mind, and soul!
5. Ernakulam
Ernakulam tourist places encompass a multitude of attractions, including a white sand beach, an intriguing island, heritage museums, and much more. Visit the wonderful Ernakulam tourist places for a vacation like you have never imagined! But before you set out on your adventure, here's a list of some of the top spots to visit in Ernakulam:
Vypeen Island's Mattancherry Museum

Cherai Beach

Thattekkad Bird Sanctuary

The David Hall Art Gallery

Santa Cruz Basilica, Princess Street
6. Alleppey/Alappuzha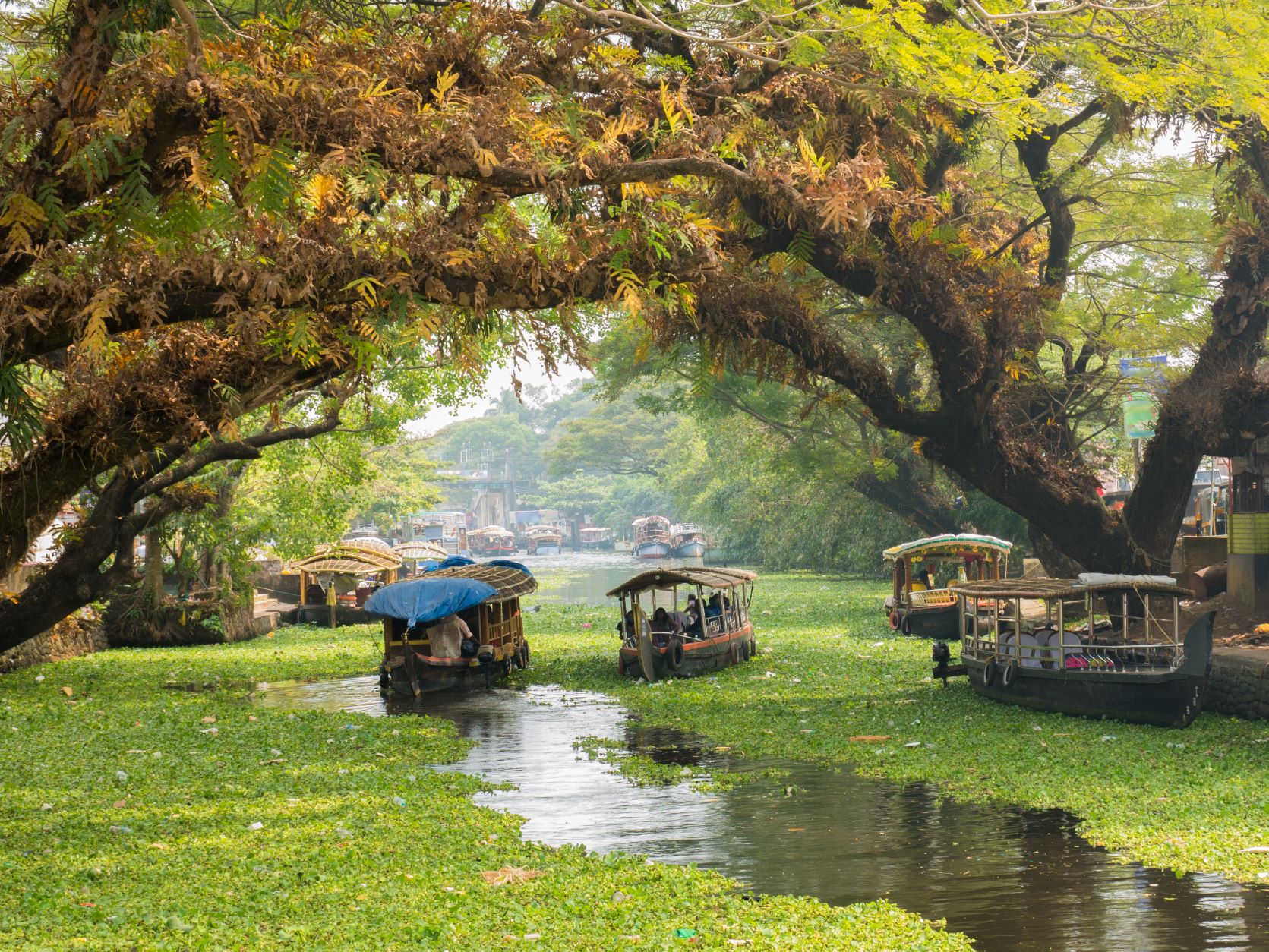 Alleppey or Alappuzha is among the must-visit places in Kerala and is popularly known as "East Venice". The picturesque Alappuzha tourist places encompass the beautiful backwaters that are perfect for a houseboat getaway. These houseboats are traditional modes of transportation in many parts of Kerala and have been modernized to include all amenities associated with a five-star hotel.
As you travel through the scenic locations, experience the soothing sight of coconut trees, rice fields, lush greenery, and charming villages pass by. Backed with an irresistible cuisine consisting of local flavors and spices, experience euphoria like you've never felt before!
You can visit Alappuzha at any time of the year, but the months of August and September are particularly notable for the Snake Boat Race.
7. Nelliyampathy
Prepare to discover a hidden treasure in the hills — Nelliyampathy! The hill station Nelliyampathy, commonly known as the "Queen of Palakkad Hills", is located on the Kerala-Tamil Nadu border and has treasures galore for the ever-enthusiastic traveler. Nelliyampathy tourist places, blessed with nature's wealth and abundant greenery, form a true paradise and a must-see destination on any Kerala vacation. The road to Nelliyampathy passes through scenic plantations of green tea, coffee, and cardamom. Thousands of tourists flock to the Nelliyampathy tourist places to experience the pleasures it has to offer, including orange farmlands.
Nelliyampathy is surrounded by peaks varying in height from 500 to 1600 meters, making it ideal for ecotourism and romantic vacations. That isn't all! The colorful Nenmara Vellanghy Vela festival is celebrated in April with loads of excitement that you simply cannot miss! All of these combine to make Nelliyampathy an ideal vacation spot for anyone.
8. Thenmala
Thenmala is a popular tourist resort in the Kollam district, primarily known for its ecotourism. This place is known for its honey production, and its namesake literally translates to "The Honey Hill". Situated around 70 kilometers from Kerala's capital city, it is home to India's first planned ecotourism project. The Thenmala tourist places are organized into five prime zones as part of the Eco-Tourism
Project: Cultural zone, Adventure zone, Leisure zone, Deer Rehabilitation zone, and Boating zone. Spread out over acres of evergreen forest, Thenmala attracts millions of visitors each year. Boating, a rope bridge, trekking, mountaineering, motorcycling, and a musical fountain are among the many adventure and amusement activities available in the Thenmala tourist places.
9. Malappuram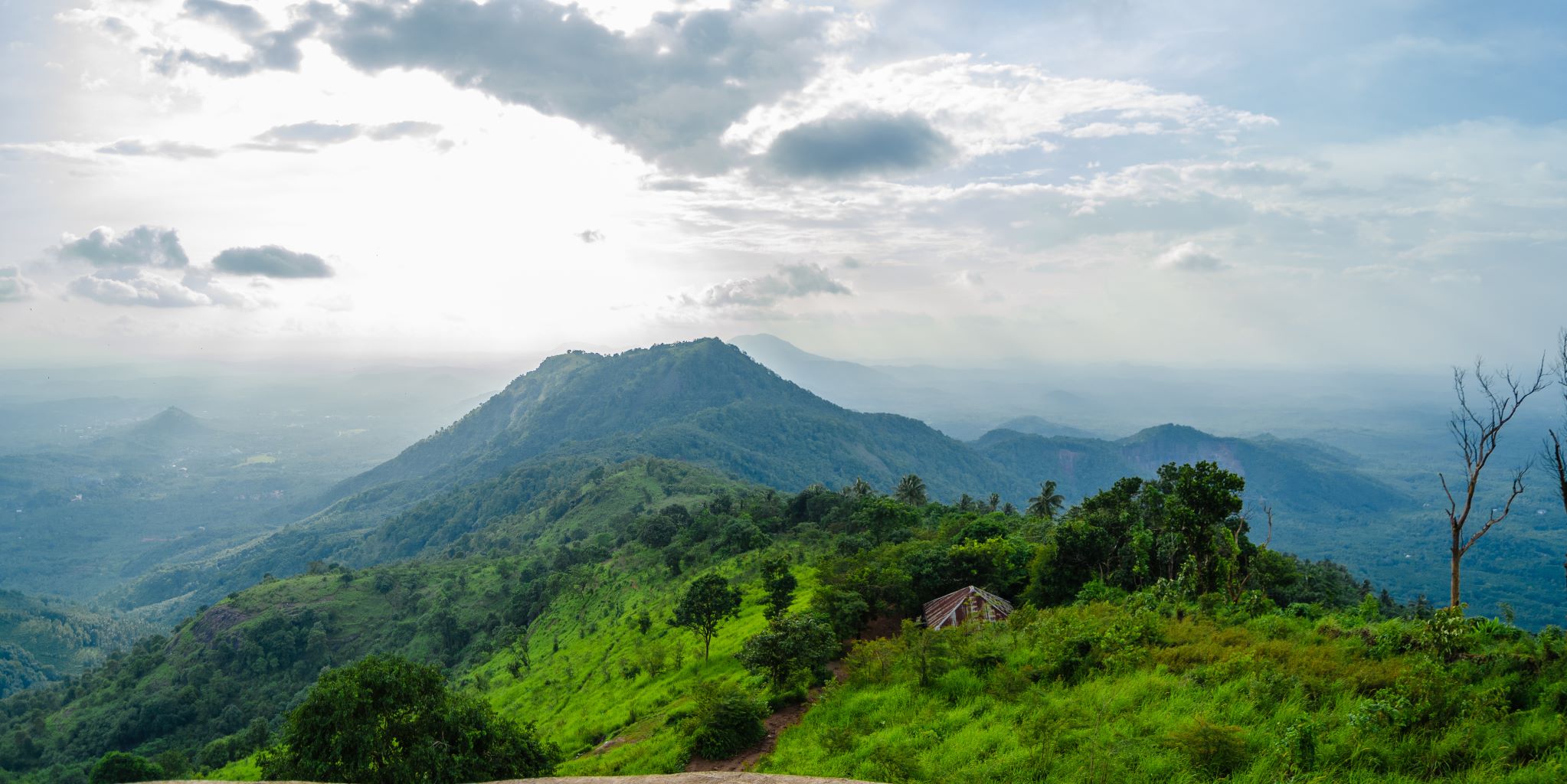 Malappuram tourist places, Kerala's famous hilltop area, offer visitors a diverse range of attractions, including magnificent structures, parks, temples, waterfalls, and more. A visit to the Malappuram tourist places includes everything from ancient temples to alluring waterfalls, something you can't afford to miss out on!
10. Trivandrum
Trivandrum, sometimes known as Thiruvananthapuram, is a seaside city in Kerala and is also the state's capital. Built atop the Seven Hills, Trivandrum is a bustling metropolis that coexists with old heritage. The Trivandrum tourist places are enhanced by breathtaking beaches and calm backwaters complemented by palm and coconut gardens.
These locations are also home to numerous spiritual and religious sites. The most sacred of all is the Sree Padmanabha Swamy Temple, and the hallowed home of Anantha Padmanabha is a source of spiritual joy. You may learn about the city's fascinating culture while enjoying the Trivandrum tourist places in Kerala and participating in water sports.
11. Fort Kochi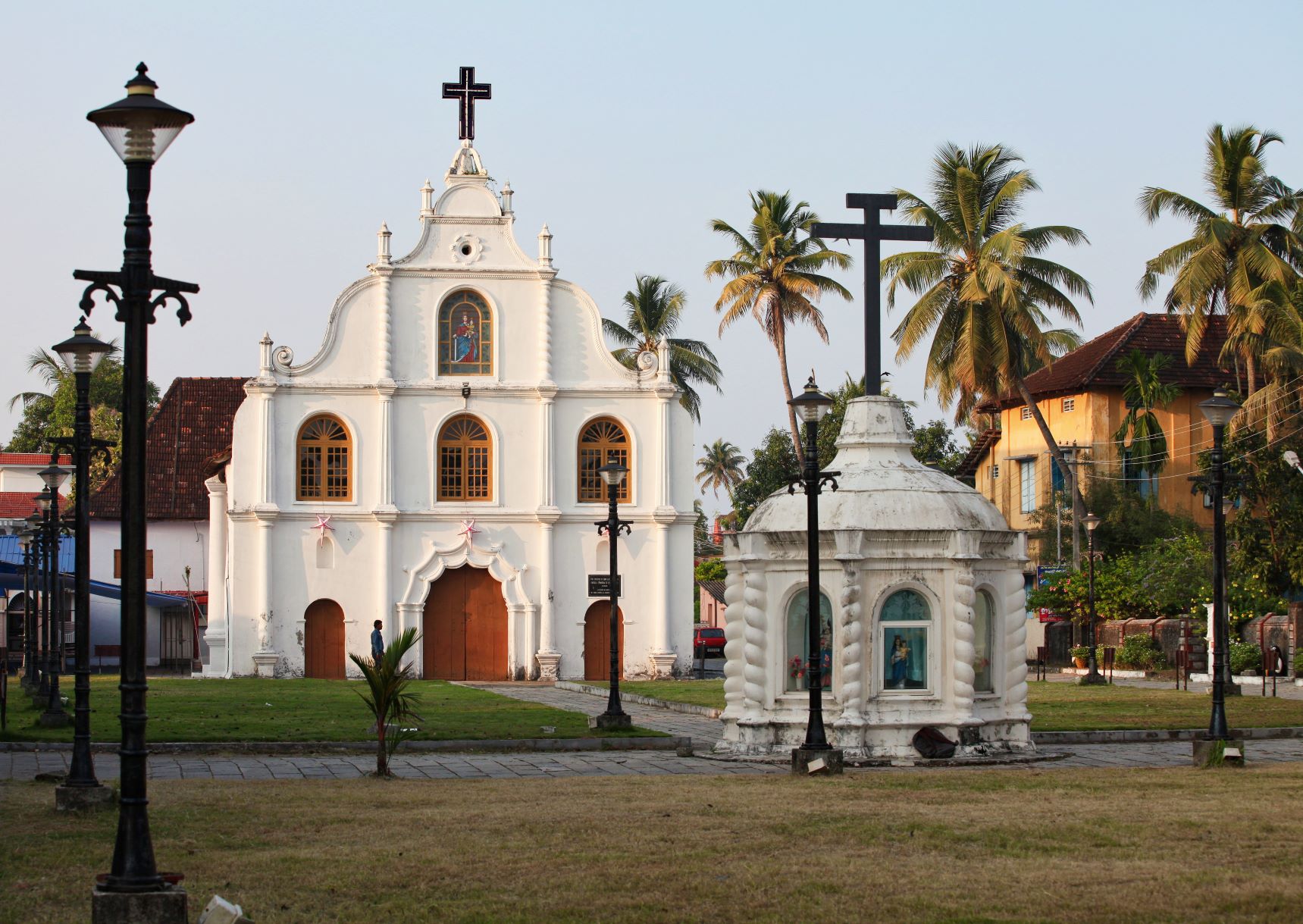 Fort Kochi is known as the "Queen of the Arabian Sea" and the "Gateway to God's Own Country". The city has a long and illustrious history a diversified culture and is one of Kerala's most famous tourist destinations, suitable for nature lovers, history buffs, and visitors.
Kochi tourist places have a lot to offer in terms of scenery, museums, palaces, synagogues, Hindu temples, churches, heritage buildings, art galleries, and beaches. The list is endless! Don't forget to sample some local cuisine at the Kochi tourist places and get some souvenirs.
12. Thekkady (Periyar Tiger Reserve) – Abundant Wildlife Adventures
Thekkady is a natural paradise, with wilderness snuggled within the lush vegetation of the Western Ghats. The trees of the Periyar Wildlife Sanctuary and the Periyar Lake are popular tourist destinations, being frequented by tourists throughout the year. Special mention of the various coffee and spice plantations in the region. Periyar is home to roughly 35 animals, including elephants, tigers, sambars, and gaurs, one of India's 27 Tiger Reserves.
Additionally, a total of 265 different bird species can be found. Needless to say, safaris, jungle patrols, bamboo rafting, jungle camps, and border trekking are common tourist attractions in Thekkady.
13. Kumarakom
Kumarakom, located near Vembanad Lake, is known for its scenic beauty, beautiful climate, and diversified environment surrounding the peaceful little town. The Kumarakom tourist places host coconut groves, fresh paddy fields, and landscapes along the backwaters. Houseboat trips, a huge favorite in the area, are extremely relaxing and a one-of-a-kind experience that you absolutely must try out! Kerala's exquisite indigenous cuisine is a must-try experience.
The Kumarakom Bird Sanctuary is a must-see destination because of its huge variety of bird species, including migratory visitors like Siberian storks.
14. Kerala's Cultural Capital Thrissur.
The "Cultural Capital of Kerala," Thrissur, is a must-see tourist site in Kerala. Several temples, cultural institutes, churches, and colorful cultural events can be found in the town, built around a 65-acre hillside.
There is no better place to go if you want to learn about Kerala's history, heritage, and culture. It is interesting to note that the city was one of its first human settlements. As a result, there have been numerous Neolithic megaliths and dolmens unearthed. In addition, the colorful Thrissur Pooram Festival is one of the main attractions that draw enormous visitors.
15. Kozhikode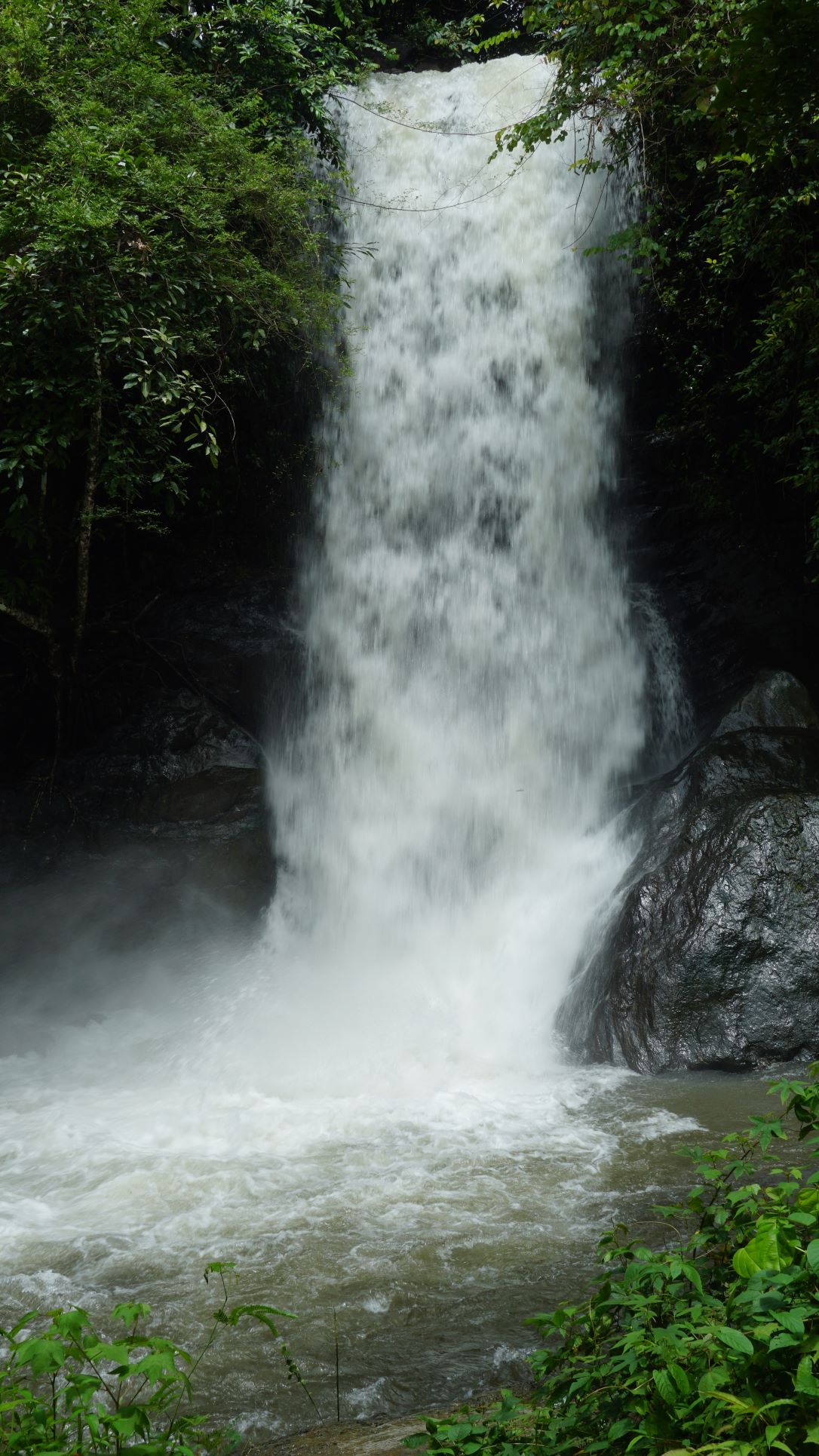 Kerala's Kozhikode is a gorgeous city! It is unquestionably one of the Malabar Coast's must-see locations and is a well-known sanctuary for those seeking to be immersed in nature and history. Kozhikode has all one needs for a memorable holiday in Kerala: churches, temples, ancient buildings, sanctuaries, and waterfalls.
It also allows you to enjoy the magnificent blend of many cultures, such as Arabic and Chinese. Meanwhile, don't miss out on delicious Kozhikode food! The dishes offered at the institution reflect the hues of this lovely combo.
Kerala – Your Getaway to a Relaxed Vacation!
Kerala is undoubtedly one of the world's best places to visit. It has consistently received high praises in polls and has previously been ranked among the top ten paradises on the planet! How amazing is that?! The months September to March are the best time to visit Kerala.
Beautiful beaches, a laid-back welcome, wildlife sanctuaries, national parks, and heritage sites are all contributing factors to the glory and grandeur of Kerala! There is so much to see and do in Kerala. To organize your trip before you arrive and make the most of your visit to God's Own Country!
Planning a short trip to Kerala? This guide of 5 best things to do in kerala can help!
Want to visit other mesmerizing destinations in India ? Varanasi is absolutely worth it! Read more about best things to do in Varanasi.
​​Thanks for reading this. If you liked what you read, please leave me a comment below.
You could also follow me on Instagram Facebook to stay updated about my travel adventures worldwide.
FAQs
Is it safe to travel to Kerala due to the current COVID-19 situation?
Yes, you can visit Kerala during COVID-19 as things are going back on track and everyone is adjusting to the new normal. However, make sure you follow the COVID-19 preventive measures and keep your social distance. Nonetheless, your safety is always in your control.
Which spots in Kerala are the safest for families with children to visit?
For families and children, Periyar National Park, Varkala Beach, Idukki Dam, Wonderla Amusement Park, and Kerala Folklore Museum are some of the safest places to visit in Kerala.
What are some of Kerala's must-see destinations for couples?
It's a little tricky to respond because you can't pick just one. Kerala's USP is its variety of landscapes in a single state. So it is up to you to decide whatever terrain you like to host for that special person in your life!
Is it worthwhile to travel to Kerala?
Yes, without question! Only in God's Own Country can you discover hills, beaches, and backwaters all knit together beautifully in one location. Kerala is great for anyone who loves lush greenery, sandy beaches, delicious food, and thriving culture.
Which hotels in Kerala are the best?
Old Harbour Hotel, The Leela, Brunton Boatyard, The Panoramic Getaway, Spice Tree Munnar, Chandy's Windy Woods, and Fragrant Nature are just a few of Kerala's outstanding hotels.