Oman: The Adventure Lover's Paradise!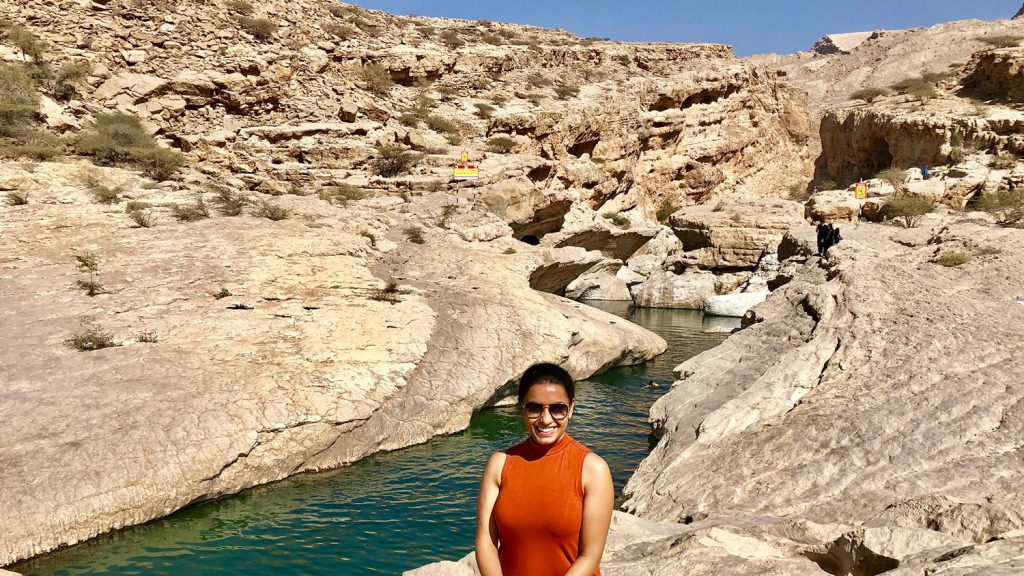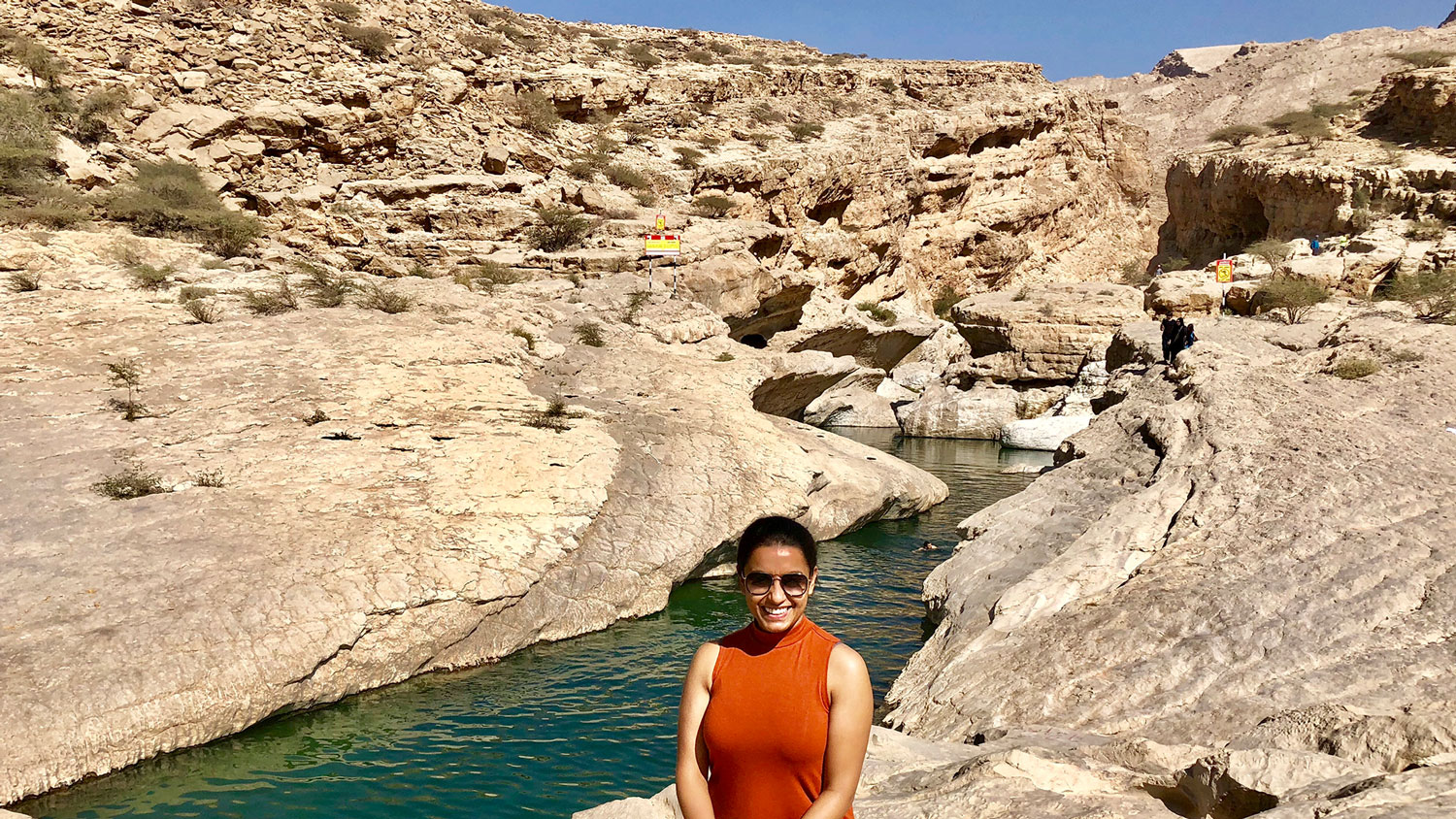 Another long weekend and the outdoors beckoned. No, I am not talking about a weekend getaway drive to a resort in the next town – I am talking about yet another swashbuckling experience and this time to witness the uninhabited, endless deserts and Wadis of Oman!
Right from the time we arrived until we left, Oman kept surprising us with its magnificence.
Bound by flamboyant countries like Yemen, Saudi Arabia and the UAE, Oman offers the most quintessential desert experience with beautiful wadis (a river which is dry except in the rainy season), canyons and unforgettable sunsets. With only a few days to explore, my daily 'things-to-do' were brimming.
I flew to Muscat (capital of the Sultanate of Oman) where I arrived late evening. To ward off the weariness of the travel I hit a couple of bars for some food and drinks: The Cave serves Egyptian food and with its open-air rooftop and a Cave-ish decor, it was quite a pleasant experience post which we dropped by at Rumba Latina and a few other eateries.
Next morning our 4×4 vehicle arrived and we were ready to start our road trip. Less than a two hour's drive from Muscat is a sinkhole which is believed to have been caused by a large meteor strike some hundreds of years ago – Bimmah Sinkhole.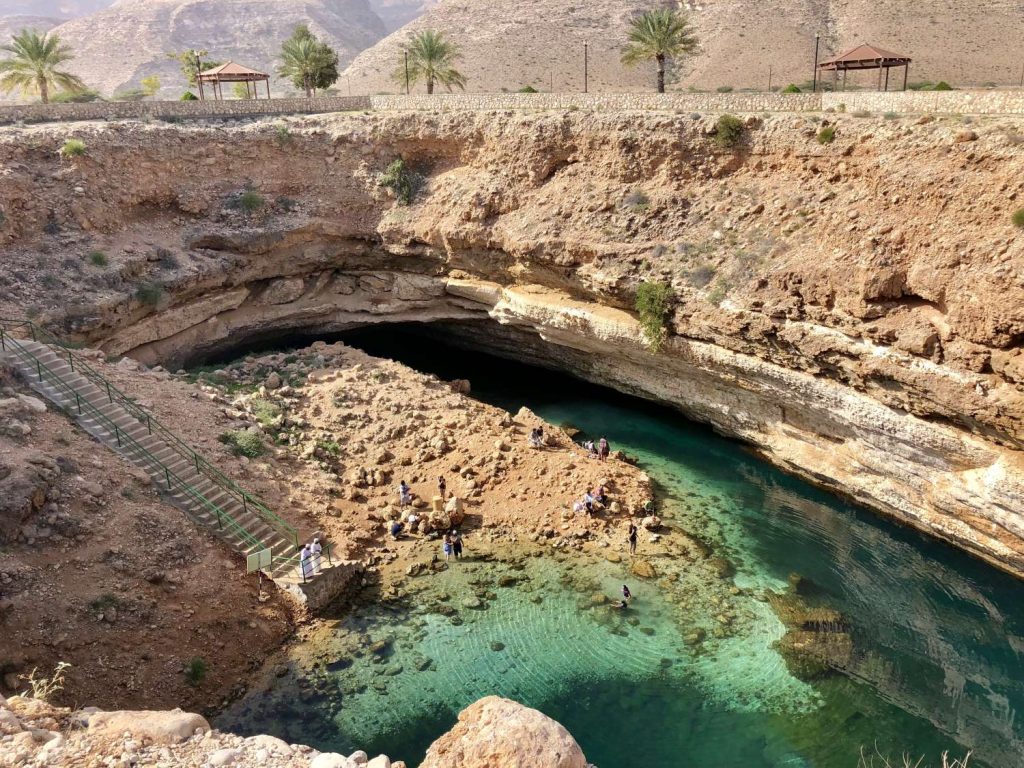 It was breathtaking to see the crystal clear turquoise waters bestowed upon by Mother Nature. The drive to the sinkhole was on a road which had rugged mountains on one side and the azure blue sea on the other. We would take multiple stops cos we couldn't have enough of the beach. After a long drive from the sinkhole, we reached our very first Wadi-The Wadi Shab which included a trek through a rough terrain for around 45 minutes and then it took us to this amazing crystal clear water body surrounded by the canyon.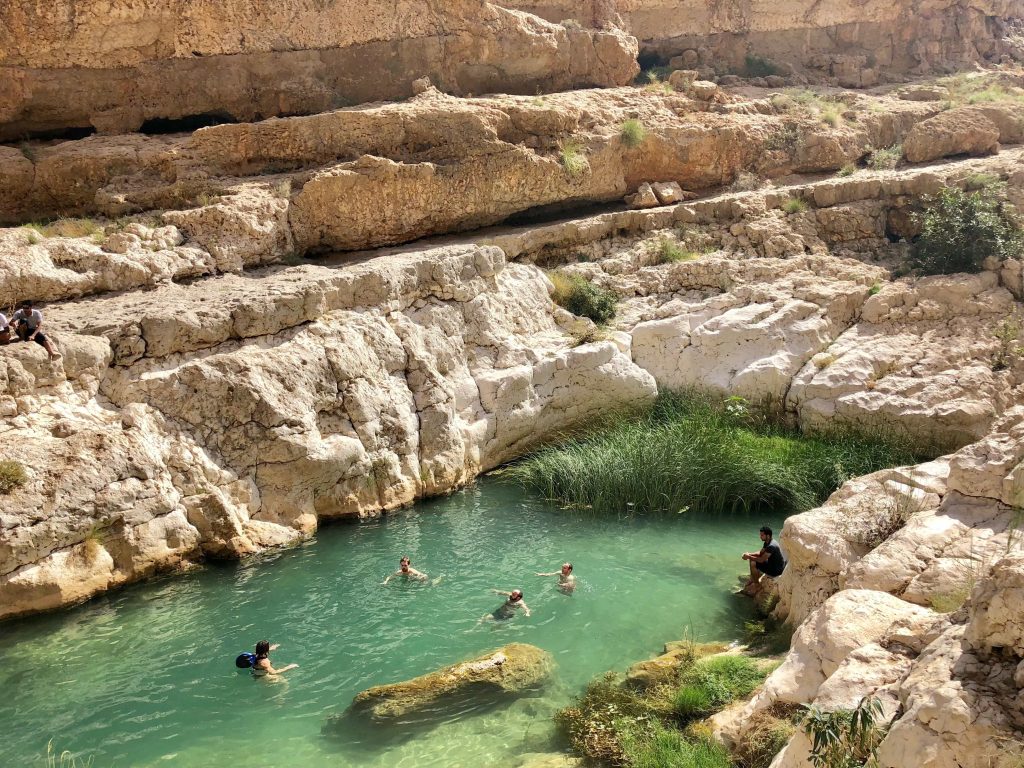 Truth be told – it was one hell of a trek which I wouldn't label as an easy one but was worth every breath. We spent about a couple of hours there in the water and taking loads of pictures of what seemed like a perfect landscape. I really did not want to leave.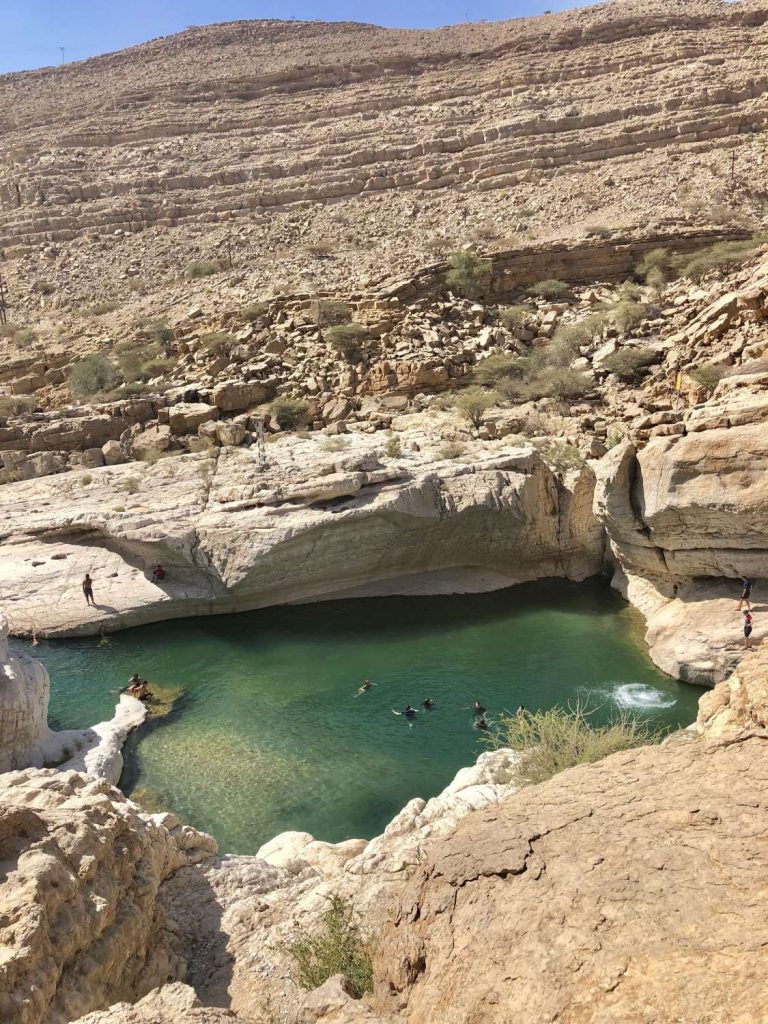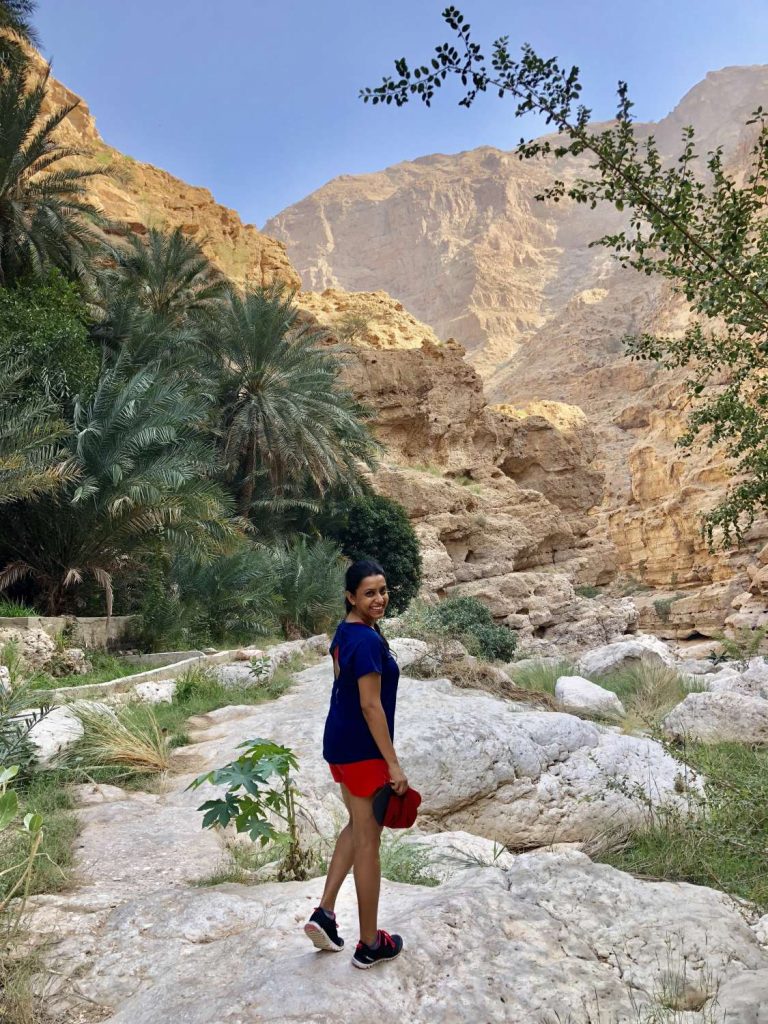 Our next destination was the Wahiba Sands desert which was one of the highlights of our trip..it was a long beautiful drive but we made it on time to catch the sunset.We stopped at the Finns beach-this sandy and pebbled beach was spectacular towards dusk but what was even more spectacular was the desert itself – bashing the dunes, rolling over the (literally) golden soft sands, being engulfed by the silence and the vastness of this extensive mass of land with the sun going down in the background.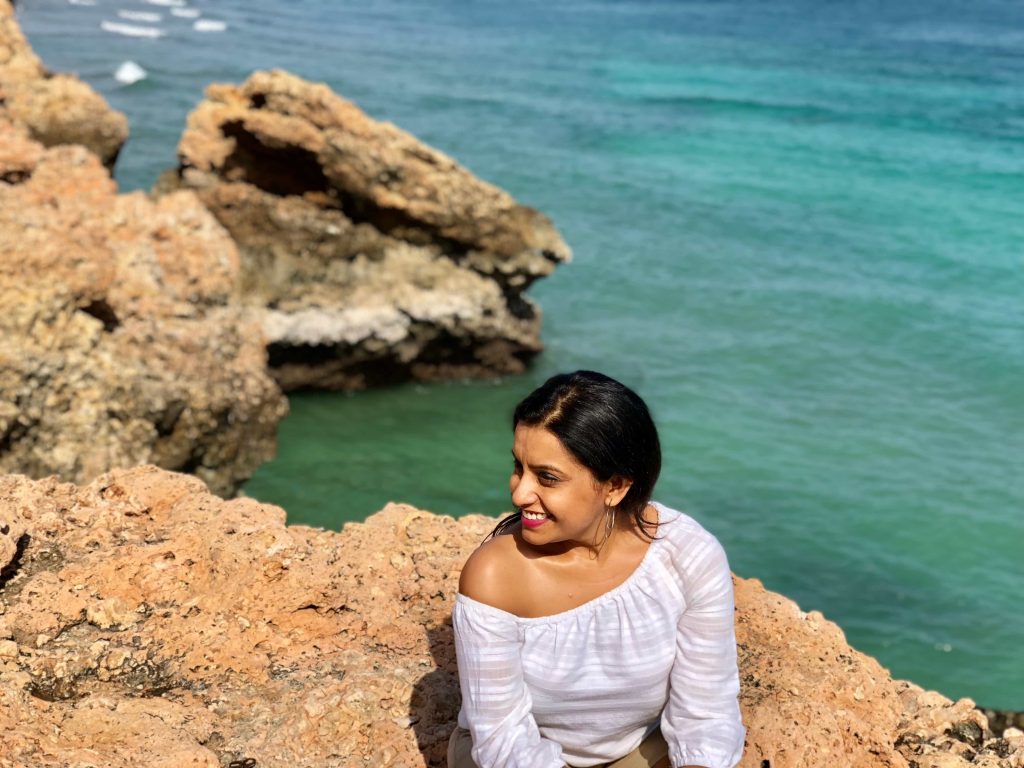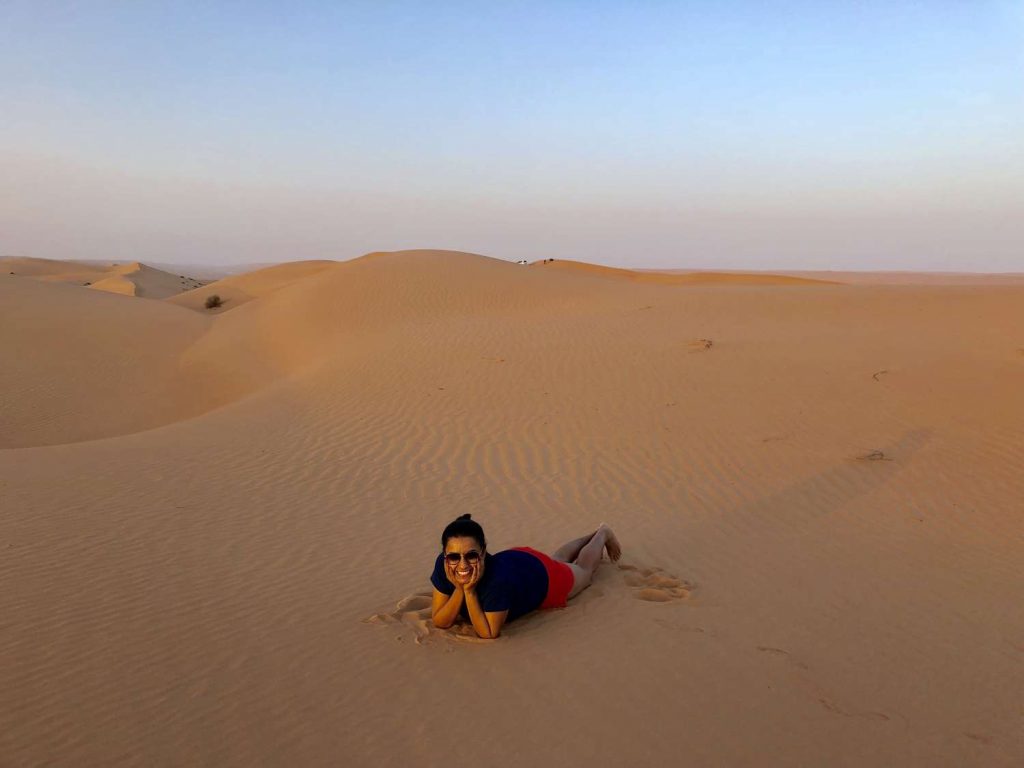 We stayed the night at Thousand Nights in the 'Sheikh' Tent – adequately spaced with all the basic comfort one needs which included an open roof bath area – now, "that's kinda cool" I thought to myself. And no! No one can see you shower! Although the 'cool-er' element in this camp was the swimming pool, right in the middle of a desert! Well, I, for one, had never been in a pool in the middle of a desert – and I couldn't wait to dive in!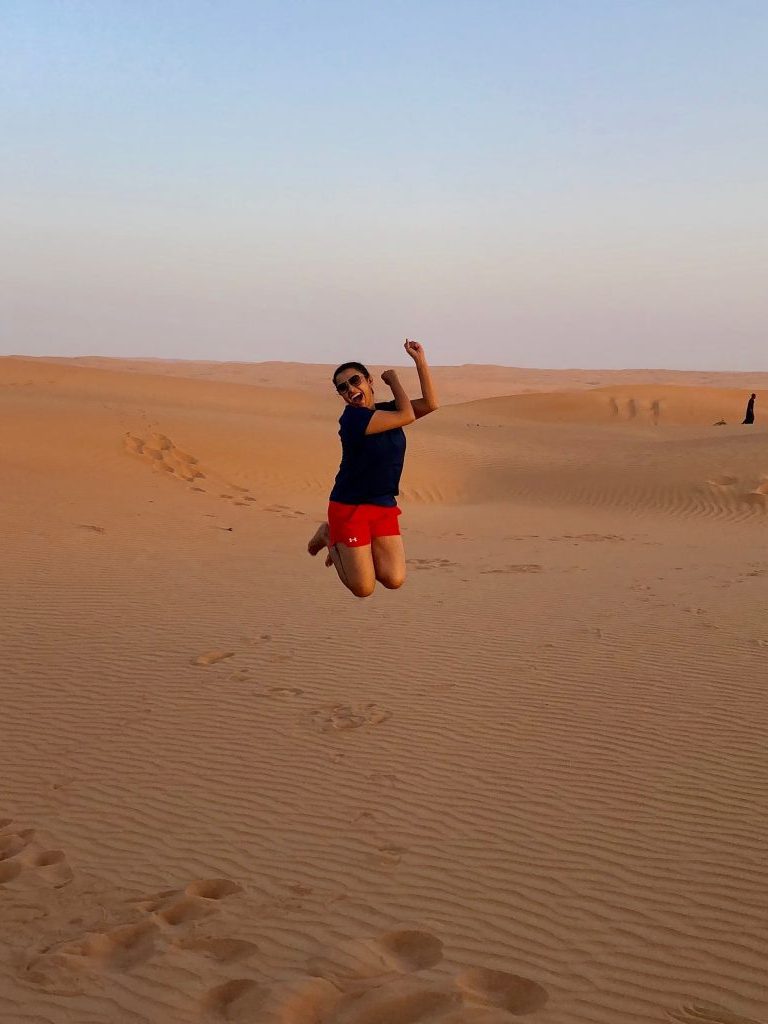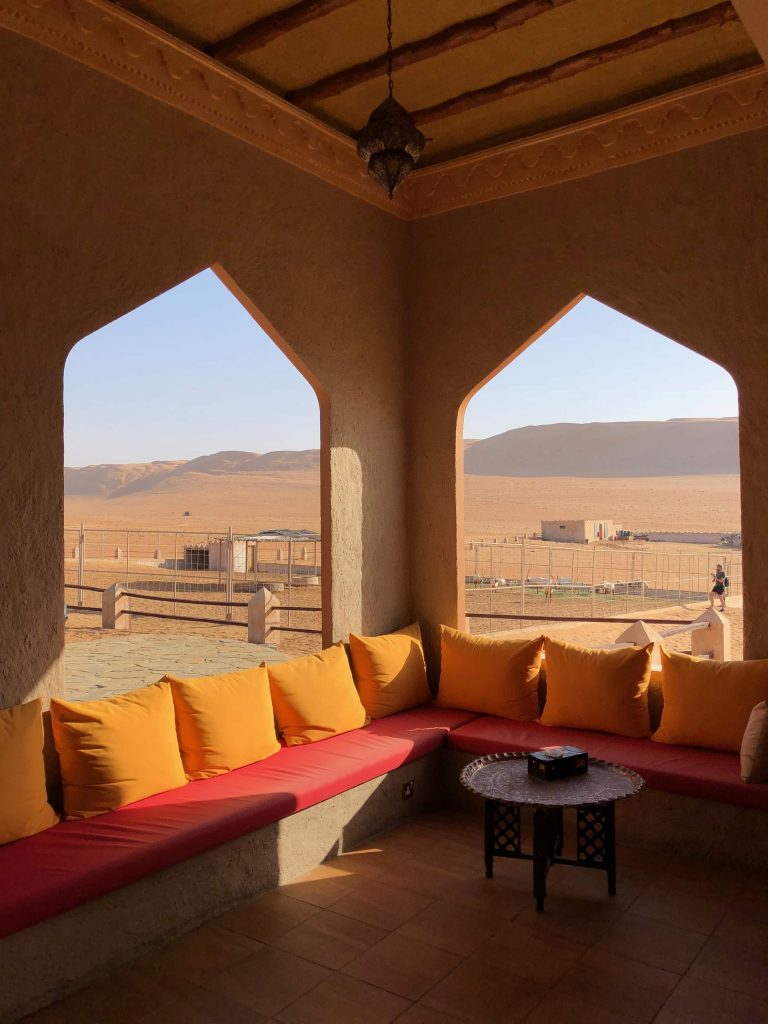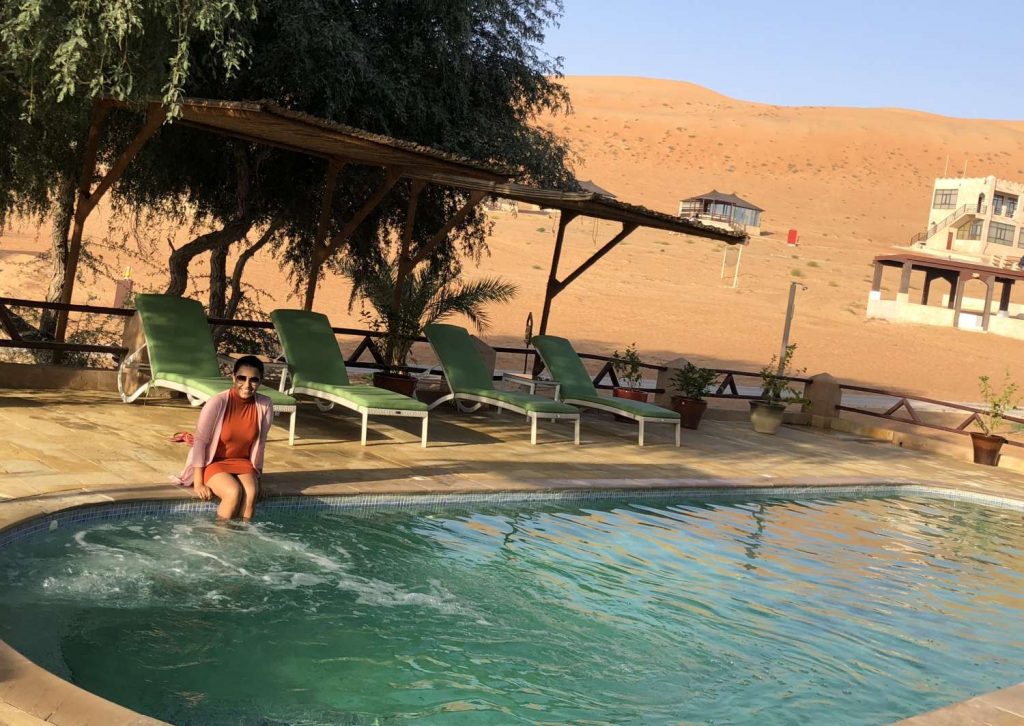 Come early morning, I had a coffee date with the Bedouins of the region, over cups of coffee and dates. So I visited the houses of these bedouins to catch a glimpse of their livelihood in the vast arid land. Hospitable, joyful and gentle – they survive with so little yet so happy. It makes one think – do we really need as much as we gather? That's a discussion for another day.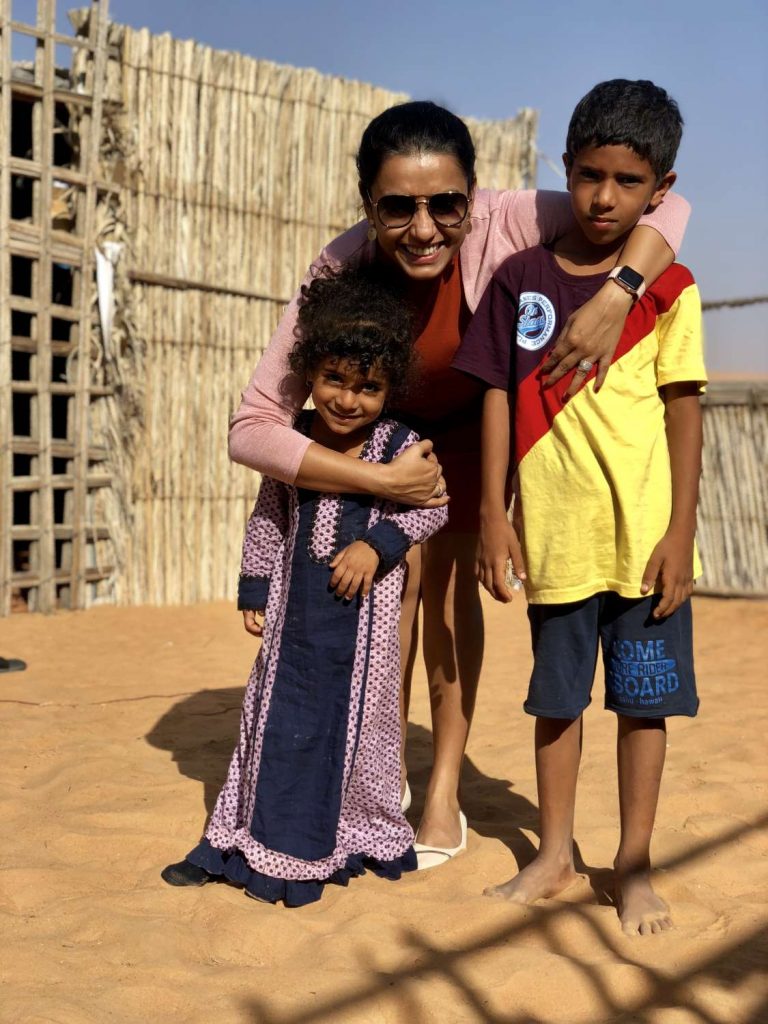 It was time to head back to the tent and ready for the next leg – needless to say, that we were often surrounded by camels and their calves – what a cute sight it was. On my way back I took a pit stop at this stunning oasis called Raka. The area you see behind me in this picture has a river under the sand bed.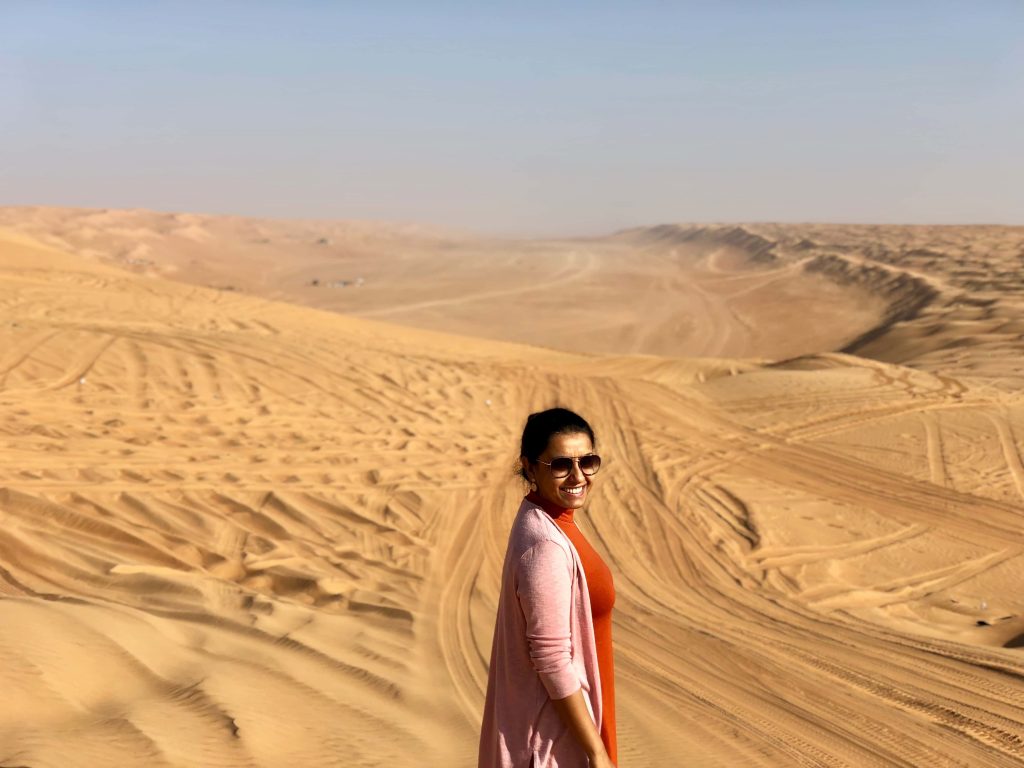 It was a drive to yet another rewarding destination – The 2nd Wadi -Wadi Bani Khalid which lay off the Muscat-Sur highway. The roads that lead to this wadi were zigzag surrounded by colourful rock formations: green with copper oxide and rust-red with iron ore. This wadi floor has abundant vegetation which is nurtured by the water from the springs and the pool in this wadi was also absolutely crystal clear.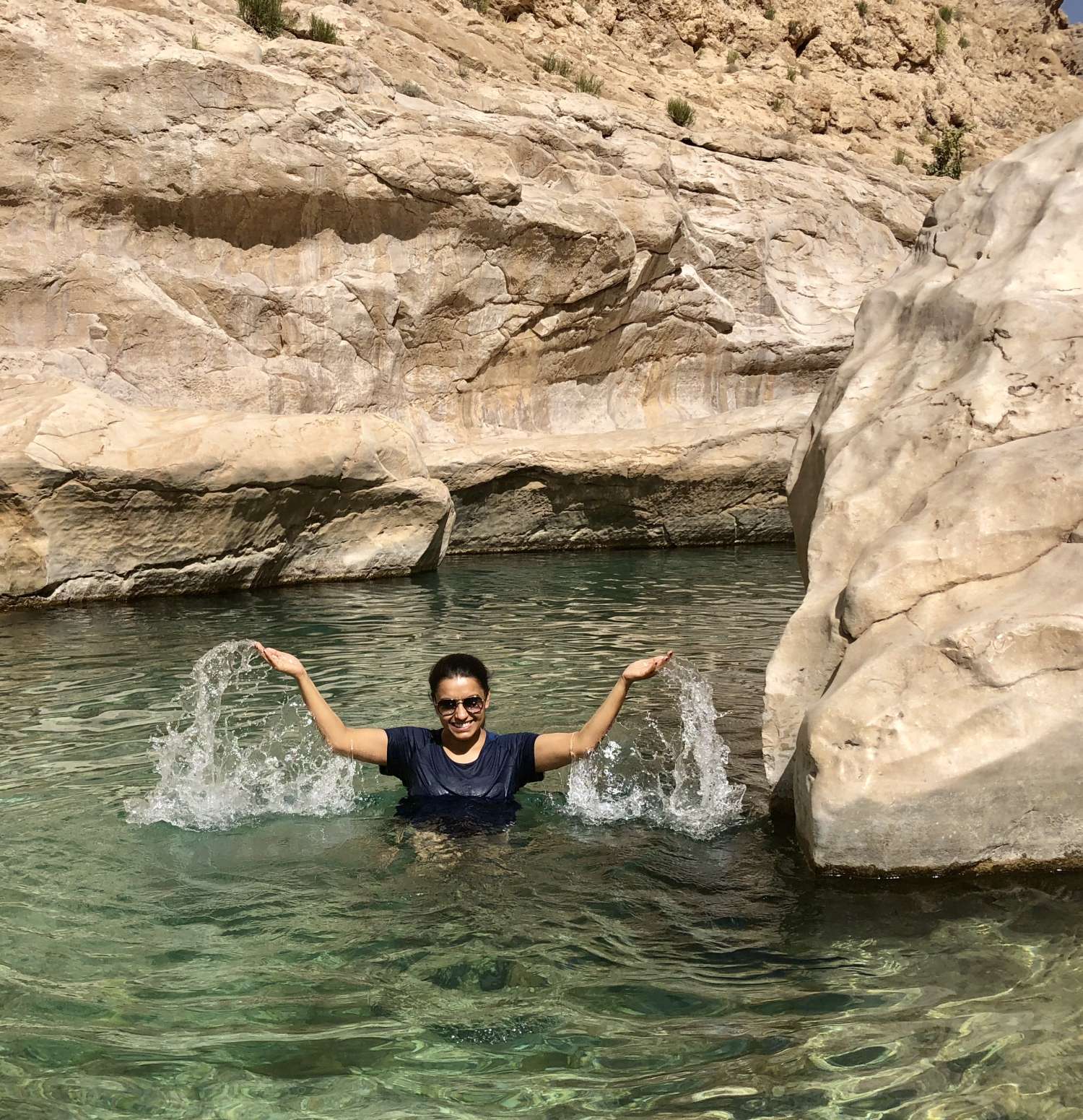 A dip in the warm, crystal clear water (do trek to the 2nd pool), floating in it with a view of the rugged mountains around and the clear blue sky was nothing less than a captivating experience. There were also teeny-tiny fish in the water that wouldn't stop nibbling, the moment you stand still. The pedicure gets taken care of.
The following day we were off to one of the most popular destinations in Oman- the Jebel Shams – the highest mountains in Oman. It's not only known for its peak but the spectacular view into the depth Wadi Ghul lying alongside. This is known as the Grand Canyon of Arabia – some claim that it is more beautiful than the renowned Canyon of Arizona in the USA. Watching yet another sunset but this time over the canyons (from the Jebel Shams resort) accompanied with great Arabian food was a whole new experience – even 'surreal' wouldn't sum it up. The adventures were a part of the next day.
A little after dawn I started to trek through the canyons to the Balcony Walk – small pathways built around the rim of the mountains made it quite difficult and a little jittery at times.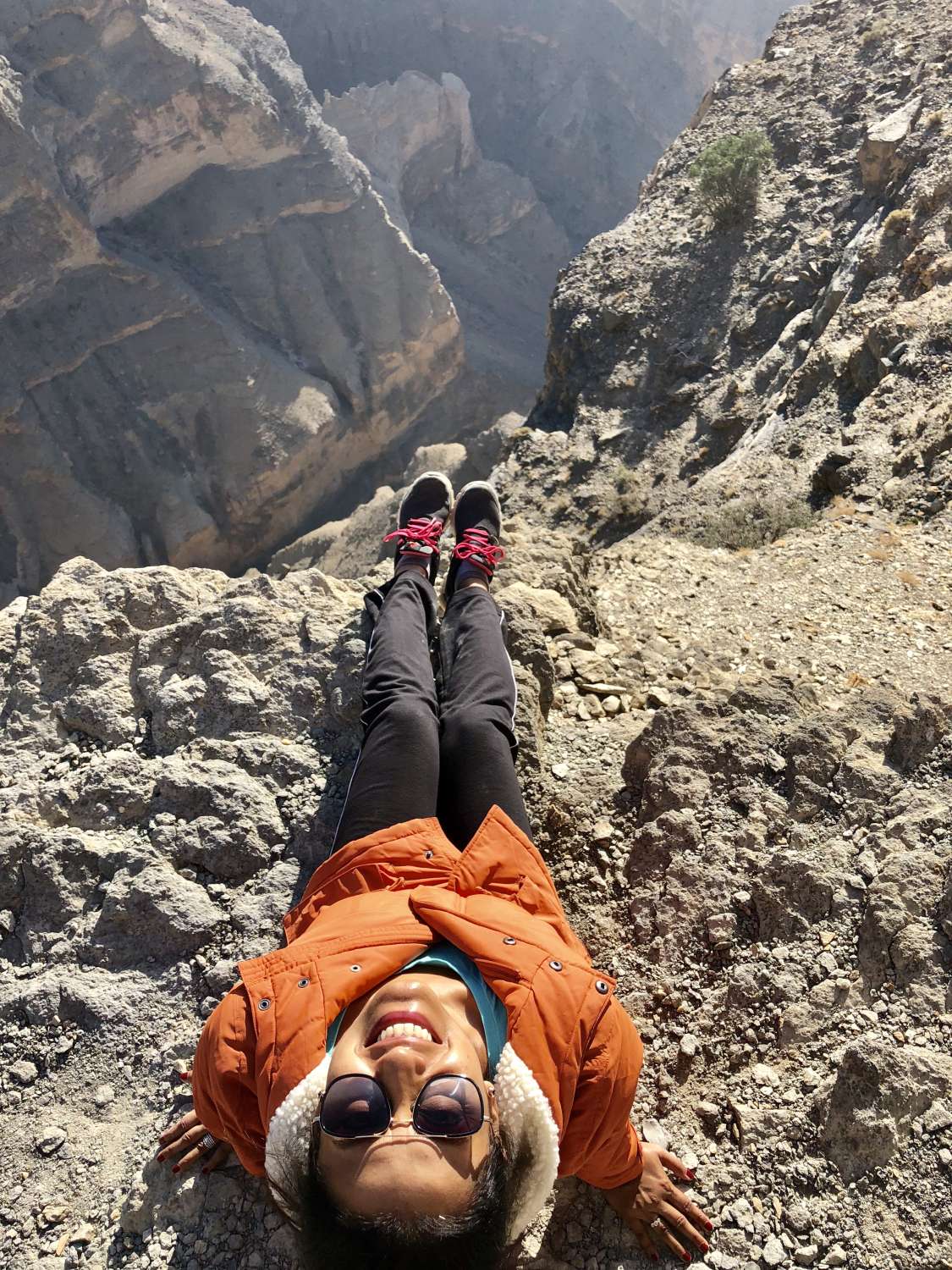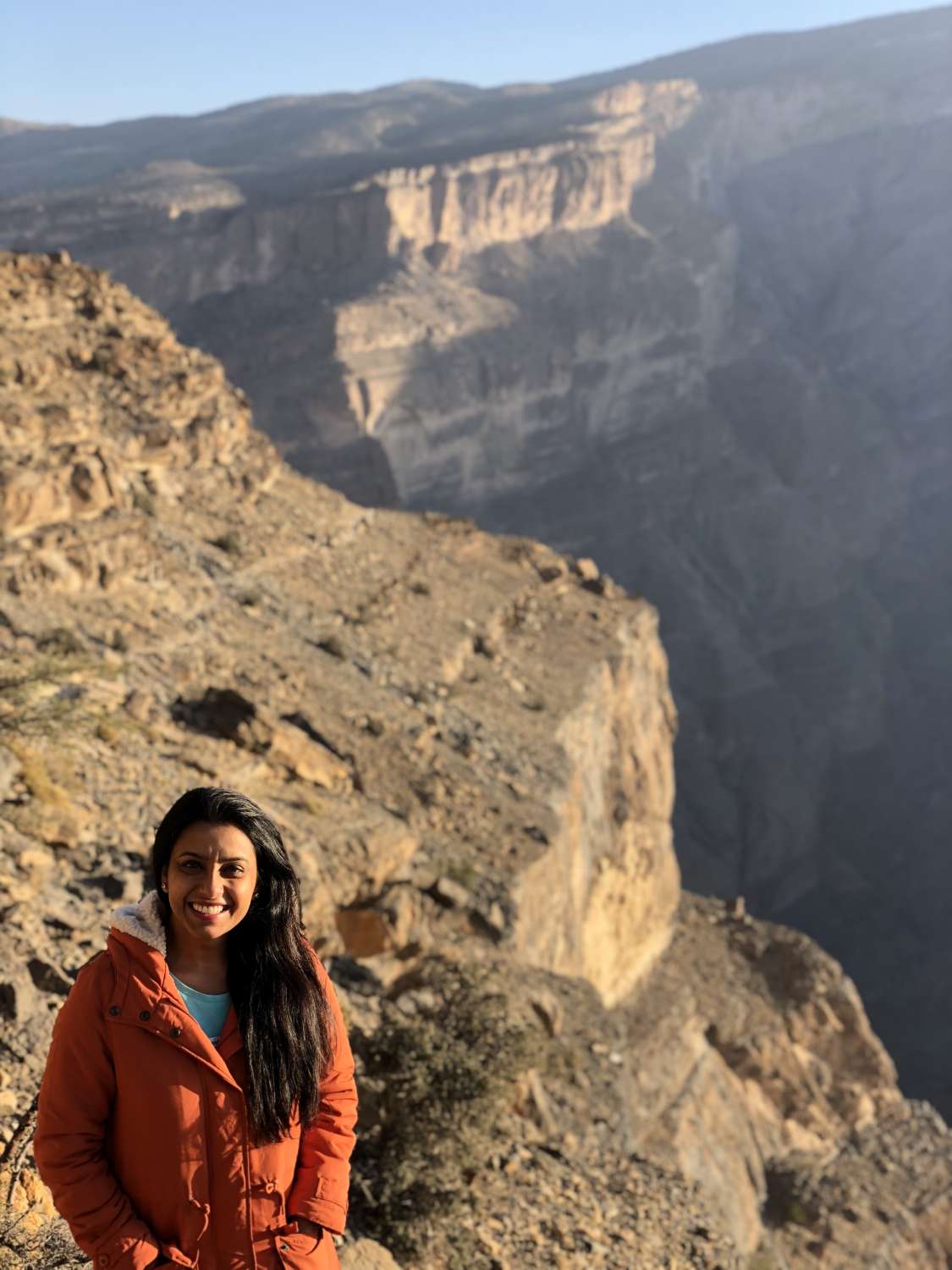 I climbed down 800 feet to an abandoned village and clearly, the climb back up wasn't the most comfortable- a lot of stamina definitely comes handy.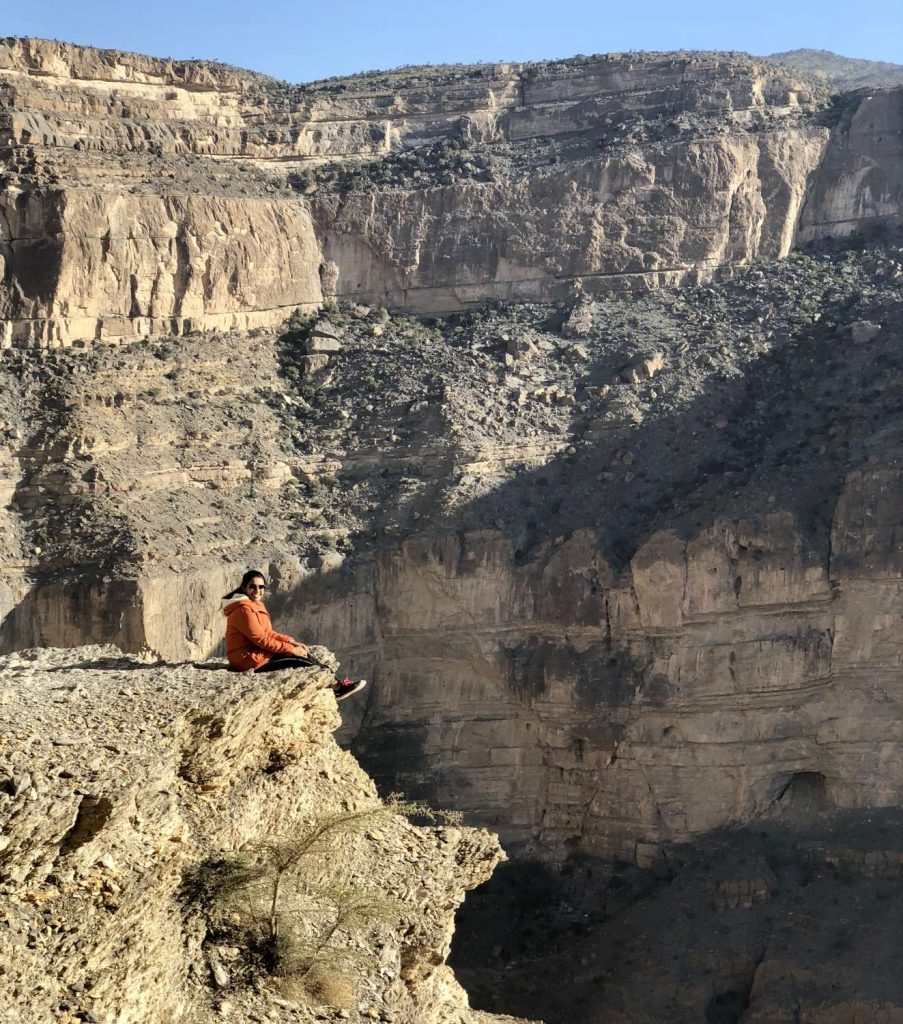 I was then driven through an extremely scenic route to the 'Balcony' itself – the Sharfa–Al-Amin for yet another spectacular view amongst the cold winds. Next stop were the villages of Hatt and Balad Sayt.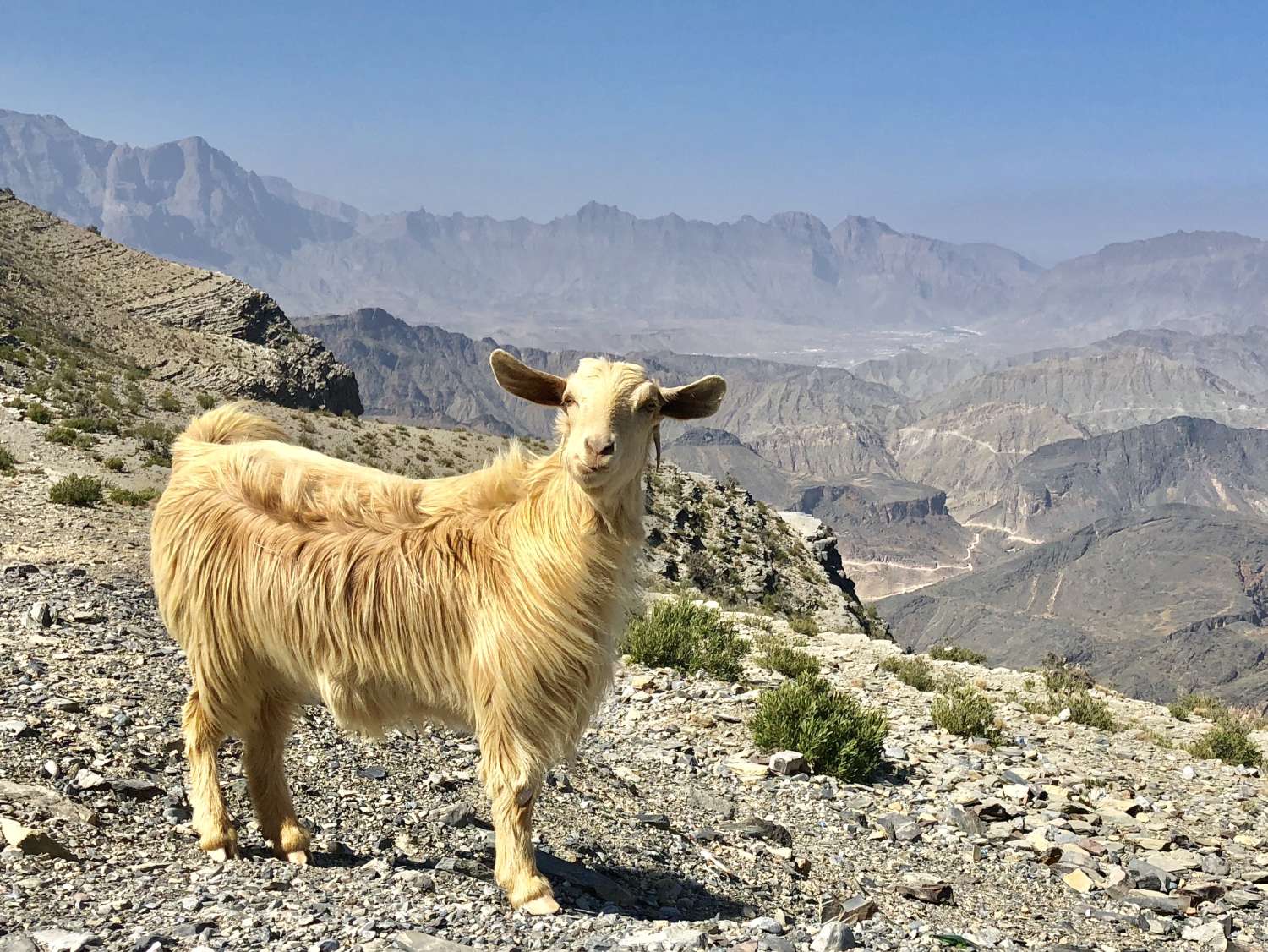 These villages with their maze-like small roadways are worth the detour and must be done on foot- that's what the villagers prefer else it is a beautiful view from the height outside.
A little more than 40 km ahead of these villages lays the Snake Gorge. This gorge is a haven for hikers as the routes often jump off to small water pools. I also saw natural waterslides – what a riot of views.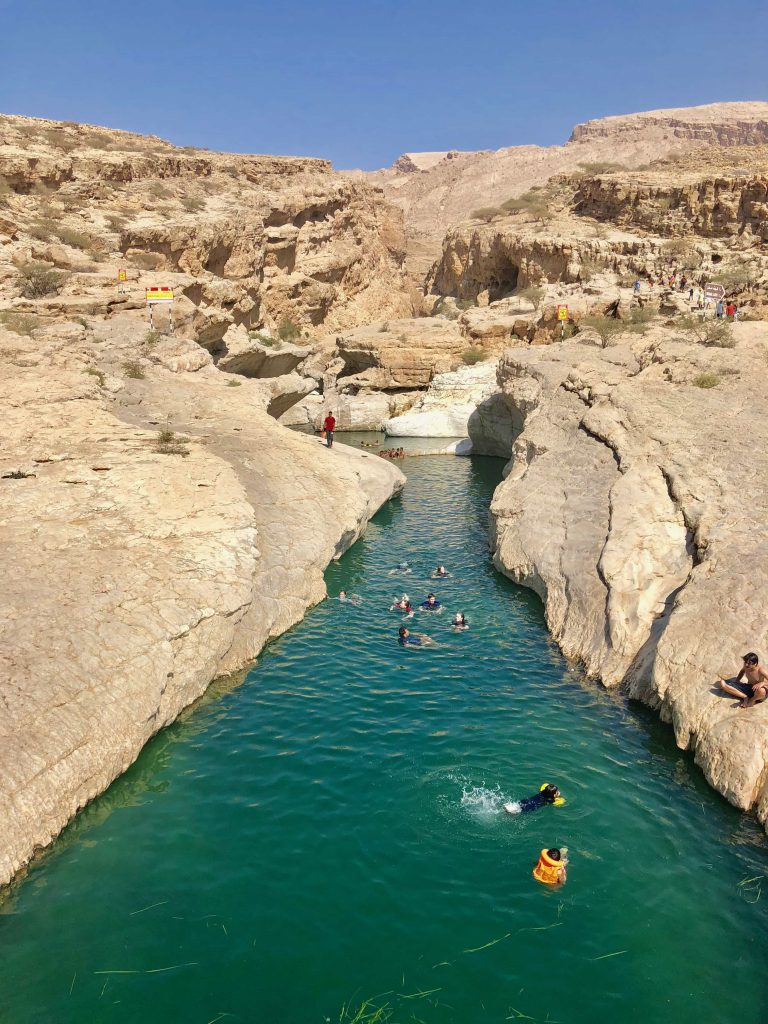 That, my friends, was the last slice of my journey. I honestly experienced much, much more than what I had expected sans the glitz and glamour these countries are associated with – I was truly struck by the beauty that Oman had to offer and thus I suggest pack your bags during the next long weekend (if not more days) to this oasis of beauty, hospitality and adventure!
Till my next post…keep dreaming, keep planning, keep exploring.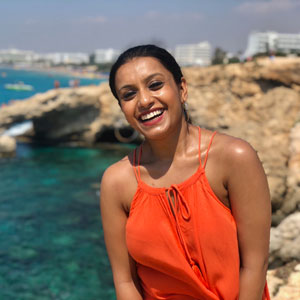 Hey there travel bugs! Glad you made it to my blog. The journey is going to be worth it—I promise.
I am a fearless, unguarded and fun loving traveller. The word 'cannot' doesn't often appear in my life's dictionary. I was bitten by the travel bug a long, long time ago and it has taken me to more than 60 countries and countless destinations ever since. A born networker—I have met and made a gazillion friends across the world and the experiences so far, has more often than not, left me speechless. The more I travel, the more I realise that how much there is left to travel.
So hop on and be a part of my explorations and adventure tales right here on Travel Chatter.
Subscribe to my Newsletter
This error message is only visible to WordPress admins
Error: API requests are being delayed for this account. New posts will not be retrieved.
There may be an issue with the Instagram Access Token that you are using. Your server might also be unable to connect to Instagram at this time.