10 Must do Things on an Ireland Road Trip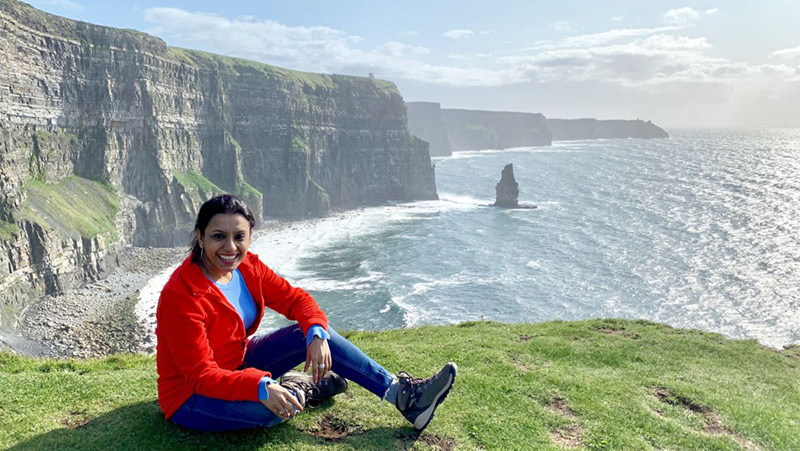 Ever since I had seen a picture of the Cliffs of Moher in Ireland, I had always wanted to go on a road trip there. I will be honest here, it took me months of planning and creating numerous lists of the places to visit in Ireland, and the things to do in Ireland but as they say and as I have always believed, the impromptu trips are always the best!
So, in September of 2019 I took off with friends for an unforgettable trip to a country with stunning landscapes. Ireland is the only island in the world which is divided into two countries (Ireland and UK – Northern Ireland) and you can cross over the border without any immigration.
We landed in Dublin and rented a car which was with us for the next 8 days. Do look out for good deals. We booked our car last minute from Orbitz app (Budget car rentals) and got an unbelievable rate of $2 USD per day for a Nissan Micra. Do look out for these deals online. If you plan to drive up to Northern Ireland the rental company will charge you an extra €34 as insurance.
Road trips are one of the best things to do in Ireland!
Well, let me explain in detail: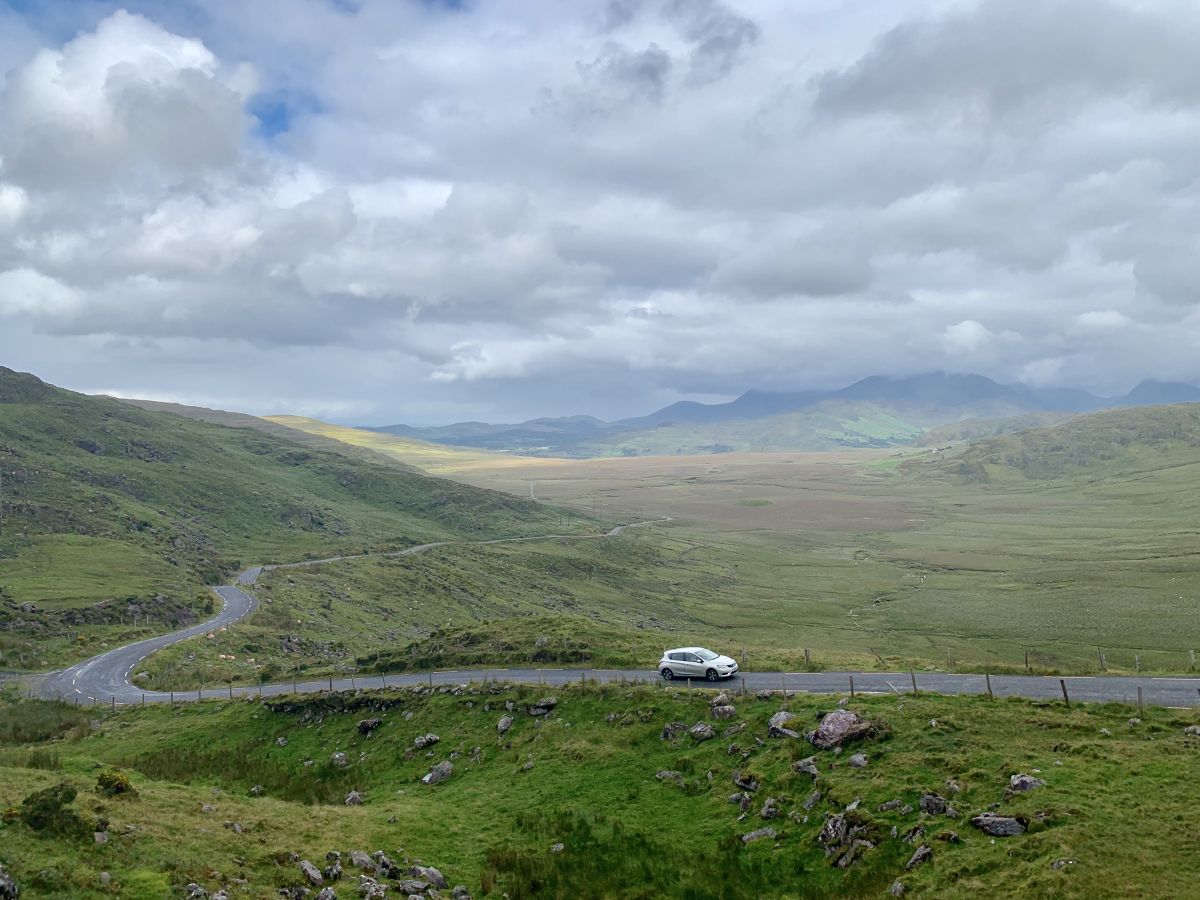 One thing you should keep in mind when in Ireland is that the weather here is very unpredictable. It could be sunny for 10 minutes and rain heavily the next 10 minutes. At times, It also gets cold and windy in summer. So be prepared for all kinds of weather and don't let the weather ruin your mood…No matter what the weather/temperature – Ireland is beautiful.
This was the route we followed :
Dublin airport – Cork – Killarney National Park – Ring of Kerry drive – Dingle Peninsula – Slea Head drive – Cliffs of Moher – Fanor beach – Sligo – Giants Causeway – Bushmills – Belfast – Dublin. We stayed at Airbnbs in most of the places and they were all in great locations and beautifully done up.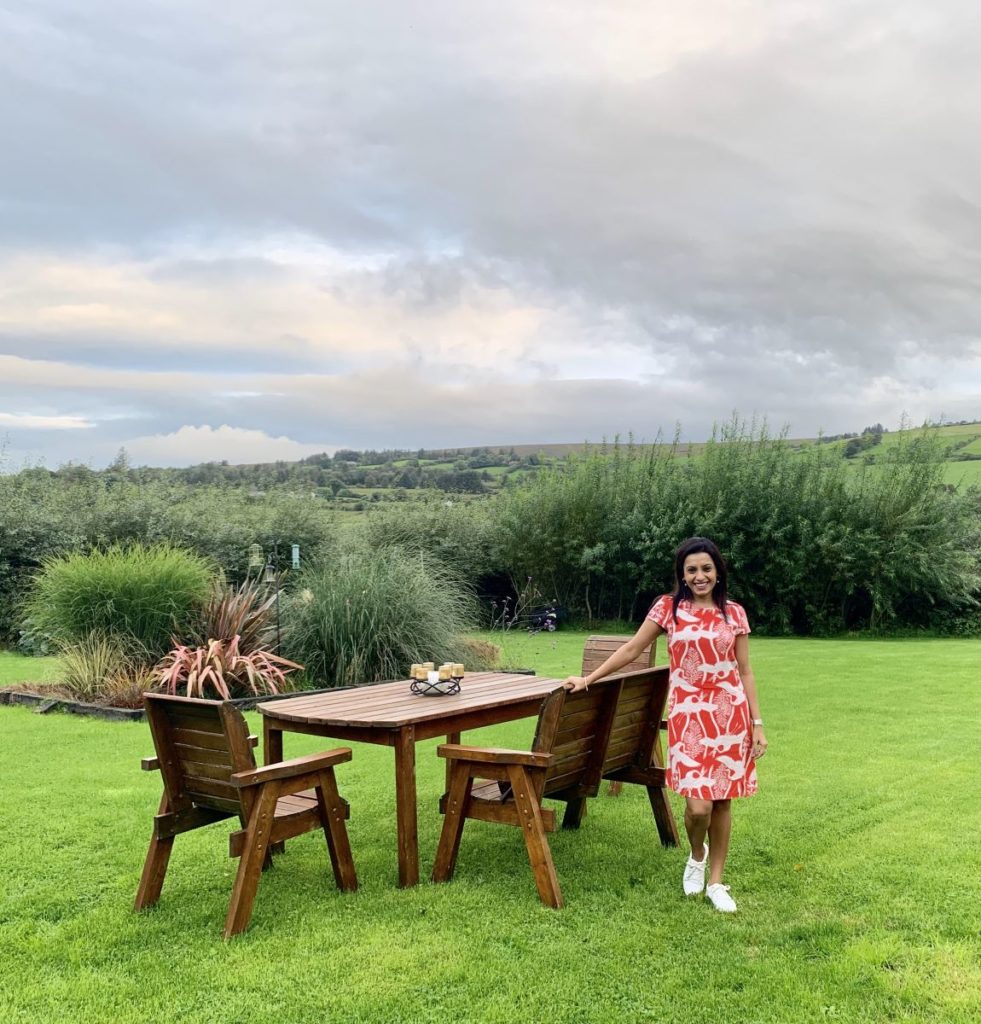 One of our gorgeous Airbnbs in Ireland
Here is the list of my top 10 things and places to visit in Ireland which I feel you simply should not miss!
1. One of the Places to Visit in Ireland: The Lough Hyne
Lough Hyne forms for one of the major tourist attractions in Ireland anyway and so if you are there, make sure you include night sea Kayaking there in your list of top things to do in Ireland – This place is in between Killarney National park and Cork. An absolute must do with Atlantic Night Sea Kayaking team.It starts at 8pm and you are done by 11pm. Night sea kayaking itself is quite an adventure and imagine seeing bioluminescent water as well…It was awesome! They also take you to a place on the kayak where they ask you to shut your eyes and just take in the silence of the night.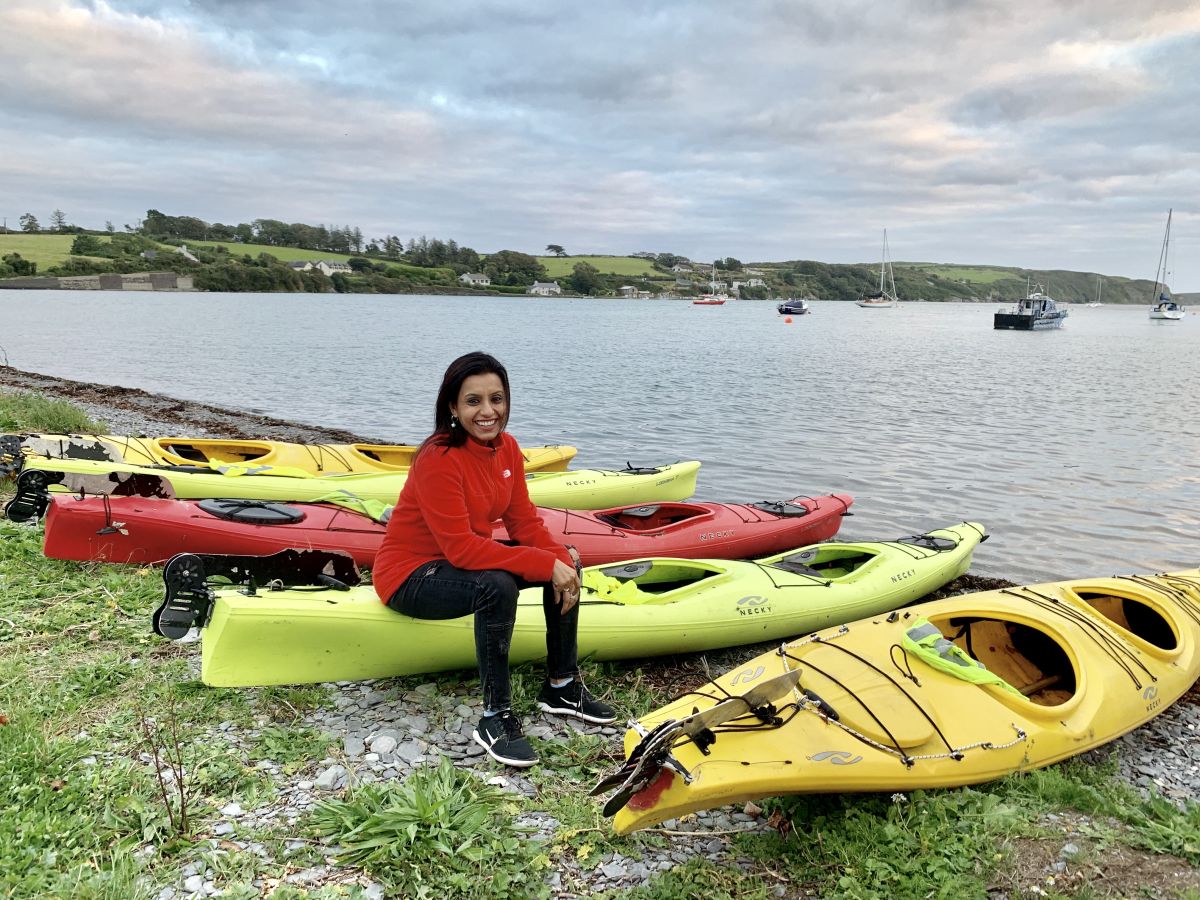 All set for the night sea kayaking
2. Because Food is Important: The Church Restaurant in Skibbereen
After the night sea kayaking we stayed that night at Skibbereen. A must do when in this town is dining in a church..yes you heard it right! Imagine, this is an18th century church which is now converted to a restaurant.The food is delicious too and it's a unique experience.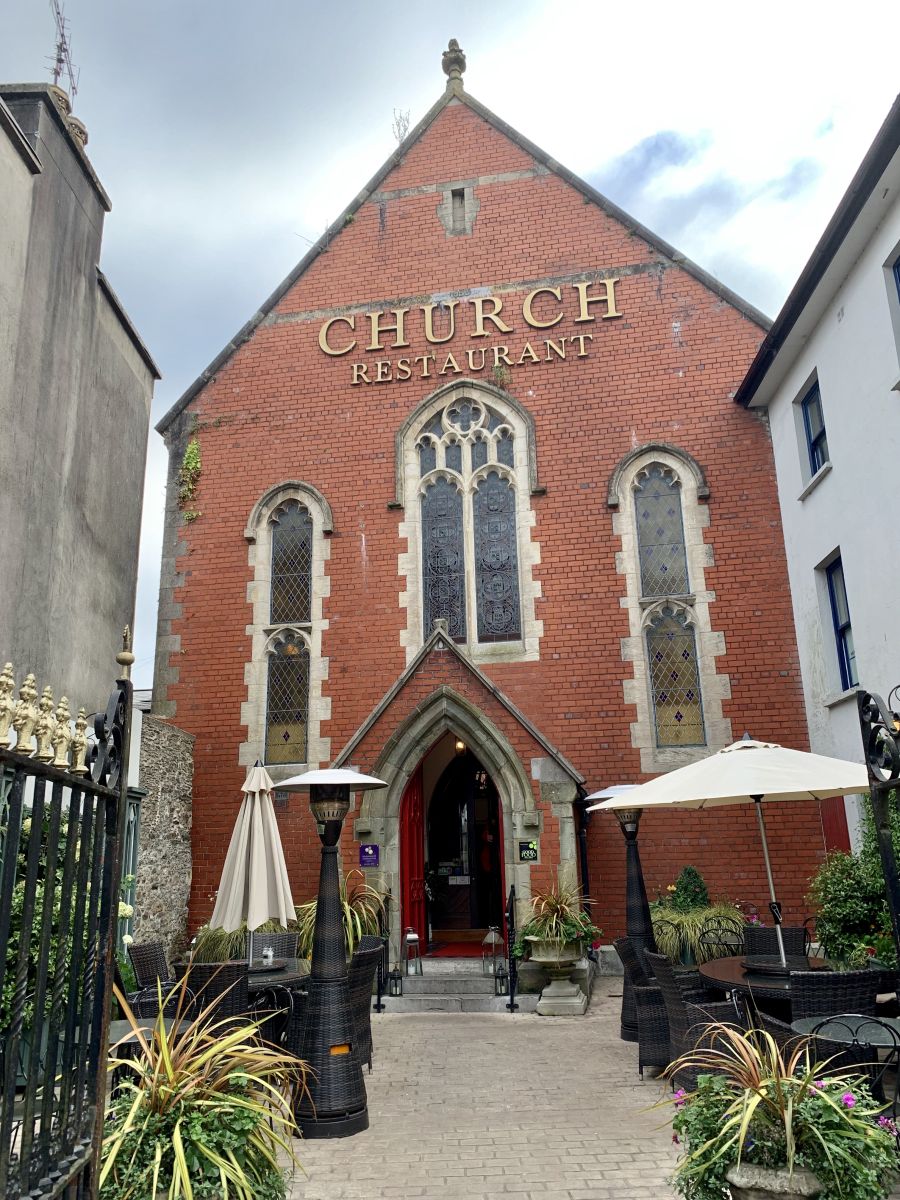 The Church restaurant at Ireland
3. Driving through the Gap of Dunloe
Drive through the Gap of Dunloe on the Ring of Kerry and visit the lakes of Killarney National Park – The lakes of Killarney are absolutely wonderful, walk through the park,visit Ross castle and stroll around the lakes. While you are driving on the Ring of Kerry, which is one of the most famous drives in Ireland you will be passing through the Gap of Dunloe…every corner here is spectacular. This is one of the best things to do in Ireland.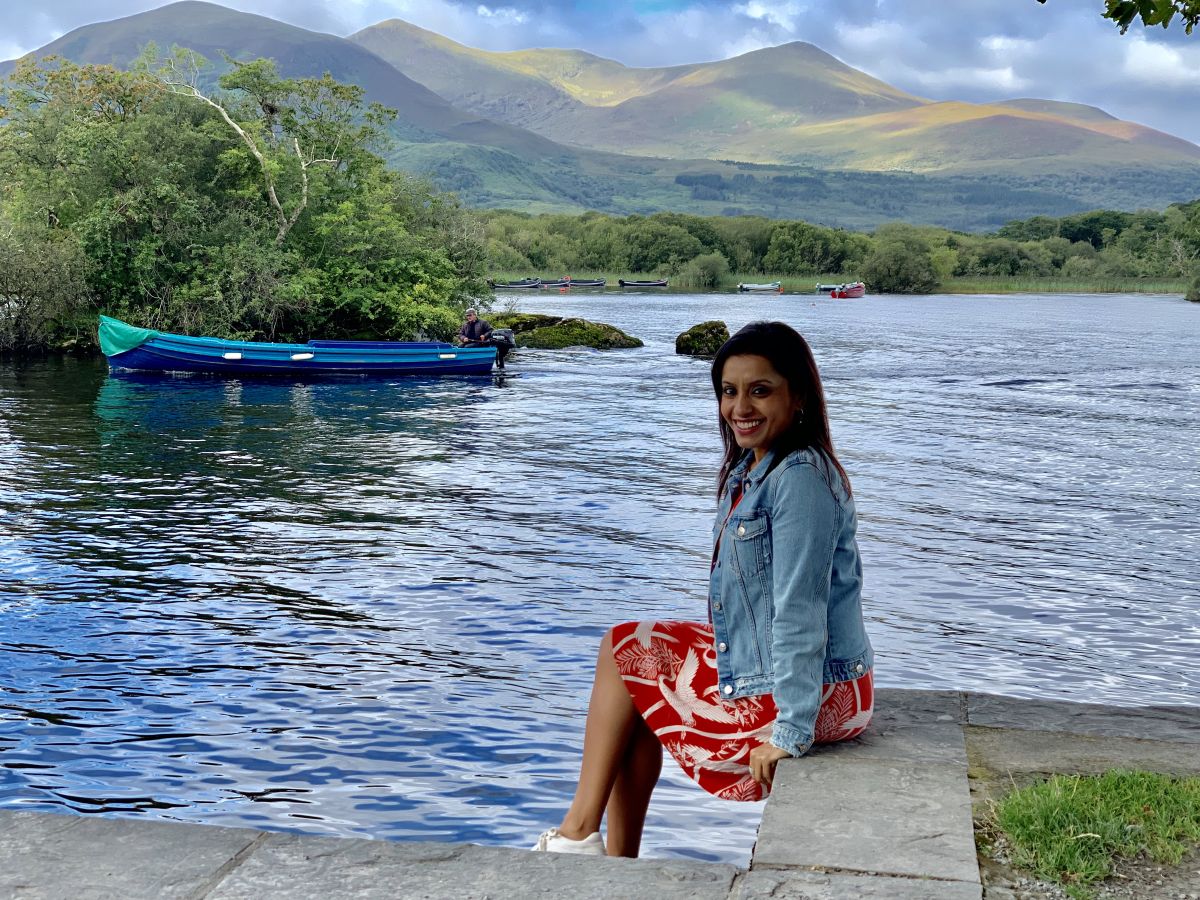 Lakes of Killarney National park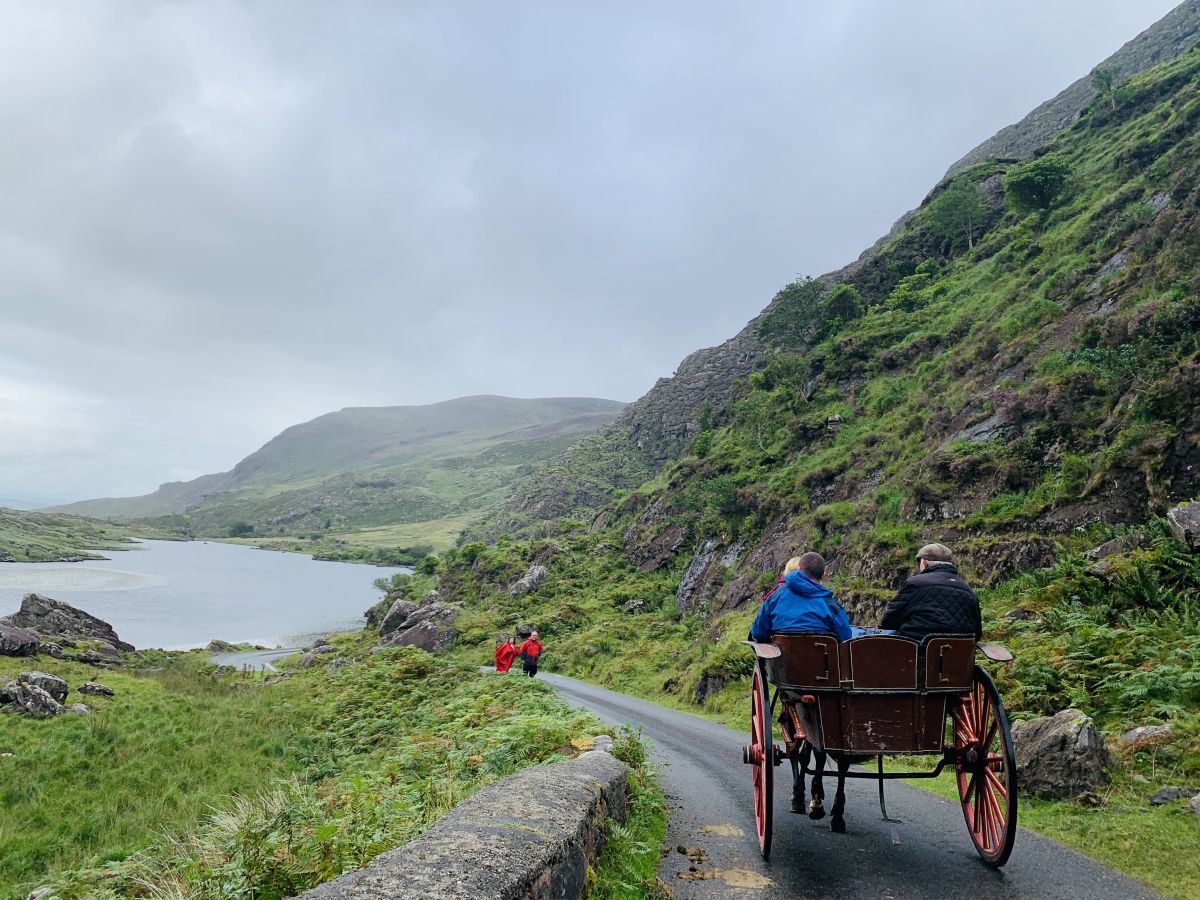 The Gap of Dunloe, Ireland
4. Visit the gorgeous Dingle town
This is the most colourful town in Ireland. Full of life and energy. We stayed right at the city centre and walked to most of their pubs,stores and restaurants. The seafood here is to die for and definitely eat at Fish box .We loved the food here so much that after having a sumptuous lunch, we went back for dinner too. This is definitely another one of the best places to visit in Ireland. Order the Fish and chips…it's the best I had in Ireland. Also, have ice cream at Murphys which is rated as the world's best ice cream by Conde Nast Traveler.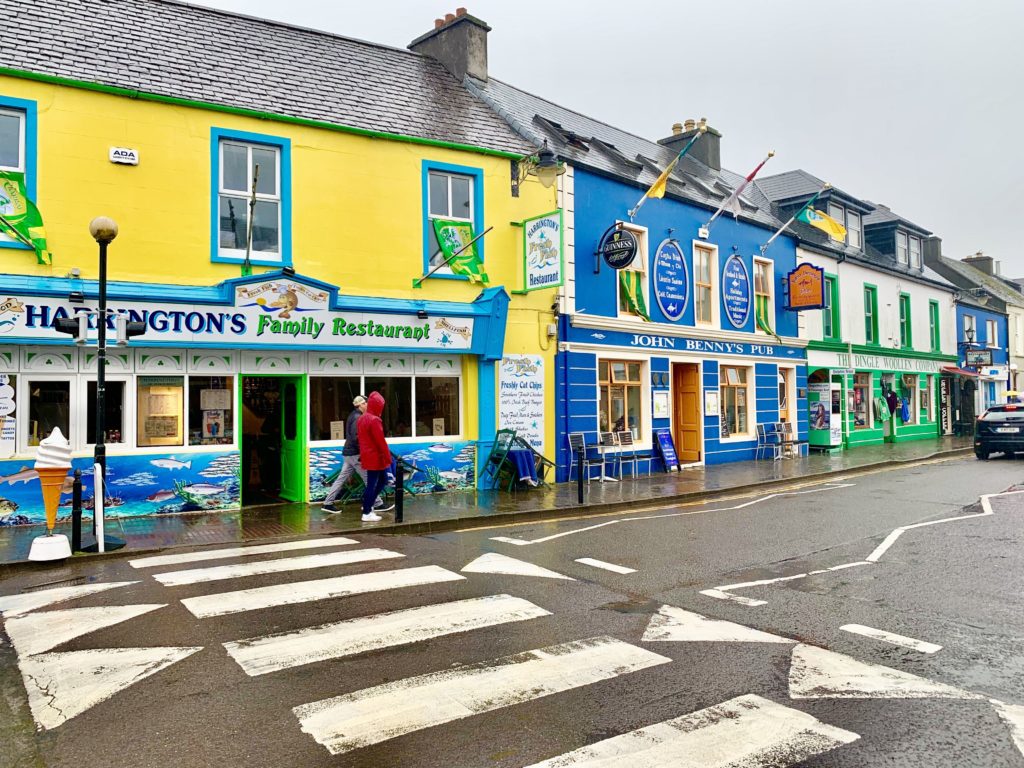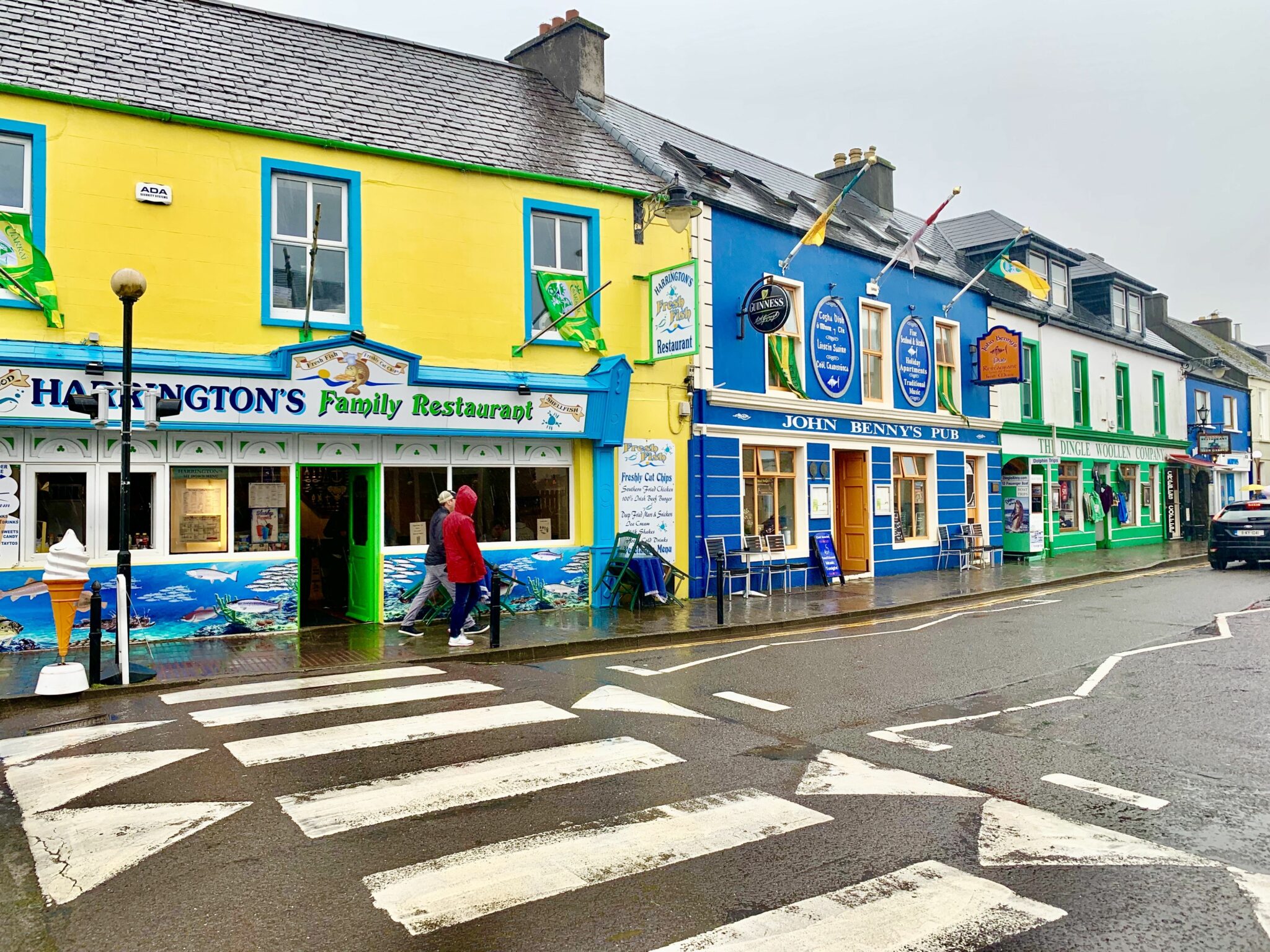 The colours of Dingle make up for the gloomy day
5. Some Treks for those who Love it: The Dunmore Head
Trek up to Dunmore head in the Dingle peninsula. This is a day trip and you must drive down the Slea head drive. It's absolutely gorgeous. Especially the short hike up to Dunmore head which was also the location of the movie Star Wars – The Last Jedi and is the most western point of Europe.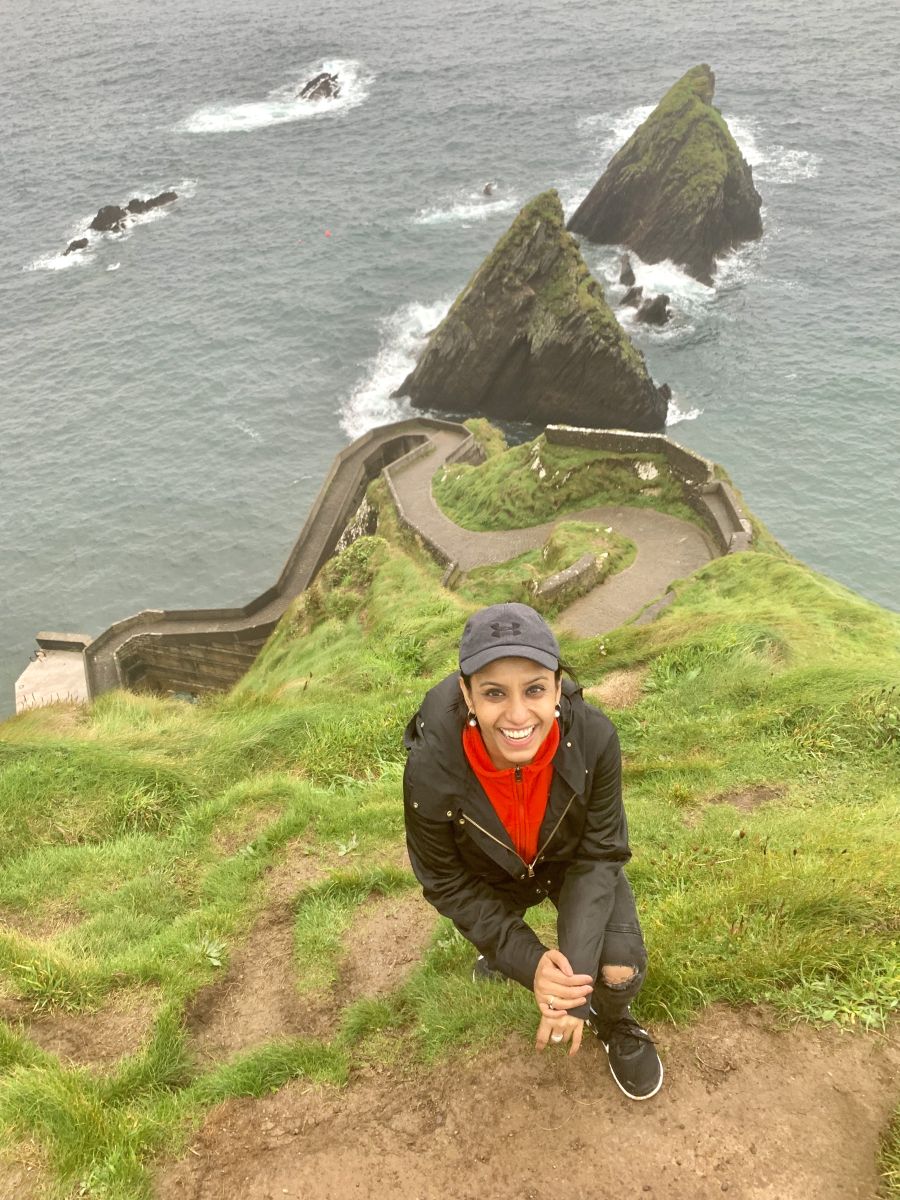 6. Another point of interest for many : Experiencing the Night Life:
If you are someone who loves the nightlife, then pub hopping has to be in your list of top things to do in Dublin Ireland. Go pub hopping to listen to live Irish music – If you want to enjoy the Irish culture go to one of their pubs. They have live music every evening and every one there is having a gala time. You definitely want to be a part of it. Be it Doolin, Dingle or Dublin…pub hopping is a must everywhere.
Also read:- Best Things to do in Georgia
7. Walk on the Cliffs of Moher
The most popular tourist attraction on Ireland's Wild Atlantic way is the Cliffs of Moher. They are breathtakingly beautiful and one of the major points of interest for the Hollywood buffs and if you happen to visit the country, a walk on the cliffs of Moher has to be on your list of things to do in Ireland.They are even more gorgeous than what is portrayed in pictures and walking on these 700 feet high cliffs is one of the best experiences this country has to offer. It is extremely windy on these cliffs so carry your jackets and Girls, make sure your hair is tied if you want good pictures. When you come out from the visitor centre you can either take a left or right and walk on the Cliffs. I recommend taking a right and walking right till the end. The views from there are gorgeous. We stayed overnight at Doolin and had dinner at this great restaurant called Mc Ganns.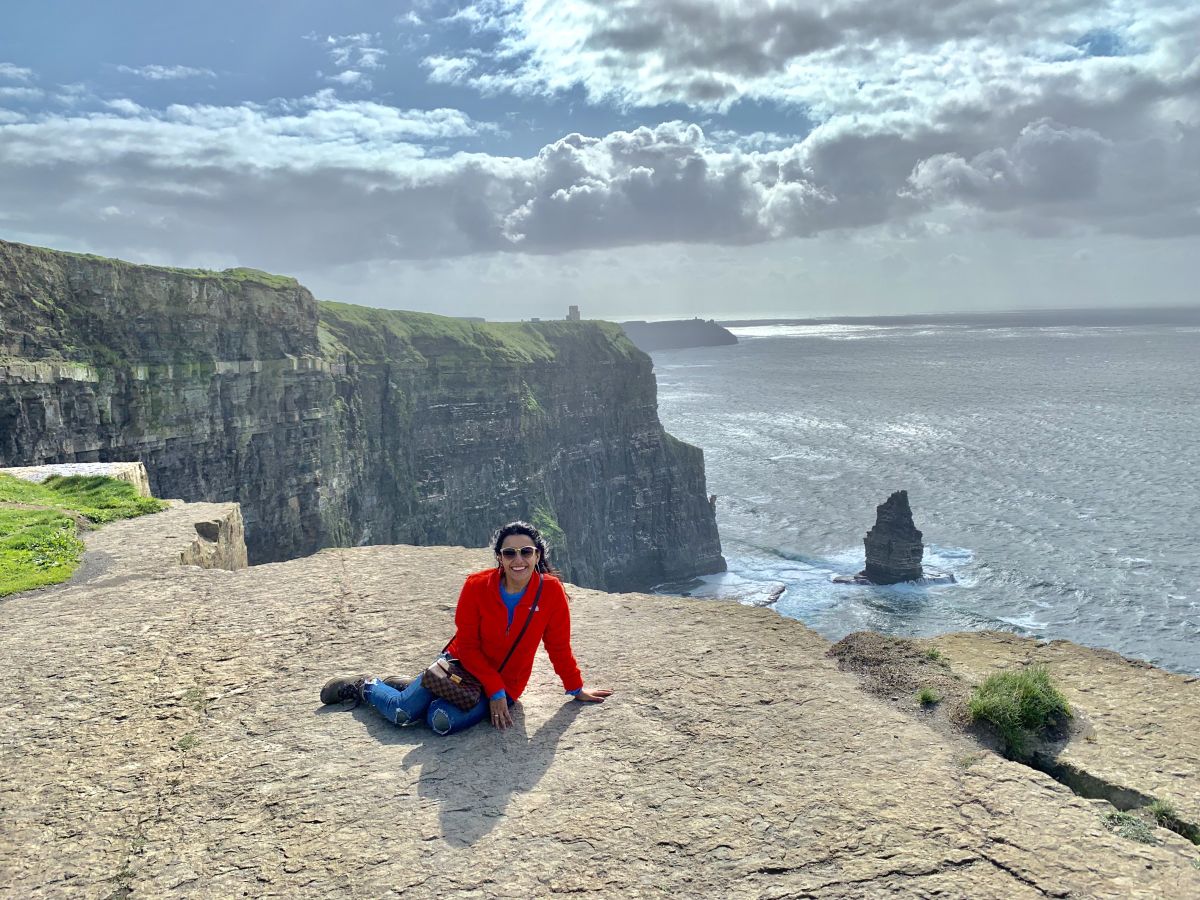 The majestic Cliffs of Moher
8. Another major point of interest – The Voya Seaweed Bath
This bit is more of an indulgence but definitely one of the best things to do in Ireland. Indulge in an organic seaweed bath in Sligo – We drove all the way from Doolin for 3 hours just to have this seaweed bath and it was so worth it. This place is called the Voya Seaweed bath. It's a 50 mins bath where you are dipped in warm water with organic seaweed in it. It leaves your skin very soft and supple and you are totally rejuvenated. Now that was quite something!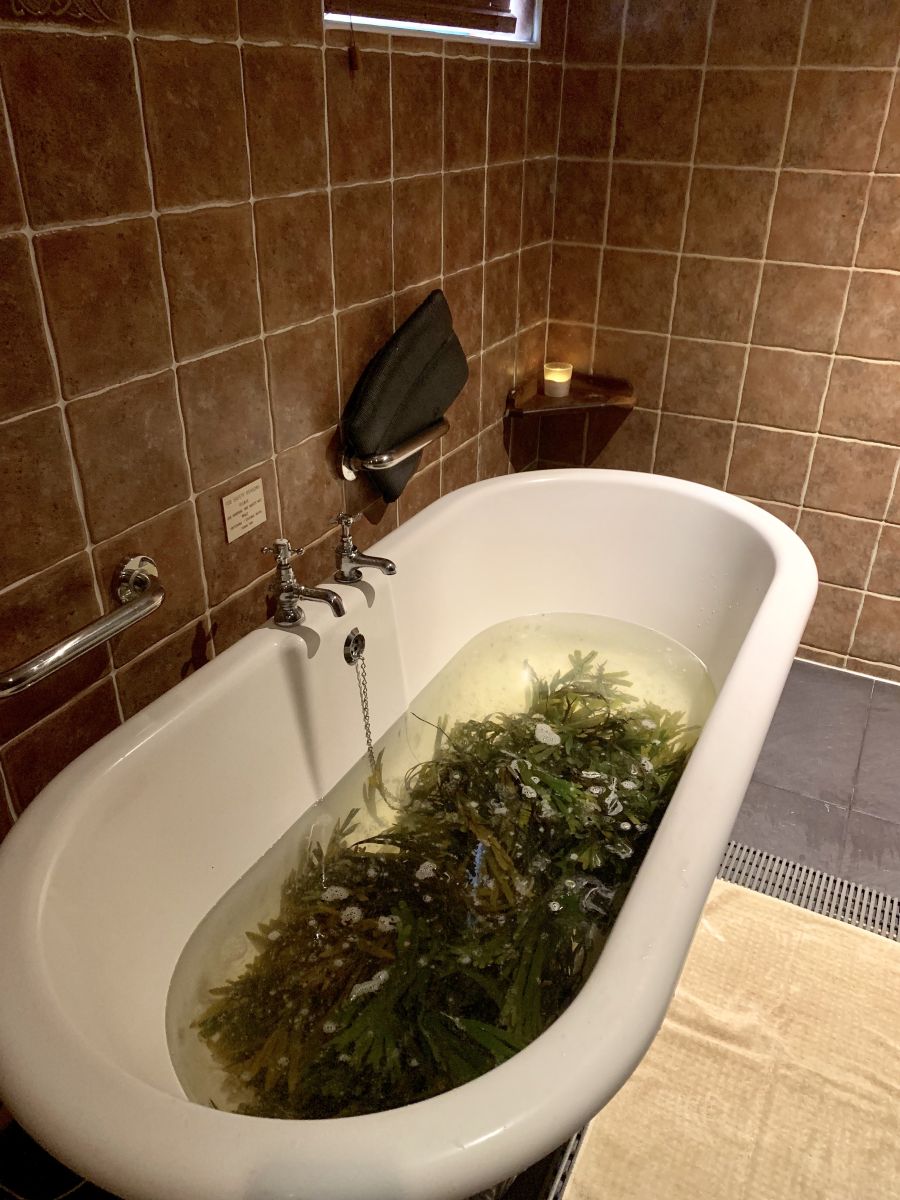 9. Visit the Giant's causeway in Northern Ireland
Another major thing to do in Ireland is to Visit the Giant's causeway in Northern Ireland. This one is literally one of the best tourist attractions in the country. 40000 hexagonal interlocked basalt columns jutting out of the sea makes for a stunning landscape. Legend has it that these columns were home to an ancient giant and he created it himself while science says that it was the aftermath of volcanic activity. Giant or Science…I loved this place and did not want to leave.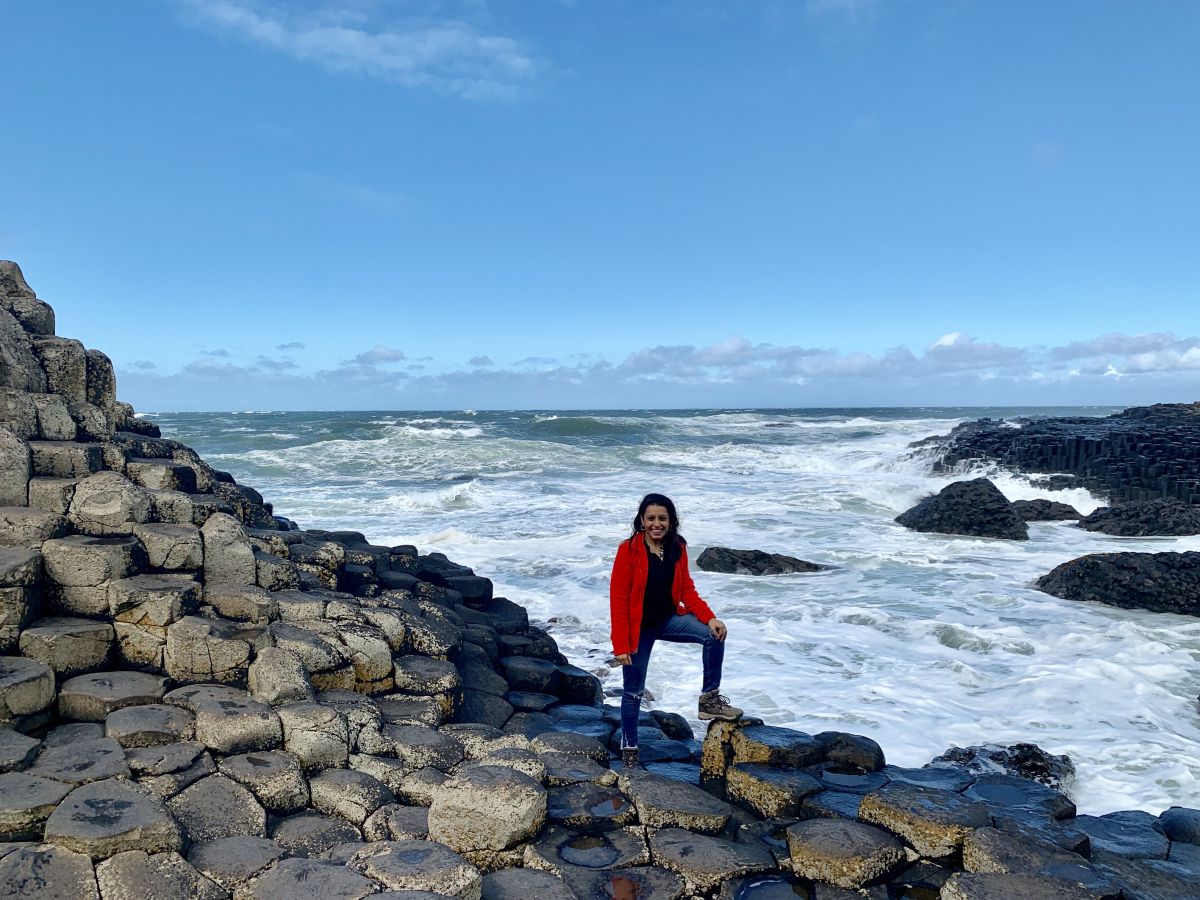 The gorgeous Giants Causeway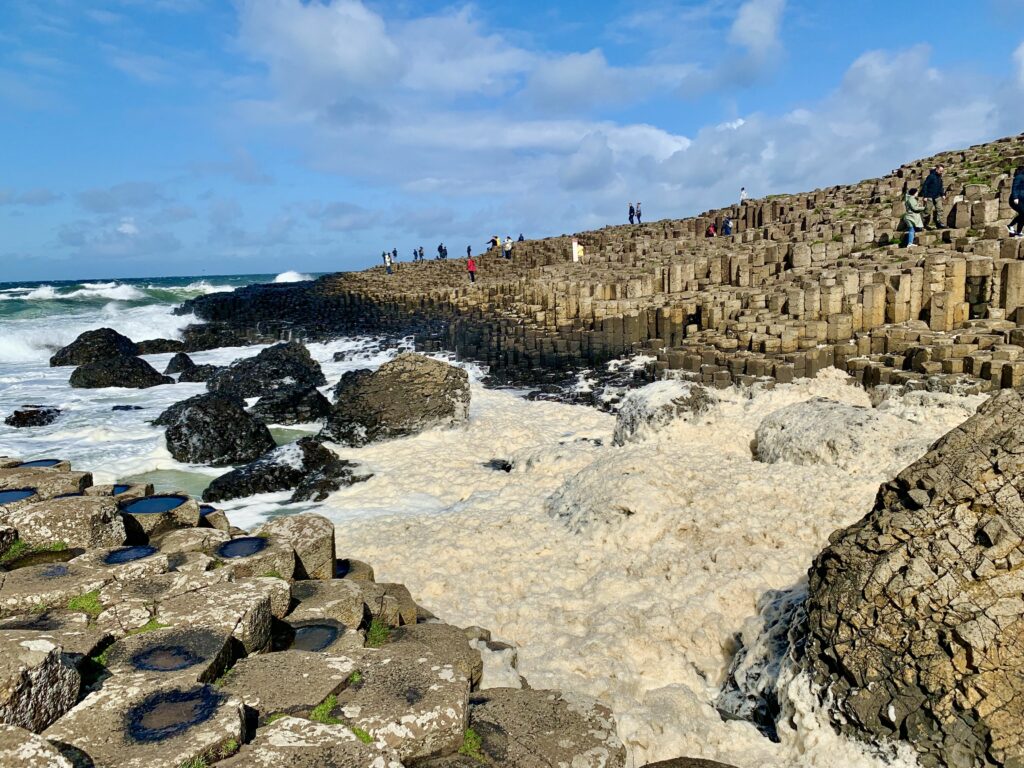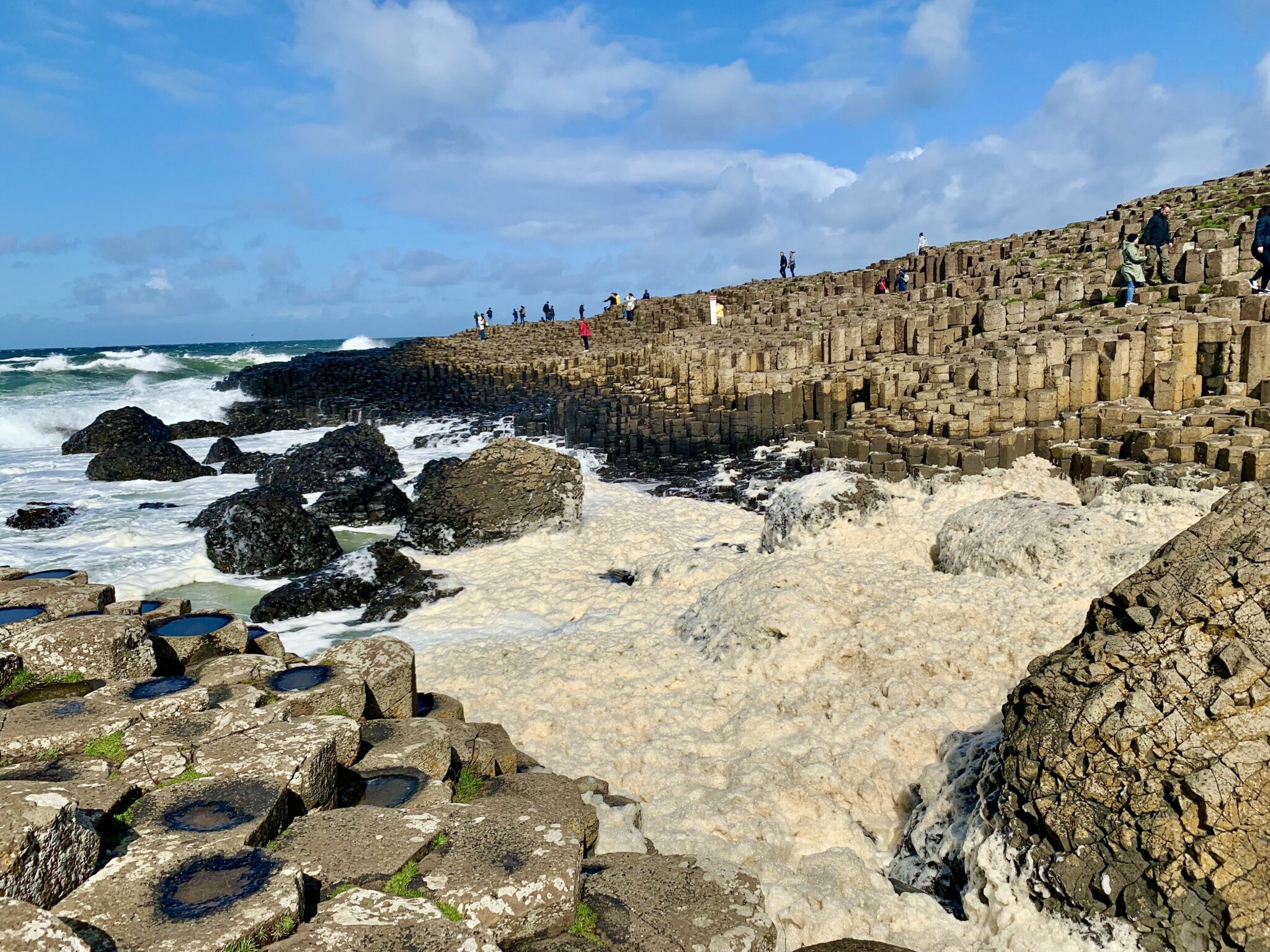 The basalt columns jutting out of the sea
Also read:- Best places to visit in Copenhagen, Denmark
10. For everyone who goes to Ireland: The Irish Drinks!
Drink lots of Baileys and Irish coffee! Being a bengali and having a sweet tooth, Baileys has always been my favourite drink and given it originated from Ireland, I had it to my heart's content. I am not much of a coffee drinker but made an exception for the very famous Irish coffee which is absolutely yummy!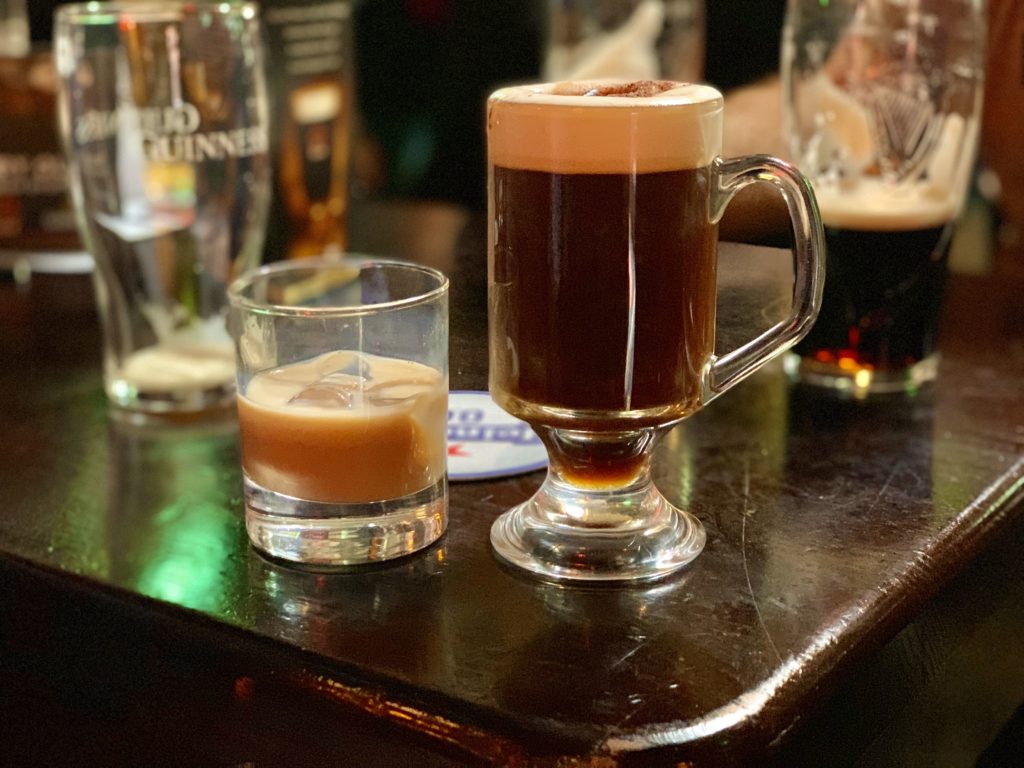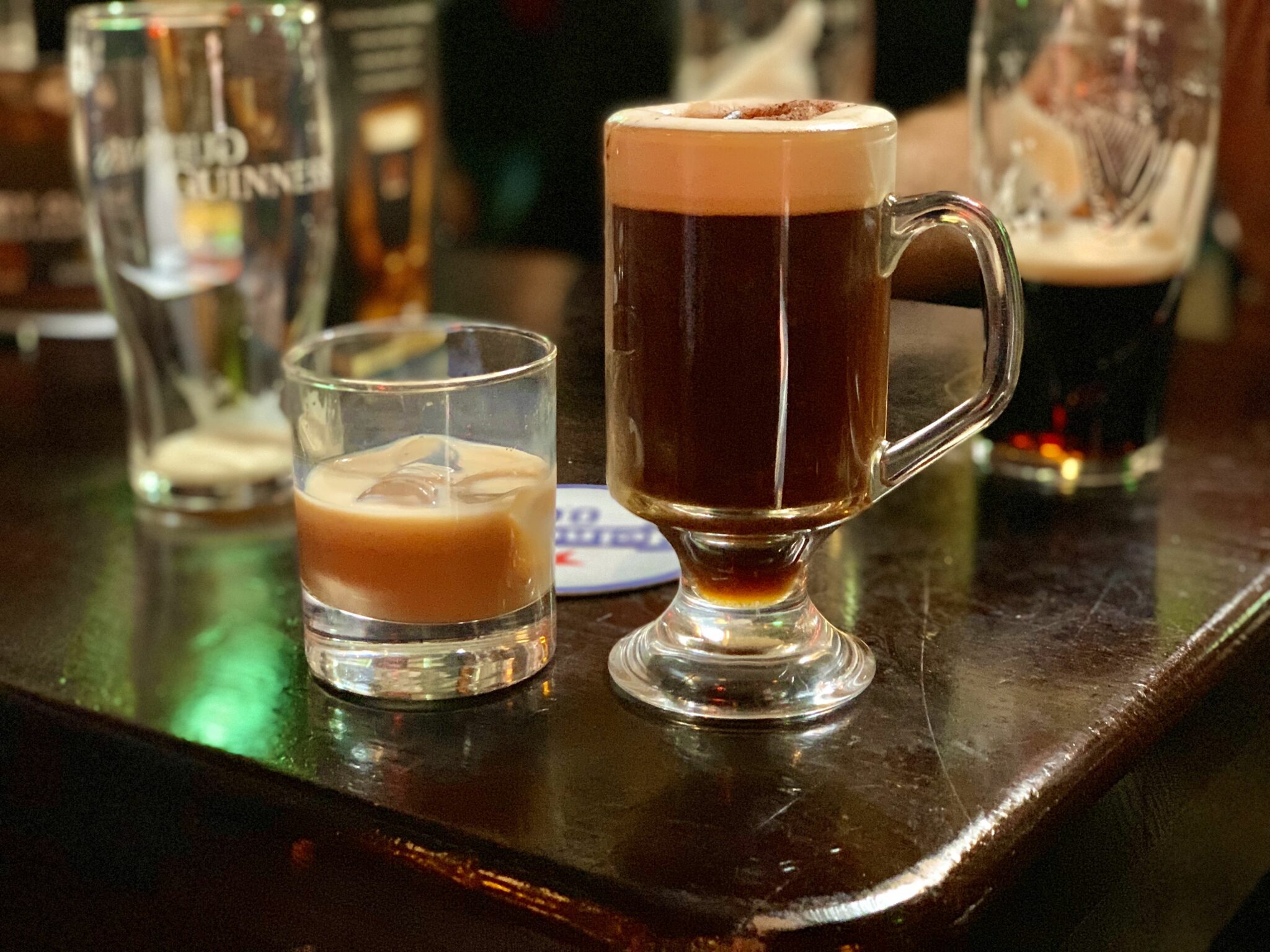 The Baileys – Irish Coffee
These were my top 10 things to do in Ireland. Apart from this I would also recommend visiting one of the oldest whiskey distilleries in Bushmill, drive past the Peace wall in Belfast and visit the Titanic museum which was very touching. If you are a bibliophile and looking for things to do in Dublin Ireland, then you must visit the library in Trinity college which is called the Long Room and is one of the most beautiful libraries in the world.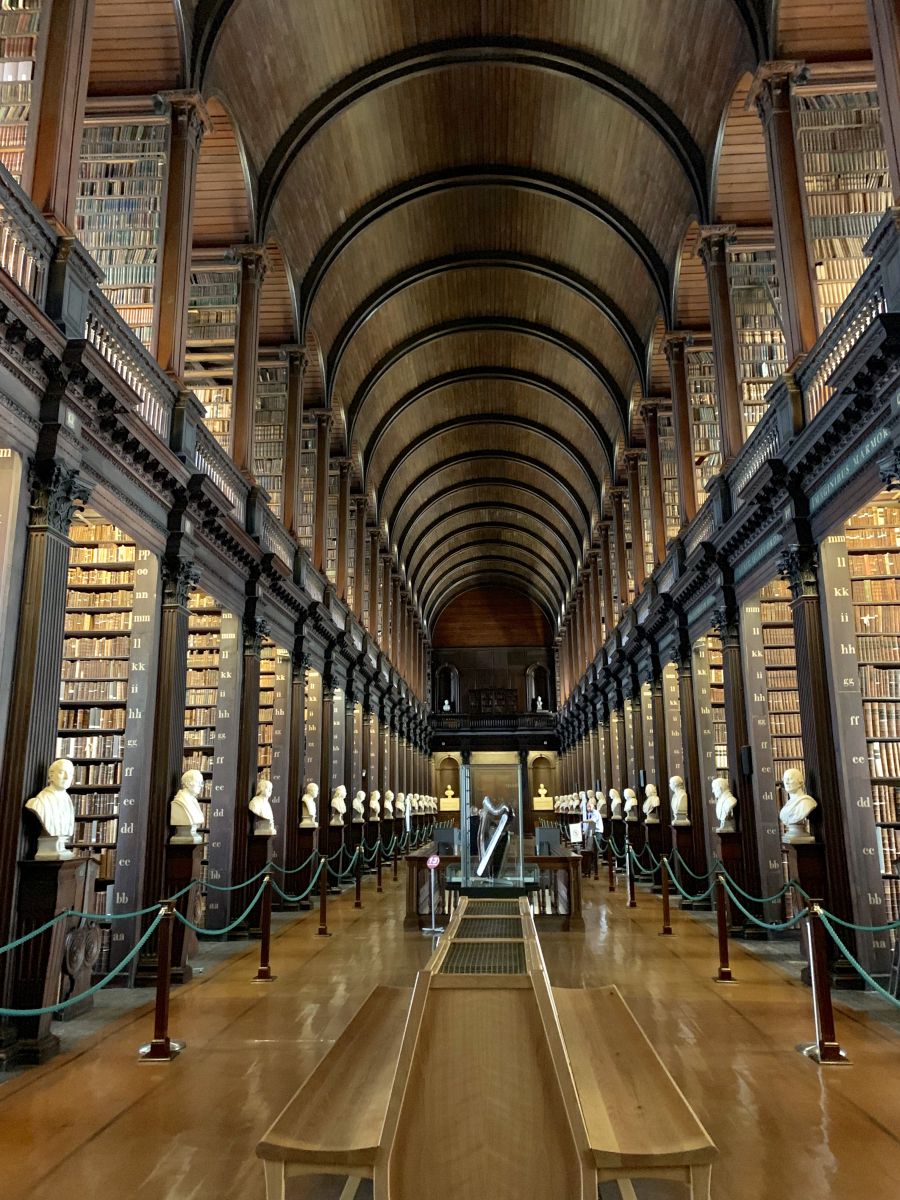 One of the most beautiful libraries in the world
If you have any further questions and need any information about planning your holiday in Ireland please feel free to reach out to me.
Thanks for reading this. If you liked what you read, please leave me a comment below.
You could also follow me on Instagram, Facebook to stay updated about my travel adventures around the world.
FAQs About Places to Visit in Ireland
When is the best time to visit Ireland?
You can visit the country almost anytime honestly and it will still be as beautiful! However, if you are one a budget, then choose November to March otherwise May to August! The Nov-March period is cold and so a lot of attractions are closed. The other is peak season and so not only will you have most attractions open, you will see a lot of other tourists around too!
What Is the Weather Like in Ireland?
Everchanging- that is what the weather in Ireland is like. Ireland has a temperate climate in general and hence is usually very pleasant. But yes, always carry an umbrella along because it can rain literally anytime!
Should I stay at hotels, B&Bs or guesthouses?
BnBs are pretty famously preferred in Ireland because of their affordability and also the general hospitality of the people. However, you could also take a cozy room in a hotel and relax!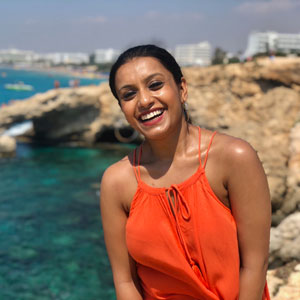 Hey there travel bugs! Glad you made it to my blog. The journey is going to be worth it—I promise.
I am a fearless, unguarded and fun loving traveller. The word 'cannot' doesn't often appear in my life's dictionary. I was bitten by the travel bug a long, long time ago and it has taken me to more than 70 countries and countless destinations ever since. A born networker—I have met and made a gazillion friends across the world and the experiences so far, has more often than not, left me speechless. The more I travel, the more I realise that how much there is left to travel.
So hop on and be a part of my explorations and adventure tales right here on Travel Chatter.
Subscribe to my Newsletter