10 Best Things to do in the Transylvanian Alps – Romania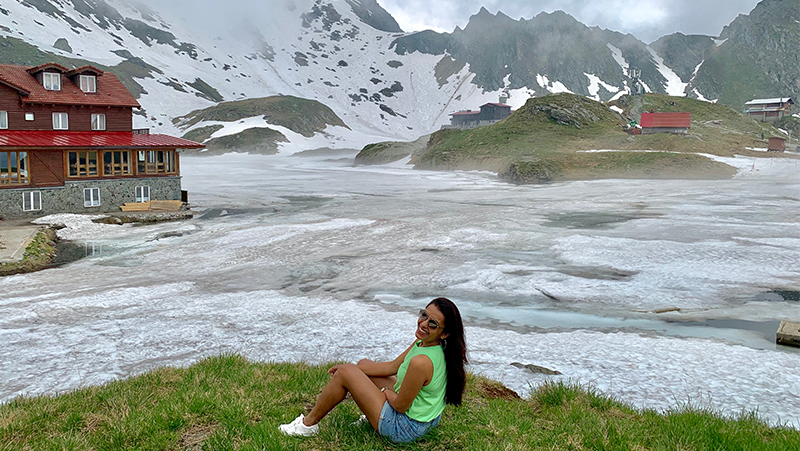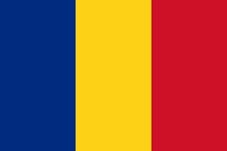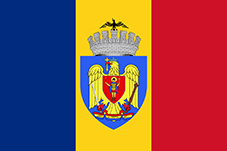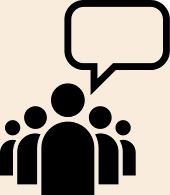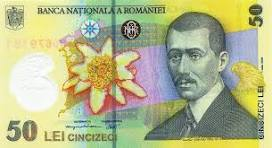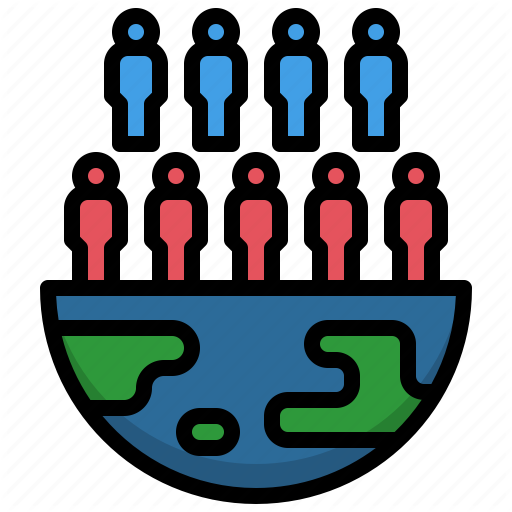 Language: Romanian/Macedonian
Romania has a very rich in history and has a very interesting background: conquered by the Romans in 105AD, Romanians consider themselves to be descendants of the Romans and the Dacias who ruled the country simultaneously before it came under the Ottoman and the Byzantine empires for the longest time followed by the USSR's communist regime which lasted from 1944-1989. In the year 1990, the first elections were held. Also, one thing of significance that needs to be mentioned here is that a lot of the natural beauty that Romania has is all thanks to the Transylvanian Alps or the Romanian Alps as they are locally called. Thus, my dear readers may please note that every time I will mention things to do in Romania, it will essentially be the best things to do in Transylvania too! So, now, without getting into a mode where I end up eating your time by writing things all and sundry.
Let us explore what are the best things to do in Transylvania.
1. Spend a day in Bucharest
This is essentially the very first and major things to do in Transylvania. You do not really have to plan your travel around the Transylvanian alps. Simply wander around the city and soak up all the remnants of the various empires that ruled and shaped this country. You could take the Bucharest walking tour and ask for Catalina as your guide – she is sheer joy. She tells you tales of Romania in a very captivating way.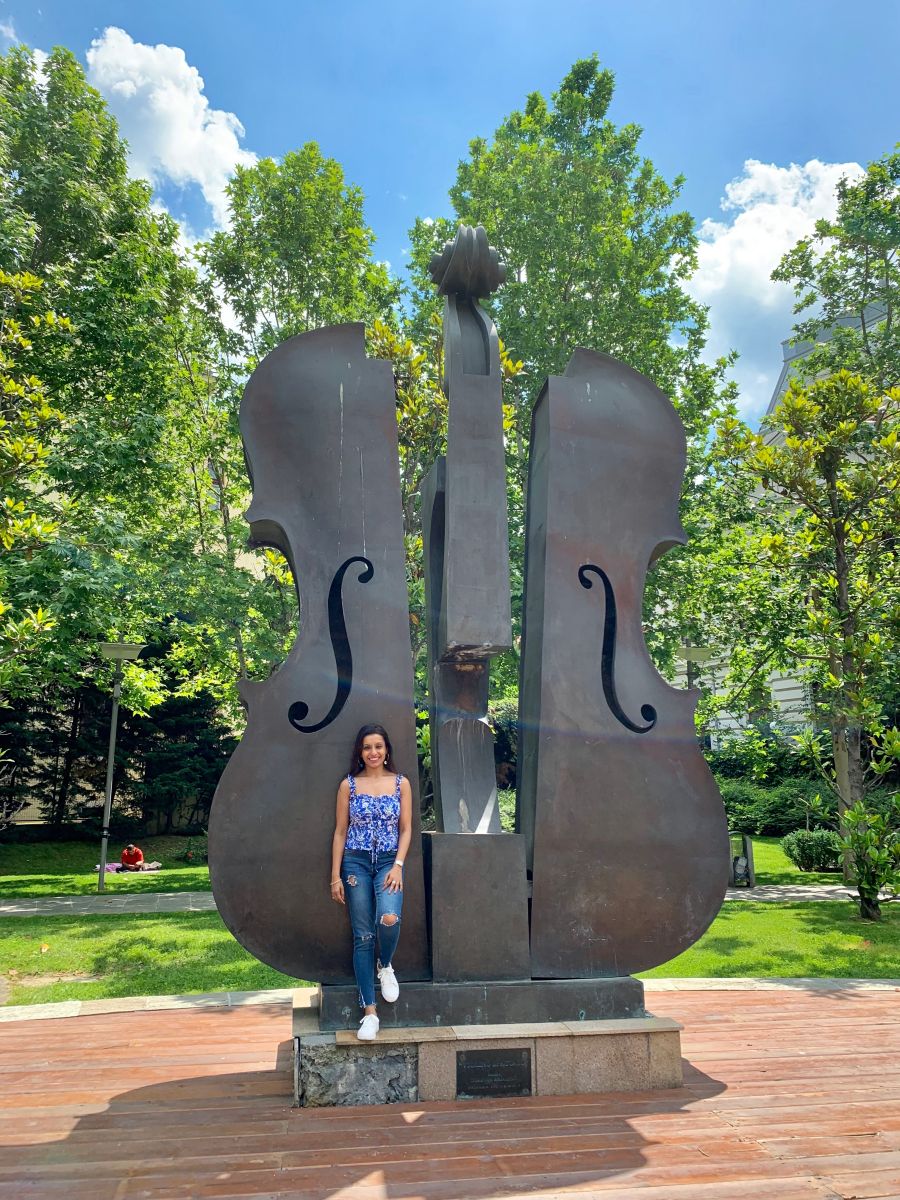 Roaming around the streets of Bucharest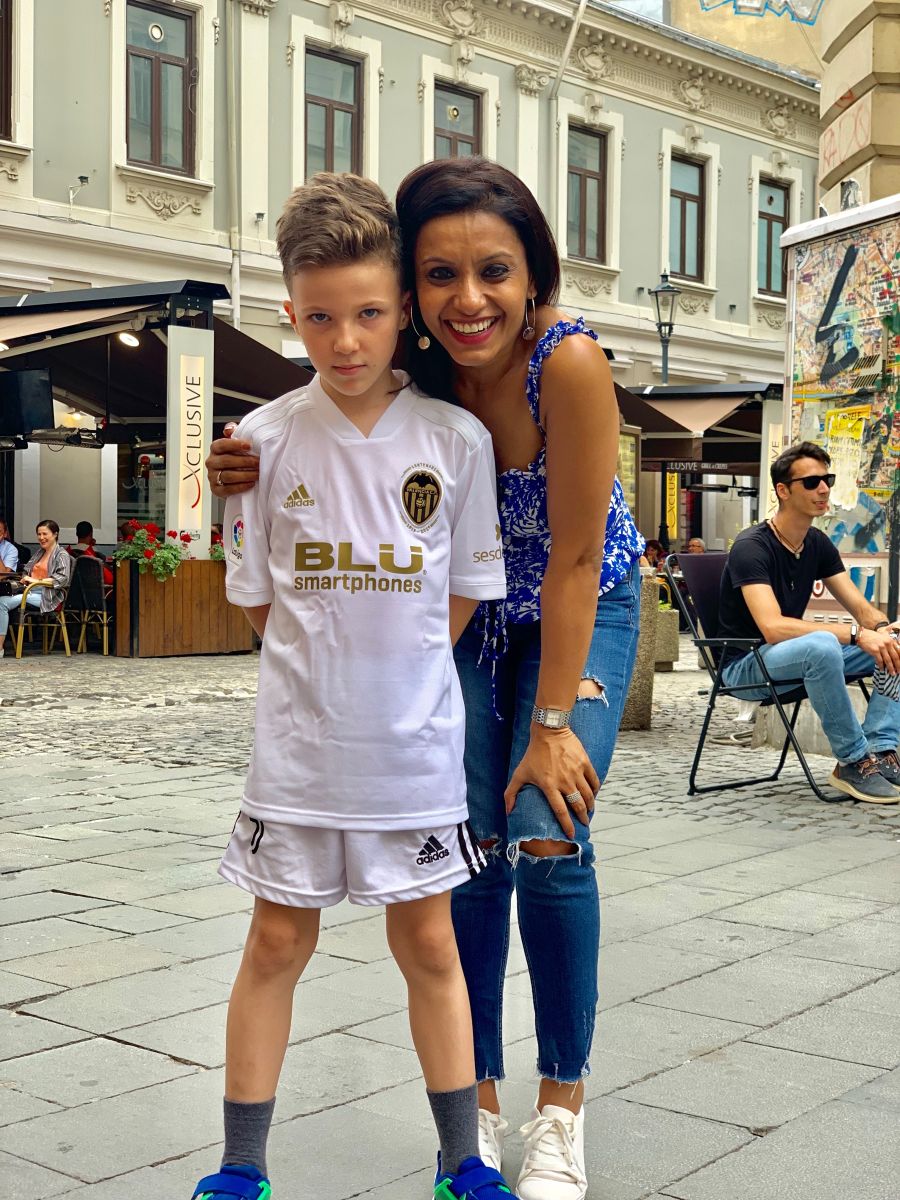 2. Treat yourself to a meal at Caru' Cu Bere
Another greater one of the places to visit in Transylvania, this is the oldest restaurant in Bucharest. Built-in 1924 in a neo-gothic style architecture, it boasts of distinctive nouveau interiors including stained glass and mosaics. Being one of the oldest and having visitors make a beeline once they land, needless to say that the food here is delectable.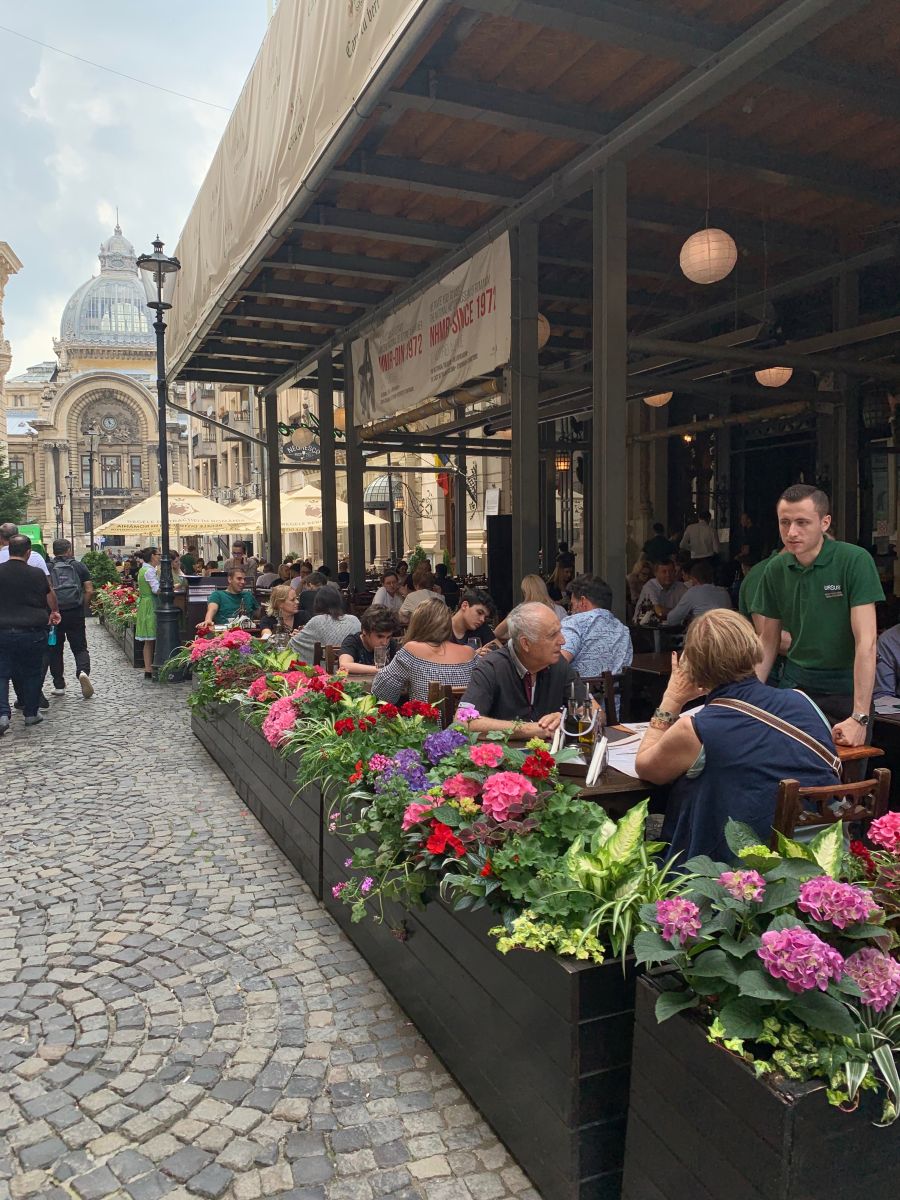 The oldest restaurant in Bucharest
3. Visiting the Peles Castle
In case you are strapped for time and can only visit one castle then Peles castle should be the one'. It's simply gorgeous and the interiors consist of walnut tree carvings, the best Murano crystal chandeliers, mind-blowing frescoes and paintings that you can't take your eyes off. It's on the way from Bucharest to Brasov, so you could stop there on the way. Also, the ride along this place offers a beautiful view of the Transylvanian alps, making it another major one in your list of the best things to do in Transylvania.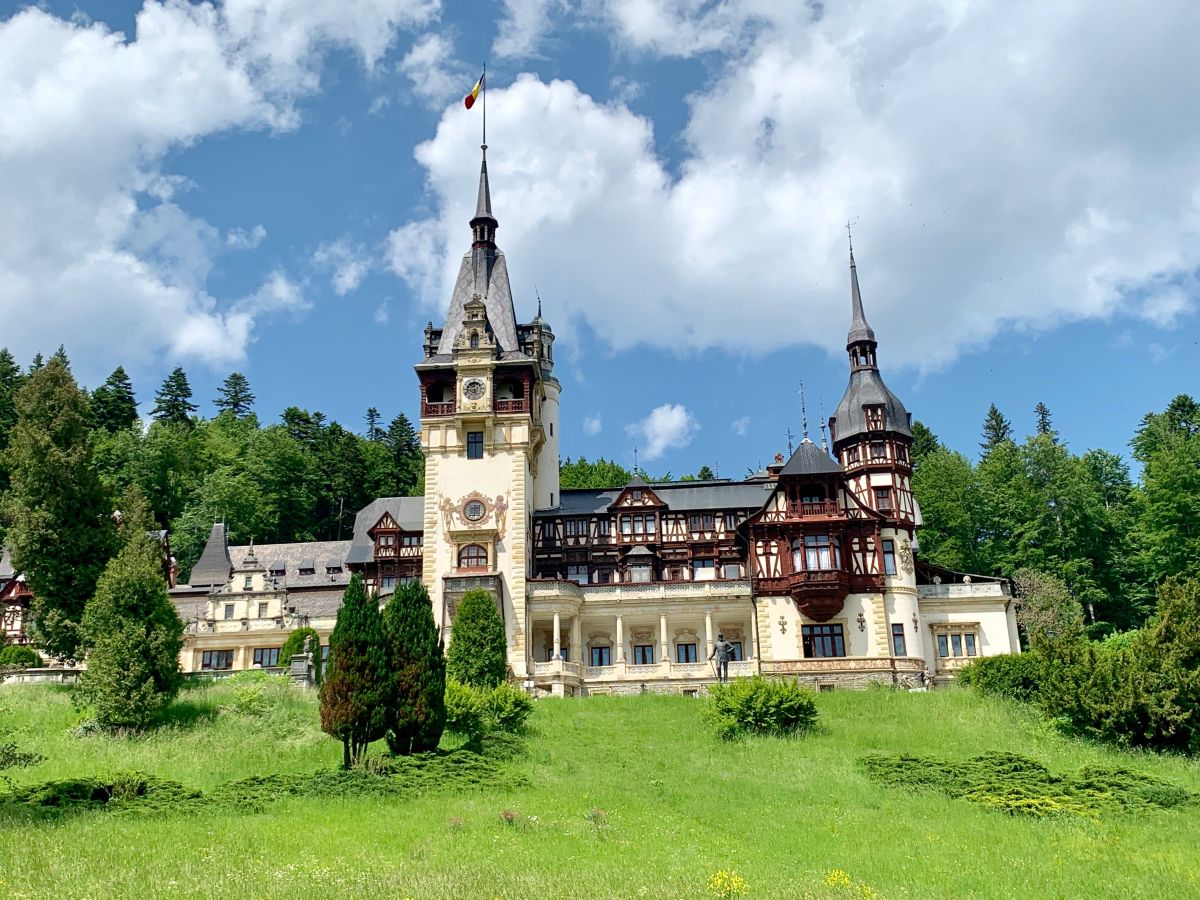 Peles Castle – my favourite
4. Rent a car and drive your way around the Transylvanian Alps triangle
It consists of the cities of Bucharest – Brașov – Sighișoara – Sibiu -Transfagarasan highway – Balea lake and right back at Bucharest. This was my favourite part of the trip and you should also include it in your list of places to visit in Transylvania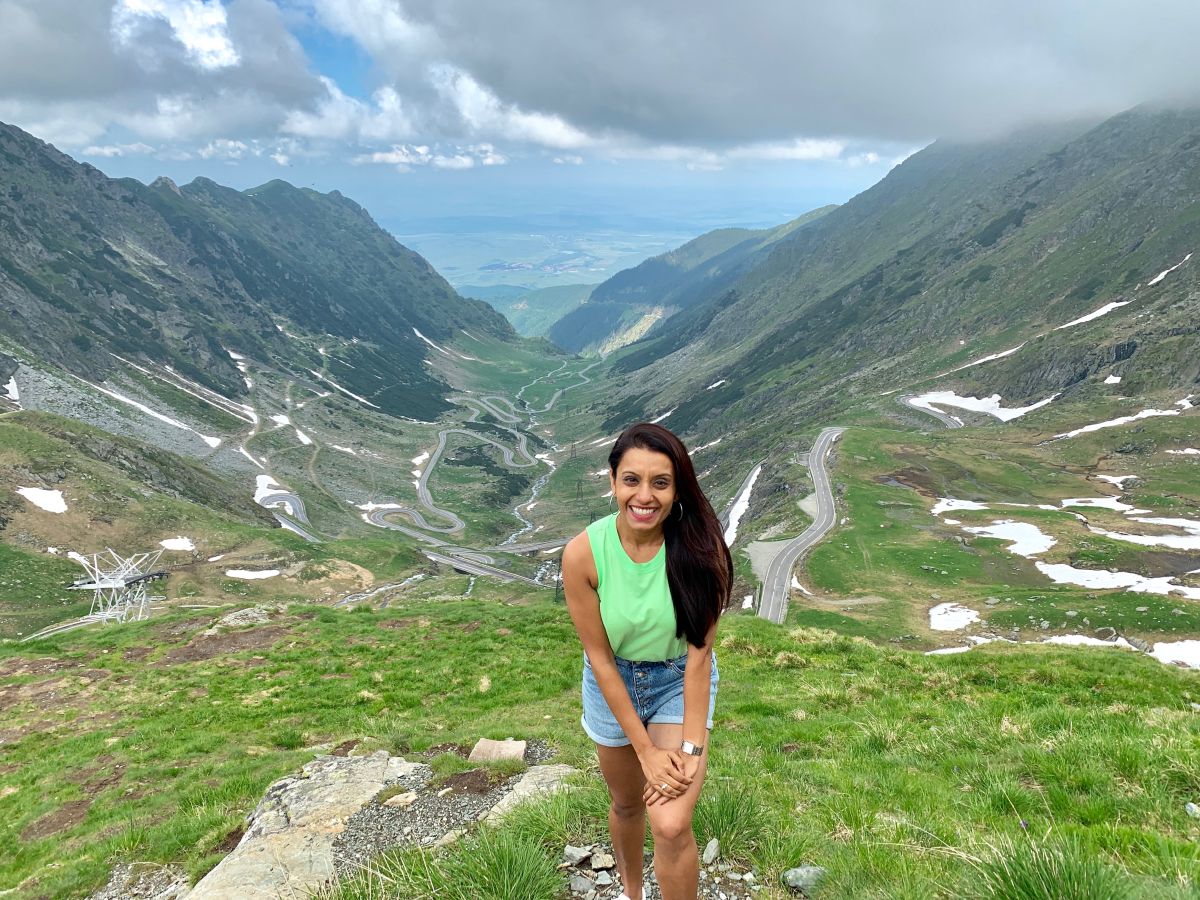 The long winding roads of the Transfagarasan Highway
5. Spend time in Brasov
it was my favourite city in Romania due to the sheer liveliness and colourful old town which is always bustling with people. You can rent a car at the airport and drive to Brasov, which is a 2.5 hours drive. While here, visit the Black Church, the Rope street (narrowest road in the world) and after that if you are craving more of the city then take the cable car up to Tampa mountain to enjoy a stunning aerial view of the city.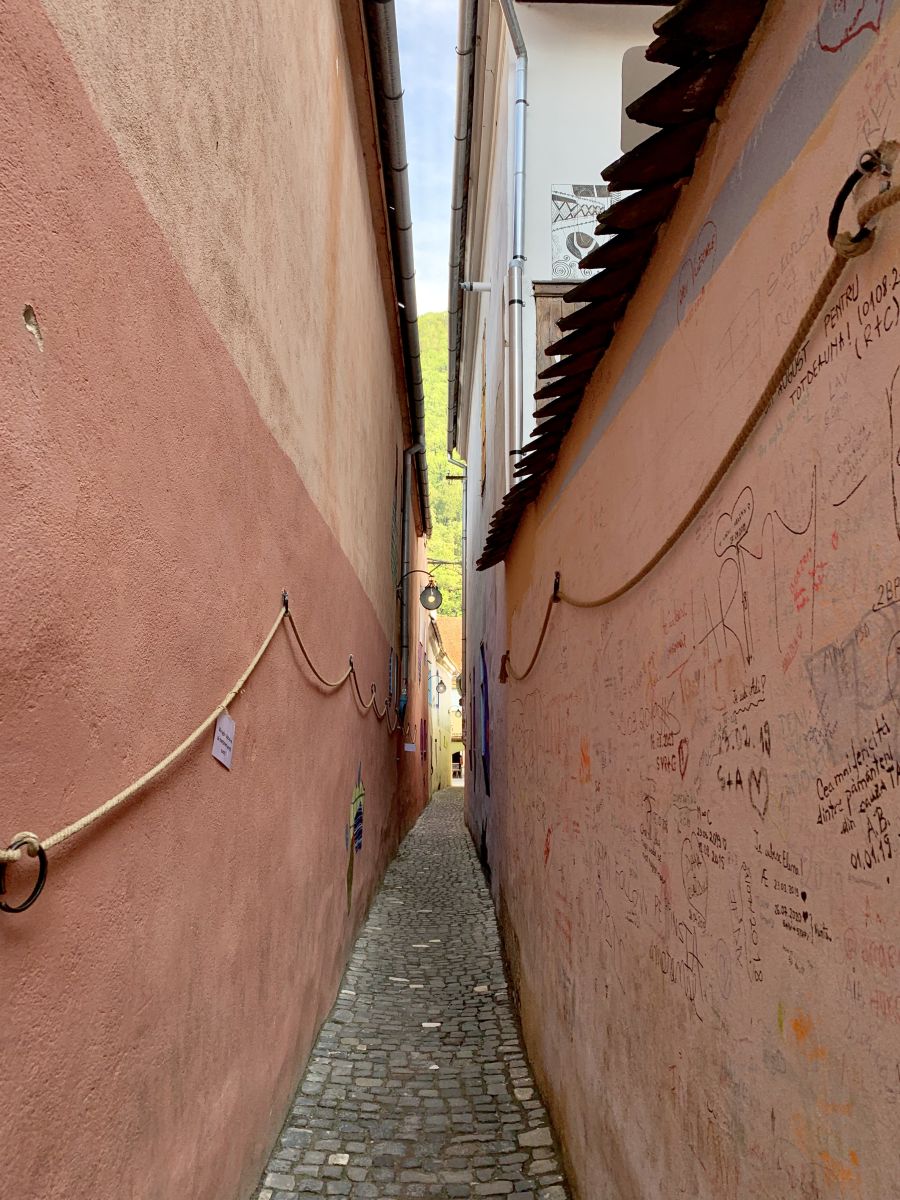 The Rope street – The Narrowest road in the world
Last but most importantly, everyone who visits Brasov doesn't leave without a trip to the Bran Castle which is believed to be the castle where Bram Stoker's Dracula' ( whose character is also believed to be based on the character of Vlad III the Impaler) apparently lived. In my opinion, it's kind of a tourist trap: absolutely overcrowded and there is always a long queue due to the narrow passageways – I wouldn't have my thumbs up for this. Another word of advice – there is a time tunnel please don't waste your time on it either. There are far more beautiful castles than this one; the Peles Castle and Rupea Castle for instance. So, as I end this description, if you are someone who is a fan of Count Dracula or loves ancient architecture, make sure you have Brasov marked high up in your list of the best things to do in Transylvania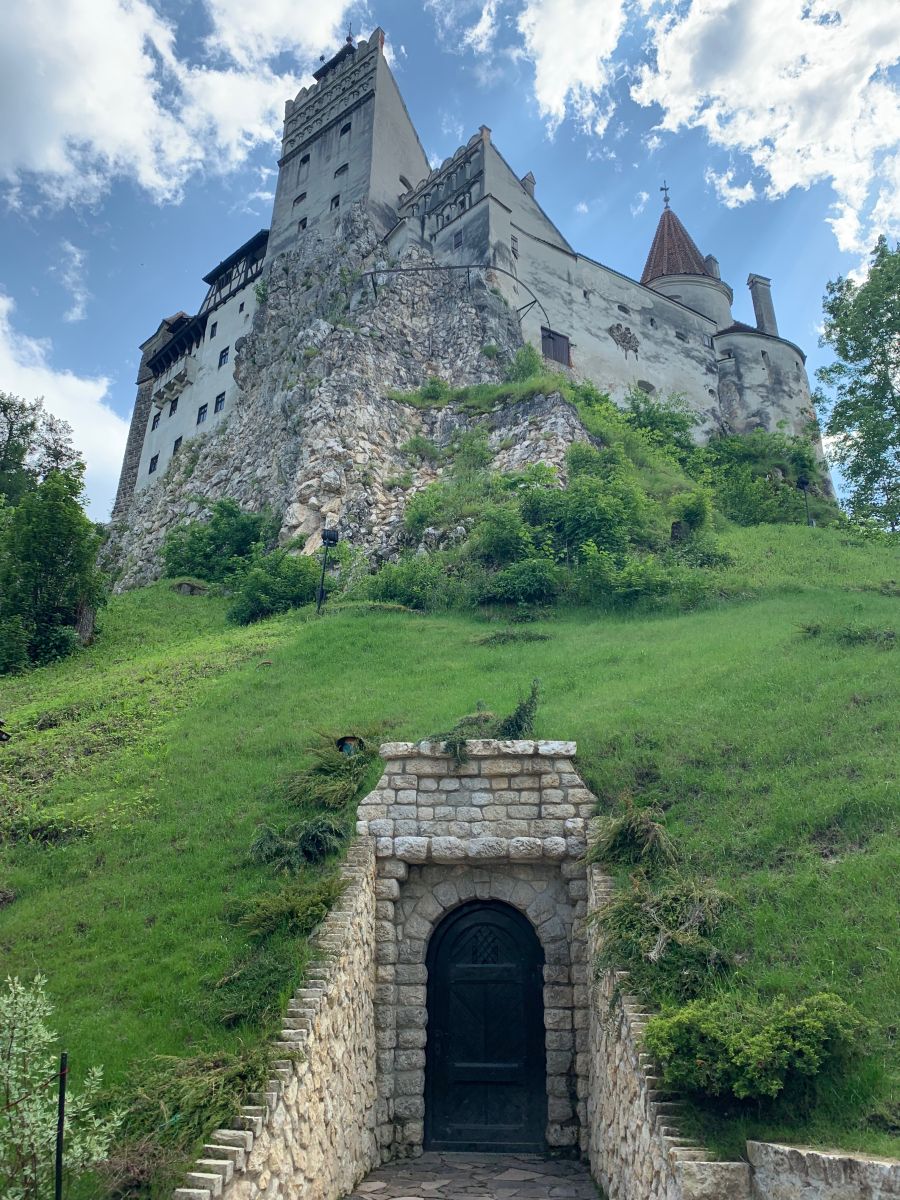 6. Time to tend to the tummy while in Brasov
Have a meal at La Ceaun in the Centre of the old town – it was the best meal of the trip which consisted of Chicken Cauldron, Mititei (lamb kebabs ), Lamb Stew and the Aperol Spritz. Have the crepes at Mad Crepe and the gelato at Emma La Dolce. Also the best place for breakfast in Brasov is Bistro Del Arte – I recommend you get a table outside.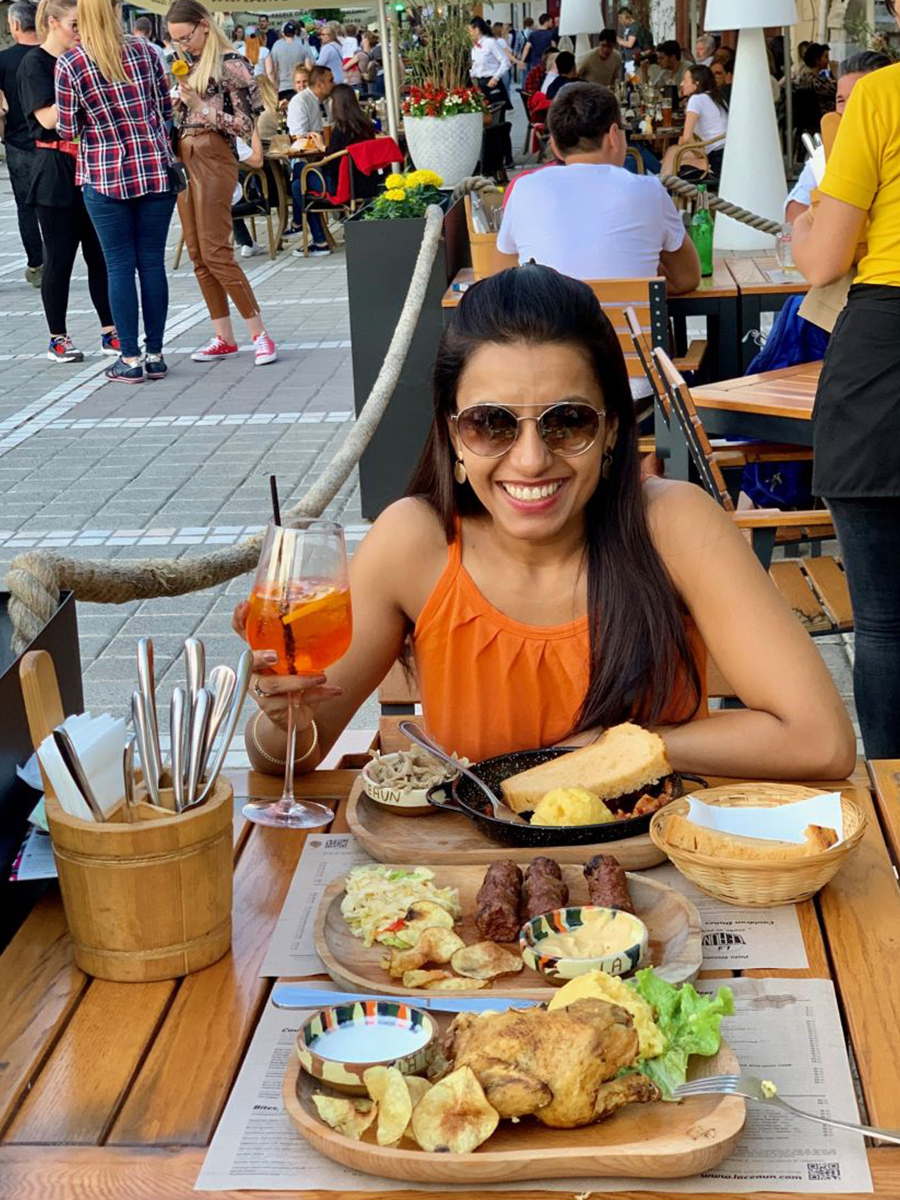 My best meal in Romania at La Ceaun
7. Sighisoara is a charming and pretty town
Visit the old town which is a UNESCO world heritage site and walk by the quaint alleys with colourful houses on both sides. It's a tiny town, so 2 hours is good enough to explore it. Sighisoara, due to its really small perimeter makes for a quick getaway and hence if you are on a short trip and are looking for quick tours to see it all, make sure you include it in your list of things to do in Transylvania.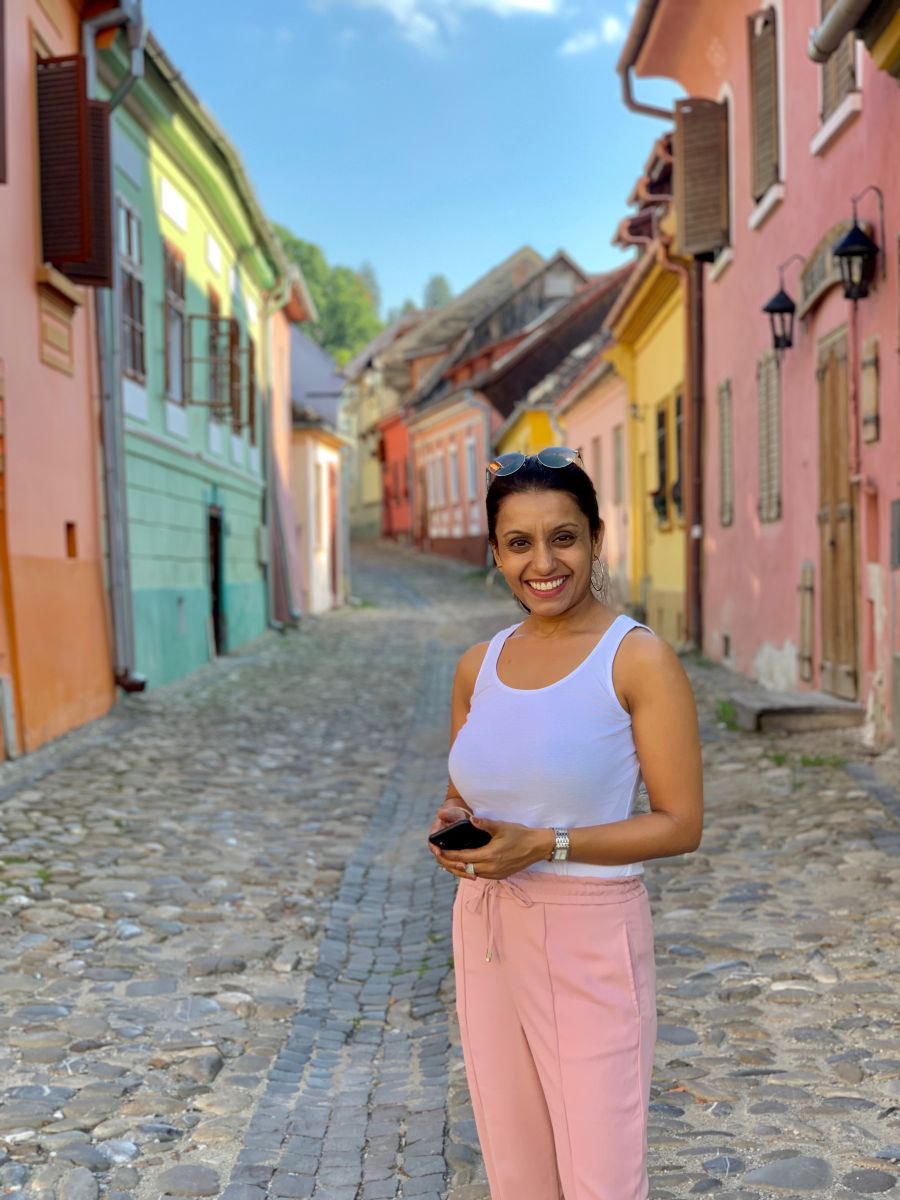 Pretty & colourful streets of Sighisoara
8. The lesser known Porumbacu de Sus
There is a lesser-known magical village in Romania called Porumbacu de Sus and rightly so since it is not a mainstream tourist destination. Valea Zalendor is a fairy village and has peculiarly shaped huts which are really cute. These huts surrounded by the mighty Fagaras mountains and a brook flowing by it, adds to its charm. It's about a 40 minutes drive from Sibiu and is a must visit.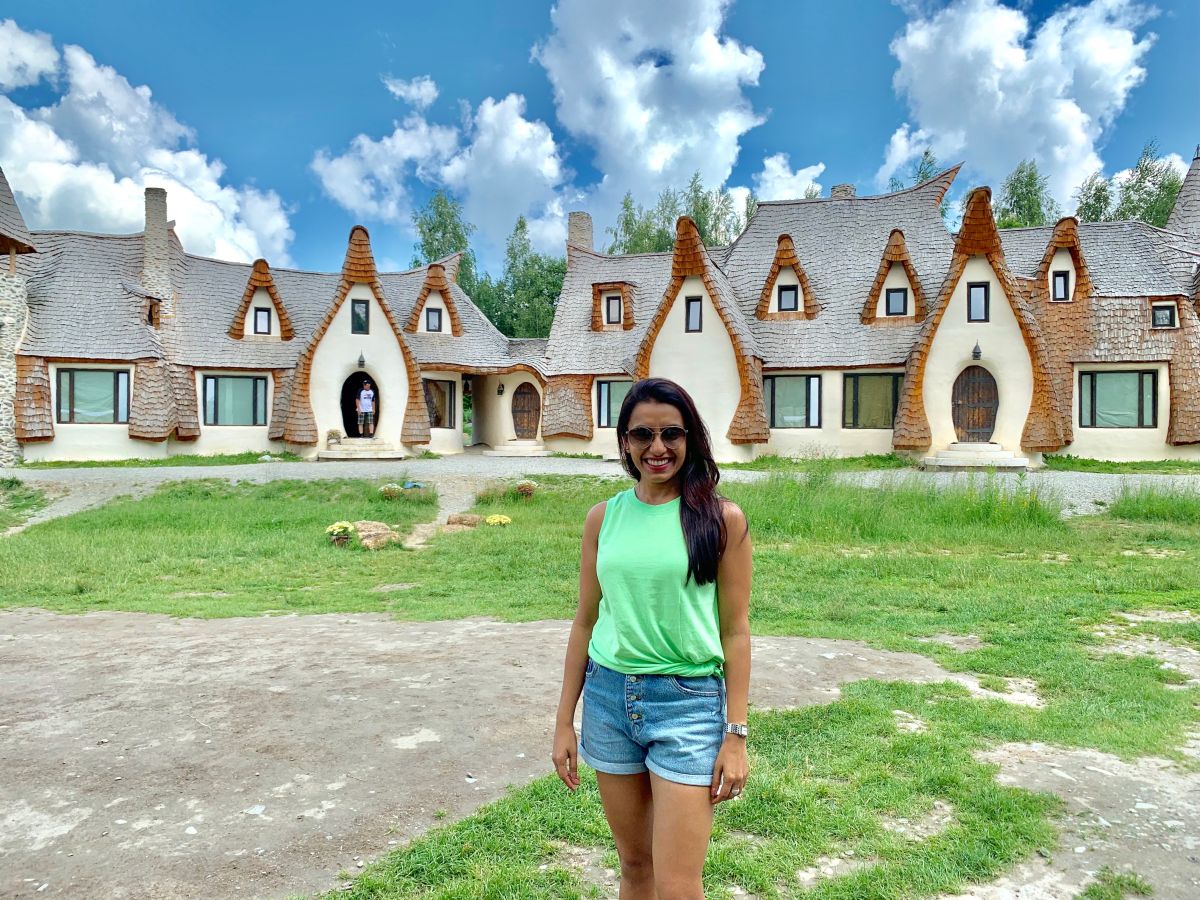 The village of the fairies
9. Driving on the Transfagarasan Highway & stop at Balea Lake
It is the highest point of this highway at 6673 feet. This highway is rated as one of the most beautiful roads in the world by Top Gear and thus, it is one of the best places to visit.The long winding roads through forests and dams makes this a stunning drive.
10. Balea lake
It is a glacier lake that you can either drive to once you reach the Balea cascade take a cable car. We did the latter and the aerial view of this highway was a sight to behold. The lake was totally frozen and it was surreal to walk on this frozen lake. You must go up to the vantage point from where you get great views of the cascading highway.
I could go on and on about the places to visit in Transylvania but this would be my top things.If you have any questions or anything to add to this list of things to do in Transylvania, please feel free to write it in the comments below.
You may also want to read my blog on top things to do in Bulgaria​ which is a neighbouring country and equally stunning and once you are done with all the things to do in Transylvania and if you have more vacation days you should definitely visit Bulgaria too.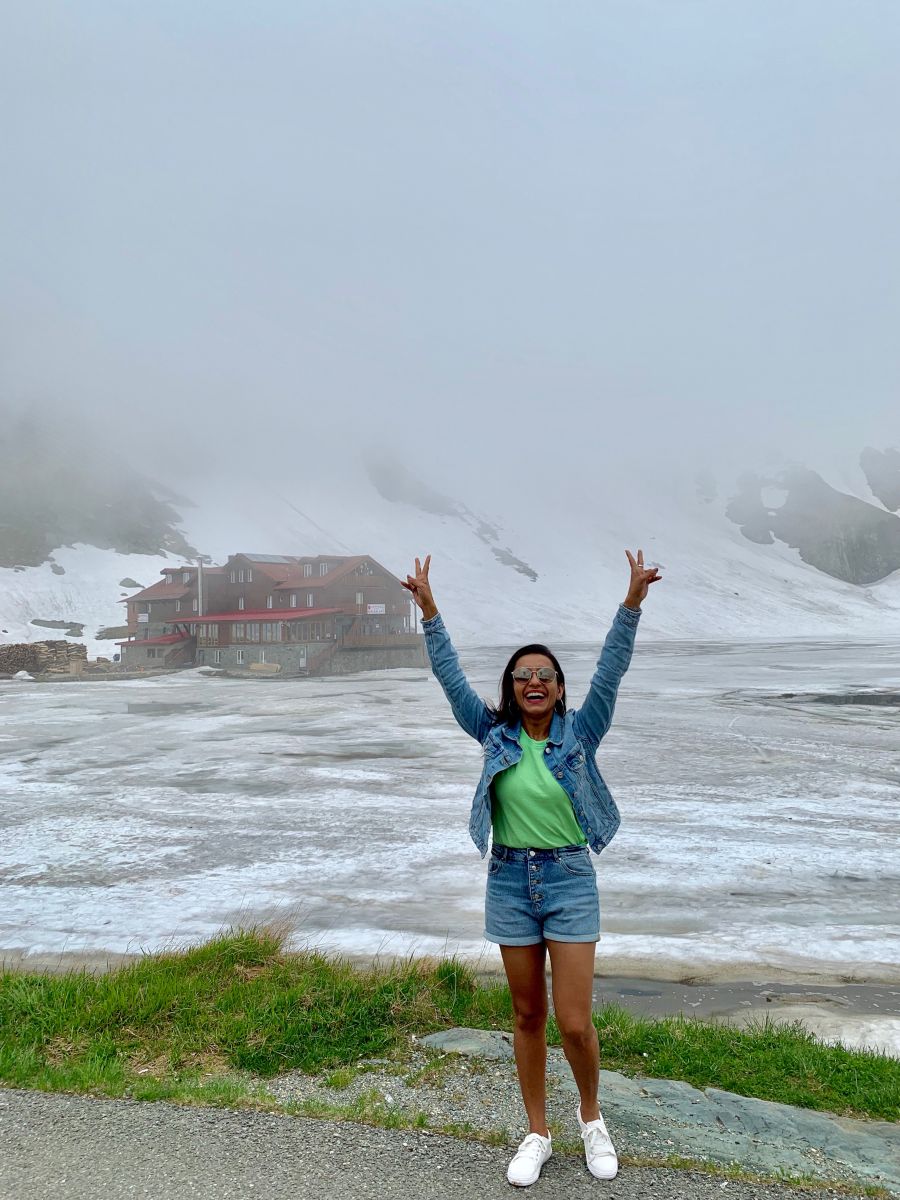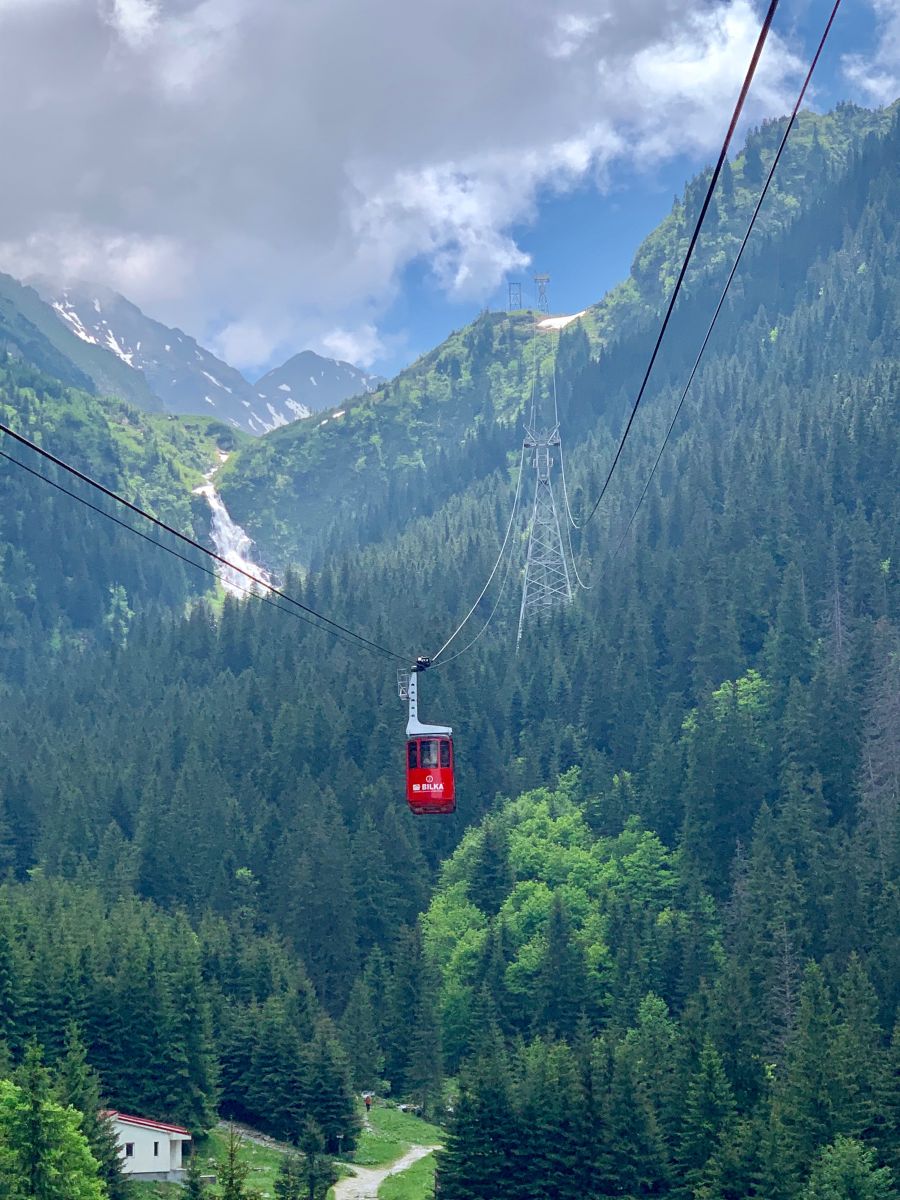 The wonderful cable car ride
If you enjoyed reading this article, please do leave a comment below. You could also follow me on Instagram, Facebook & YouTube to stay updated about my adventures.
Also Read:-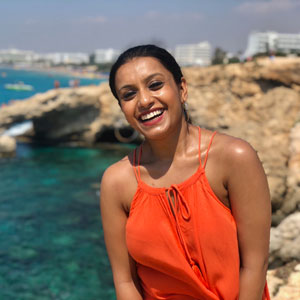 Hey there travel bugs! Glad you made it to my blog. The journey is going to be worth it—I promise.
I am a fearless, unguarded and fun loving traveller. The word 'cannot' doesn't often appear in my life's dictionary. I was bitten by the travel bug a long, long time ago and it has taken me to more than 70 countries and countless destinations ever since. A born networker—I have met and made a gazillion friends across the world and the experiences so far, has more often than not, left me speechless. The more I travel, the more I realise that how much there is left to travel.
So hop on and be a part of my explorations and adventure tales right here on Travel Chatter.
Subscribe to my Newsletter