A marvellous Glacier trek – Perito Moreno, Argentina.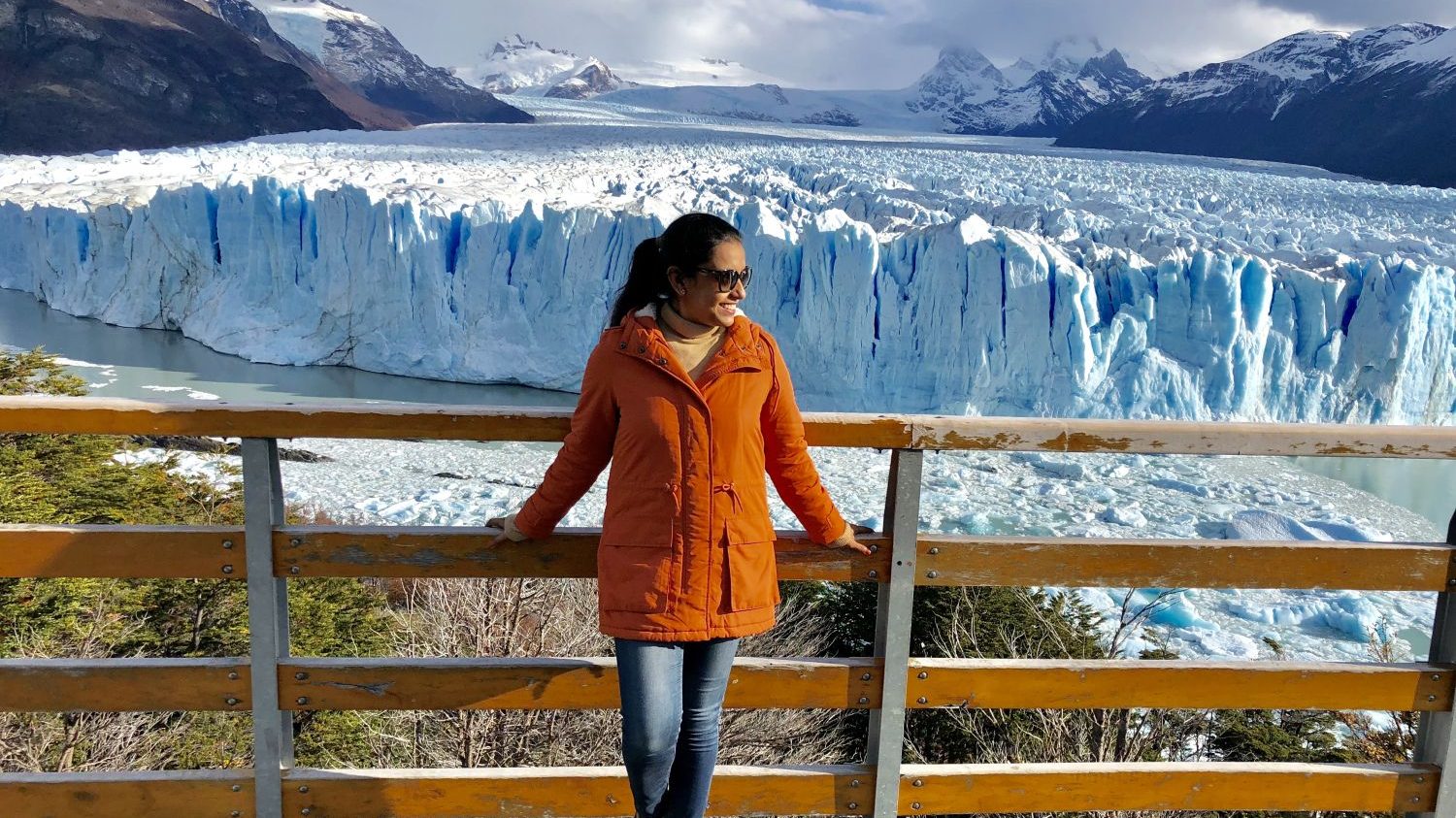 A wise man once said, "If you only visit one glacier in your entire life, Perito Moreno would be a good one to pick." I couldn't agree more!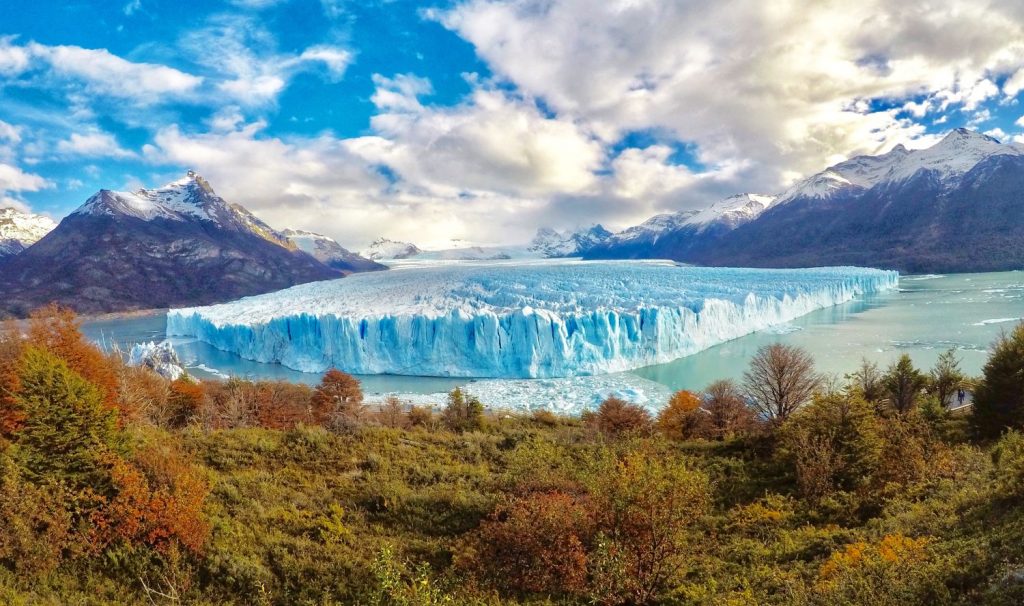 This Glacier towers above the turquoise glacial waters of Patagonia's Los Glaciares National Park, beaming blinding white and exuding cold blue hues. This is one of the few glaciers in the world that is still growing.
The trek on the Perito Moreno Glacier is by far one of the best treks that I have embarked upon so far.
South America had been sitting on my bucket list for a little while now and I knew I had to strike it off soon. My holiday started with Argentina, and of everything I had planned for this entire month, I must say I was the MOST excited about trekking the Perito Moreno Glacier in Patagonia. The pictures looked absolutely marvellous.
After having spent 3 wonderful days in Buenos Aires, I took off for El Calafate, the city which is the closest to the glacier. That morning we were picked up at 7 AM to leave for the Los Glaciers National Park. This park is in the Austral Andes of southwest Argentina, near the Chilean border. It's one of many glaciers including the Perito Moreno, best known for the dramatic icefalls from its front wall into Lake Argentino, and its accessibility by foot.
I highly recommend booking your mini trek trip with Hielo Y Aventures. They are simply the best in town. The drive to the park in the morning takes about 2 hours. We watched the sunrise in the park and it was spectacular to see how the sky changed colours as the sun shone into it.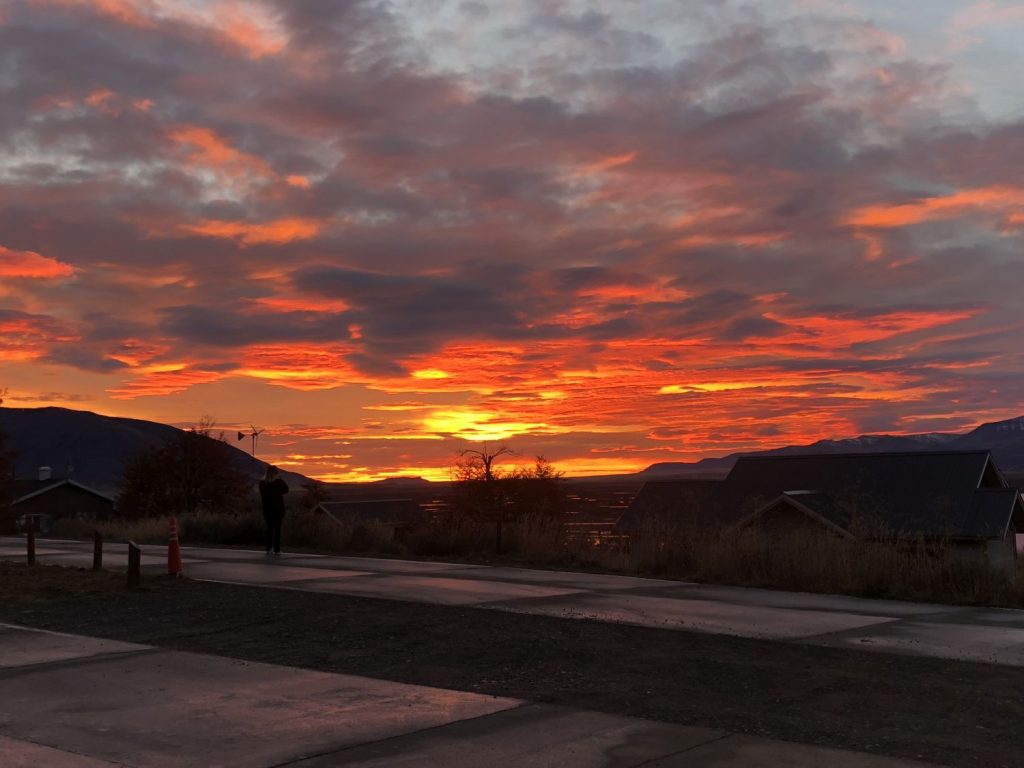 After a while, once I had the first sight of the Perito Moreno my excitement knew no bound, I couldn't wait to get closer.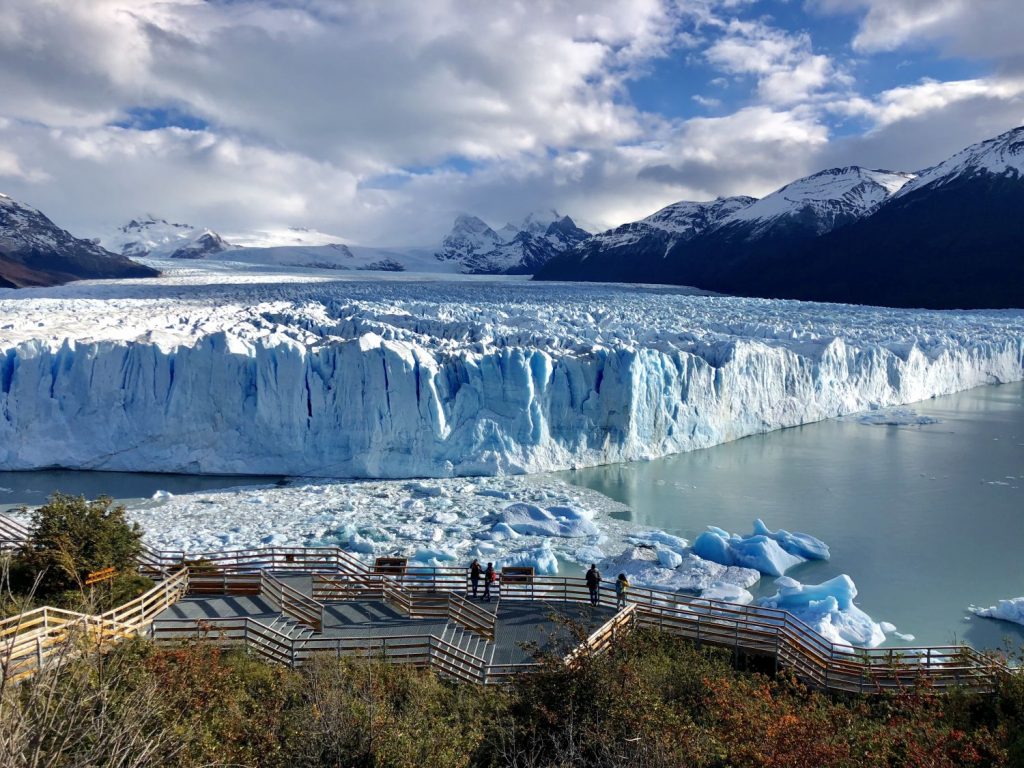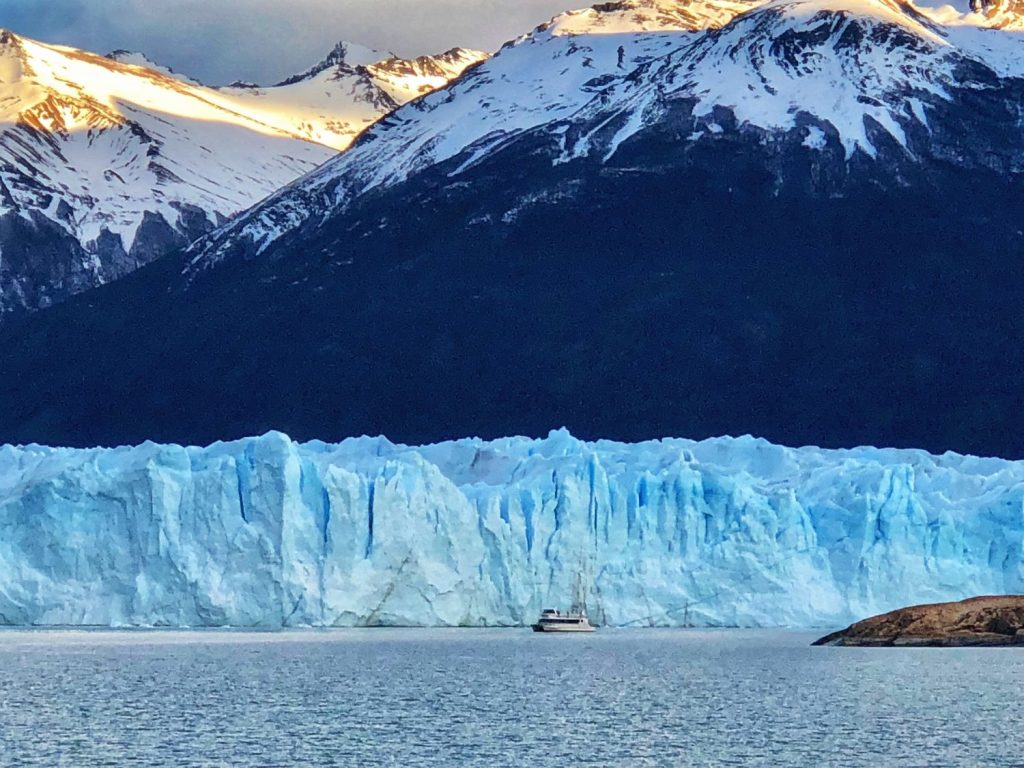 The bus dropped us off at a jetty from where we took a boat to the trekking point.
After having left our bags, we started off for our mini trek to the glacier. We walked through a glacier beach and a walkway where we could view the glacier in its entirety all around us.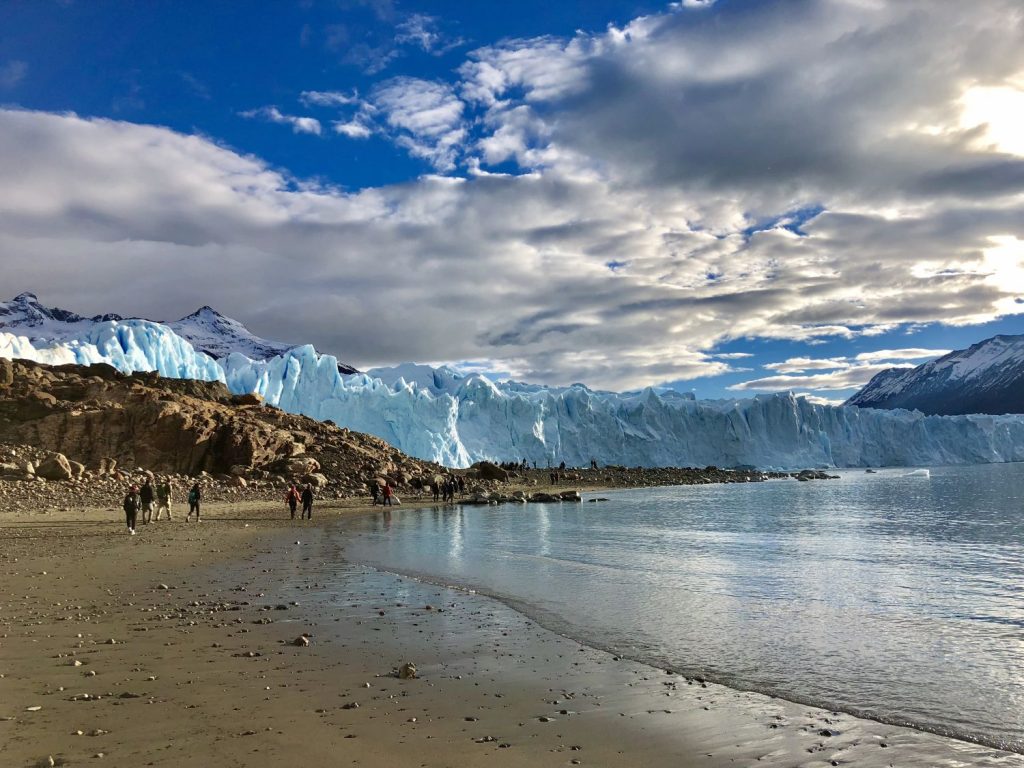 We then put on our crampons (which is essential to walk on the ice) and then the most spectacular trek of my life began.
Initially, it was a little difficult to walk on ice with your crampons but after a while you get used to it. We started slow and were given instructions on how not to fall off while walking.
We were then taken to a vantage point which had the huge walls of the glacier facing us, the sight was mind blowing!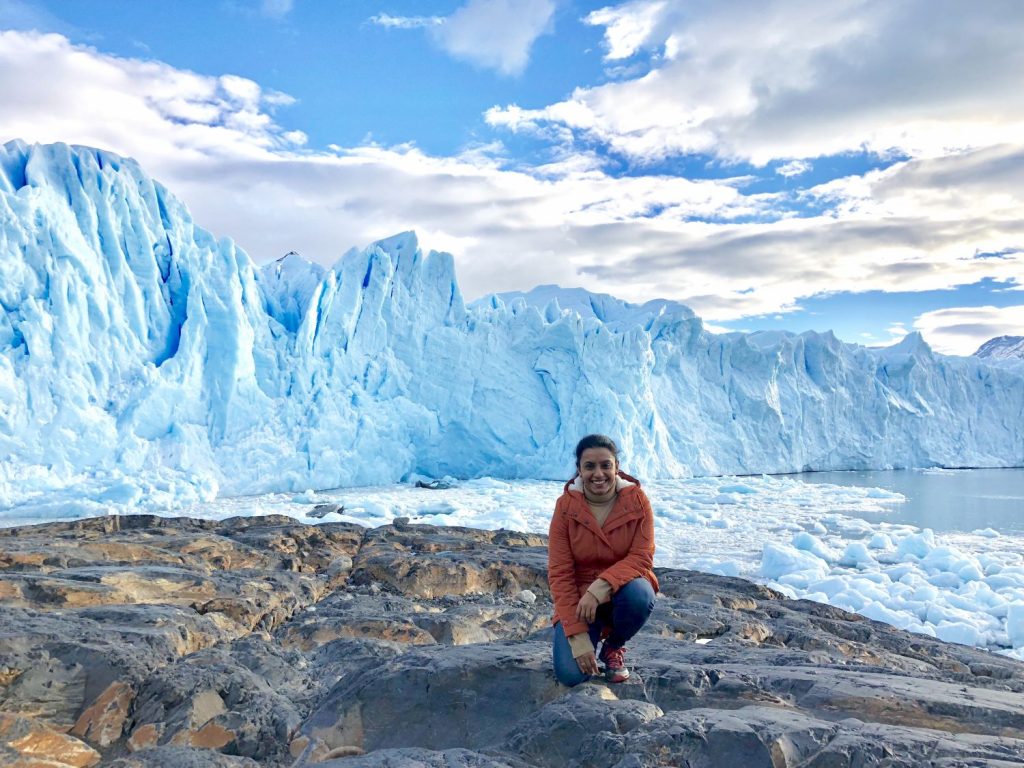 The ice all around us and the captivating blue colour of the Glacier was magical. We saw huge chunks of Ice fall off from the Glacier walls into the lake–no pictures or words can do justice to the beauty of this remarkable place. We were stunned and how!
We then walked past ice crevices and Glacial Lagoons and the vibrant shades of blue from streams and gullies sparkled under the brilliant sun.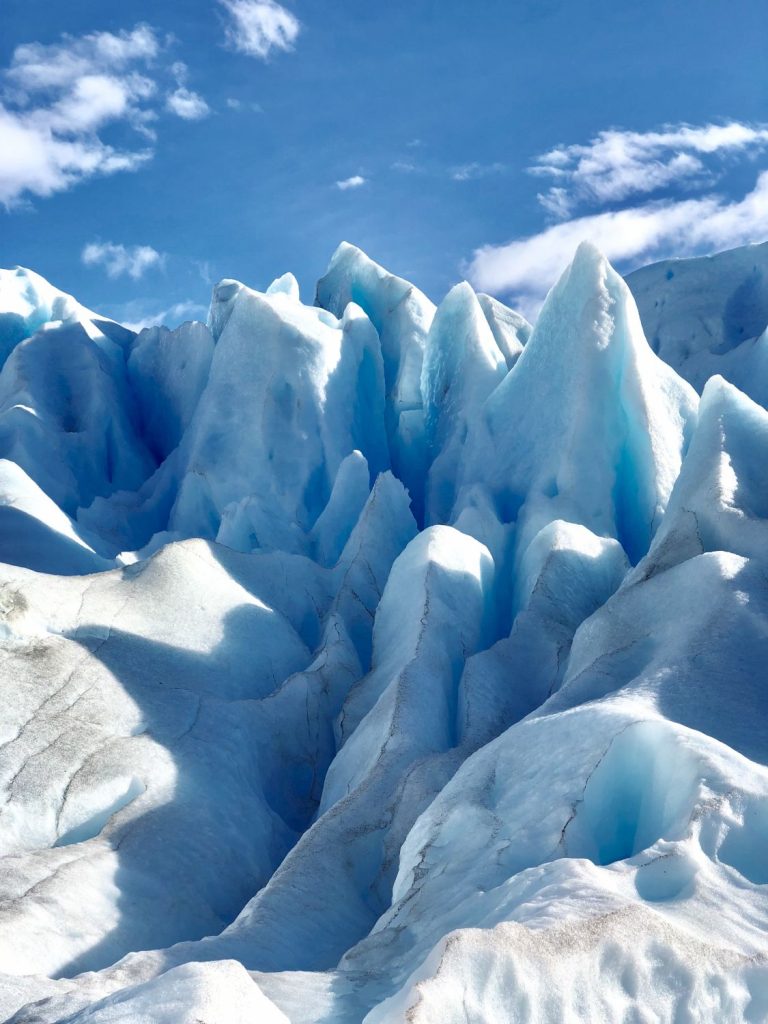 We continued our trek for an hour and a half through icy peaks, cracks, small ponds and columns of glacial ice to arrive at a glacial lagoon… It was an astounding moment.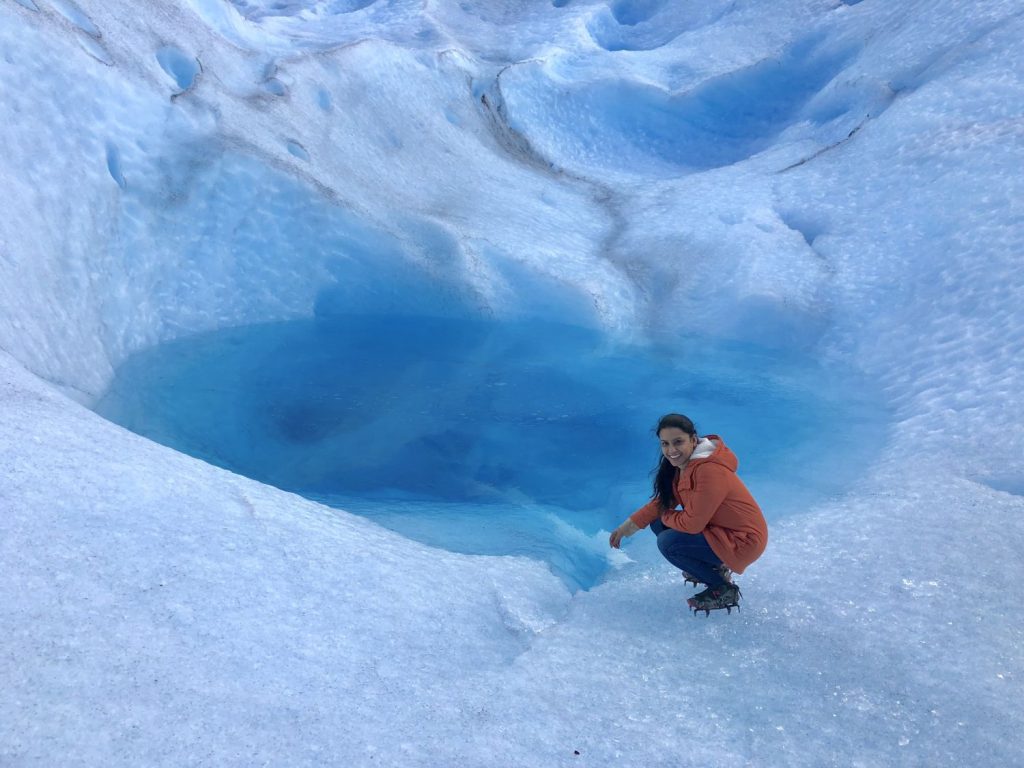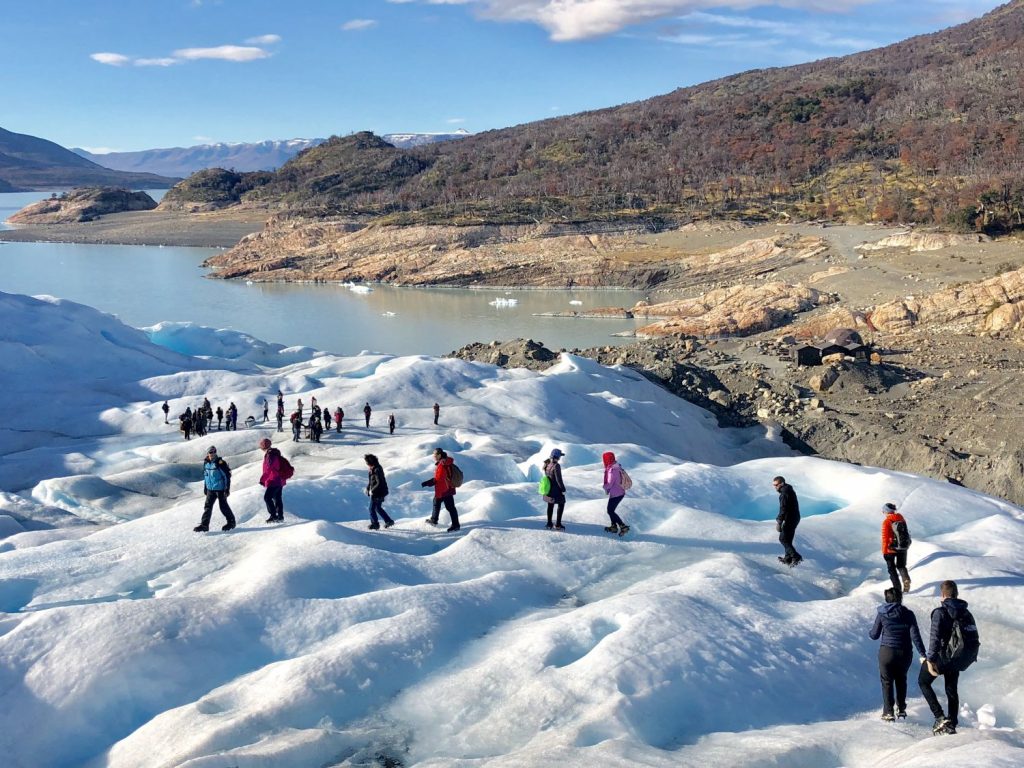 I found out later that the glacier is named after the famous explorer, Perito Moreno and it extends over 250 square kilometres – larger than the size of Buenos Aires – and is still growing which makes it very unique.
As huge as it looks on the surface, beneath the water there is more of it. What we see is literally only the tip of the iceberg.
This Patagonian trek did seem like it got over too soon. At the end to crown this memorable, once in a lifetime experience we had a glass of whiskey served with glacial ice and some chocolates.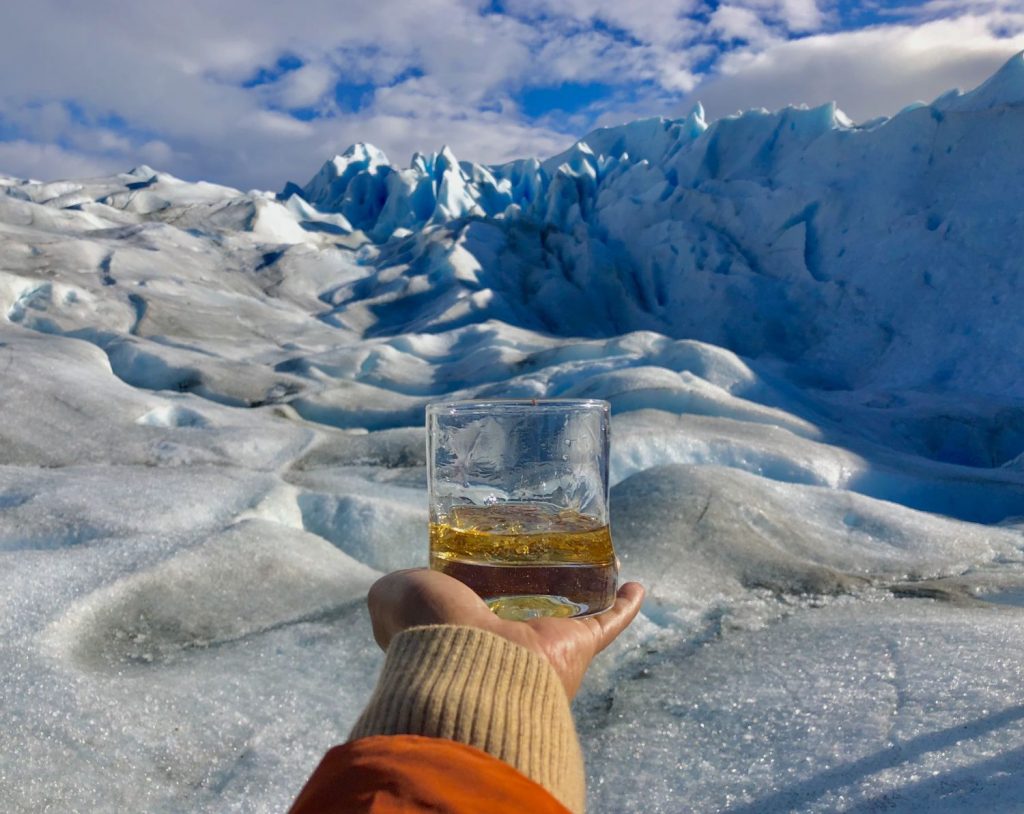 Well, we soon got to know it wasn't over yet… Apparently, we had a surprise waiting for us right at the end and Bouy! What a surprise it was. The guides took us into an Ice cave which had some 50 shades of Blue inside of it and a cold stream flowing in it..surreal was an understatement!!!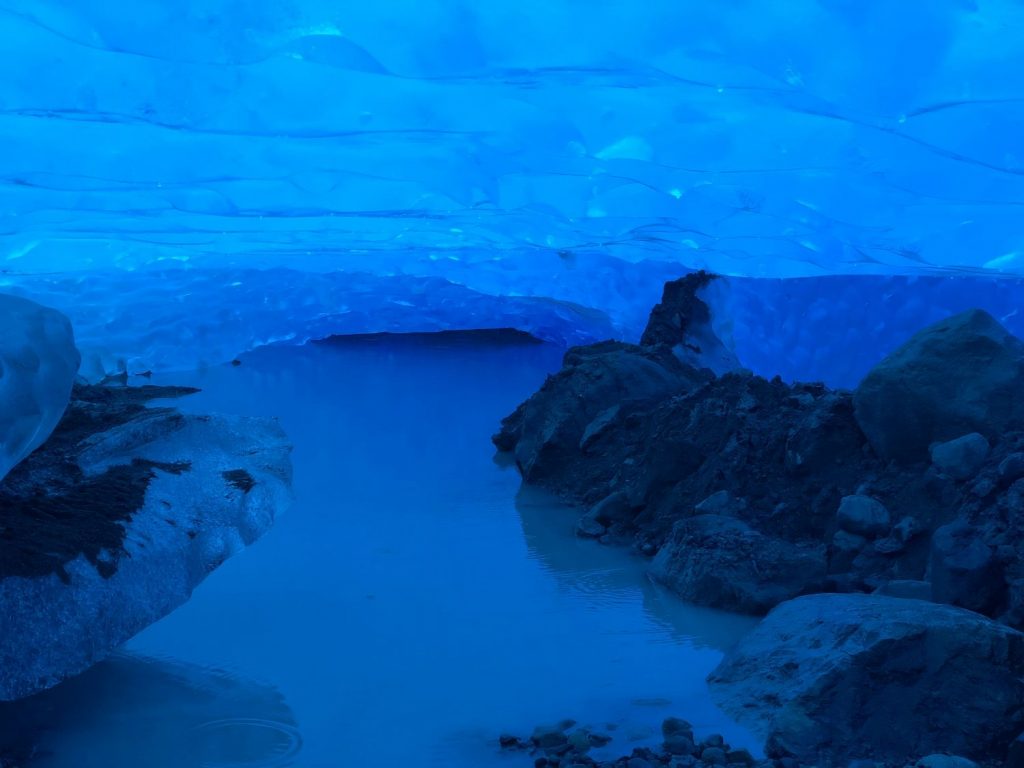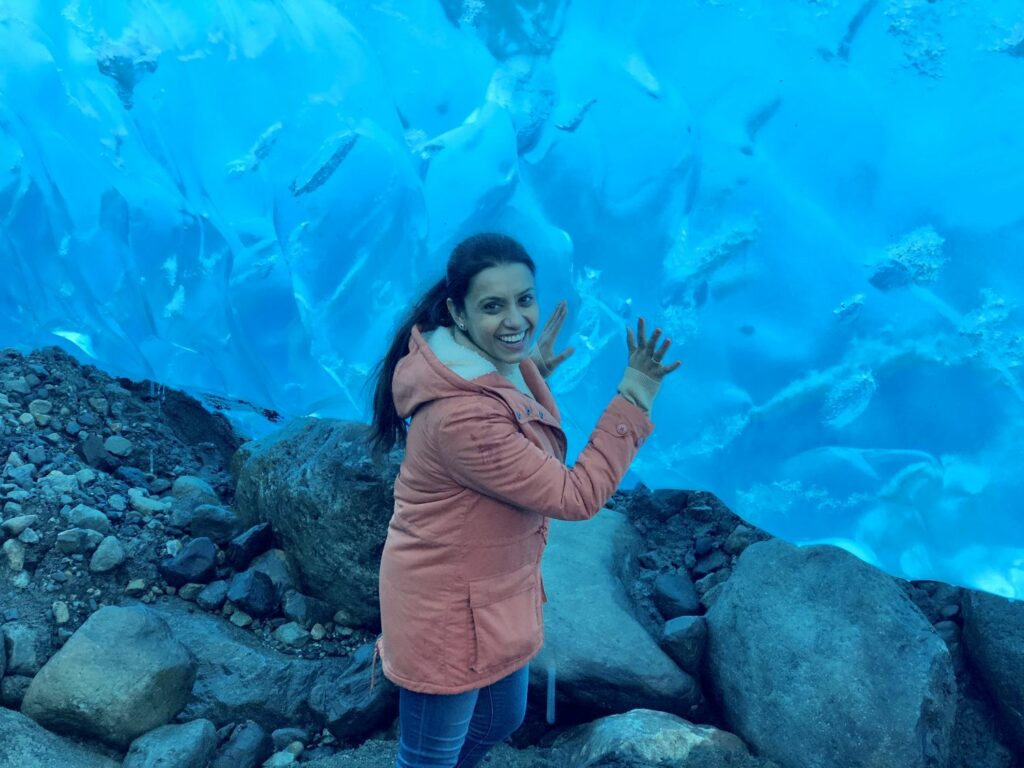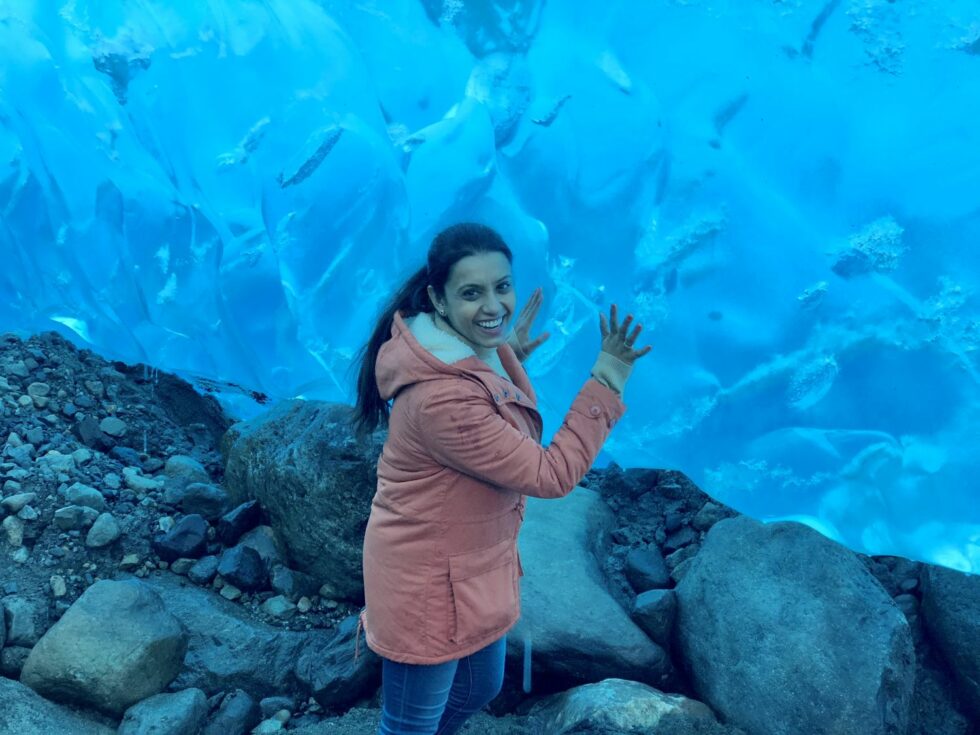 We then took to the balconies–the viewing platform and we spent around an hour there looking at the vast expanse of the glacier, this time from a distance.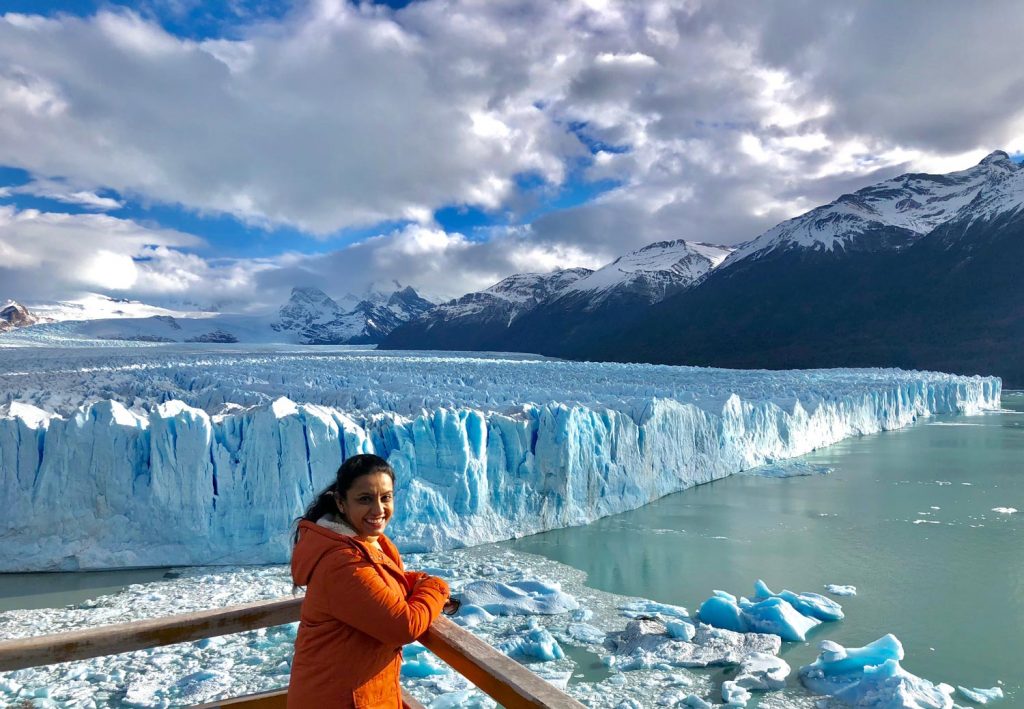 All I could tell myself while I stood awestruck at this sight was "What a wonderful world it is!"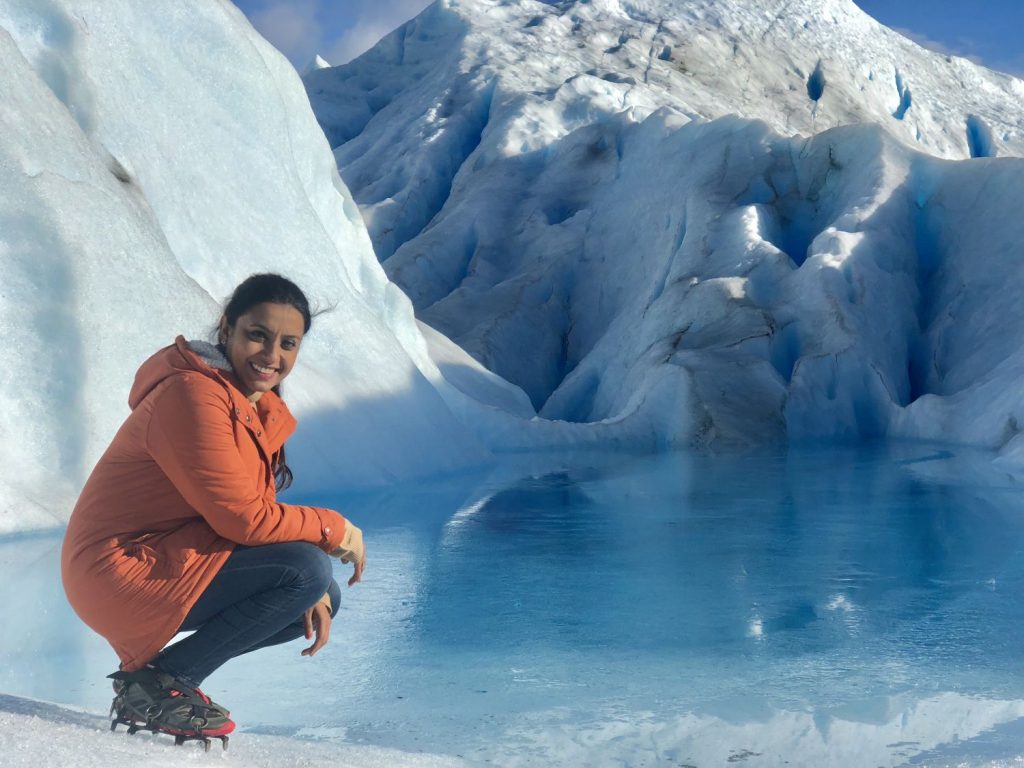 I took a million pictures here… I just couldn't get enough of this place.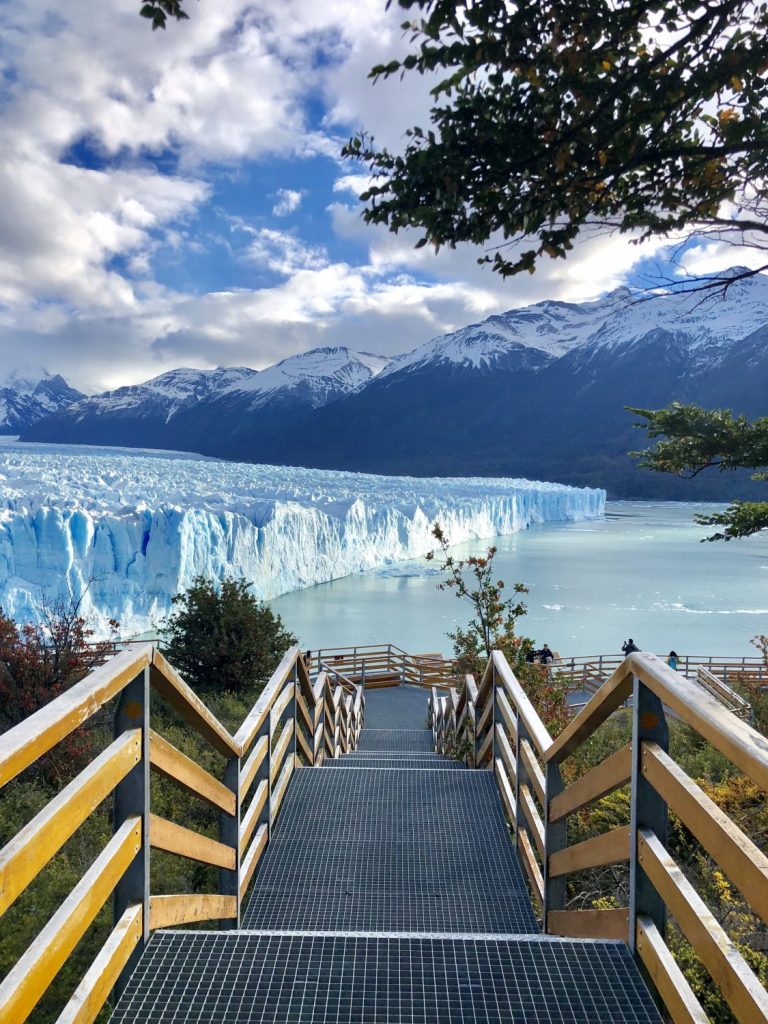 The glacier looked even more massive than it did while we walked on it and the sheer magnificence of the high glacial walls in front of us and the river of ice that flowed from the mountains with clouds covering parts of it made it an "out of the world" experience.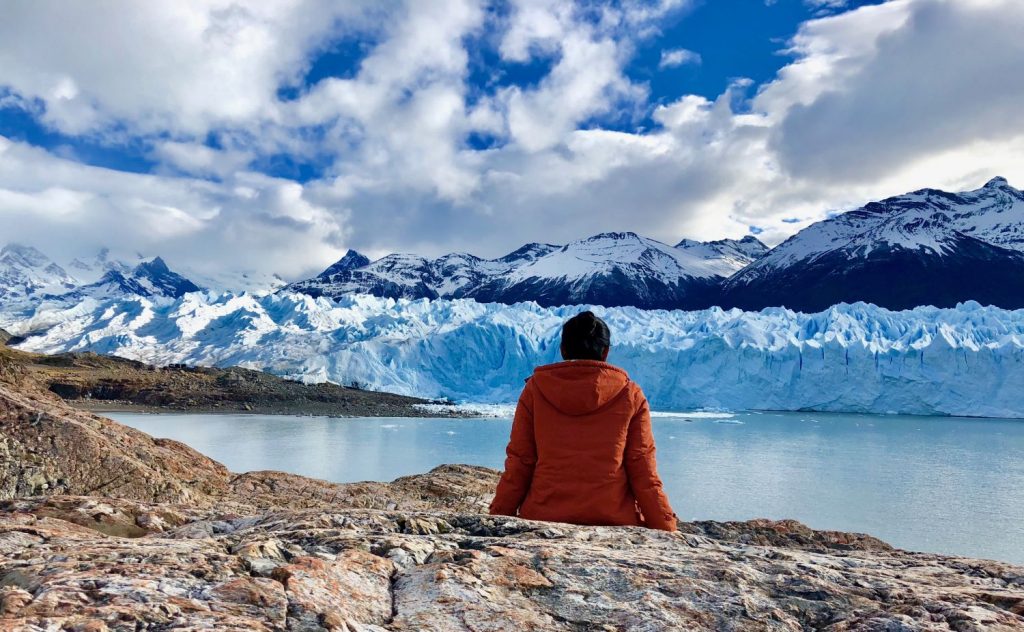 No matter how much I write and try to articulate my feelings, nothing can even come close to what I felt standing there. It surely was one of the most beautiful things I have ever seen in my life… A truly breathtaking landscape!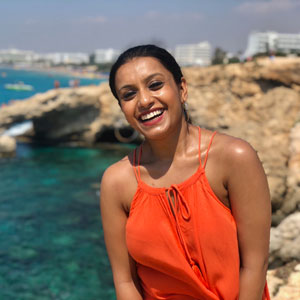 Hey there travel bugs! Glad you made it to my blog. The journey is going to be worth it—I promise.
I am a fearless, unguarded and fun loving traveller. The word 'cannot' doesn't often appear in my life's dictionary. I was bitten by the travel bug a long, long time ago and it has taken me to more than 70 countries and countless destinations ever since. A born networker—I have met and made a gazillion friends across the world and the experiences so far, has more often than not, left me speechless. The more I travel, the more I realise that how much there is left to travel.
So hop on and be a part of my explorations and adventure tales right here on Travel Chatter.
Subscribe to my Newsletter