7 best things to do in the holy city – Varanasi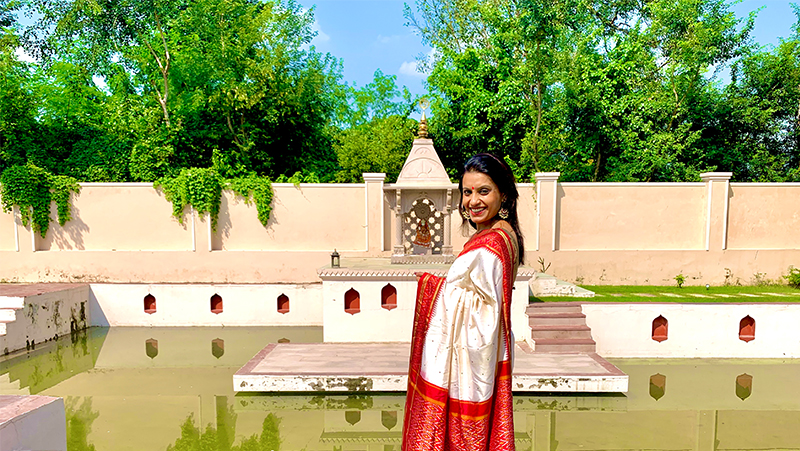 As Mark Twain said, "Benaras is older than history, older than tradition, older even than legend and looks twice as old as all of them put together ", and rightly so. Varanasi – a city which is believed to be the centre for knowledge, philosophy, culture, arts and crafts for centuries, sits on the bank of the mighty Ganga. Many of you may already know that a dip in the river here in Varanasi will wash you off your sins. Not quite the reason for my visit but it has been sitting on my list for a while. I guess I was trying to find the perfect time to visit this city of abundance. Besides, there have been some amazing pictures of other travel bloggers and photographers, which constantly persuaded me to head to Varanasi.
It was an upcoming long weekend of Dussehra 2019 and I decided in a wink that 'Varanasi, it is!" Spicejet flies directly to Varanasi from Mumbai and it costs us Rs.9000 for a return ticket. I guess if you book earlier, you could be in for a greater deal.
The moment you walk out of the airport you will be swarmed with taxi drivers who are usually quite dearer than the usual taxis on the road; therefore my suggestion would be to hop into an Uber. The drive to the city from the airport is about an hour, given that we were visiting during one of their main festivals, there was a lot of traffic on the roads in the evening.
As much as I loved the hustle and bustle of this mystical city, I was also happy to stay away from it in the Tree of Life Resorts which was a perfect place to unwind and soak up all the tranquillity. The customer service was impeccable with extremely polite and courteous staff who did their every bit to make our stay comfy. And the food here was delicious too…
Here are my top 7 things to do in Varanasi:
1. Witness the mesmerizing Ganga Aarti on the ghats of the river
This by far was my favourite there. This is a tradition in Varanasi –  every evening after sunset, priests must offer their prayers to the river Ganga, come hail, storm or rain. People from all around the world come to watch this. You could either watch it from a boat on the river or at the ghat and see it from the front row. We did the latter and it was an awesome experience. We paid Rs.1300 to not only be in the very first row but also to be a part of the offerings/puja. This is an absolute winner in the list of things to do in Varanasi at night. The best place to catch a glimpse of the evening aarti would be the Dashashwamedh ghat.​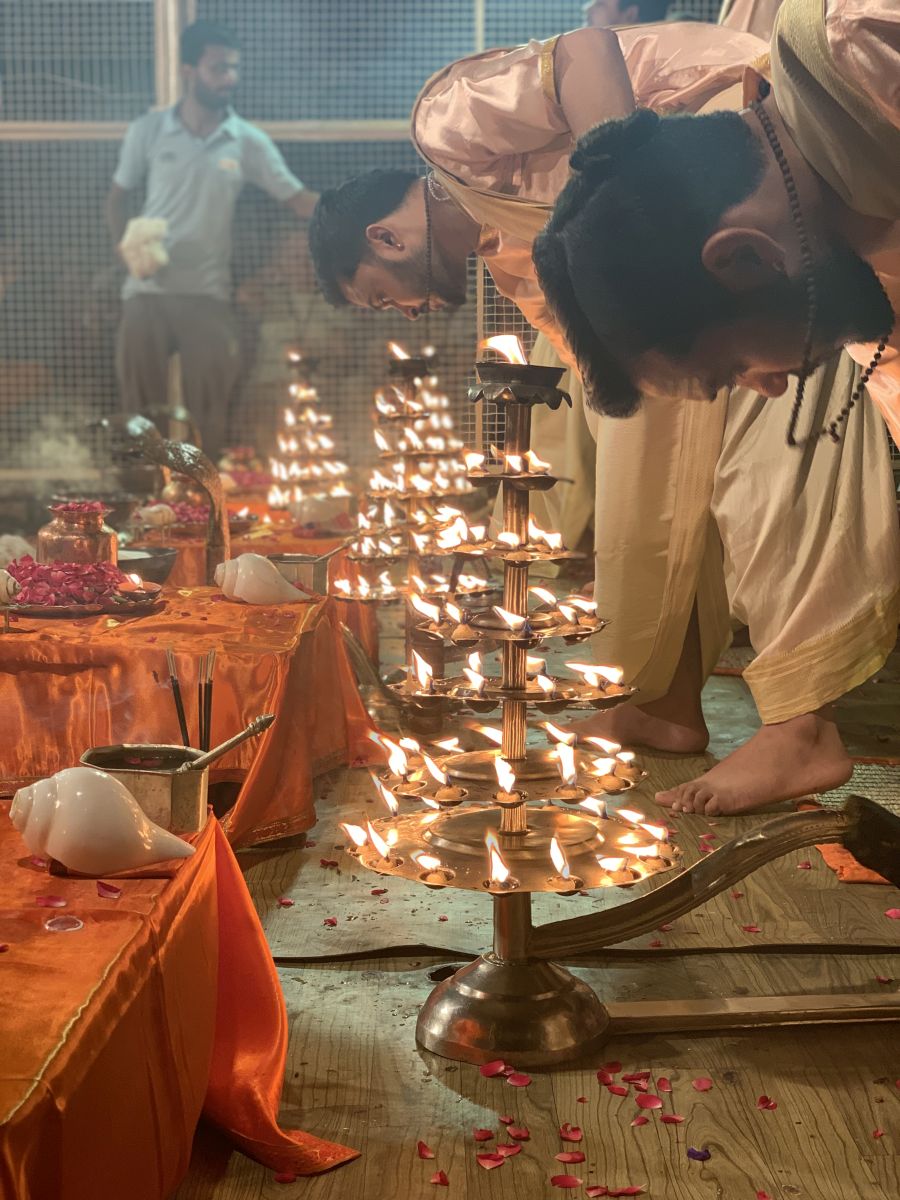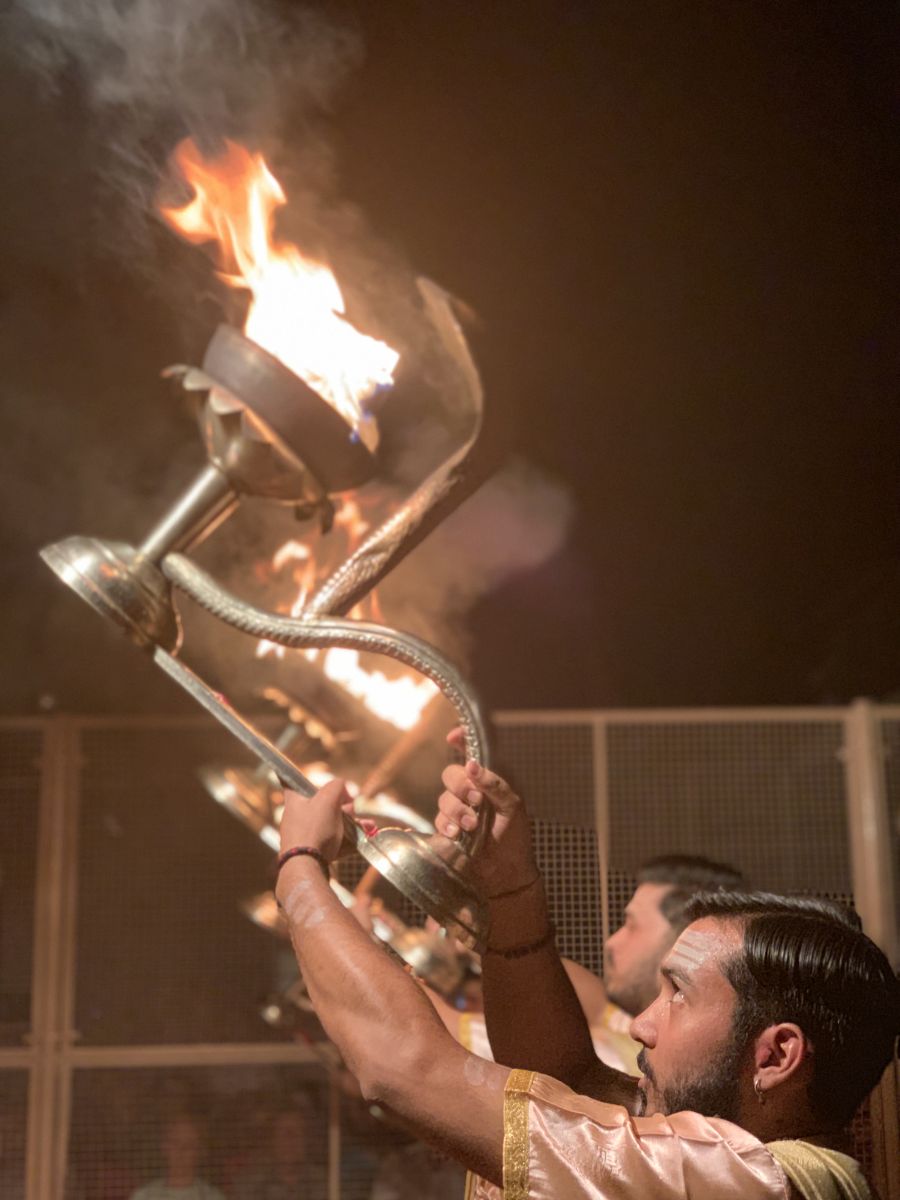 Love the intense look in their eyes
2. Have Tamatar Chaat at Kashi Chat Bhandar 
Make sure you have tucked away an entire section in your tummy when on a gastronomic journey on the streets of Varanasi.  This one is a sure-shot addition to not just the things to do in Varanasi but is also one of the must-visit places here. The "chaats" are awesome and the local ambience of this place, the very vibe of "True Varanasi" is hard to miss. When you walk towards the ghats from the city centre, you can't miss Kashi Chat Bhandar. This specific chat Bhandar is a real common entrant to almost every blogger's list of popular places to visit in Varanasi. It's always very busy and usually quite difficult to find seating. Once you have made your way and found a spot, order the Tamatar Chaat blindly. The Palak and the Aloo Tikki Chaat too are going to set your taste buds on a thrill.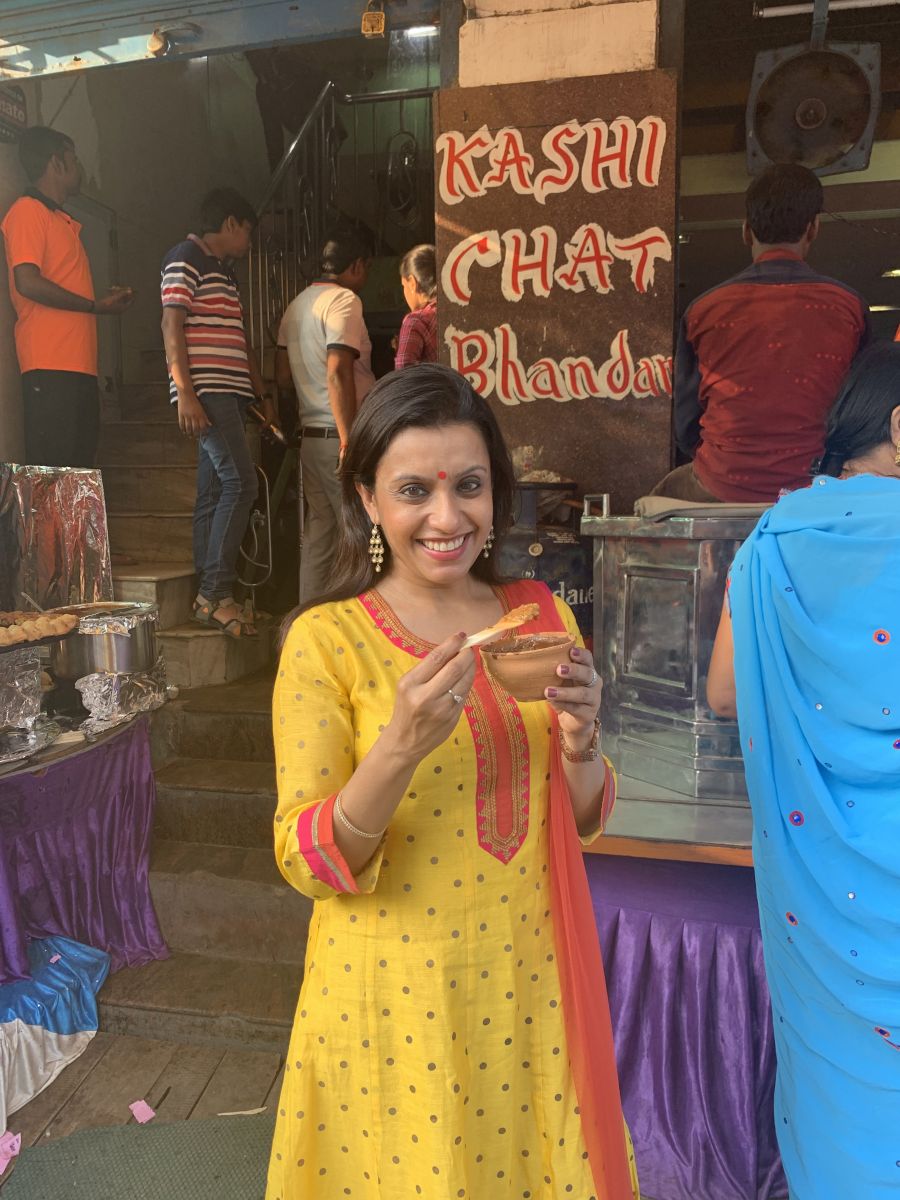 At the world famous chat shop
3. Devour the Kachoris at Madhur Milan café 
Another one of the things to do in Varanasi if you are on a gastronome journey, this outlet has been a regular feature of Lonely Planet too. They fry the kachoris right in front of you and serve it with a potato gravy and it's simply yummy!! Oh! And do not leave without giving the rabri a go as well.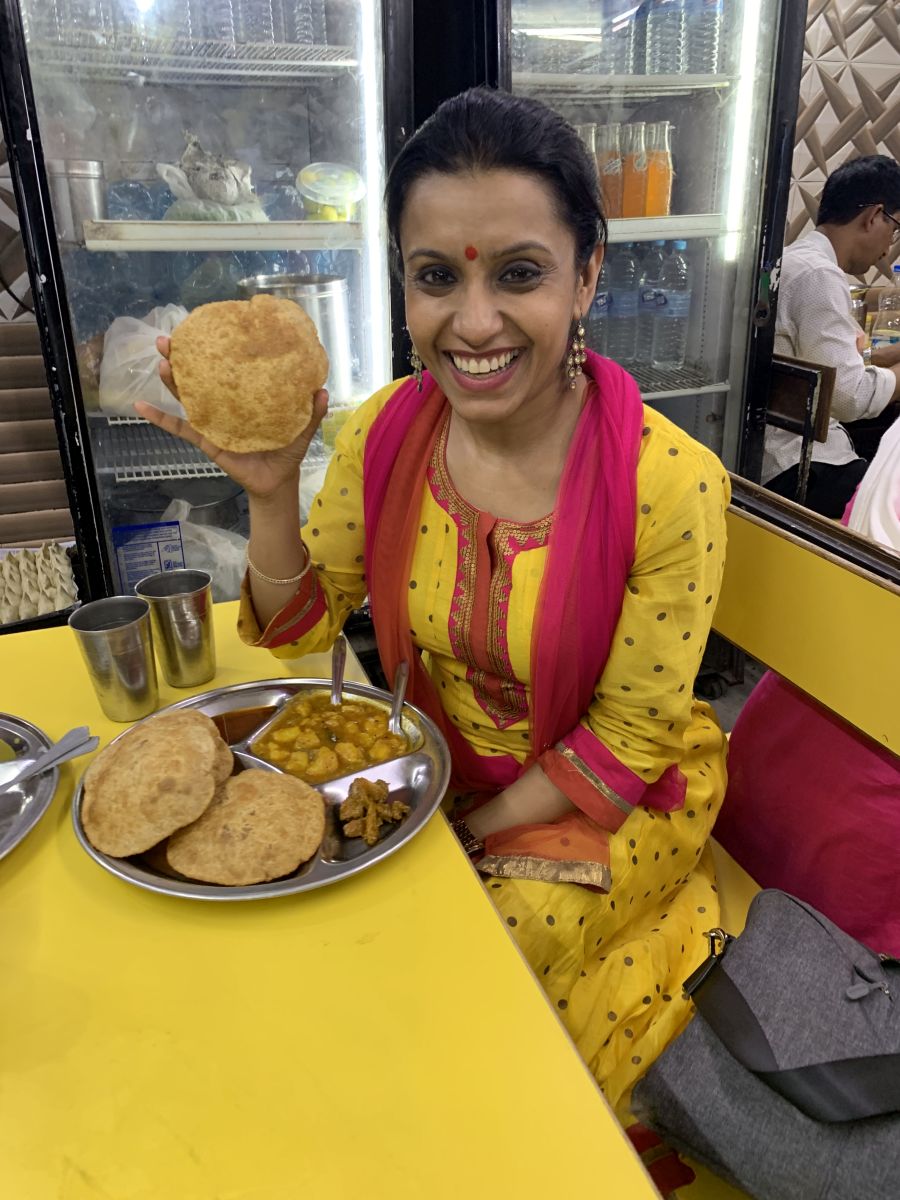 Enjoying the hot kachoris
4. The must have Benarasi Paan 
When in Benaras (Varanasi ) you can't leave the world-famous Benarasi Paan. Although I am not much of a paan lover I had to experience this journey. The person at this Paan shop also explained to us what and all ingredients go into making that delicious paan. Oh yes, my strong recommendation is to go and have paan at night to catch the actual vibe and feel of eating a Benarasi Paan in the colourful, and lazy ambience of the city. So this becomes not just one of the things to do but more specifically the things to do in Varanasi at night!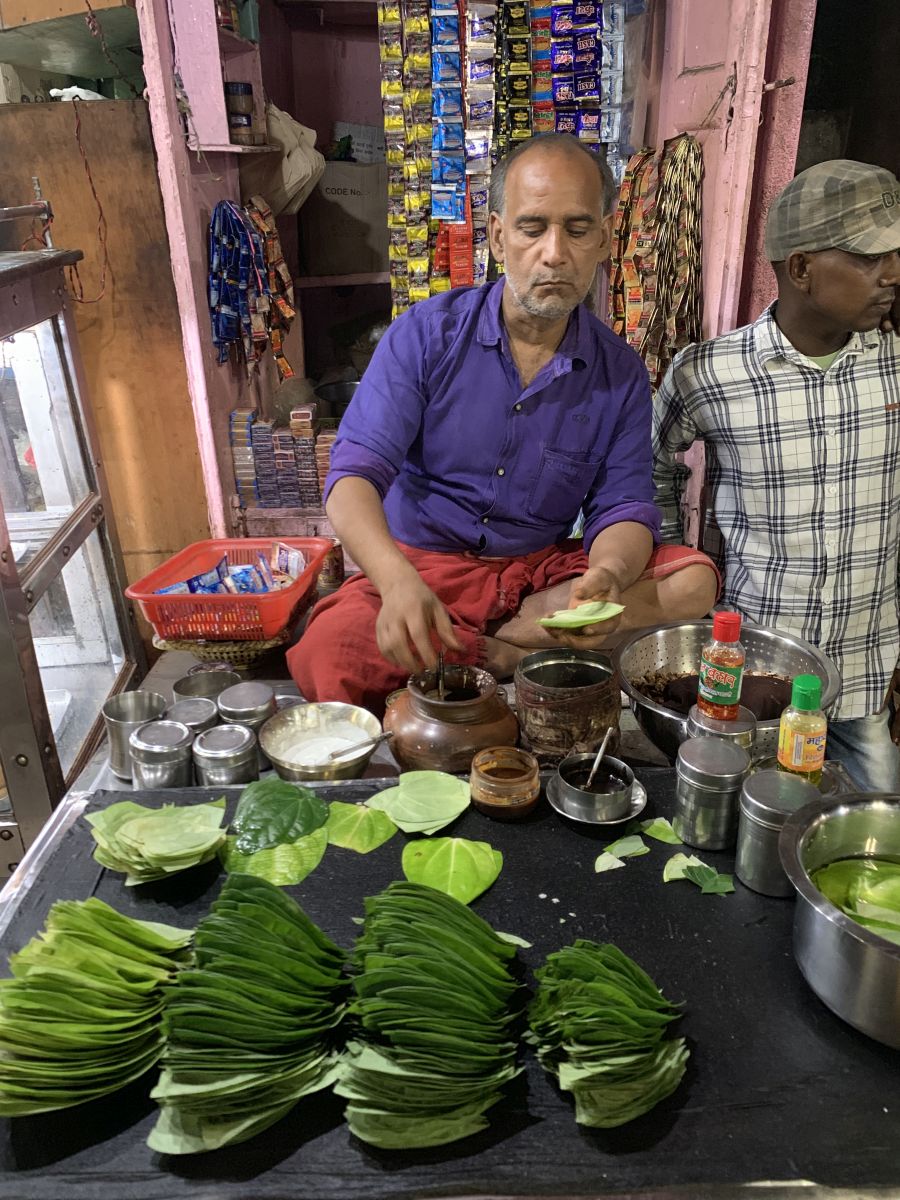 5. Book yourself a High Tea at the Brijrama Palace
If you want to stay in the centre of Varanasi, right on the ghats, this place is great. The prices, however, aren't quite pocket friendly for most: their best suite which offers 360-degree views of the river, and costs you about Rs.65000 a night. We were hosted here for a wonderful High Tea session where we were fed Samosas and Tandoor Chai (now that's something I had never heard of). We also got an entire tour of the hotel and couldn't stop admiring its opulent structure. And since I mentioned the opulence, this place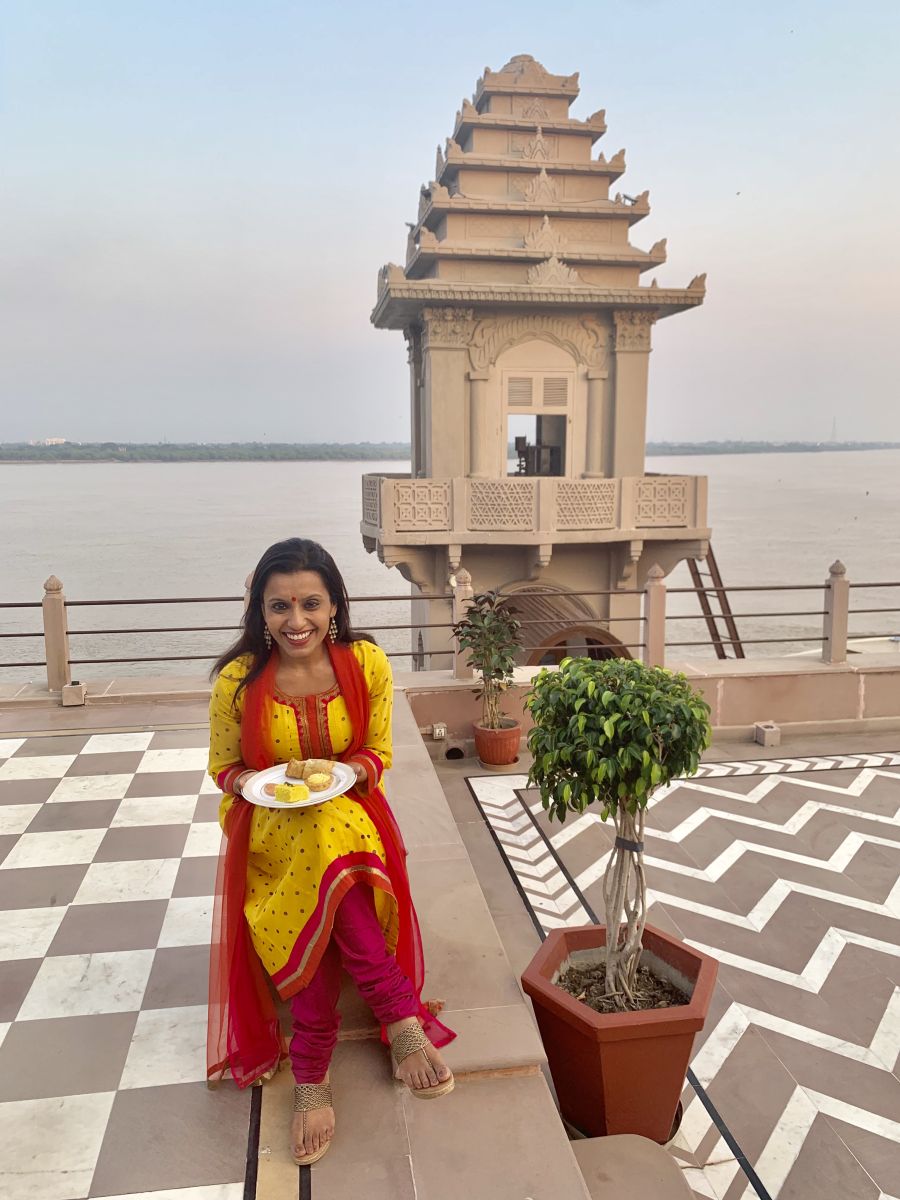 The sumptous high tea at Brijrama Palace
6. Go on a boat ride
This is best done during sunrise. Unfortunately, we had to give this a miss since the level of the river was very high due to the monsoons and all boat rides were shut by the Government for a few days. Gives us a reason to go back to Varanasi again. Also, and this is something I picked from the multiple movies that ever talked about Varanasi, the sight around when you are on a boat ride is breathtaking. We could get a feel of it while we were on the ghats only. So, whenever we visit next or even you visit, please add these sites to your list of things to see in Varanasi.
7. Last but not the least, stay at Tree of Life Resorts
If you wish to stay a little away from the bustling city and yet experience everything that Varanasi has to offer – this should be your abode. This resort has a lovely reading room, a small temple and a mini ghat (yes, you read that right), yummylicious food and huge rooms with a sit-out area facing the lawns and the pool. Other than spending one full evening in the city centre, we pretty much stayed put in this resort and relaxed for the 2 days to our heart's content. Also, even if you don't say here, make sure you do visit this place for its decor and greenery with occasional sightings of peacocks is definitely one of the best things to see in Varanasi. And yes, a special mention for Shresthi from Tree of Life resorts hosted us here for 3 days and made our staycation perfect.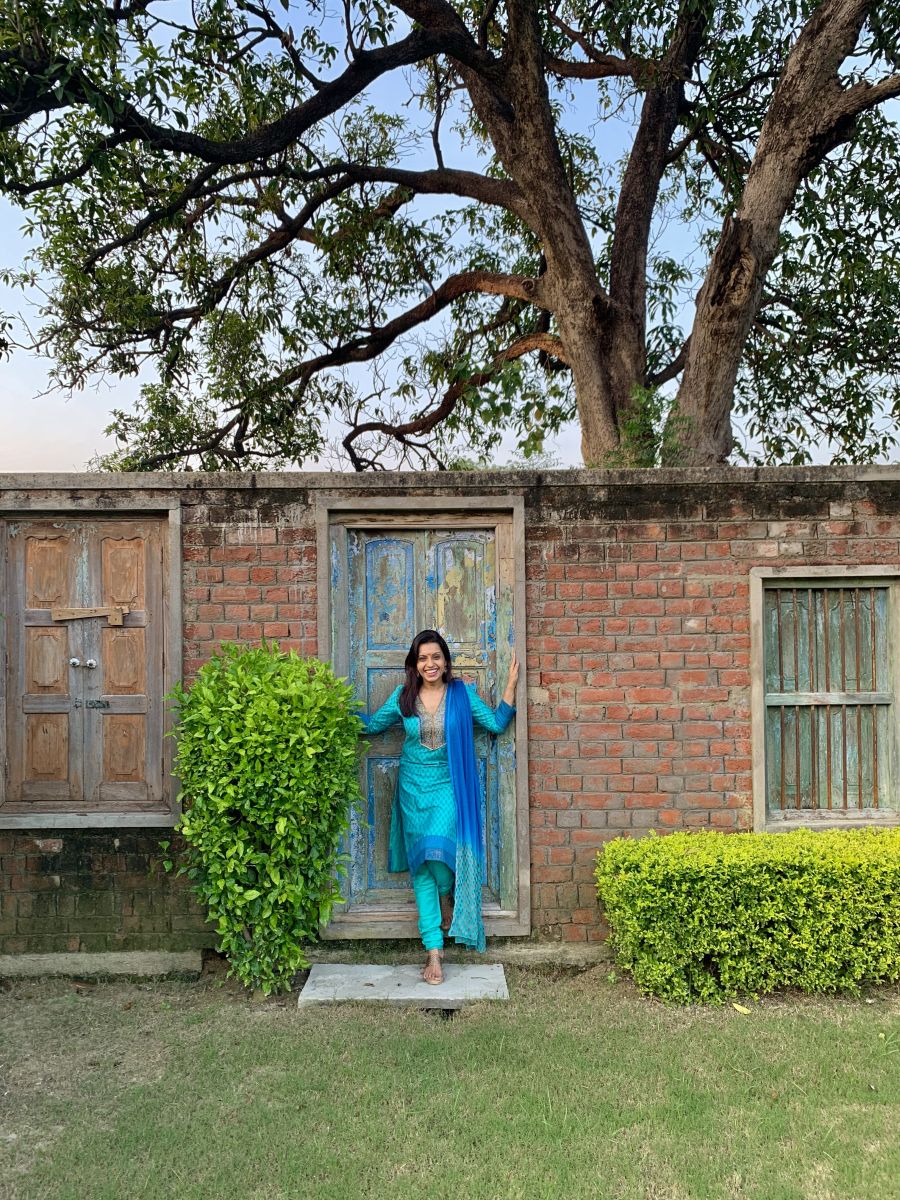 The wonderul Tree of Life resort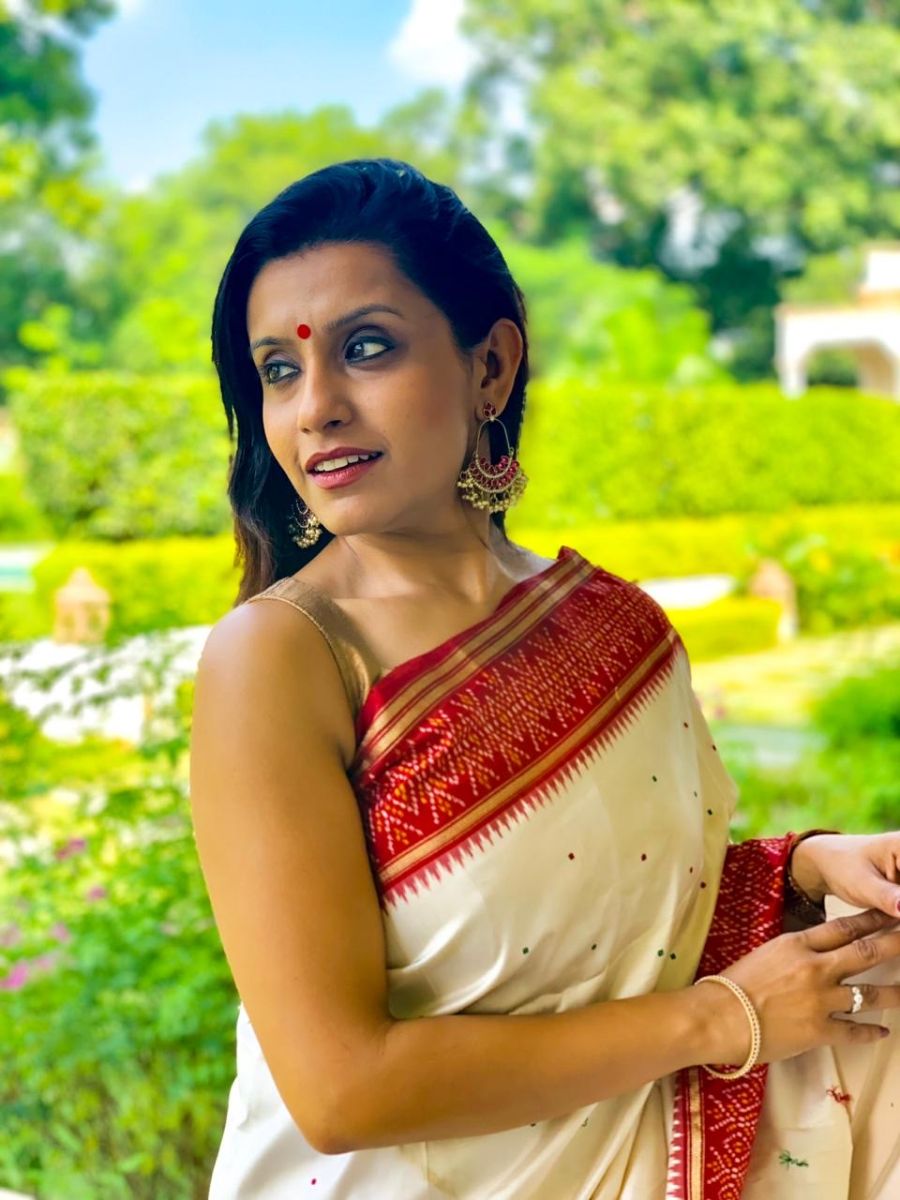 Celebrating Dussehra in this beautiful resort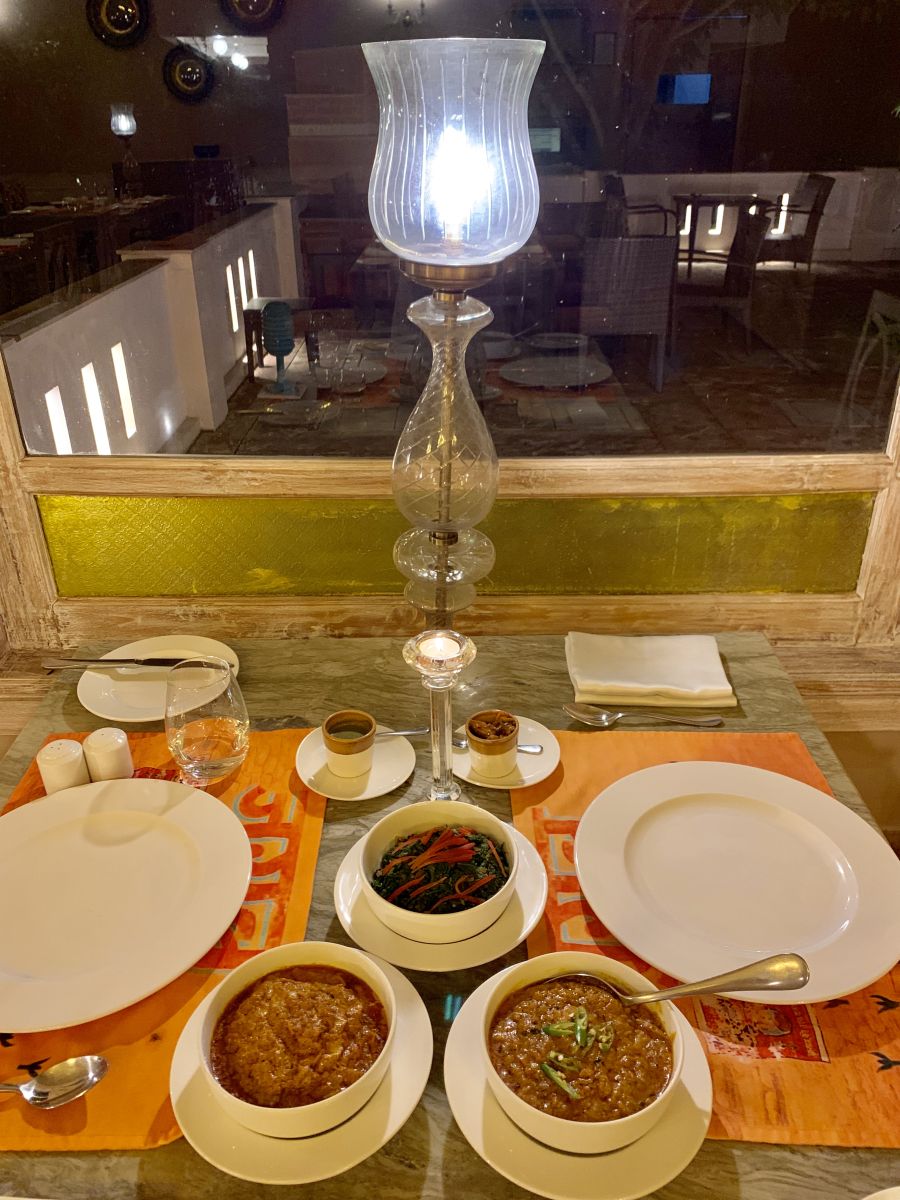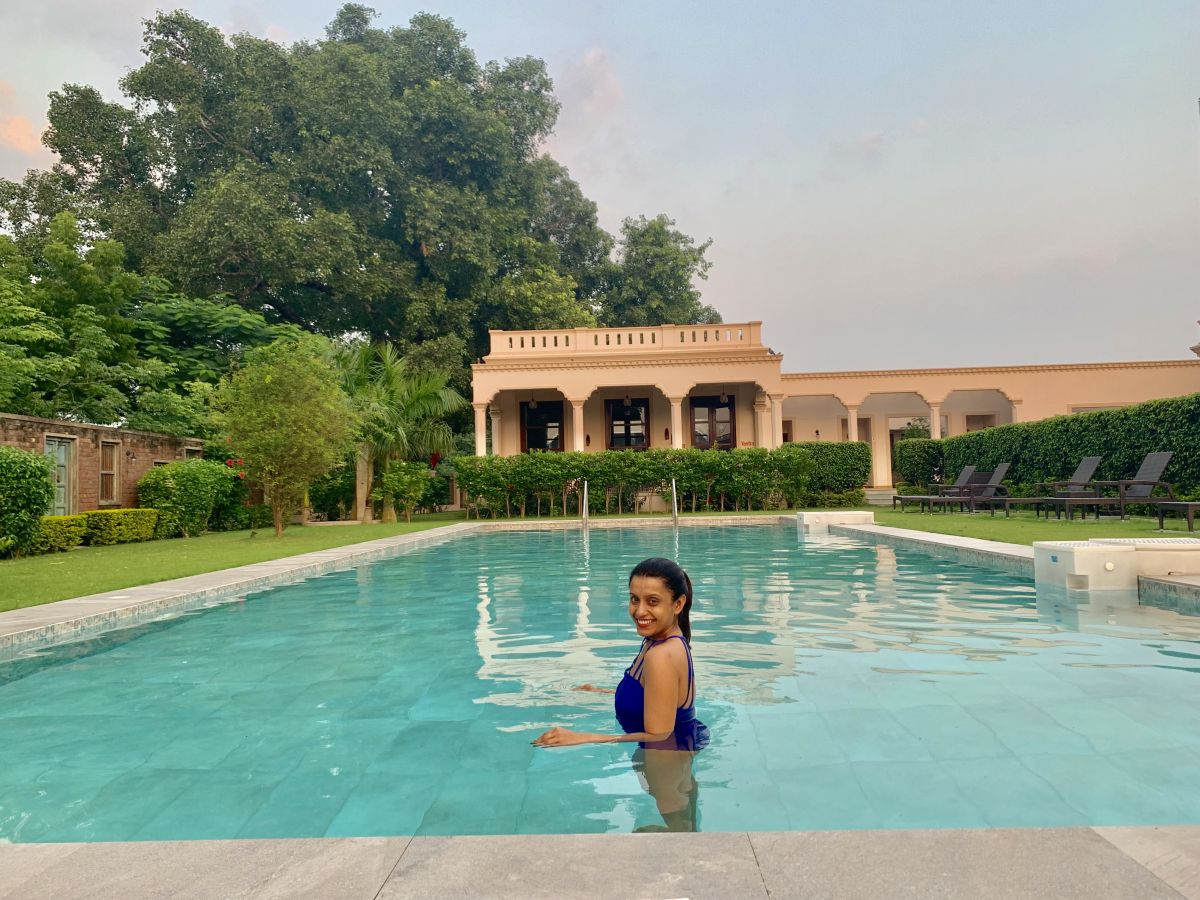 Taking a much needed dip to beat the heat
Hope these tips help you plan your next trip to Varanasi. If you liked what you read or want to add more tips on this list please leave a comment below.
Also Read:-
FAQ about best things to do in Varanasi
How To Reach Varanasi?
Varanasi is easily accessible by major cities of India through bus, train or plane. It is also convenient to travel by car to Varanasi. Most of the trains and flights can be taken from Delhi, Lucknow, Agra, Mumbai, Kolkata, Chennai which have international airports and are well connected to the entire country. You can also choose from a series of state and privately operated buses to reach here.
When is the best time to go to Varanasi?
October to March is considered the best period to go to Varanasi because the winter in this region of India is pleasant. The summer brings an enormous amount of heat which is unbearable and the humidity also increases a lot. The monsoon falls around July to September which is also not an ideal time to visit. 
Why is Varanasi so popular for religious tours?
Varanasi is a religious place for Hindus and it is believed that Gautam Buddha has found his first sermon here only. The city has many ghats which allow contact with holy river Ganga. These ghats fall under the list of most popular places to visit in Varanasi. Ganga is considered a source of purity in Hindu culture and people believe that taking a bath in its holy water will wash away their sins. The Kashi Vishwanath temple is one of the must-visit places in Varanasi. In addition to that, Varanasi has also emerged as an industrial centre for silk fabrics, perfumes, ivory works, and sculpture. 
What kind of food is popular in Varanasi?
Varanasi is a popular point of interest among food lovers also. This city food is a perfect amalgamation of spicy and sweet. Although it is not as spicy as you think, the kachori sabzi, Chena Dahi vada, choora matar, laaiya chana will leave you drooling in the flavours. The cuisine is vegetarian friendly and incorporates a huge variety of snacks which can be enjoyed anywhere in the city on local food stalls. For the sweet loving people, this place is heaven to satisfy their cravings from lassi and laddu. Bhang is very popular in this city but make sure you drink it at your own risk because its intoxication is entirely different from alcohol.
To keep yourself updated with all my adventures in India and abroad, please follow me on @travel.chatter on Instagram and Travel Chatter on Facebook.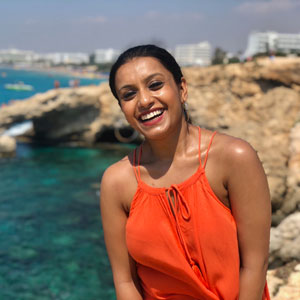 Hey there travel bugs! Glad you made it to my blog. The journey is going to be worth it—I promise.
I am a fearless, unguarded and fun loving traveller. The word 'cannot' doesn't often appear in my life's dictionary. I was bitten by the travel bug a long, long time ago and it has taken me to more than 70 countries and countless destinations ever since. A born networker—I have met and made a gazillion friends across the world and the experiences so far, has more often than not, left me speechless. The more I travel, the more I realise that how much there is left to travel.
So hop on and be a part of my explorations and adventure tales right here on Travel Chatter.
Subscribe to my Newsletter