Up Close and Personal with the Gorillas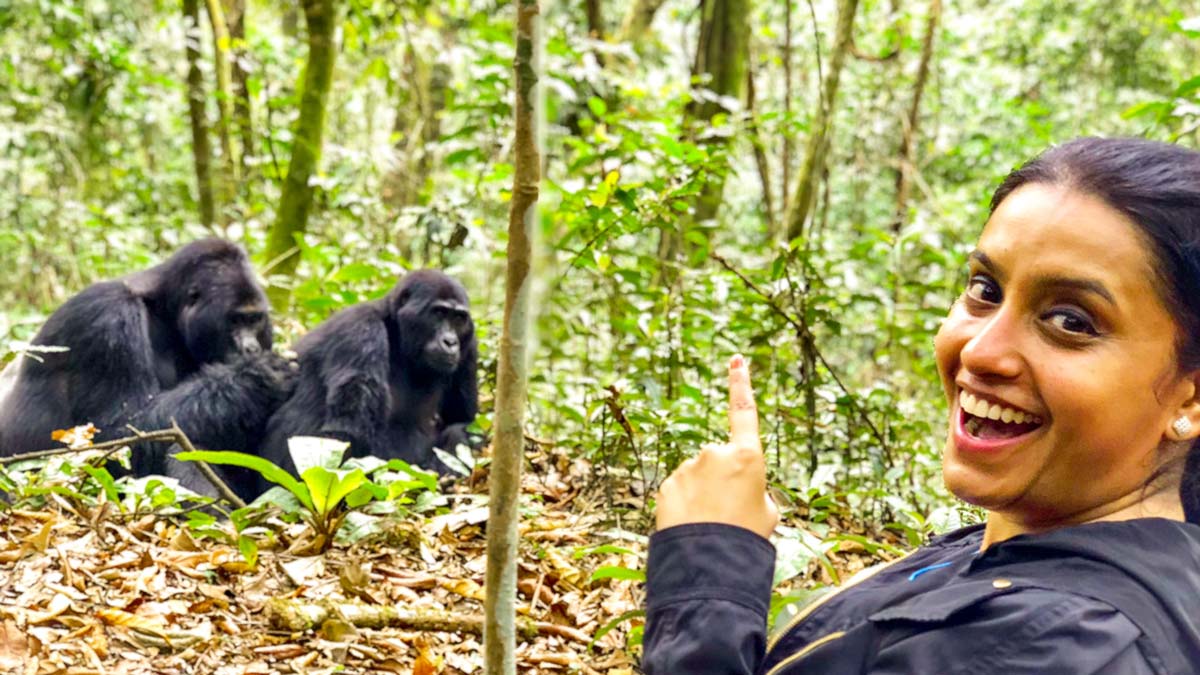 To feed the wanderlust in me, once again I find myself on a plane seeking a whole new adventure: this time to a place which is a little offbeat – in the jungles of East Africa, Uganda to be precise, which is home to the mighty Mountain Gorillas.
Unfortunately, they are now a critically endangered species that happen to share 98% of their DNA with humans. They surely can't talk like we humans do but they too possess the ability to love, cry, fight, lead and happen to be very social beings. Primates, they are. Only 880 such gorillas in the world and they exist in these East African jungles spread out over Rwanda, Uganda and Congo.
So, I embarked on my journey during the Christmas break and flew to Kigali, the capital of Rwanda. where I had two choices, trek to either the jungles of Volcano National Park in Rwanda or the Bwindi Impenetrable National Park in Uganda. I chose the latter as it consists of a larger population of gorillas and a better forest cover. I organized my trip through Gorilla Trek Africa who had organised my trek permit and stays.The drive to the Bwindi Impenetrable National Park was about 5 hours from Kigali The roads were lined with eucalyptus trees, largely covered with tea plantations and the glimpses of the native people, their culture, their ways of life had already put me on a different high even before I got to the mountains.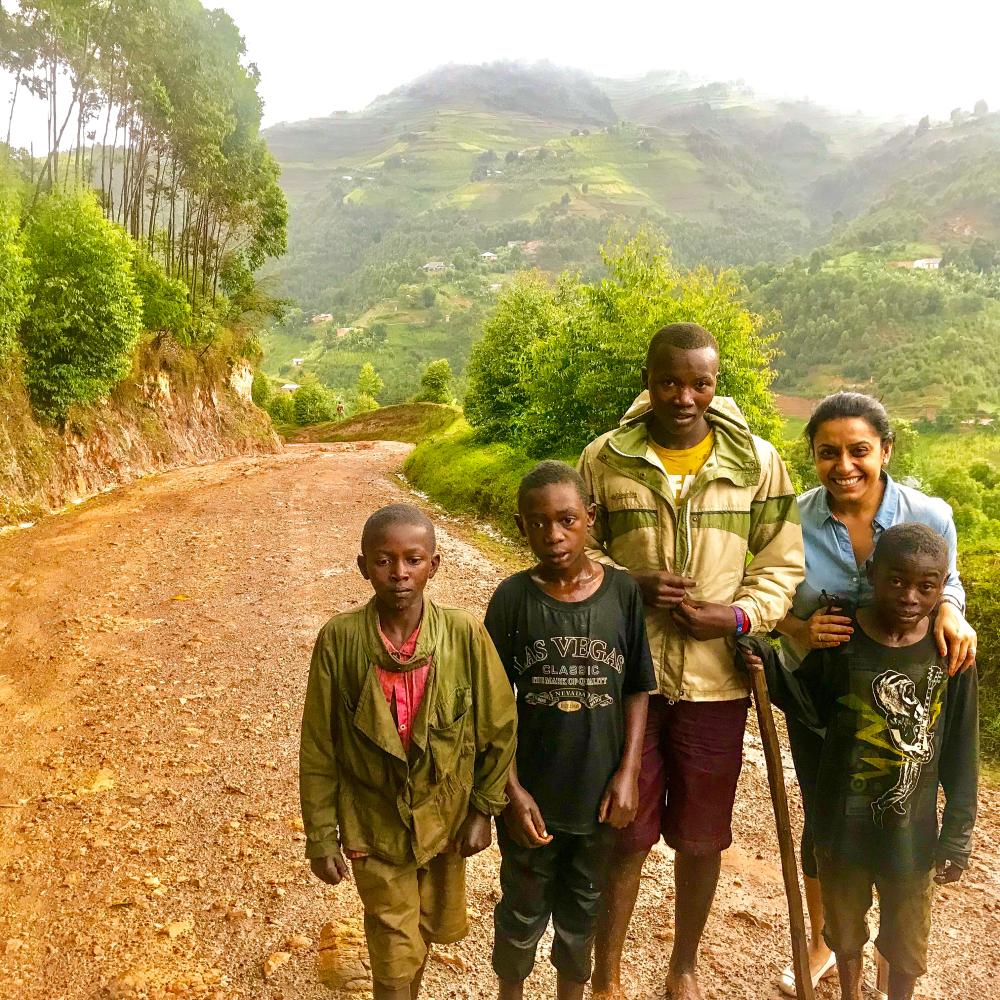 Once I reached Bwindi, I spent overnight at the forest lodge – needless to say, that the drive had made me a tad bit weary and I also knew I had to preserve every bit of my energy for the glorious day ahead.
A late riser on any other day, I just could not contain my excitement from the minute I rose,
knowing that I am going to be spending an afternoon with an entire gorilla family.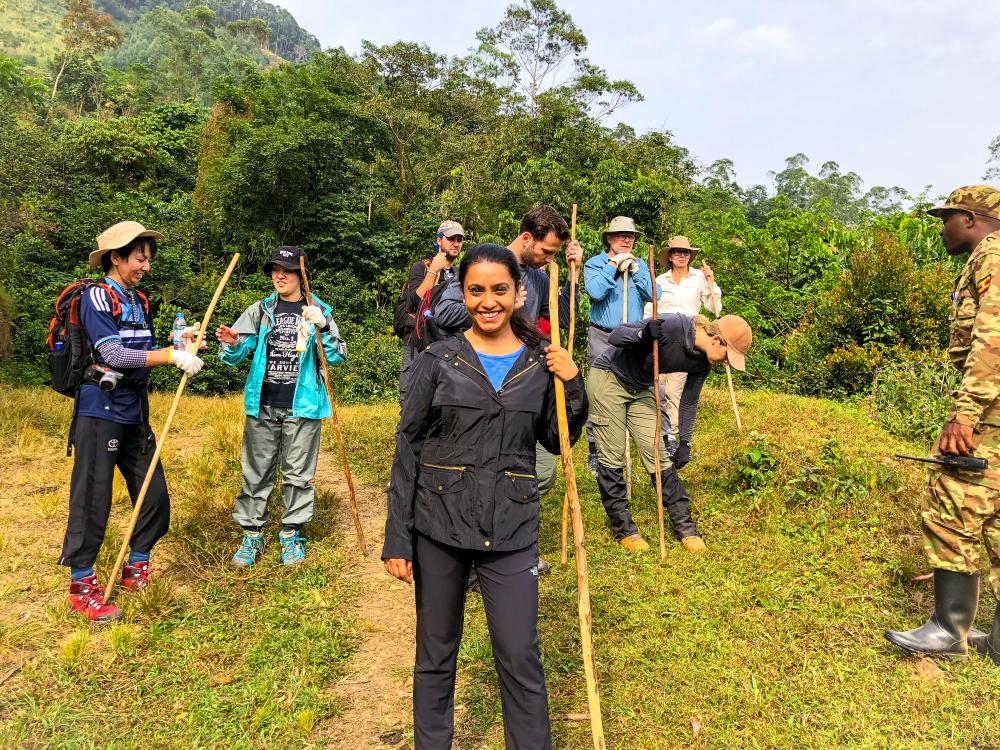 Along with 9 other adventure tourists and a guide, I started my trek at 9am, after a briefing from the forest rangers accompanying us (armed of course – AK 47s if you must know).
Instructions? Maintain a 21 feet distance from the gorillas always.
However, the trek had finally begun through a picturesque tropical rainforest with over 160 species of trees, ferns, butterflies and birds I knew it was going to be an unforgettable experience. As we walked deeper into the forest, my heart kept racing with excitement. We walked past stinging nettle plants, icy cold streams, forest safari ants and golden monkeys – the trek wasn't an easy one with steep uphill climbs and a harsh terrain, but my legs knew better that the destination will dull all the pain and it's going to be one hell of a party with the apes.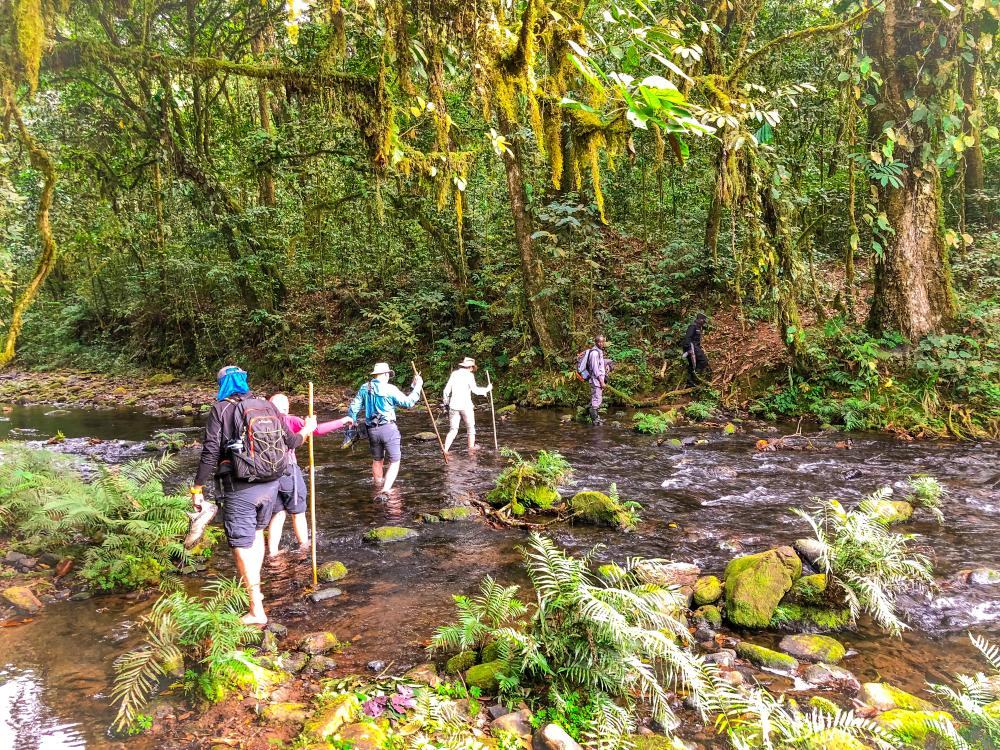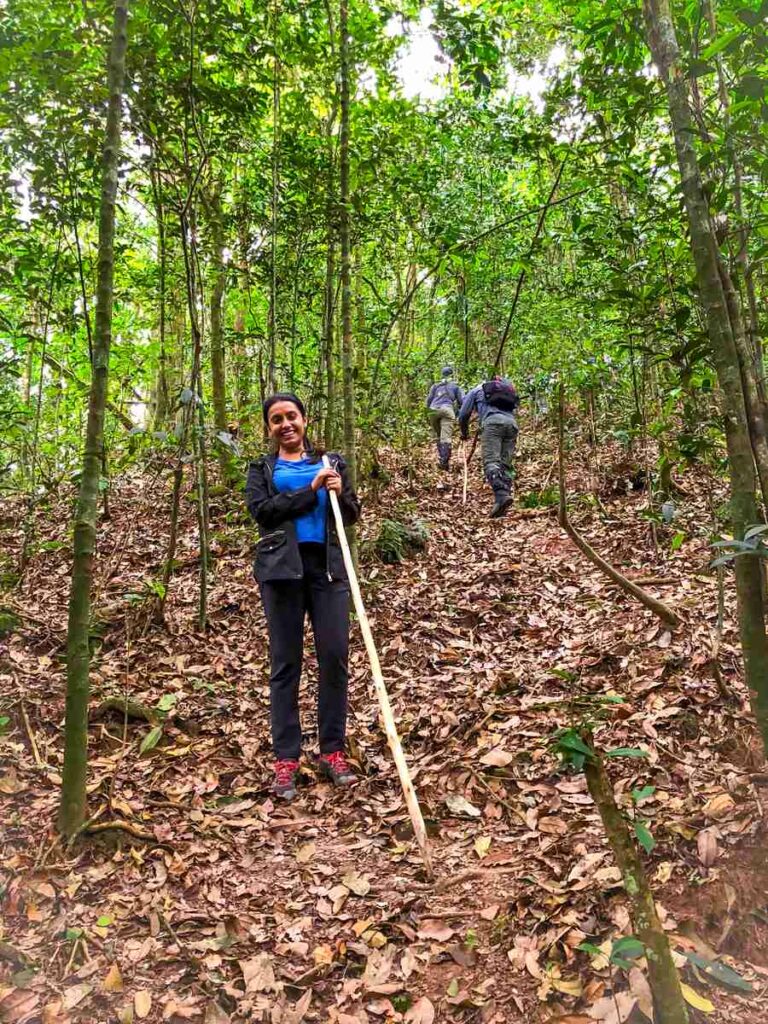 After a 3 hour long trek, we were greeted by 2 gorilla trackers so we could get close to the gorillas who the trackers had been tracking all morning. And then finally came the glorious moment where we tracked our first Silverback mountain gorilla, the alpha male and the head of the family. He kept pacing around in search of food. We followed him up the hill until we met the entire family. There was not a single word in my head that could even come close to describe what I felt that moment. It was surreal. King Kong, Planet of the Apes – that's where they belong, I thought but is this real, am I really here? Like I said it was surreal!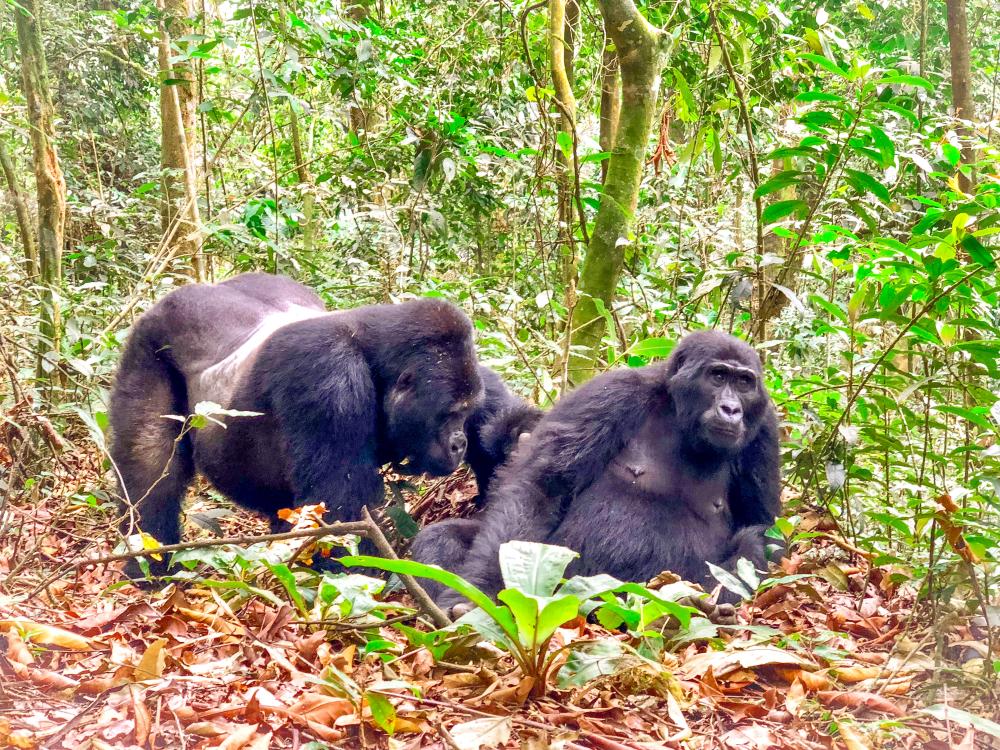 To top it, we were apparently lucky to have spotted 7 gorillas in one location – which almost never happens. The male gorilla was basking in the sun along with his wife number one, while the second one was busy playing with her kids – polygamy isn't a big deal amongst them – clearly! In a gorilla family, the Silverback Gorilla is the only one who can have babies with multiple females.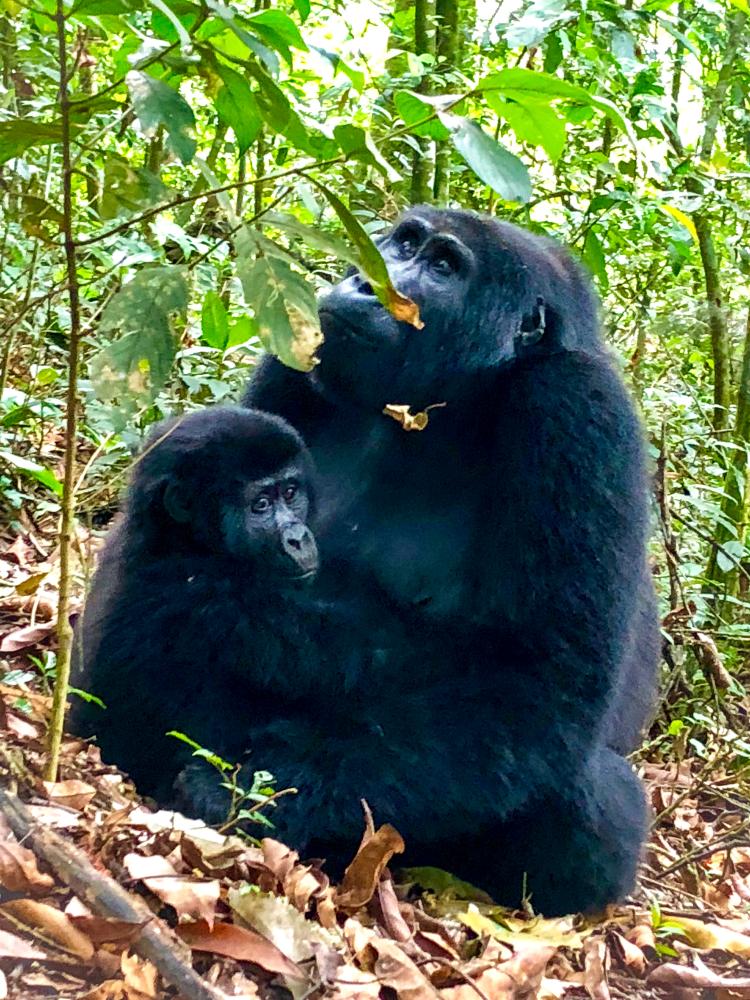 It was an endearing sight to see a baby gorilla clinging on to his mother. We or rather I, spent about an hour taking a zillion photographs with these magnificent beasts and we were incredibly lucky as they came as close as 3 to 4 feet from us!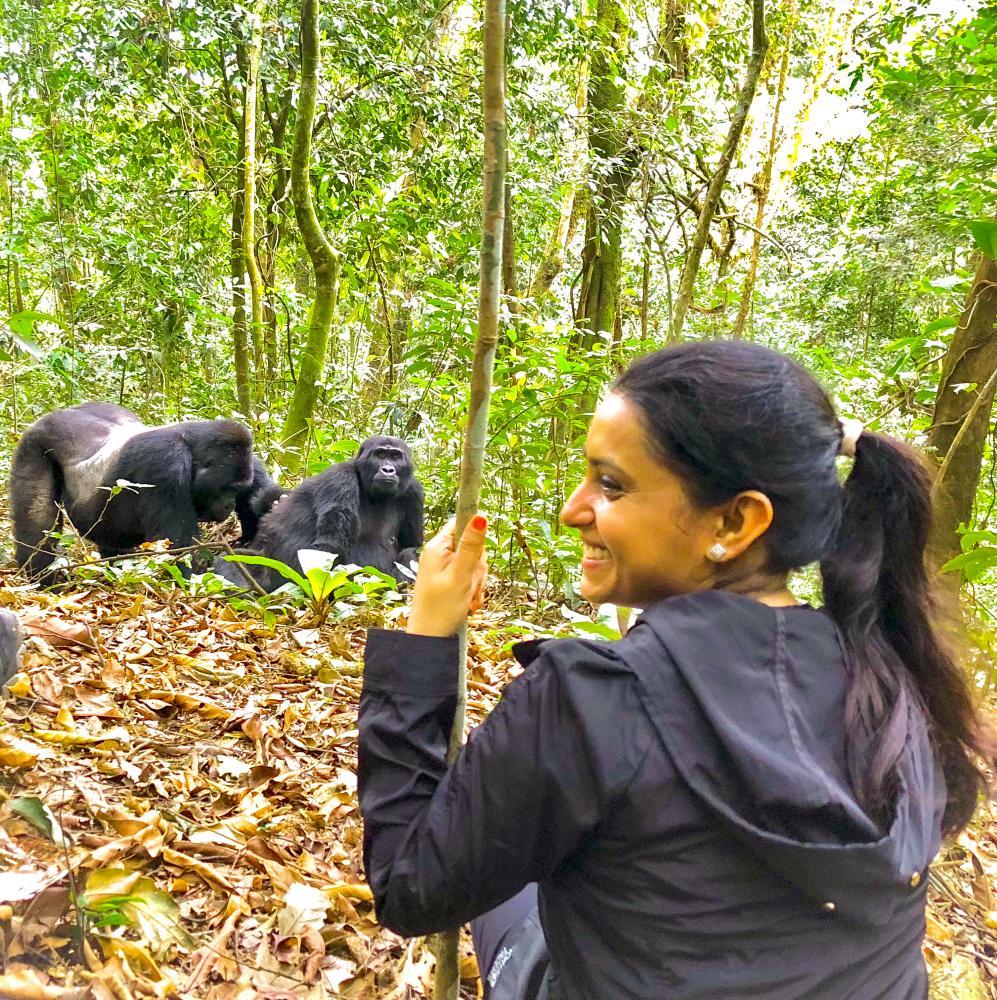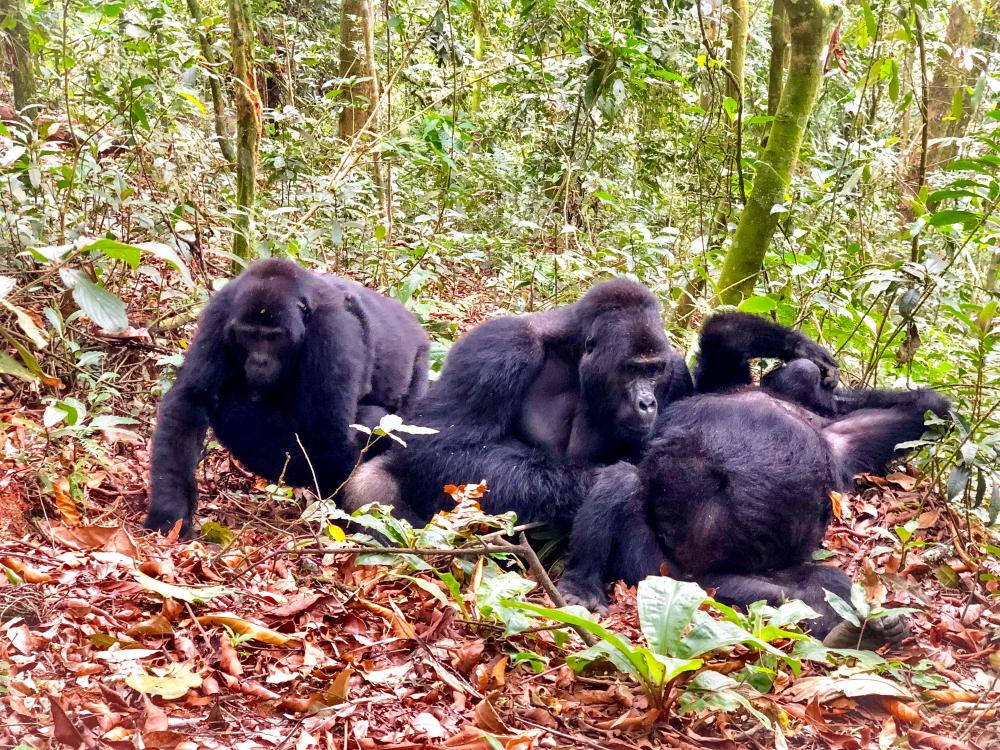 They were docile, harmless and adorable! I wished time had come to a standstill – there was no way I could have had enough of these stunning beings in such a short time. All of a sudden, from nowhere, a baby gorilla emerged, swinging from tree to tree and landed right in the middle of the family soiree.
What followed is something rare and something that will stay with me till the end of time.The exceedingly cute baby gorilla walked straight up to me, (along the way he tried pulling my friend's shoelaces) sat right in front of me (about a foot away) and then looked straight into my eyes as if inviting me to play.
At this time there was an abundance of emotions flowing, I had an adrenalin rush, I was overjoyed and nervous at the same time to be in such proximity to a baby ape. Meanwhile the Silverback (father) oblivious to his surroundings had sunk into his afternoon siesta while tapping his fingers on his feet as if the jungle air carried music to his ears. There were times when he would be in a pensive mood and put his hands up to his head or stare up at the sky with those big beautiful black eyes.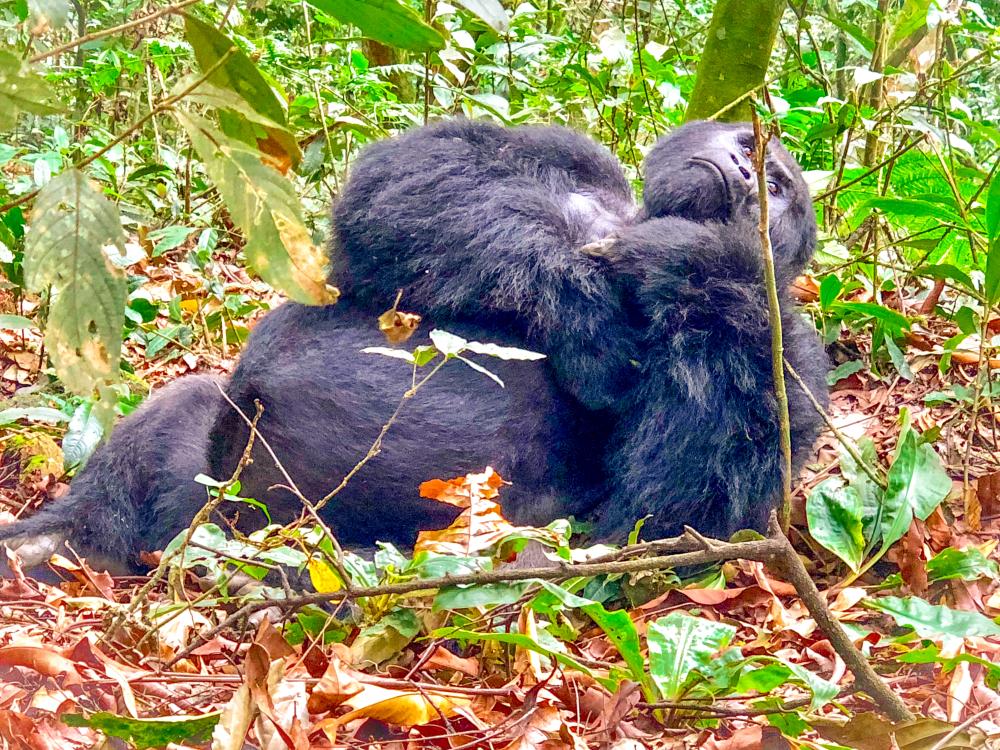 We also got a glance of the 2nd Silverback male gorilla who was in deep sleep and he would also occasionally fart in his sleep.
Then came the time to say goodbye to the gorillas and just as we were leaving the father Gorilla woke up and looked up at me and straight into my camera as if he were posing only for me for one last time…the sight was unbelievable.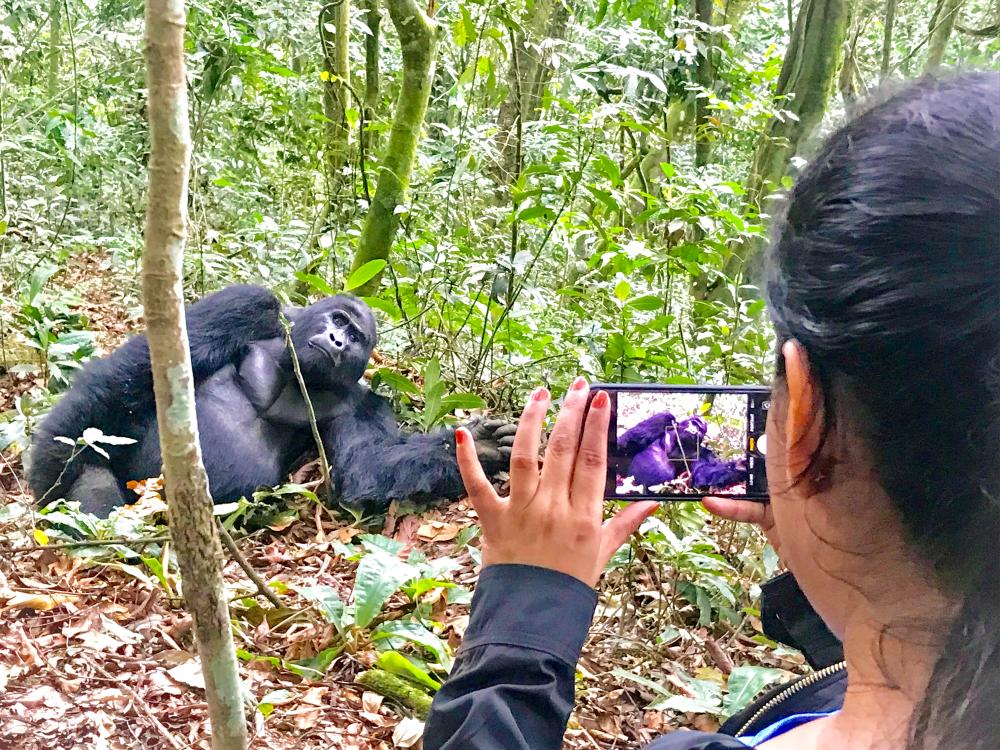 I will say this again that this one hour with the Gorillas was one of my most memorable moments in life and an experience I will remember forever!
The trek downhill seemed a lot harder than the uphill climb. Out of excitement, little had I realized while climbing up that I had indeed trekked such a tough terrain. On the trek down, however, I was more of a lovelorn. The Gorillas did have me at hello.
I wish we humans could also live like these Gorillas- carefree and not having to worry about anything in life other than food and good sleep. I am totally in awe of these creatures and would love to go see them again!! I wish every one of you can have an experience like this and I would love to hear about them.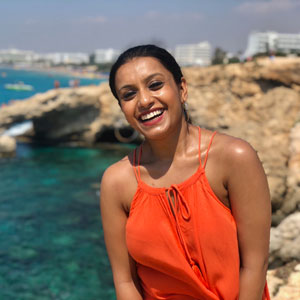 Hey there travel bugs! Glad you made it to my blog. The journey is going to be worth it—I promise.
I am a fearless, unguarded and fun loving traveller. The word 'cannot' doesn't often appear in my life's dictionary. I was bitten by the travel bug a long, long time ago and it has taken me to more than 70 countries and countless destinations ever since. A born networker—I have met and made a gazillion friends across the world and the experiences so far, has more often than not, left me speechless. The more I travel, the more I realise that how much there is left to travel.
So hop on and be a part of my explorations and adventure tales right here on Travel Chatter.
Subscribe to my Newsletter