The Happy Country: My Top Ten in Bhutan
A country that measures her Gross National Happiness ought to be on everyone's bucket list – right? Absolutely Right!! A step on to this High-Land (which actually translates into Bhutan), the smile on the faces, the air, the warmth – they will transform you instantly as it did me. It's a perfect place to spend New years eve, should one want to get away from the stereotype urban hullabaloos. That's exactly what I did and below are a few things I would like to share that will make you want to get on that flight, now!
Trek up to the Tiger's Nest Monastery: Bhutan is synonymous with the Tiger's Nest Monastery and it was the obvious choice for our first stop. Perched at 900 metres above sea level, the Tiger's Nest Resort – where we stayed – holds a great view of the monastery. The trek to the monastery is an absolute must. It took us about 4 hours to and fro. I have to be honest here – the trek isn't the easiest, thus I'd recommend walk slow and take your time. Having said that the 'challenge' of the trek totally depends on an individual's stamina.


Few additional tips: Start your day early; travel light; don't carry too many water bottles, refill is available on the way. Carry some treats for the cute furry friends you will meet on the way (Bhutan's country dogs are beautiful and there are lots of them).

Carry some treats for yourselves too, since the route only has one cafe which serves pretty below average food and is quite pricey.

Go for a hot stone bath. You will long for it especially after the long trek. These baths are basically a form of traditional Bhutanese medicine where fresh river water is mixed with local Artemisia leaves and heated with fire-roasted river stones.
Sip on the butter tea and the homemade liquor called Ara made from wheat, millet, barley, rice or maize: served hot.


Visit the Dochula pass – it's the highest motorable path in Bhutan. A two hours drive from Thimpu, this place overlooks snow capped mountains and is marked by 108 memorial stupas made in the memory of soldiers. You mustn't miss the cafe Druk Wangyel (which is another name for the stupas). The famous Datshi is to reckon with – its the national food of Bhutan, made with chilli peppers and cheese.


Punakha Valley offers some of the most mesmerising views in Bhutan. Located approximately 1200 metres above sea level, this valley is home to a suspension bridge which is the second longest in the country. Make sure to walk on it – to pump up your adrenaline. The bridge suspends over the confluence of two rivers.


Other things in and around the valley:

Temple of the divine madman (also called temple of fertility).
The symbol of the phallus is considered sacred in Bhutan and Punakha. Many houses have this as graffiti on their walls



If time permits you could go rafting, although we missed it due to time constraints.

Carry enough woolens – Bhutan weather can be very unfriendly – temperatures can dip as much as to freeze a bottle of water kept in your car for a few hours; therefore dress appropriately. We even experienced snowfall the moment we stepped into Bhutan.



Taj Tashi – A hotel I will recommend to stay in is  the Taj Tashi, located in the Bhutan capital of Thimphu. Traditional Bhutanese cuisine at Chig Ja Gye is to die for.

Only in Bhutan – Send yourself or your loved ones, a postcard with your picture on the stamp. Customised postal stamps are available at the main post office opposite the Taj Tashi. This is a super cool thing to do here!


Clubbing in Bhutan – Thimphu being the capital,  is dotted with great nightclubs with equally great music. Few clubs worth visiting are Mojo Park & Thimphu Club. Mojo Park has live bands playing most nights and Bhutan has some very talented musicians who can warm up your soul on a cold night.


Witness planes taking off in Paro – as close as one can get to the scene. Paro airport is supposed to be one of the most dangerous in the world with mountains in close proximity.


Some more Interesting facts:
Bhutan is the only country where you can obtain a Visa (for Indian nationals) just with a valid Voters ID card instead of a passport.

Note that

Bhutan Visa

is only available this way when you are travelling by road.

For  citizens of other countries besides India and neighbouring countries, travellers have to pay USD 250 per day. This mandate is simply to control the number of tourists visiting per year. Clearly it works and that way Bhutan can continue to be a more green and sustainable country.

Bhutan is against killing any animals. However the love for meat is satisfied through imports.

Thimphu doesn't have any traffic signals.





The restaurant Cloud Nine has amazing burgers and pizzas.





Another good place to unwind from the day's sightseeing is at the Champaca Cafe in

Paro

.The  peanut butter cheesecake is so drool worthy and worth every penny..
Getting There You can either fly directly into Paro airport or you can fly to Bagdogra airport. If you choose to fly into Bagdogra, you will have to rent a car which will drive you to Phuentsholing, where you will have to complete Bhutan visa formalities, change cars and drive to Paro or Thimpu. Bhutan visa is easily available on arrival – keep an extra 30 – 45 minutes for this process. Car cost – INR 30000 inclusive of driver and fuel (Bagdogra – Paro – Thimphu- Bagdogra airport)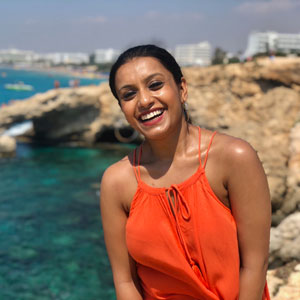 Hey there travel bugs! Glad you made it to my blog. The journey is going to be worth it—I promise.
I am a fearless, unguarded and fun loving traveller. The word 'cannot' doesn't often appear in my life's dictionary. I was bitten by the travel bug a long, long time ago and it has taken me to more than 60 countries and countless destinations ever since. A born networker—I have met and made a gazillion friends across the world and the experiences so far, has more often than not, left me speechless. The more I travel, the more I realise that how much there is left to travel.
So hop on and be a part of my explorations and adventure tales right here on Travel Chatter.
Subscribe to my Newsletter